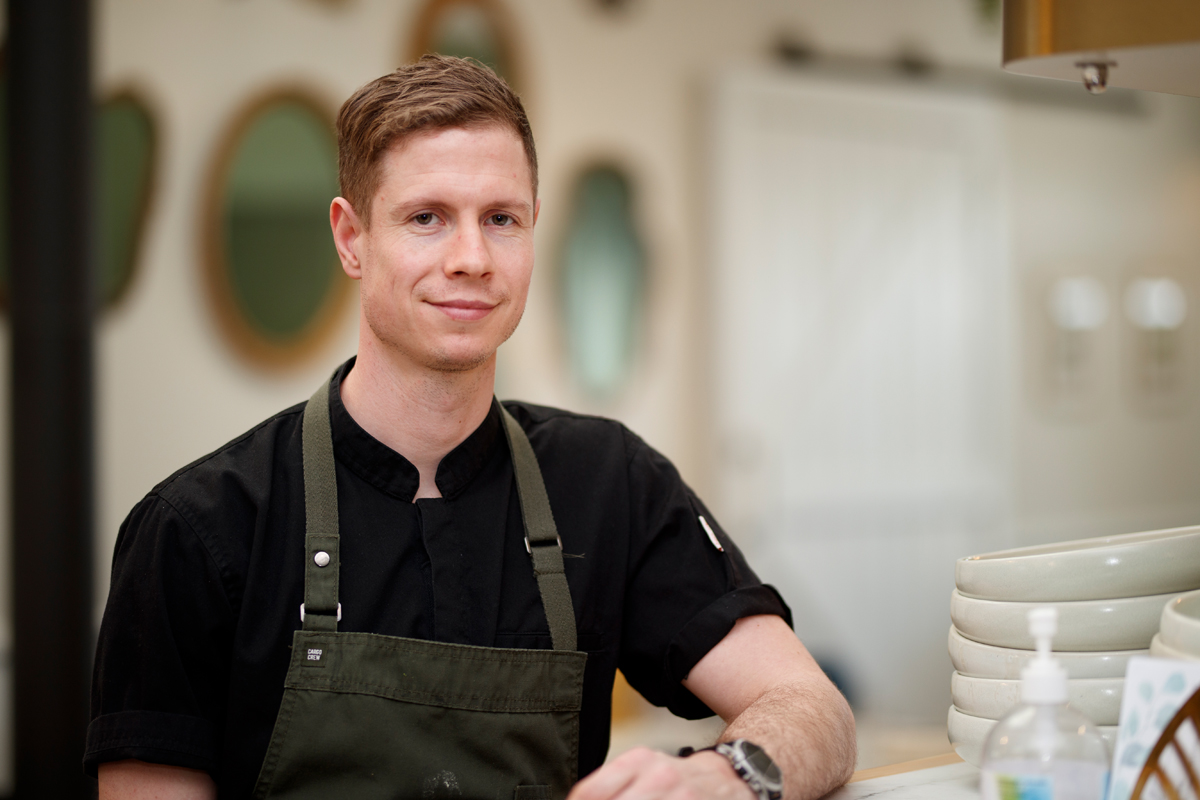 By Andrea Louise Thomas Photos Yanni
Wildgrain head chef, Leo Howard, brings love and imagination to his cooking. His combinations are creative and interesting, yet not too fancy that would alienate the diner who isn't a 'foodie'. As he says, "Food has to be relatable." Leo extracts every ounce of flavour from the freshest ingredients and combines them in ways that bring nuance and intrigue. His dishes are truly original and look beautiful on the plate.
It all began with his Yorkshire grandmother. She loved baking and cooking. Leo happily joined in with her. England isn't known for its food culture, but Leo says it is very much there in homely staple dishes like the famed Yorkshire pudding shared with family. Most of Leo's childhood memories are connected to food.
He did his professional training with City and Guilds in his hometown Manchester, England, working at a large country club restaurant. It was very much a trial by fire experience a la Gordon Ramsey with a bit of pot and pan throwing to boot! Despite this tension, Leo says, "I realised that I loved cooking. It was something I was good at and could take anywhere." And he did.
At 18, Leo came to Australia in 2009 to travel around the country with his girlfriend. Her family was based in Melbourne, so Leo started working in the kitchen at The European. They were so impressed with him that after a few months they sponsored him to stay in Australia. He has never looked back.
When his first son was born, Leo traded the 60-70 hour/week grind to move to the Peninsula. His partner's parents lived in Rye. The young couple had parenting back up and Leo could work at a more family friendly pace. He worked at Paringa Estate in Red Hill for two and a half years as sous chef under chef Julian Hills (Navi). He learned every aspect of paddock-to-plate fine dining. It was a game changer.
In his next job, Leo was head chef at Mornington café/restaurant, Play the Fool, where he got to exercise his considerable imagination creating dishes that were entirely original. His inventive cuisine caught the attention of food critics from The Age and the Herald Sun. Their great reviews really put Leo on the map as a chef.
Leo wanted to step up to a larger venue where he could have his own team so he moved on to Barmah Park in Moorooduc. He was there for a year before he was poached by Entrecote for their enormous Stamford Park Homestead Restaurant in Rowville. COVID hit and the restaurant shut down. They did take away for a while, but Leo wanted to do something more ambitious.
In 2020, Wildgrain owners Sean Flanagan and Sarah Peatfield were hiring. They were once chefs themselves so they knew what they were looking for. Leo's experience impressed. As it turned out, Wildgrain is the perfect fit. Transitioning through COVID was tricky, but Leo took delight in building his kitchen staff from the ground up. He now manages a seamless team and they all love working together.
"I spend 90% of my day thinking about food. I might see something or smell something and the idea for a dish starts from there," he says. Leo enjoys creating seasonal menus. It has been difficult in the current economy where supply is inconsistent and ingredients are now more expensive. Fortunately, Sean is a keen gardener. He supplies the kitchen with fresh herbs and produce. Other ingredients are sourced from local or regional suppliers.
Ultimately, it's love of his craft that drives Leo. For a relatively young chef, he has accomplished a lot in his career. Ambition and talent are evident, but for Leo it's all about passion. Leo loves Wildgrain. It's a cool, creative, contemporary restaurant with a fantastic bar and fabulous staff. From the cocktails to the cuisine to the service, Wildgrain is outstanding. Leo is proud to be part of that winning combination.
"When you feel like you've made someone's night because you've given them something that's different, something they can't make at home and something they are impressed by, then you've nailed it. Not many people get to have a job where they can make people feel like that," he says. Leo makes people feel like that every day.