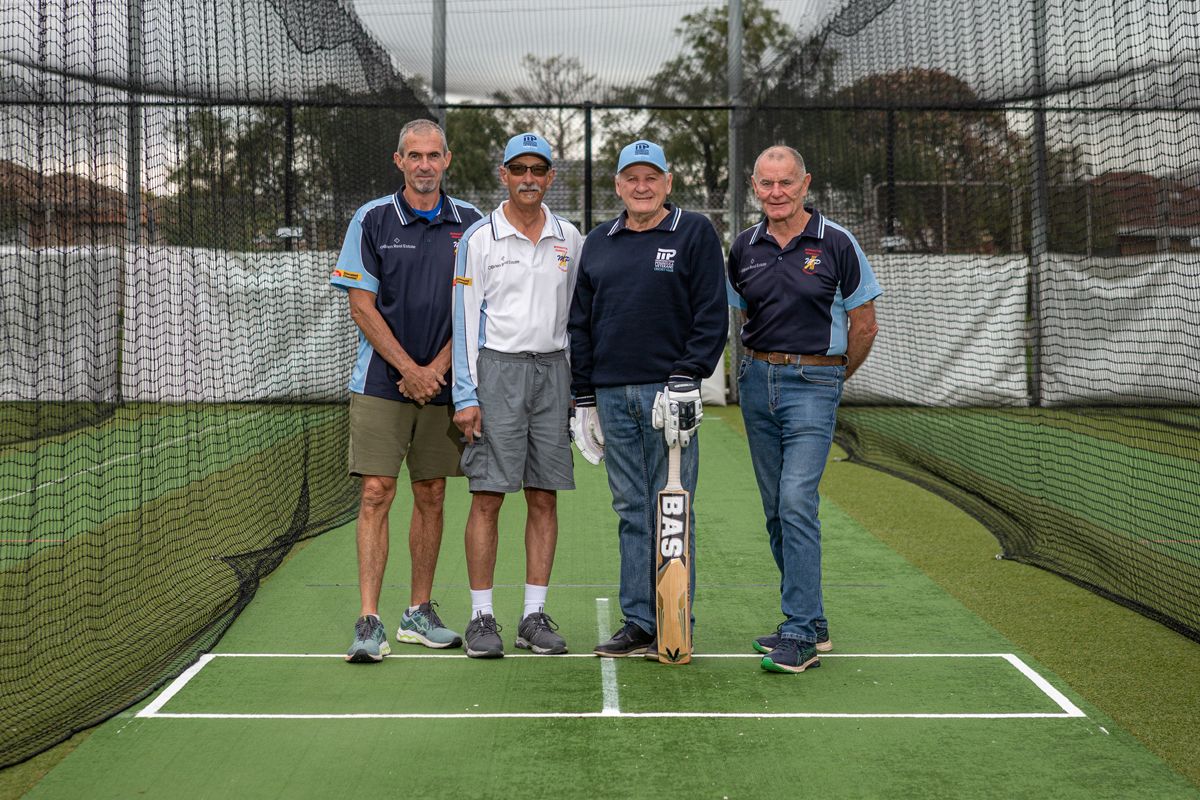 By Joe Novella Photos Gary Sissons
For most of us over-50's, it has been a long time since we rolled the arm over, or hit one over the boundary for six. Cricket, like the vast majority of sporting endeavours, has traditionally been seen as a young person's sport. But times have changed, and nowadays cricket is finding a new and eager participation base amongst our more senior citizens, keen to don the whites and reap the benefits of a more physically active lifestyle.
A generation ago, turning 50 meant thinking about retirement and maybe slowing down a little. People in their 60's and 70's were spending their retirement days crossing off bucket list items like travelling around Australia or the world. Physical activity a generation ago wasn't an important part of getting older, and for those who did want to keep active, the choices were limited to long walks or sports that were easy on the joints and not too taxing on the lungs.
All that has changed now and people over 50 are seeking more active lifestyles with sport playing a major part. Sports like football, soccer, netball, swimming and cricket have experienced major growth in their Master's categories with both male and female participants. Veterans' cricket is one of the fastest growing activities in Victoria with over 1400 regular players in three age groups: over 50's, 60's and over 70's. All play in competitions conducted by Veterans Cricket Victoria. And the Mornington Peninsula is a hot spot for this growth with many ex-players who had well and truly called stumps on their careers now finding a new lease on their sporting life with the Mornington Peninsula Veterans' Cricket Club.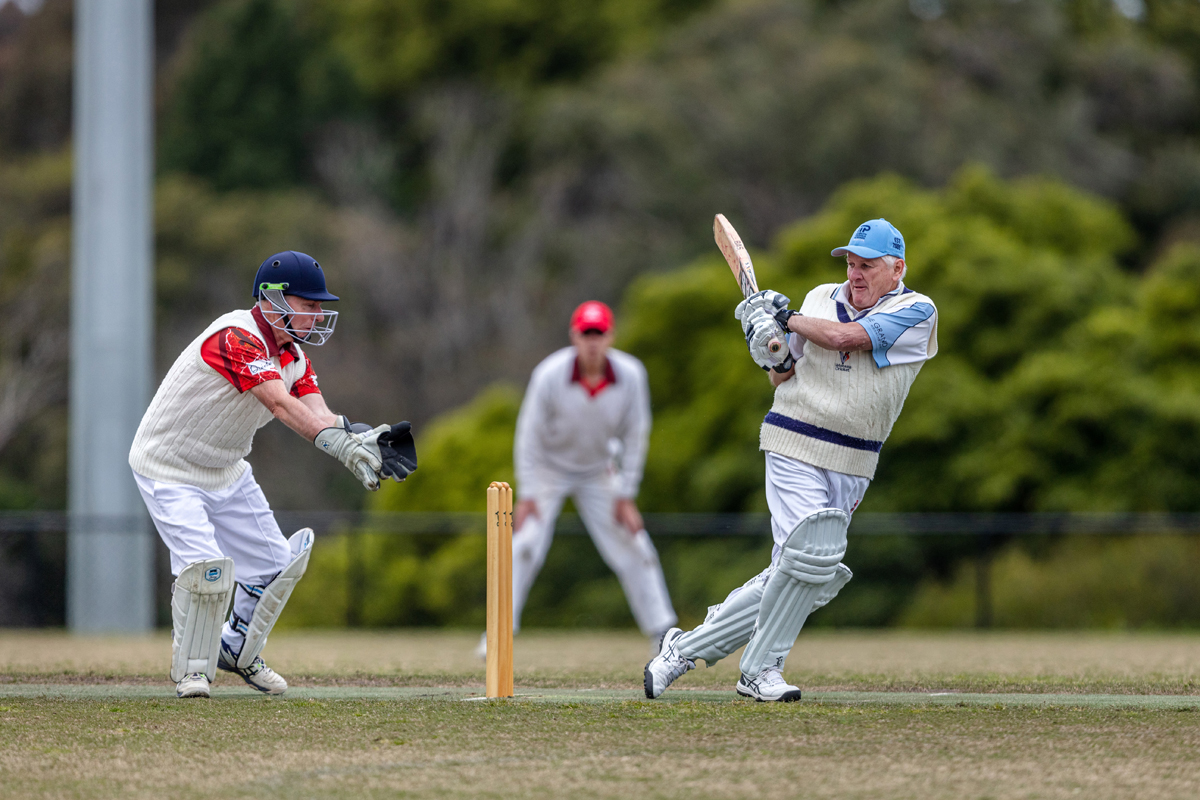 The Mornington Peninsula Veterans' Cricket Club (MPVCC) was founded in 2009 by a dedicated group of individuals, keen to get out and about and enjoy the game they loved in their younger days, albeit at a slower pace and with a stronger emphasis on the social aspects of cricket. The Peninsula seemed an ideal place to start the MPVCC with its ageing population, many of whom were looking for ways to maintain fitness and be part of a community of like-minded people.
From small beginnings, the MPVCC has grown to a membership of 60 with two over 50s teams, an over 60s and an over 70s team. Whilst the main aim is to have a bit of fun and enjoy some camaraderie and time with friends, there are some competitive representative levels that the more serious players can aspire to play, including playing for your state and country. The MPVCC has within its ranks a number of very handy cricketers who have represented Victoria in various National Championships for veteran cricketers, while six have represented Australia in international fixtures against England, New Zealand, South Africa, and the West Indies. Former AFL legend Dermott Brereton is a regular in the over 50s team.
Despite the lure of representative honours, you don't have to be a superstar to play. The MPVCC welcomes players of all abilities, because playing veterans sport is a social experience as well as being a competition. Players enjoy regular weekends away and social events that players and their partners can enjoy. Lifelong friendships have been re-established with old cricketing mates through playing the sport and new friendships made. And of course there's the added incentive of being able to have a yarn with mates over a cold beer after a day's play in one of the best parts of Victoria.
In fact, there are a lot of positives to playing sport in our senior years despite the aching bones and cramps. From a mental health point of view, becoming part of a club provides a sense of belonging, connection and community that is often lost as we age and lead more sedentary lifestyles. There are also many physical benefits to playing sport: "Improvement or maintenance of balance and coordination, fitness through running and, very importantly, focus and concentration, which in turn helps to slow down cognitive decline," said Michael Boulton, Secretary of the MPVCC.
And it's not just ex-players that join up to play veterans' cricket. The MPVCC draws its members from a range of communities across the broader Frankston and Mornington Peninsula area and from all backgrounds including some members who have never picked up a bat before. Everyone is welcome and the whole objective is to have fun. Joining won't break the bank either with the club charging a modest fee of $50 to become a member.
The growing interest in Women's Cricket has resulted in Veterans Cricket Victoria starting a competition for women over the age of 40. Hopefully, one day soon, the MPVCC will have enough interested women to start a women's team on the Peninsula.
If you're keen but a bit unsure of the merits of getting out of that recliner and onto the field, take a drive by the nets at Alexandra Park, Mornington on any Friday from October onwards and you'll see a bunch of old blokes doing what they loosely describe as 'practice'; but in reality they are living life to the full through the sport they love.
If you are keen on joining in, or would like to know more, please email Michael Boulton.