Ricotta gnocchi with fine herb pesto, smoked kipfler potatoes, buffalo mozzarella
(Serves 4)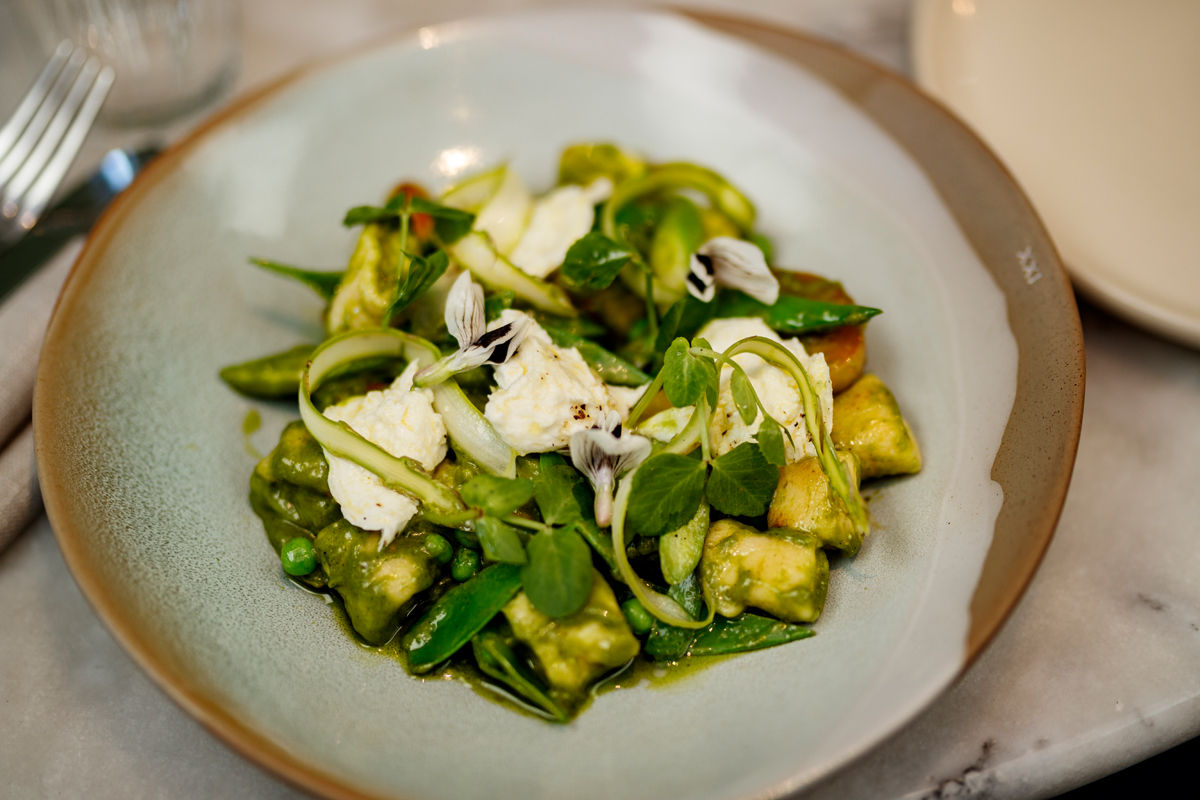 Gnocchi dough
Ingredients
300g ricotta (hung overnight until dry)
50g grated Parmesan cheese
1 egg yolk
120g 00 (pasta flour)
10g sea salt
Method
Thoroughly mix together all ingredients except for the flour.
Gradually knead the flour into the cheese mix until a dough is formed. Place into a bowl and cover with plastic wrap.
Let the dough sit in the fridge for at least 2 hours before rolling.
For garnish
4 x pieces asparagus (finely chopped)
1 x small handful snow peas (de stringed and finely chopped)
8 x springs snow pea tendrils
20g buffalo mozzarella (1 cm diced)
Fine herb pesto
Ingredients
30g picked dill
30g picked tarragon
30g picked chervil
30g chives
60g baby spinach
1 medium shallot
2 x cloves garlic
½ tablespoon dijon mustard
½ teaspoon baby capers
20g grated Parmesan
30g flaked almonds
100ml olive oil
5g sea salt
1 teaspoon balsamic vinegar
Method
Toast the flaked almonds in a preheated 170°C oven for 6-8 minutes until light brown. Allow to cool completely at room temperature.
Thoroughly wash and dry all of the herbs and place into a food processor.
Cook the baby spinach in boiling water for 20 seconds before straining and plunging into ice cold water.
Thoroughly squeeze the water from the cooked spinach and add to the food processor.
Place all remaining ingredients into the food processor and blend to a paste. Reserve at room temperature.
Smoked kipfler potatoes
Cook five kipfler potatoes in salted simmering water for 30 – 40 minutes until you can easily stick a knife through them, strain from water and let them sit for 10 minutes to cool slightly.
Peel away the skin using a small knife and slice into 2cm thick rounds.
Smoke potatoes for two minutes using a smoking gun and reserve for later use.
To cook
Using a dough scraper, cut the gnocchi dough into manageable pieces and roll into thin sausage shapes on a floured bench.
Once rolled, cover your dough scraper with flour and cut your rolls into small gnocchi pieces.
Place the gnocchi into boiling salty water. Once floating, boil for two minutes before pulling from the water and tossing in olive oil. Place a pan over a high heat. Once the pan is hot, add a good glug of olive oil, add the gnocchi and cook until golden brown on one side before tossing and cooking the other side.
Add the finely chopped asparagus and snow peas and cook for a further 30 seconds.
Add 50 ml of water to the pan, immediately followed by three tablespoons of the pesto and the smoked potato slices.
Toss through and cook for one minute before placing into your serving bowl.
Garnish with diced buffalo mozzarella dressed with a squeeze of lemon, extra virgin olive oil, salt and pepper.
Finally, artfully place the snow pea tendrils and serve.
---
Wildgrain Mornington, 1 Blamey Pl, Mornington
Ph 5902 8661