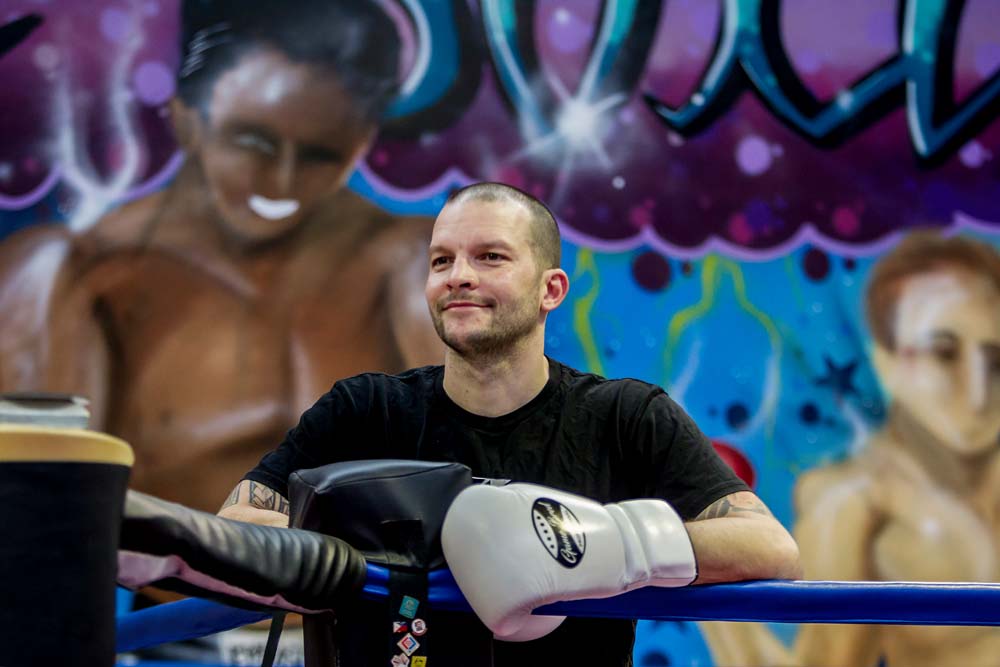 By Melissa Walsh  Photos Yanni
He's been a professional boxer, coached well in excess of 300 fights with Victorian and Australian champions, runs a successful boxing gym, has travelled the world and is passionate about all things diet and fitness. But it didn't start out that way for Peninsula Boxing Gym owner Marcos Amado, whose love of food enticed the eastern suburbs boy to be a chef for the first part of his professional life. Peninsula Essence finds out what it takes for a foodie to become a fighter.
"I didn't start out as a boxer or on the peninsula," said Marcos sitting amongst boxing trophies, fight posters, bags and weights at his gym in Mornington. "In fact quite the opposite, I grew up in the eastern suburbs in Chirnside Park, but my parents had a beach house in Dromana. I was 21 when I decided to stay on the peninsula and live here, and never looked back."
Starting his chef apprenticeship at the age of just 15, Marcos spent a few years travelling around Australia cooking and seeing the sights, but finally made his home on the peninsula.
"I got to a crossroad when I was younger and didn't know what I wanted to do. Mum said 'You have to do something you love', and I love eating so decided to cook. Mum was an awesome cook, being South American, so we always had good food in the house. The problem was I put on a lot of weight as a chef and decided to try boxing to get in shape," said Marcos, whose dad had always taken him to watch the boxing at the pub and grew up a massive fan of Mike Tyson. "When I came to the peninsula there was an old gym to train at in Mornington called the Old Tin Shed. It's no longer there now but it is where I trained and got my fitness levels up."
As time went on, Marcos found he was teaching several kids there as well as training and found another unexpected passion in helping others.
"I never had a coach but looked after myself and other kids at the gym. I found it more rewarding helping the others. I lost weight and got fit while I was still working as a chef, all by making healthier choices and exercise," said the boxer who worked at T'Gallant and the Boathouse as well as city restaurants.
The forty year old says those days were like a lifetime ago and coaching boxers and training people at his gym is now where his passion lies.
"It evolved very naturally. I started leasing space at gyms to train boxers and used my food knowledge as well as training to help others make better choices," said the boxer who is proud to have fought professionally but mainly to have trained some great boxers.
"I found myself helping guys get ready for fights and I was very fortunate the first kid I trained, Jai Alexander, is a professional now. He has had 120 amateur fights and won a bronze medal at the Commonwealth Games. I started training Jai when he was 14 and he is now 26," said Marcos who now has 16 amateurs, four professionals, and runs five classes per day.
For Marcos the sport of boxing won his heart for many reasons.
"I love the sport as, although it takes a team to get there, you are on your own in the ring. It's all up to you once you are out there so you must be prepared with training and dedication. It is all about putting in the hard yards mentally and physically to get a good result," he said.
To train for an event, Marcos says it is about physical and mental endurance.
"There is a lot of road work so  plenty of running, distance and short sprints, boxing using specific exercises with hitting pads, sparring, bag work, and floor patterns for footwork," he said. "You can create a decent boxer but the really special talented ones are naturally athletic plus have the right attitude and work range. If you don't put in the hard yards you won't succeed."
For Marcos one of the most rewarding aspects has been working with kids and seeing the difference boxing can make to their lives.
"I do a lot work with bullied kids and kids who bully.  Boxing and the discipline it takes is good for structure, doing what you are told to do, respecting yourself, and having an outlet. If you are the bully maybe you need somewhere to channel it and this is a great way."
Fighting for two years as a professional, Marcos says he was given a great insight into what's needed and passes that on to his boxers.
"I have been doing this for 13 years now, two of them professionally and have made some incredible friends in the process.  Once you have put so much blood, sweat and tears into something you have a lot of respect for others who have put themselves in the same situation."
Peninsula Boxing Gym runs classes for people of all ages and fitness levels with personal training classes for mums and kids, and masters fighters for the over forties.
"People come here for all sorts of reasons, for boxing training, for fitness, diet advice, to lose weight, or gain fitness, or just a social outlet. Boxing has something for everyone."