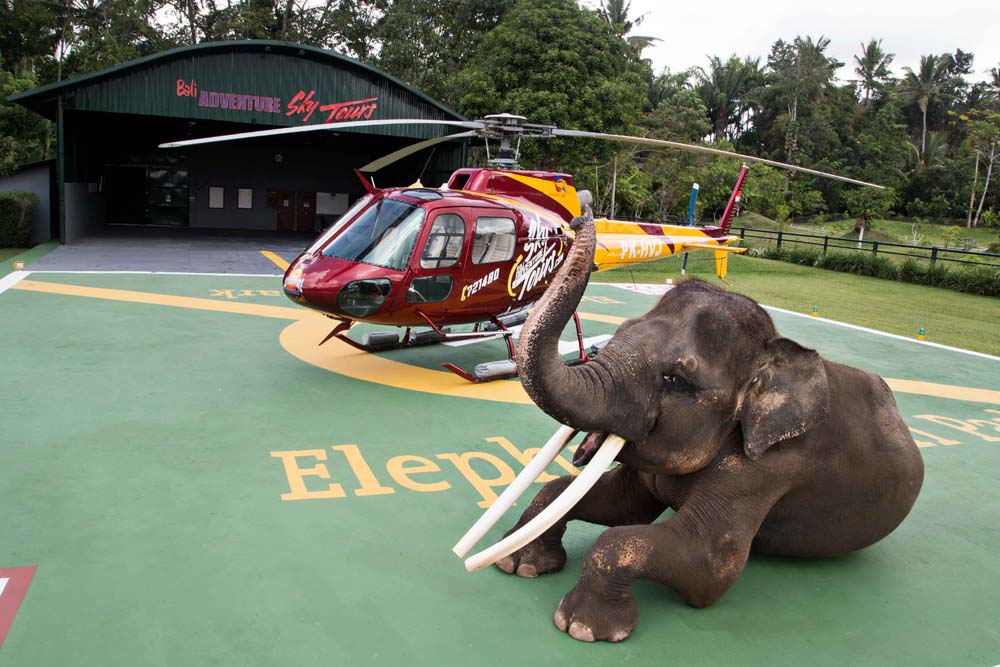 By Melissa Walsh
Nigel Mason has never been afraid of an adventure, having moved out to Australia as a Ten Pound Pom at the tender age of 15, travelling the country, and eventually ending up on the Mornington Peninsula. These days, Nigel lives in Bali where he and his wife have created a flourishing business, Mason Adventures, and a deeply spiritual connection to the people and their country.
"While I relocated to Bali at the end of the '70's, I still come back to the peninsula every few months to visit friends and family," said Nigel, who brings his wife Yanie out here regularly. "I love the peninsula and have always been a skin diver so I have spent a lot of time diving off the coast, especially at Cape Schanck. In fact I was diving at Cape Schanck the day Harold Holt disappeared, climbing back up after the dive, we saw all these helicopters, then drove home and heard it on the radio. It was not a rough day by normal standards though."
Having just celebrated his 74th birthday, Nigel is the epitome of cool, with the leather jacket, aerial sunnies and a reminder that life is what you make it.
"I guess I ended up in Bali as I'd had enough of what I was doing work-wise and just by accident bumped into a couple of old hippy friends who were making jewellery there. They invited me over so I went with them," said Nigel who was 37 at the time and didn't even know where Bali was.
"I met Yanie in 1985 and we started a well-known restaurant called Yanie's," he said. The two were married, had two beautiful boys and they would take the children down to the river and drink out of a coconut that had been pulled off the tree. "That was the catalyst for us starting the first white-water rafting company in Bali. We would sit by the river and watch people come down the river in big inner tubes and thought 'This could work', so after a lot of work and selling a nice piece of land we began the company. Soon after we added the mountain cycling and the tracking, then made the restaurant, opened the spas and, in 1997, we decided to rescue elephants."
Fate stepped in at that time when Nigel and Yanie found out about some elephants that had been bought by a person who had no idea what to do with them.
"We found them in this area and they were very sad and sorry for themselves. The guy who owned them suggested we buy them and we did. That opened up a whole new world for us and off we went to Sumatra where these elephants came from. We could not believe the poor conditions as the deforestation was killing them. They have a short life expectancy with extinction expected by 2029," said Nigel. "So we ploughed money from the rafting company into creating the elephant park. We now have had four babies there, made the hotel and here we are today with the Mason Elephant Park which was formerly the Elephant Park Safari."
The logistics of rescuing and relocation elephants are so complex that a movie was made out of the final rescue of the last ten elephants in 2005.
"It was called Operation Jumbo and highlighted the drama of us rescuing the last elephants, how we got them and the logistics of bringing them down," said Nigel, who is very proud of the sanctuary he and Yanie have created. "Our elephants have a beautiful life and the connection with the mahouts is amazing. We don't use any forceful methods with our training. It is all very gentle and about repetitiveness. It takes longer but the results are worth it as we have calm and friendly elephants that are living a happy life."
Nigel says there has been a change of attitude to animals in recent years as people are getting sensitive about animals in captivity.
"We have been under criticism, along with a lot of other places, saying it's cruel to ride an elephant. But it isn't cruel. What they are talking about is the training methods but we do not use those. We get elephants that are highly traumatised and need to bring them back to being healthy and happy by using gentle repetition. I saw the way they were being treated and said there has to be another way. I believed there was another way to train them and it worked; it took longer but the results are far better," said Nigel.
For this dynamic duo, creating new business adventures never stops with the recent opening of All Terrain Vehicles and a chocolate factory.
"One thing leads to another and recently we have gone into the All Terrain Vehicles, and at the same time we opened a chocolate factory. We went to this village with the idea of making this ATV course and they offered us the land but it was too big and Yanie said 'Why don't we do chocolate'. We already had a bakery, gelato, and nobody was making chocolate, and so Mason Gourmet Chocolates was born."
For Nigel, living in Bali has become the place that he feels most settled and at home, and not just for the climate.
"I love the weather of course but the Hindu culture and the lifestyle are very grounding. It is a mild mannered religion and based on family and values. The heart of Bali is the people and their wonderful family orientation. It is the place I feel most at home," said Nigel who has rubbed shoulders with the rich and famous.
"The secret of my success is that Yanie and I started with virtually nothing, but we have the perfect marriage and the perfect business relationship. Yanie has the background of Bali and understanding the culture and I have the knowledge and experience of living in Australia and the UK with all my business dealings there. We are both hands on. Yanie keeps everything running smoothly behind the scenes and I am out there designing, building and overseeing. It is a match made in heaven," said Nigel. "We look forward to our visits back to the peninsula to visit my family as well."