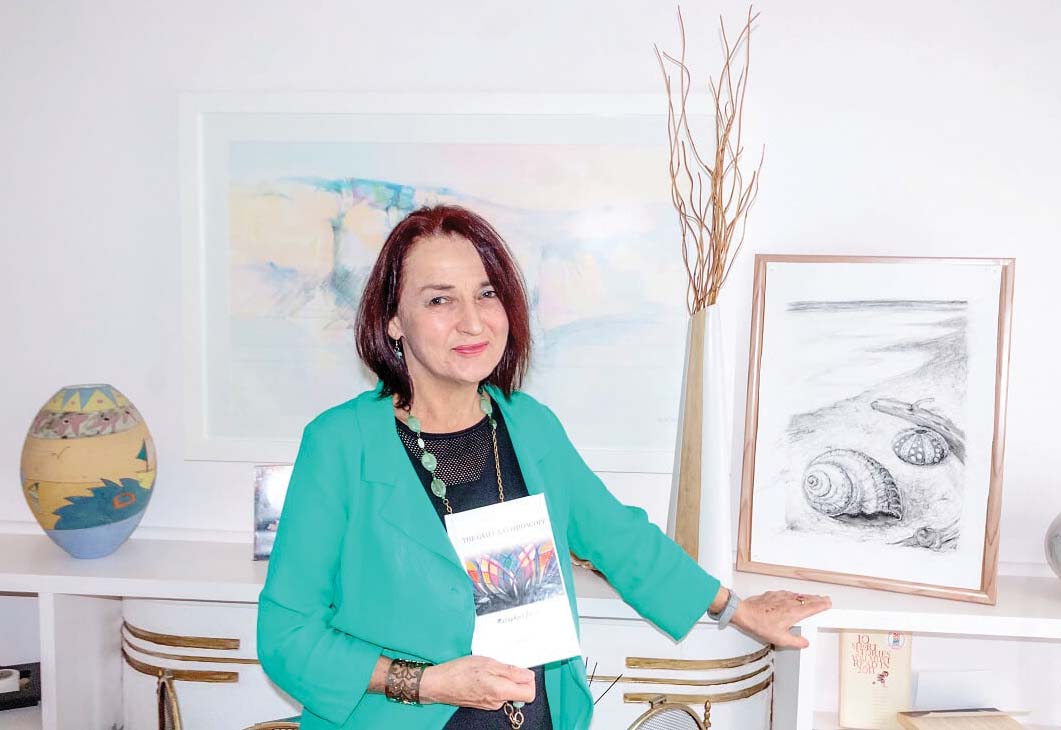 By Brodie Cowburn
It's been close to a decade since the life of Su-Rose McIntyre, a Mornington counsellor and teacher of the deaf, was turned upside down.
On New Year's Day 2009, Su-Rose was confronted with the heartbreaking news that her son, Carl, had passed away after a long battle with mental illness.
Nearly ten years on from the start of Su-Rose's "intense" journey through the grieving process, she has decided to take the brave step of drawing from the pain of her experience to write a book to help others struggling with grief.
"This goes back further than a decade. My son developed a mental illness at the age of 18, and I watched him change radically from a fit, engaged, enthusiastic, surfing young man to someone who was heavily medicated and mentally sluggish. It was devastating to witness. I had to do a lot of readjusting to figure out how he could be happy from then on, and he was difficult to live with at times," Su-Rose said of her son's struggles.
"Unfortunately on New Year's Day 2009 he was in a state; he was very agitated. He died that night, even though he sought health care himself; it was truly tragic. He had never spoken about doing anything like that; he was just very unwell. From there began my grief journey."
During that journey, Su-Rose said she struggled with knowing what to do to best manage the pain she was feeling at the time. Now, in an attempt to potentially help others who may be going through similar struggles, she decided put pen to paper and publish a grief-help book of metaphors for the grieving process.
"Nothing like this had ever been on our radar before. Nothing prepares you for it, I had no script. My way of handling grief at the time was to hold it in. That's what my family tended to do and everyone around me that I saw in grief did the same. Our culture is fairly grief averse, we don't know what to do, and we're frightened of the power of grief. Grief has an incredible power to change us profoundly and make us unknown to ourselves; it strips up right down to our core. You can become unpredictable and moody. Because of this, most people tend to just push it down, hoping it'll just go away so you can get on with normal life. In fact I've come to know that grief is actually its own medicine. It's a healthy, honourable thing to do in response to profound loss. It's nothing to be ashamed of," she said.
"I decided to think big and write a book. Writing the book was really therapeutic, and I felt lighter after finishing it. Some of the metaphors were written from deep within myself, while some are from other people who have shared with me their experience of grief.
"Grief keeps changing, and every day with it is different. You don't know what kind of a day you're going to wake up to, but just like a light shining through a kaleidoscope, the light brings hope, a hope that things might get better tomorrow. This inspired my book's title, 'The Grief Kaleidoscope'."
The Grief Kaleidoscope features 28 chapters, each with a self-contained metaphor and tips about the process of grief, some drawn from Su-Rose's own experiences and some from the experiences of others.
Su-Rose said the process of drawing on her own experiences to create metaphorical poems and short stories was challenging, as this was her first experience with symbolic creative writing.
"I didn't believe what had happened until after the first anniversary; it didn't seem real. Every anniversary that came and went like a birthday, Christmas, New Year's Day, it hammered home the reality. That had to happen first before I could do anything with it. During my hour-long commute to work, that's when I did most of my reflecting. I would observe myself in my grief then, and I would come up with metaphors," she said.
"I went along to some support groups and expressed how I was feeling, and the people I was with liked the metaphors I used and they suggested I make a collection of them. The metaphors kept coming and coming, so I decided to run with the idea and start that collection. I was surprised that the metaphors I had come up with matched the various models of grief that had been proposed by researchers and bereavement specialists.
"The book contains fable-like metaphorical language. It was quite daunting to begin. It took me a while to settle down and write.
I had to get away and went up to a small northern seaside township in New South Wales with my laptop. I kept procrastinating, circling the computer like a lion pacing up and down a cage for about three days until, finally, I sat down and began.
"It took two years to write. I'd leave it alone and come back to it. Some of the metaphors were too wooden, not real, and I had to change them. I wanted them to be authentic, to truly match my grief emotions, so I dug deeper within myself and changed some of them."
Since losing her son and going through the process of coming to terms with the trauma, Su-Rose became interested in learning more about the best ways to deal with that process. She has gone on to study counselling at Monash University, and now dedicates her time to helping others negotiate the grieving process.
"I became very interested in grief. I wanted to read a lot about it and hear about it. I explored every corner of grief possible. One morning, five years on from my son's death, I was in bed at about 5am when I found myself rising out of bed, going to the computer, and finding a course in grief counselling. I completed a Masters in Counselling degree at Monash University, and did my placement at the Support after Suicide Unit in Richmond. I initially didn't want to do it there because it did hit close to home, but in the end it was a good thing to do," she said.
"I now give talks about grief, its changeable nature, and its management. This includes me telling my story to suicide -bereaved people about suicide loss. They are people who are really hurting, and to have somebody talk to them who's been through the process and is further along that dark tunnel really gives them a lot of hope.
"I've also just completed facilitating a short grief course and have discovered that those who work with people dealing with grief, such as nurses and those working in palliative care, are interested to know more. It's important for non-grievers to know how to best deal with grief issues so we can help others, and also deal with it ourselves when it's our turn.
"Surprisingly, grief doesn't have to be all grim and weigh you down. It can act as a fuel. It can be transformative and charge you. There's such a thing as post-traumatic growth as well as post-traumatic stress. Ten years ago I would never have thought I'd be writing a grief-help book or running grief courses but here I am."
Su-Rose is available to speak to a variety of audiences about the grieving process, and can be contacted directly through her Facebook page for further enquiries. She is also available for direct one-on-one counselling either in person or over Skype.
Her book, 'The Grief Kaleidoscope: Metaphors for Grief' is available in soft or hardcover from bookdepository.com or from Farrell's Bookshop in Mornington.
"Suicide grief and losing a child are probably the toughest to go through, but all loss is difficult. There are many types of grief. A devastating diagnosis, a divorce or broken relationship, losing employment, losing dreams, loss of ability, loss of identity, or having to move away," she said.
"I encourage others to talk about their personal grief in trusted company. You're not alone, you're part of a huge, hidden, grieving community. Everyone's got a story, and if you're brave enough to bring it up, it'll help bring grief out of the shadows and to shine a light on grief as a healthy response to loss."
---
Su-Rose is best contacted through her Facebook page facebook.com/griefgrowthcircles or via email at sumcintyre@yahoo.com.au.
Those needing support can contact Lifeline at 13 11 14
First published in Peninsula Essence – July 2018