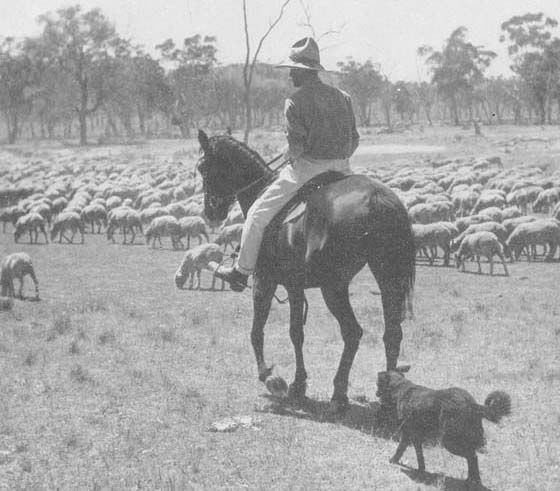 By Ilma Hackett – Balnarring & District Historical Society    
Many people are familiar with the name 'Merricks' but what of 'Meyrick'?  This was the name of three young men associated with the early history of the Peninsula whose name lives on in the community of Merricks.  Just who were the Meyricks and what was their relationship to each other?
Maurice Meyrick was a young man of 20 years when he arrived in the Port Phillip District in 1839.  He purchased from the Crown the pastoral licence for the run 'Boniong' (Boneo) in the southern part of the Mornington Peninsula.
Alfred Meyrick was Maurice's younger brother.  He came to join his older brother in Australia the following year, 1840.  He was then 18 or 19 years of age.
Henry Meyrick, younger cousin of the other two, accompanied Alfred in 1840. He was 17 years old. Henry and Alfred initially took up the 'Colourt' run, on the north-east side of the Peninsula.
A boyhood in Wiltshire
Maurice, Alfred and Henry grew up in the English village of Ramsbury in Wiltshire.  The Meyrick family, of Welsh background, had a strong heritage of clergy or military.  The boys' fathers were brothers.  Henry's father, Edward, was the vicar of Ramsbury, a position inherited from his father while Maurice and Alfred's father, Arthur, ran the vicarage school where youths aiming to enter university received a classical education. The three boys had been school mates together and had grown up sharing many pastimes. They were all middle sons in their respective families, with no set future role, but growing up with the expectation that they would continue in the family tradition.
Australia beckons
Maurice was preparing to enter Oxford on a scholarship when he astounded all by declaring his intention to chase adventure and fortune in the distant land of Australia.  His imagination was fired by the letters written by his uncle, Colonel Thomas Meyrick, who had settled in N.S.W. after retirement from the army.  The Colonel had written glowing accounts of the prospects offered by a life in the colony.  Maurice wanted to be part of that.  He convinced his parents he was in earnest and, with their reluctant support, set sail.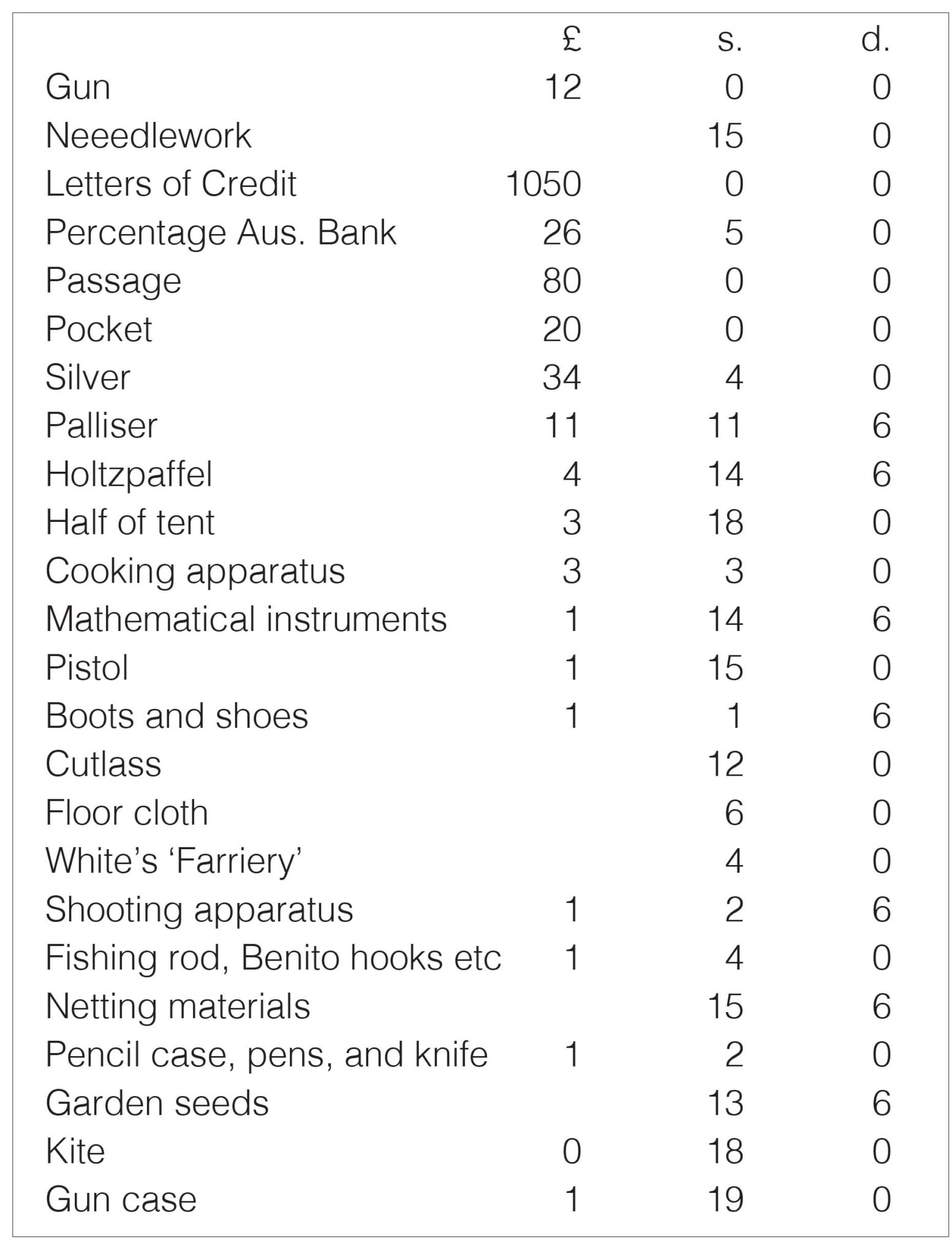 In the late 1830s Melbourne and its surrounding districts were booming.  Settlers were pouring into the area, prices were skyrocketing.  Maurice, having taken up his run, was full of praise for his new home and the opportunities it provided.  But … he missed the companionship that he had had 'at home'.  Might not Alfred join him?  They could make their fortune and return home in five years time.  His parents discussed the proposition and it was agreed that Alfred, too, should sail for Australia and their cousin, Henry, should accompany him.
The situation of Henry's family had changed.  His father had died unexpectedly in 1839 and the family had had to leave their home to make way for the new vicar.  His mother accepted the offer to temporarily live at the 'School House' with her brother-in-law's family.  Of her children, Henry was the only one at a loose end so when Maurice's letter arrived begging that Alfred join him in Australia, Myra Meyrick weighed the pros and cons and decided to allow Henry to go too.  Despite his young years he was a serious young man who could  " . . . use a spade, an axe, a pair of shears . . ."  ( Life in the Bush  p.69).  He was also a competent horseman.  She provided his passage, the necessities for his new life and £1,000 (the same sum that Alfred had been given).  The two youths set sail aboard the "China" and arrived in Port Phillip at the end of April in 1840.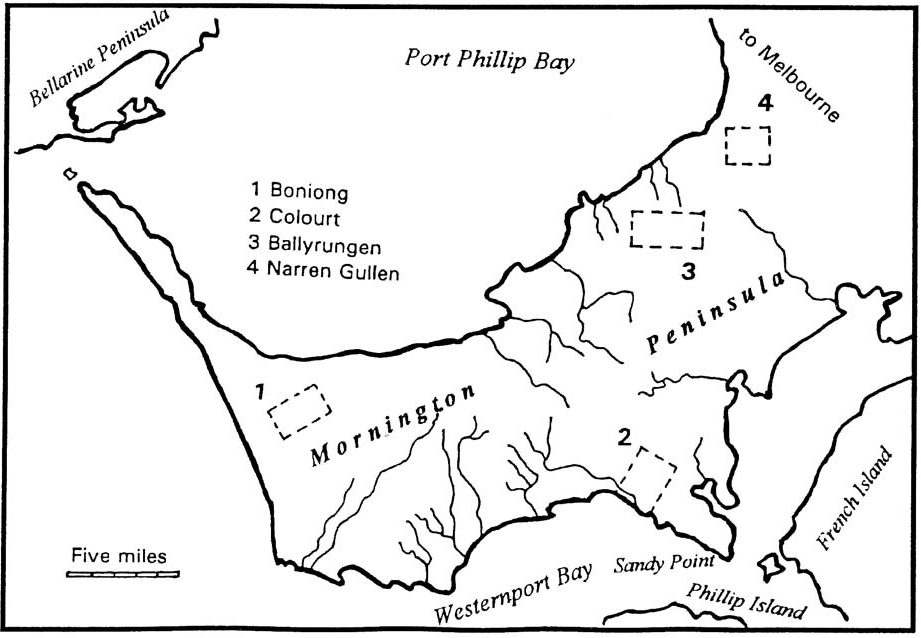 Henry was a regular correspondent sending letters to his mother, his older brother and sisters whenever he could.  The surviving letters give a detailed picture of his life and through them we can follow the course of his 'adventures' and those of his cousins.  In one sense it can be seen as a story of failure – none of them became prosperous graziers – but it is also a story of courage, hope and determination.  At least they did not face bankruptcy like many of their contemporaries.
Arrivals in a new land
When Alfred and Henry arrived in Melbourne they were met by Maurice who introduced the two newcomers to colonial life and helped them prepare for their new life.  The three young men managed their affairs separately, giving each other help and support when required.  "We all hang together pretty well."  [The Letters of Henry Howard Meyrick. Letter IX, Melbourne.]  Even though Alfred and Henry co-owned their runs Henry pointed out to his mother,  "You will observe that there is no sort of partnership between Alfred and myself … we merely let our stock run together and bear the expense of the station between us." [Ibid, Letter III, Melbourne]  Later they would form a partnership.
The new arrivals had intended to buy sheep but during their first weeks in Melbourne were persuaded by a 'friend' to put their money into cattle instead.  Sheep were too risky.  Catarrh and scab were prevalent and wild dogs a continual threat. Instead the friend sold them 80 head of cattle each, equal numbers of cows, heifers, bullocks and yearlings to be delivered in Melbourne from Sydney at £7/10/- per head.  The sum amounted to over half their total capital, a huge investment.  They also purchased four working bullocks, a dray and Henry bought a horse for himself for which he paid 60 guineas.  In England it would have cost him £25.
Soon after arrival Alfred and Henry took up the grazing licence for 'Colourt', situated some sixteen miles from Maurice's run 'Boniong'.  At first they were enthusiastic about their land: "We found an excellent run but we shall have to clear away a marsh to get water; there is a splendid river running through the middle of it, but unfortunately it is salt.  It is, however, full of fish and crammed with ducks. …" [Ibid  Letter II, Melbourne]  However they soon found themselves defeated in their search for a reliable source of fresh water and the difficulty of draining the swamps.
Abandoning 'Colourt' for a time they took another run near Mt Eliza, 'Narren Gullen', well-watered but in steep, heavily timbered countryside.  They had also taken up 'Ballyrungen' in the same area but more towards present-day Frankston. At 'Narren Gullen' Henry set about fencing and preparing stockyards for the cattle they were expecting and erecting a hut in which to live.  It was a rough life, often lonely. Weeks could pass when one or other was alone.  As 'Narren Gullen' was close to the bay Henry wrote that he was making a whale boat to bring provisions from Melbourne, a three hour voyage in comparison to the much longer overland haul. Taking the dray to Melbourne for provisions was an arduous trip.  They took turn about.  Henry tells how he had spent seven consecutive nights sleeping under the dray on a return trip.  On the next trip Alfred was well overdue when Henry rode out to look for him, fearful that the bullocks might have strayed, as often happened.  They met.  The dray had been carrying a particularly heavy load making for a very slow and difficult trip.  Henry's 18th birthday was approaching and he wrote that he expected to celebrate with grog and a 'flopper in the pan' rather than cake and wine.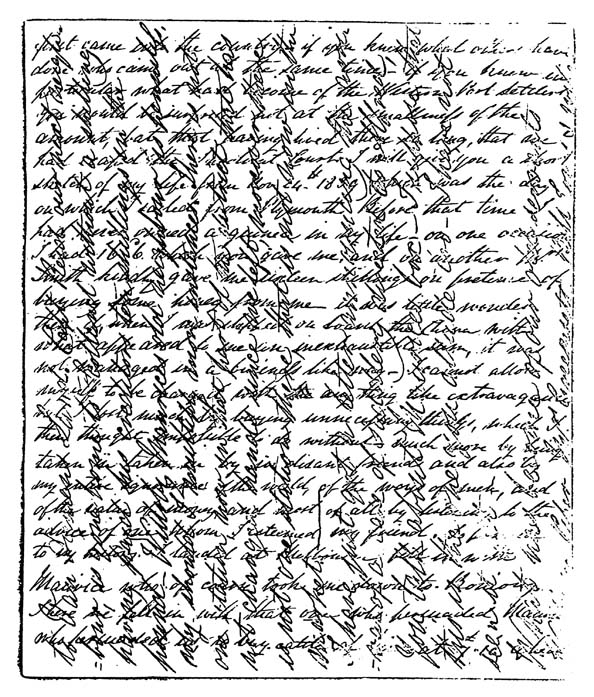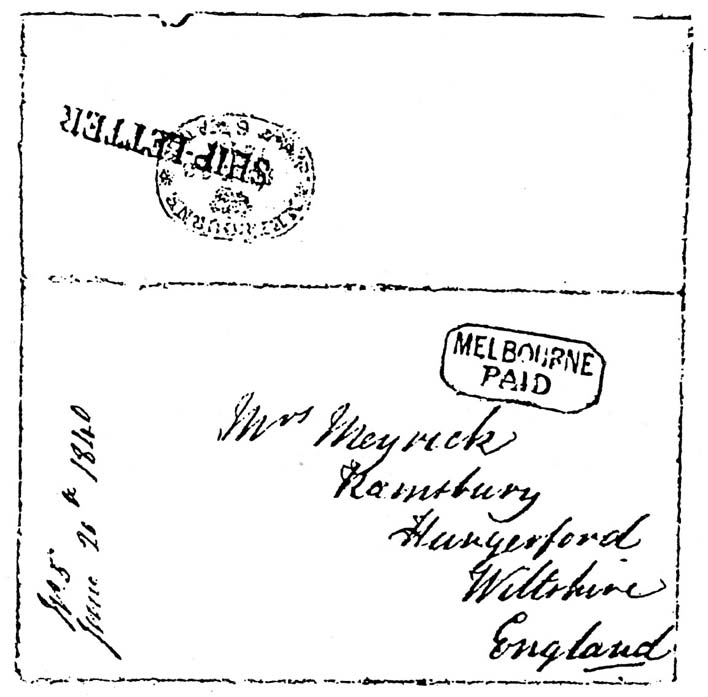 The following month their cattle finally arrived at a station six miles from Melbourne and with the help of a neighbour they were then moved to Mordialloch (sic), "a long way and no road"  [Ibid. Letter VIII, Melbourne], then to 'Narren-Gullen'.  The value of the cattle had fallen since purchase; they were in poor condition and half wild.  A letter from March 1841 reveals that Henry had been ill with typhoid fever ever since his return from droving.  He was by himself at 'Narren Gullen' with 170 head of cattle and three horses to look after.  Plans were underway to sell that station.  It proved to be too mountainous.  Alfred was at 'Colourt' erecting huts as water had finally been found there.  Maurice had been busy at 'Boniong' with his sheep but was coming to help move the cattle to 'Colourt'.
Back at 'Colourt'
By September things were looking more promising.  At 'Colourt' the stock were doing well; two acres of wheat and one of oats had been planted and an acre of potatoes was planned "as soon as the rain ceases". [Ibid.  Letter XII, Colourt]  Henry was bullock-driving while Alfred was stock-keeping.  They were not about to starve: " …The following is our stock of provisions and larder, 4 cwt flour, 1 bag potatoes, 1 kangaroo, 2 black swans …" and they planned to kill a bullock on the following Sunday. [Ibid, Letter XII. Colourt].
The economic picture in the Port Phillip District had become bleaker.  The earlier boom was at an end.  "Melbourne is in a miserable state, the land sales have run away with every farthing of cash, there is nothing going on but dishonoured six months bills; both merchants and stock-holders are failing every day."  [Ibid. Letter X. Narren-Gullen]  Six months later Henry lamented: "… squatters can't get one farthing for their produce". [Ibid. Letter XIII. Colourt]  It was a time of economic crisis. He remained optimistic though –"I would have you understand that the present panic is but of little consequence to us, seeing that in anticipation of the same we have always kept cash by us, sufficient to carry us thro' [sic]; the blow falls on those who are obliged to sell stock to maintain the current expenses of their stations." [Ibid. Letter XIII. Colourt]  Henry does, nevertheless, accept a loan of £20 from his brother in England in the belief that he will soon be able to return it with interest.
Maurice quits Western Port
Maurice was increasingly dissatisfied with his run at 'Boniong'.  The soil was sandy, his "sheep pastures …dry-looking and white" as noted by William Howitt in 1843 when he undertook a walking tour of the peninsula.  Prices for wool were falling.  There had been a problem involving a disputed boundary and waterhole with Edward Barker, part- owner of the neighbouring run.  This led to them fighting a duel in 1842.   He was apprehensive about his tenure of 'Boniong' after close neighbour and friend, Edward Hobson, had been forced off his run.  Hitherto Crown land had been available by licence/lease for grazing purposes but several special surveys had been introduced in 1841 to allow the purchase of 8 square miles (2070 hectares) at a price well below the land value.  Edward Hobson, who had the run 'Packomedurrawurra' on the Mornington Peninsula was displaced when Robert Jamieson purchased a special survey which enveloped Hobson's run.  Henry had written: "Hobson is sold out by one of these villainous special surveys, and I am afraid Maurice will be the next to suffer". [Ibid.  Letter X, Narren Gullen.]  The squatters with established stations were alarmed.  They were already struggling not only with the environment but with the massive financial slump that had followed the earlier boom.  Sheep that had been worth £3 in 1839 were now valued in shillings.
'Gipps Land' beckoned.  It was now seen as the "Land of Promise" and Maurice was convinced he would do better there than at Western Port.  A number of their friends and neighbours were of like mind and had already moved.   In 1844 he sold up 'Boniong' and prepared to take his sheep, a flock of some 2000 animals, to a station on the Thompson River.  Henry undertook to help him move the sheep overland while Alfred stayed to attend to matters on the peninsula.
Alfred and Henry make a decision
During Henry's absence Alfred fell ill so that when Henry returned he found the sheep they had bought had become infected with scab through neglect.  'Colourt' had presented obstacle after obstacle. The younger men also debated selling up and following Maurice to 'Gipps Land'.  "Should we certainly go to Gipps Land we shall sell everything except the sheep and give our whole attention to them; there is a perfect sheep mania; . . .."  [Ibid.  Letter XVI. Melbourne]
The decision was made and by the early months of 1846 Henry was again on the road to 'Gipps Land' this time droving his and Alfred's sheep and those of his friend, George Eagle.  The rest of the party accompanying him and Eagle were a bullock-driver named Fowler, a shepherd, Pat Gannon, and two Aboriginal stockmen, Yal Yal and Tommy, both of the Bunerong (Western Port) clan.  Alfred, still unwell, stayed in Western Port to finalise property and stock sales.
Guided by Maurice's enthusiastic advice, the Meyricks planned to acquire two adjoining runs along the fertile flats of the McAlister River valley in mountain country.  There they would set up their own small kingdom: "a little oasis of Meyricks in the wilderness".  [Ibid. Letter XVII. Ballyrungen]  Their huts would be only a few hundred yards apart.
By April Henry had arrived at a friend's station and was hopeful of soon reaching 'Glenmaggie' (later 'Glenfalloch') their new run.  On inspection he found his new home-to-be "very much like a large jail" but in a beautiful position. [ibid. Letter XXI, Gipps Land]  Henry described the river as a mountainous torrent, surrounded by snow- capped mountains for eight months of the years.  The river had to be forded eleven times to reach the run which was 25 miles from their nearest neighbour.  It was a picturesque spot but very isolated and completely cut off during the winter months.
'Gipps Land' did not treat them kindly.  As the months passed Maurice changed his plans and went to the Mitchell River.  He was next in Sydney from where came the news of his intended engagement.  That didn't eventuate; the young lady was trifling with his affections, using him in order to ensnare another suitor!
The final months in 'Gipps Land'
Alfred had joined Henry but suffered continued ill-health in the mountains.  This prevented him from giving much assistance with the heavier work.  Alfred's health so troubled Henry that he wanted to send his cousin either to Sydney or to England.  Henry's close friend, George Eagle, had died and Henry was trying to manage the work alone.  It was hard to find men to work in such an isolated spot.  At the end of two years Henry was still without a solid dwelling and sleeping under a tarpaulin as he strove to manage three flocks with very little help.  To add to his difficulties rheumatism had crippled his left arm.
They determined to exchange their run for one on flatter ground.  A plan to buy Dr Hobson's Traralgon run fell though at the last moment. Disillusioned with 'Glenfalloch' Alfred and Henry sold up everything, excepting their horses, undecided about a future in Gipps Land.  They were staying with friends, the Desailly family, on the Thompson River, waiting for the wet weather to ease before going to Port Albert when Henry drowned in the flood-swollen river.  He was attempting to swim his horse across the river to bring medical assistance to Mrs Desailly who was experiencing difficulties in the final stages of pregnancy.  She also died several days later, in childbirth.  The two brothers, Alfred and Maurice, quit 'Gipps Land' soon after.

The ultimate fate of the Meyricks
The three young men did not make their fortune in the Colonies as they had expected.
Theirs was not a happy experience.  Of their years in Western Port Henry had written that "no man can thrive in this accursed Western Port".  [Ibid. Letter XIX. Gipps Land Road],
Of Gippsland he wrote: "It is a current saying that a man who has lived here can match the devil himself; it is certainly the most lawless place I have ever heard of ".  [Ibid. Letter XXVIII. Gipps Land. Hobsons]
Maurice briefly went to Queensland before turning his back on the Australian adventure and returning to England.  In London he taught at a school for young ladies working towards university entrance.  He married one of his students.  Eventually he did what his family had expected him to do: took holy orders and became the vicar of a village four miles from Ramsbury.
Alfred remained in Australia.  Giving up his pastoral dreams he joined the civil service and rose to the position of Sheriff of Ararat.  He retired with a pension and went back to Wiltshire intending to live there.  However he no longer fitted in to the village way of life and, after a few months, returned to make his home in Victoria.
Henry had lost his life.

---
References: The Letters of Henry Howard Meyrick  (May 1840- November 1841 and January 1845 – April 1847)   transcribed by Jeremy Hales & Marion le Cheminant
Life in the Bush  1840 – 1847:  A memoir of Henry Howard Meyrick  by   Canon F.J. Meyrick
A review of the above book by Erle Cox –  the Australasian 16 March 1940]
Note – Name spellings used are those most commonly used by Henry in his letters.