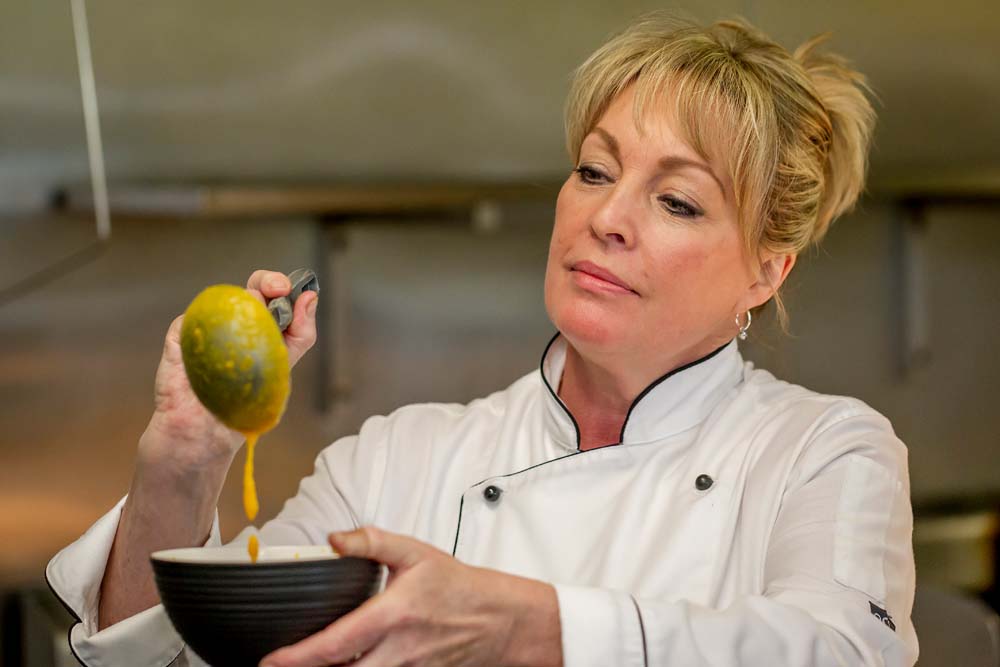 By Melissa Walsh    Photos Yanni
There's nothing like a home style meal on a cold winter's day and you can be assured of getting just that if Jacqui Selleck has anything to do with it. As the head chef at Flinders Golf Club MacKenzie Bistro, Jacqui creates a delicious and wholesome menu for those either playing golf or just wanting to enjoy the special style that this experienced chef brings to the golf club.
"I have worked all over the peninsula throughout the years," says the French trained chef. "I am delighted to now be working at the golf club cooking the type of food I love with lots of fresh ingredients and serious flavours."
While the bubbly blonde has worked in a variety of venues, she says you can't beat the view from the kitchen at the Flinders Golf Club.
"I have done the rounds as a chef, working at venues across the peninsula and ran my own catering business for the past four years. Here I get to cook this incredible food and look out over that view of the ocean every day and I couldn't be happier," said Jacqui, whose repertoire extends from dining in house to catering for functions, bar snacks and food for hungry golfers.  "We do sit down meals for our functions with canapes, entrees, mains and desserts. On the menu at the moment is a marvellous Tuscan lamb slow cooked shoulder with pumpkin puree, potato fondant, broccolini, crispy kale and a red wine jus, as well as an Atlantic salmon crispy skin on beetroot puree, asparagus, smashed potato and cherry tomato."
Not only is the food wholesome and tasty, Jacqui makes sure it is visually beautiful, opting to use fresh and bright ingredients that are mostly sourced locally.
"We try to get the majority of our food from the Mornington Peninsula, using local mussels and flathead to create consistent and tasty dishes," said the chef whose typical day starts at 8.30am, making sandwiches, soups, curry sausages, putting on the roasts and preparing snacks for the golfers. "Now the cooler weather is here, I plan on making donuts and offering them to the golfers to keep them warm. Many of the regulars come in especially for things like my dim sims, and the egg and bacon rolls are always a hit, as are the make your own hamburger days."
At Flinders Golf Club, Jacqui changes the menu on a regular basis, adding dishes from the seasonal produce.
"We always have the old favourites that our regulars come back for time and time again especially the sausage rolls, Cornish pies and pasties," said Jacqui, of her wholesome, tasty menu. "And that will never change."