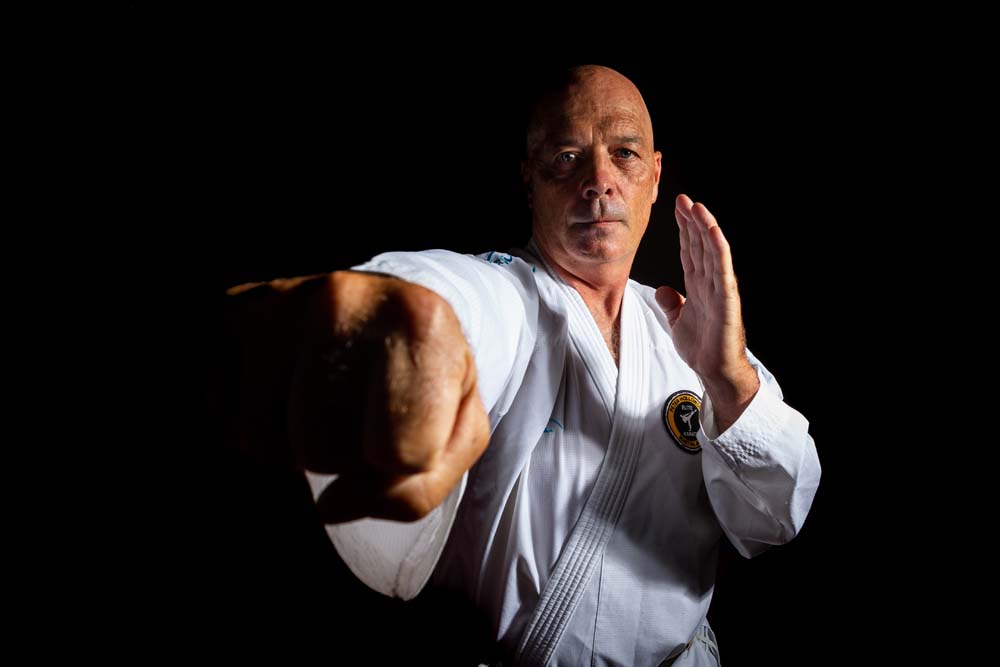 By Andrea Louise Thomas Photos Gary Sissons
It takes a certain kind of magic to teach. It's a mixture of dedication, patience, discipline and respect with a dash of humour. When skills take years to perfect, keeping students motivated is all the more impressive, but sports karate Sensei Peter Hollowood does it with easy confidence because he loves what he does and it shows. He's mastered the art of motivation. His students work hard, but more importantly, they want to. There is a reason that Peter Hollowood Martial Arts is the Dojo of Champions.
At 37, Hollowood came to karate late in the game. He'd played VAFA amateur football for many years as well as playing basketball, surfing and snowboarding. Sport has always been important to him. He chose karate because of its low impact compared to other sports. He progressed quickly reaching black belt in three years and seven months! He trained every day, twice a day. From his first competition, he was winning. He went on to achieve two National Championships and an Australian Open title.
He started teaching in Mornington in 2004 immediately establishing a winning reputation. "I think my willingness to evolve is the secret. Most instructors get bogged down in what they have learned. I'm always looking to the future, looking for an edge over other competitors. I'm quick to change methods if it benefits my teaching," he says.
"The more I learn, the more I can teach my students," Hollowood says. He's not threatened by giving up his trade secrets. He's quite happy to share what he has found to be effective. In fact, he seeks out overseas instructors to share their knowledge in a collaborative exchange.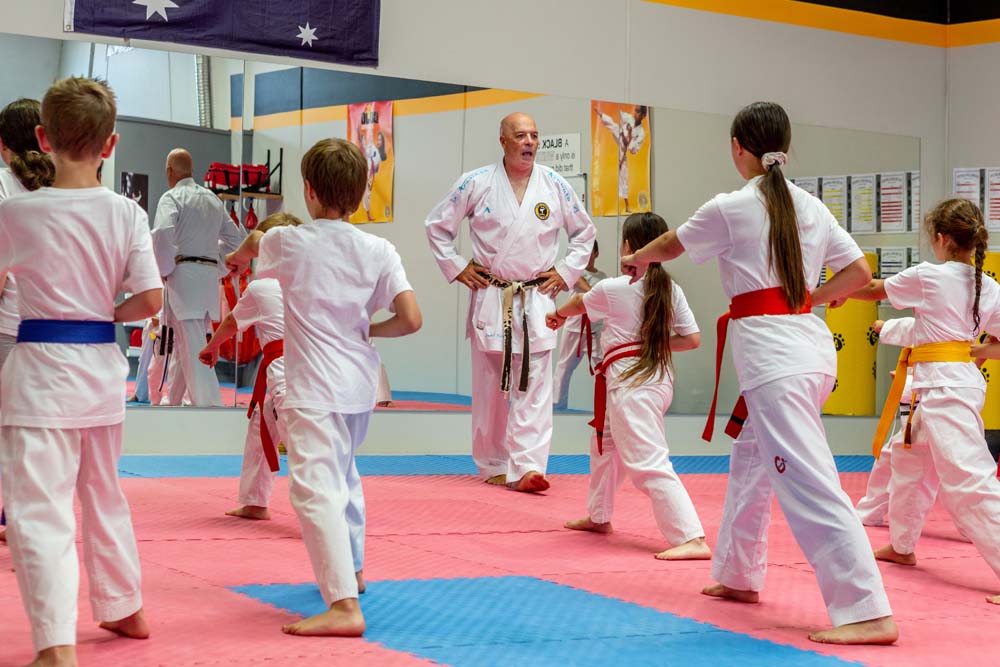 His programs start with Little Ninja classes for 3-5 year olds. This program teaches critical skills, such as: coordination, balance, focus and listening which are beneficial in everyday life, but from a sporting perspective, 6 is the ideal age to start learning karate as the student has learned the appropriate focus and listening skills to become an athlete.
Hollowood is most impressed by the self-discipline his students display. They learn for themselves how to do the right thing. This is crucial to developing a moral structure, having strong impulse control and thinking beyond the self; all skills that create good citizenship.
Over the years, Hollowood has consistently produced champion students. Not all students want to compete, but the ones who do are achieving great success. This year alone, the dojo has had seven State champions, 5 National champions and 2 Oceania champions. Every two years the World Karate Championships are held. Only one student from each country (in each division) can enter and for the past 4 years, Hollowood's students have competed at that level.
Becoming a champion involves a complex set of skills, but Hollowood narrows it down to six factors: an unbelievable will to win, outstanding skill, a drive to train hard, emotional and financial support, self-discipline and a really good coach with whom the student has a close bond and one the student trusts implicitly.
Student mentoring is important at the dojo. Hollowood invites students who aspire to teach to help with his classes. He provides opportunities for teaching and employment as assistant teachers (Sempai) teaching safety and role modeling along with karate techniques.
Karate's journey does not always end with a black belt. As Hollowood sees it, that is just the beginning. In the Dan levels (beyond black belt) a student starts considering karate beyond the syllabus developing individual style and identity.
"Karate offers a journey for everyone. It's not just a sport, it's a way of life," Hollowood says. Karate helps with balance, coordination, self-esteem, self-confidence and self-discipline, but it also has proven benefits to focus, concentration, memory and learning.
Hollowood's dojo is family owned and operated. Son, Dean is a world class karate athlete, teacher and coach. Wife, Julie, the charmer with the infectious smile, runs the business keeping everything organised. She knows everyone and makes all feel welcome. Daughter, Stacey helps with student welfare, but she's also a masseuse. Her Full Motion Massage studio is onsite so students or parents can train and then relax. It's no wonder it's the most successful karate dojo on the Mornington Peninsula.
---