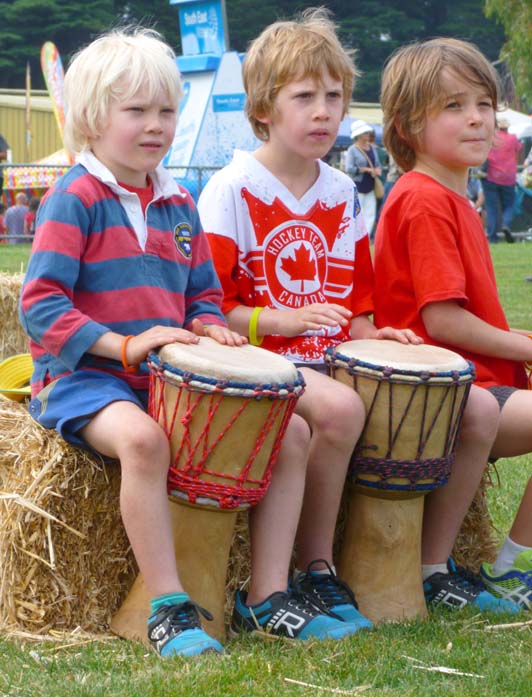 For a true flavour of the peninsula, you can't go past the Red Hill Show. With its focus on agriculture and horticulture, the 91st annual show at the Red Hill Showgrounds will feature the best craft, food, wine, beer and cider the peninsula has to offer, as well as entertainment for all ages.
The Mornington Peninsula Paddock, sponsored by MPP (Mornington Peninsula Produce), will be a chance to meet producers from across the peninsula. With foodie Richard Cornish as the illustrious MC and celebrity chef Matt Wilkinson, who will teach us his secrets when preparing a salad from mouth-watering local ingredients, the MPP stage will be a major focus this year.
Matt, a Yorkshire born Melbourne chef and author of such best sellers as Mr Wilkinson's Favourite Vegetables is a passionate advocate for ethical farming. There will be discussions on honey, keeping chickens, the 2019 sausage-making competition, and the 1st Red Hill Show Apple Pie Making competition and much more. Don't forget to visit the MP Paddock for the 3rd Cider Show which will take place at the Cider Marquee where visitors will be treated with demonstrations, cider tasting and a chance to meet some of the Peninsula's best cider producers.
"We have included more free rides and fantastic attractions for the whole family", said Bec Davis, from the Red Hill Agricultural and Horticultural Society. "Kids can delight in a free pony ride, feed and pet our farm animal friends or enjoy a close encounter with native wildlife. Don't forget that once you enter the show almost everything is free including many of the carnival rides and of course the ever popular Australian Mountainboarders are back with demos and free workshops."
From miniature goats, alpacas, sheep and every animal in between, the Red Hill Show has it all. The heavy horse section including the majestic clydesdales and gypsie cobs are back and with the new shade zone can offer a better viewing of the horses. See the mustering talents of the Futura Working Dogs and the skill of the shearer. Kids can enjoy a puppet show or visit the local Willum Warrain indigenous group. It truly is a community event celebrating the past culture and lost trades. "Each year we have been adding great music at the show and we are thrilled to have The Jackson Four and Diddy Reyes The Shakers entertaining us this March," added Bec.
Start planting your radishes, pruning the roses and grooming the alpacas because entries are open and show ribbons are up for grabs. For entries and inquiries, phone 5989 2357, email info@redhillshow.com.au, visit the website redhillshow.com.au or follow the Red Hill Show on Facebook and Instagram.
---
The 91st Red Hill Show
Saturday 9th March 2019 from 8.30am – 5pm