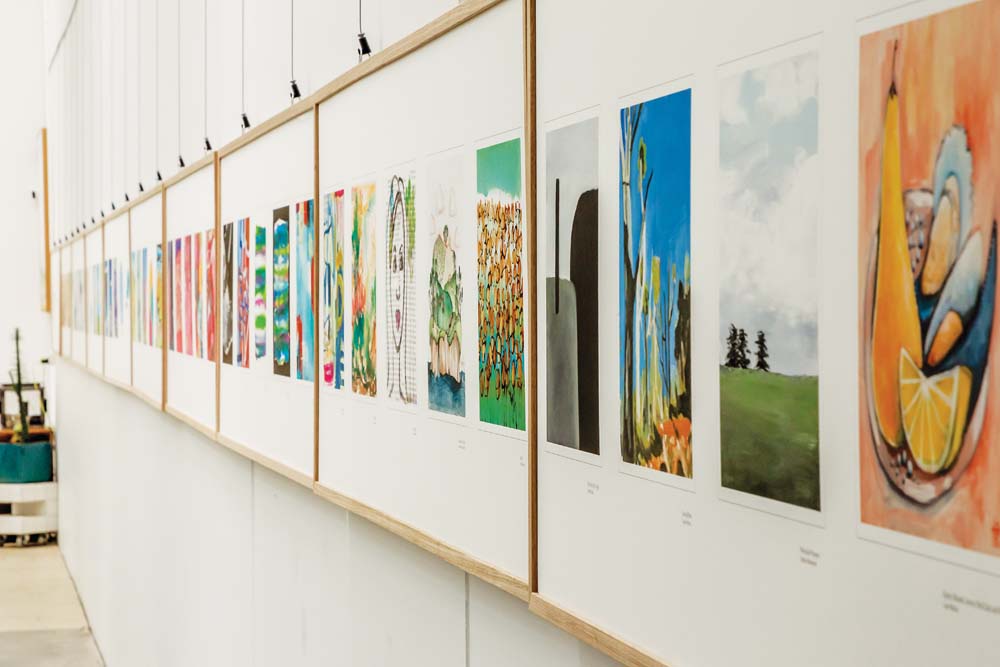 By Melissa Walsh  Photos Yanni
Bern Cooper and Micah Mills are a cool couple, with a chilled vibe and a love of the arts that has spanned over two decades. It's no wonder these two decided to create the Southern Buoy Studios last year to support the artistic community on the Mornington Peninsula.
"We consider ourselves a reasonably well grounded couple. Having been involved in art for over the last 20 years, it's been a realisation of our passion to create this new venture," the couple said of Southern Buoy Studios. "It is a dynamic space and artistic community that consists of a large gallery space and artist studios."
The couple started out in the factory next door, Southern Buoy, where they ran their framing business that featured locally sourced, hand finished and sustainable timbers that perfectly complement all types of art. With Micah as the framer and Bern as the printer, and both of them directors of Southern Buoy Studios, they can offer a one stop service to artists, and it is all done from a pure intention of creating a vibrant art space for the community they have come to love.
"It was 2001 when I started that business and our custom frames were well received amongst artist communities for their contemporary design," said Micah. "Now the business has grown from a small framing studio into a larger warehouse where we also do fine art printing, professional art supplies and custom size stretched canvas."
Seven years later it was a natural progression for the young couple to open a gallery and art community after spending so many years dealing with artists and supplies.
"We have lived here all our lives and got to know a lot of artists over those years. We could tell there was a desperate need for a more artful hub in which they could promote and show off their works," said the couple. "It has been hard work getting up and running but so worth it."
With Micah as the framer and Bern the fine art printer, they can offer a one stop service to artists, and it is all done from a pure intention of creating a vibrant art space for the community they have come to love.
"We have a physical gallery and eight studios where artists can get away to paint. We also have an online element where we envision being able to show off rural and hard-to-access artists to more and more people as well as bringing out each artists unique background to achieve that really important insight into why they paint the way they do."
While it has been super demanding bringing the two businesses together, Micah and Bern are thriving on the adrenaline.
"For us to be able to discover new artists and help them commercialise their work through appropriate sizing, framing, spaces to exhibit and finer reproductions all in one place has already paid off for quite a number of our artists," said Bern, who makes exquisite prints of the artist's work to display in the gallery. "It's so good to be giving back. The artists we knew had said they needed somewhere to go and paint, and so this was born. We also have exhibitions coming up like the Portrait Prize, and have done a fundraiser and a branded Elgee Park wine label prize which was won by a young artist. In 2019 we are also really excited to about adding new programs and events to complement the exhibitions, and launching an education program for students and youth."
While it's been a stressful year and a half for the couple, they said it has been all worth it.
"It has definitely been a big task. I didn't have grey hair before", laughs Micah. "Now we're coming up with ideas for new exhibitions and ways to help people exhibit their work. It's all go and we are loving every moment."
---
Southern Buoys Studio is at 1/19 Carbine Way, Mornington.
Phone 0401 062 222
www.southernbuoystudios.com.au