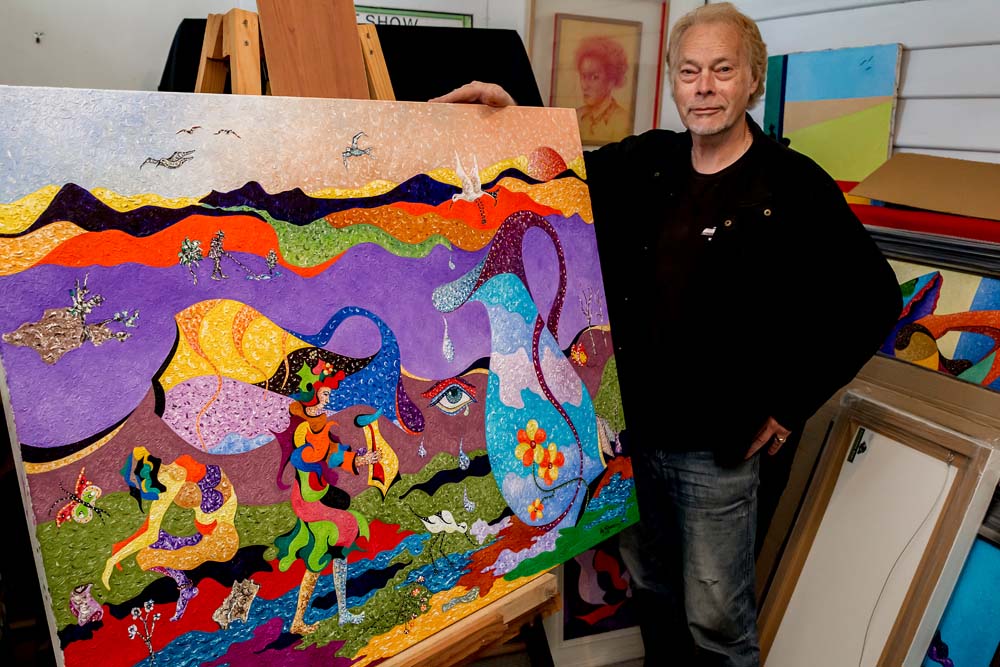 By Jay McCarthy-Rivero
Isolation. A lack of ideas. Difficulty staying motivated. These aspects are the traits that come with being an artist, which arguably turn away many individuals from participating in such a profession.
Philippe de Kraan couldn't be any more familiar with these situations, as he walked into our conference room, carrying some sheets of paper and demonstrating a willingness to be candid in this interview.
Noticing my casual t-shirt and shorts (appropriate for the warm weather on that day), he commented; "You've got the right idea wearing that today," he smiled.
"I'm only wearing a jacket so I can carry my phone and other things in it." This brief moment indicated to me the character of Philippe; an intellectual whose views and ideas are highly logical. These characteristics of his personality would be exhibited more prevalently throughout our interview.
Sitting ourselves down into the comfortable leather chairs that occupied our conference room, Philippe asked with curiosity; "Have you got some questions to ask me?"
Upon replying with a definite yes, he gladly replied; "That's good, you've come well prepared!"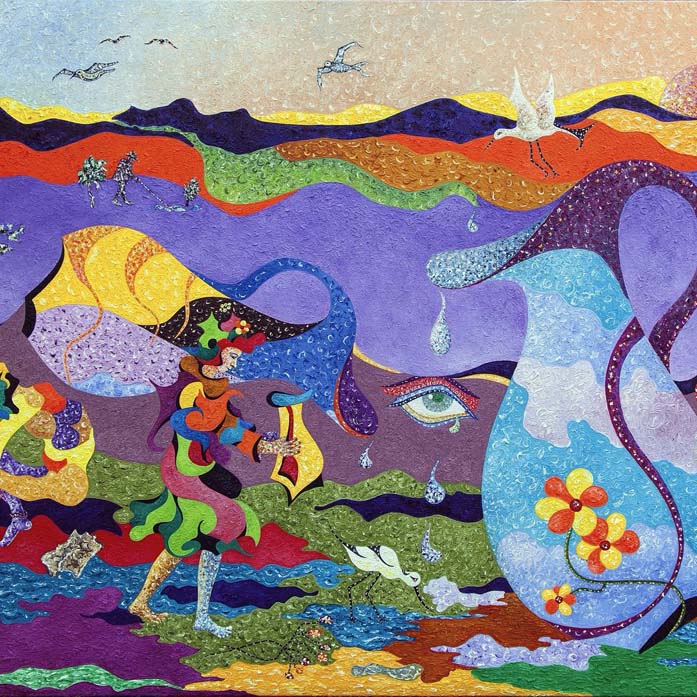 As I set up my iPad to display my compiled questions to ask the artist, he took note of the secondary keyboard I had attached to it, asking; "What have you got there? That's cool; it looks like a big phone."
Born in Amsterdam, Netherlands, Philippe says he was "Born an artist, never any good at school."
"In Europe you are born into art, as the art culture over there is so different to here."
Philippe's enduring commitment to art is evident when you inspect the numbers; he has created 400 paintings in his lifetime and held 48 solo art exhibitions premiering his personal masterpieces.
His awareness and knowledge concerning the finer details is reflected when I initially ask him; "You've held over 46 art exhibitions displaying your paintings throughout Australia and Europe…" 
Quickly correcting me, he states; "No, it's 48 now." This attention to detail is undoubtedly an influential factor as to why his paintings replicate the finer details in such a sublime manner.
Philippe's art career has taken him to parts of Europe, the U.S. and Down Under, which he currently calls home, living on the Mornington Peninsula.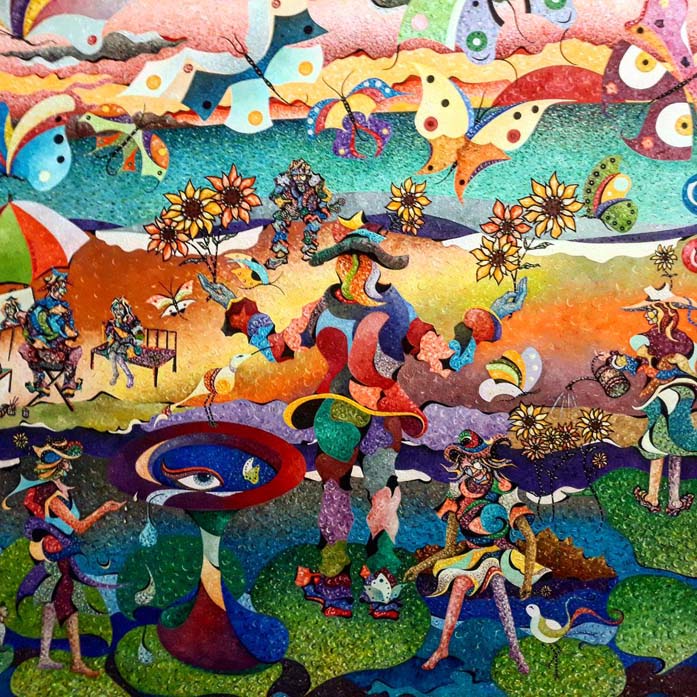 Getting back to the isolation aspect I mentioned before (one of the quirks associated with being an artist), Philippe conducts his paintings in complete seclusion, something that carries a few disadvantages.
"When you're alone you only have your ideas to play with. You don't know what others are going to think about your painting until you show it to them."
As with any individual or group, he has figures who dispute the quality of his work, as well as his "arrogance", according to Philippe. However, one of his recent paintings (and arguably his most ambitious) has failed to garner any form of criticism that has been directed to his past works. Named 'The Gathering', it took him around four years to complete; a challenging period for him creatively and getting his ideas onto the canvas.
"When I was doing this painting I would be negative in every aspect. It was very hard to stay coordinated and motivated," he admits.
"But, my critics have never said a word. Even people who contend me haven't criticised it."
Philippe feels this is the case not because they recognise the blood, sweat and tears that he put into it, but for the reason there's nothing that can be put against it for comparison…and potential scrutiny.
"They've got nothing to compare it with. There's nothing like it."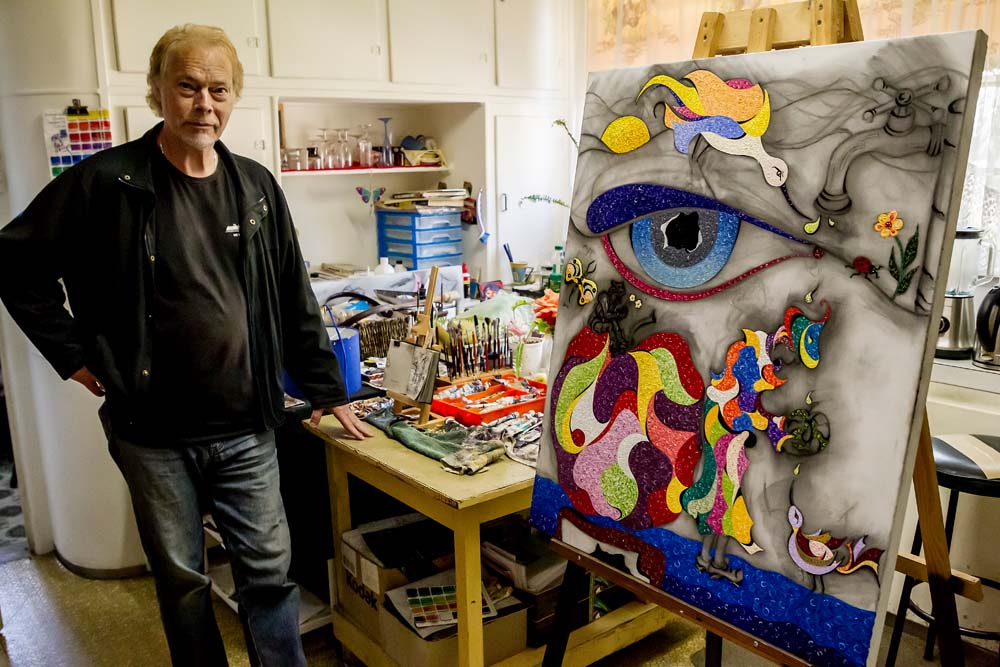 It's hard to deny the individuality of the painting, with its vibrant colours and 'in-your-face' aesthetics, setting out a story to the reader that invokes personal imagery. It's also a large behemoth, a key reason behind nobody wanting to buy it.
"It is on a canvas 3 metres by 2 metres, which is very big. I've had interest from people in Dubai and London, but overseas people are scratching their heads wondering what to do with it. Not anyone really has the room to put this painting anywhere."
Philippe feels the painting (which he considers to be "the best work I've done") is suitable in an extravagant building, to match its undeniable quality and $1.6 million price tag.
"This painting could go in a premium hotel or building like the Crown Casino."
It wouldn't be fair however to let this art piece overshadow his other work, some of which has been recognised globally. He recently participated in an art competition held by the Los Angeles Vibrant Artists Group, in which he finished second with his painting named the 'Rhythm of Life".
"It was another surprise," he declared. "I entered it, but didn't expect anything. I was judged by a committee of judges, who are going to write about it in a book."
During the interview, Philippe informed me that he was communicating with New York Art, a gallery based in New York. Describing the name of the gallery as "stupid" (due to its general title), they have offered him the opportunity to present his work on their website (newyorkart.com), at a fee of $149.25 annually. Furthermore, they will sell his work from their physical gallery on Broadway, and put it on their Artsy website, associated with the exhibition of work in their gallery. They emailed him a contract and at the time of our interview he was going over the details.
At the time of writing, however, Philippe officially confirmed to me that "It's happening" and he is "extremely interested to go ahead and pick artworks to show/display my art." It's another excellent opportunity for him to premiere his work and hopefully attain enhanced demand.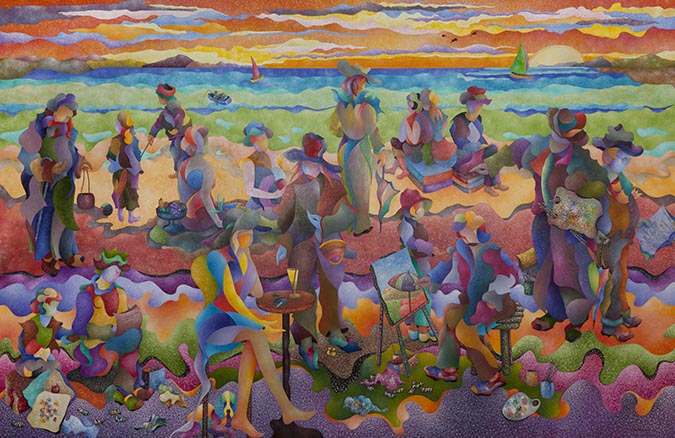 With his pronounced Dutch-accent, Philippe tells me to "relax a little", which significantly helps me settle and relax into the interview, as this was the first time I'd done a face-to-face interview.
"It's just a casual conversation between two people," he kindly reminded me.
As we continued along, we spoke about another notable success in his flourishing list of achievements; being given the chance to exhibit two of his canvases at the New York Art Gallery, a prestigious and highly acclaimed global gallery. Once again, it seems to have caught Philippe off guard.
"I was astounded. Overwhelmed. To be represented by galleries is a different thing compared to an art exhibition, as it's not open to the direct public, only to the press."
Philippe tends to generate some controversy on his views about Australia's art culture, stating on his website; "There is a mental confusion in this society regarding art culture" and that "we could not care less". Being an artist himself, however, it's only appropriate that he speaks his mind on something he's strongly attached to.
"It's the culture here. We're not really entwined with art, and that's why people don't care. If I set up my own art exhibition down the road displaying all of my works, I would only probably get ten people coming in per day. In Europe it's a part of the culture; it's like a business that's taken seriously. You are born into it almost. They have some of the best art galleries in the world, which display beautiful paintings from great artists."
On his website Philippe has a section dedicated to this issue, under the heading named 'Statement', conveying a similar message to what he mentioned in our interview, albeit in more detail.
Despite Australia's uninspiring attitude towards art, I still felt it was important to ask Philippe for the advice he had for individuals interested in becoming artists themselves, because our publications are delivered widely throughout the peninsula to many different groups of individuals.
His answer was hardly unique like his artworks, but it's still valuable and important nonetheless.
"Find your passion, follow your passion and believe in it. Don't give up." Some individuals may dismiss this as what they've heard before, but arguably it conveys some messages that should be taken on board and applied in life.
Finding something in your life that you love and makes you get out of bed every morning is often overlooked by many due to factors such as money and ensuring financial stability being their primary priorities. This is clearly justified,. However finding the right balance between your passions and earnings will more likely make you want to get up in the morning.
Finally giving up is something we all do. It's impossible not to. However when looking into the crystal ball we need to realise that we'll be challenged greatly when going after or trying to do something truly special. If Philippe gave up with his 'The Gathering' painting, he wouldn't have been able to reap the rewards of his achievement.
As interesting as his masterpieces, Philippe de Kraan is one intriguing man.