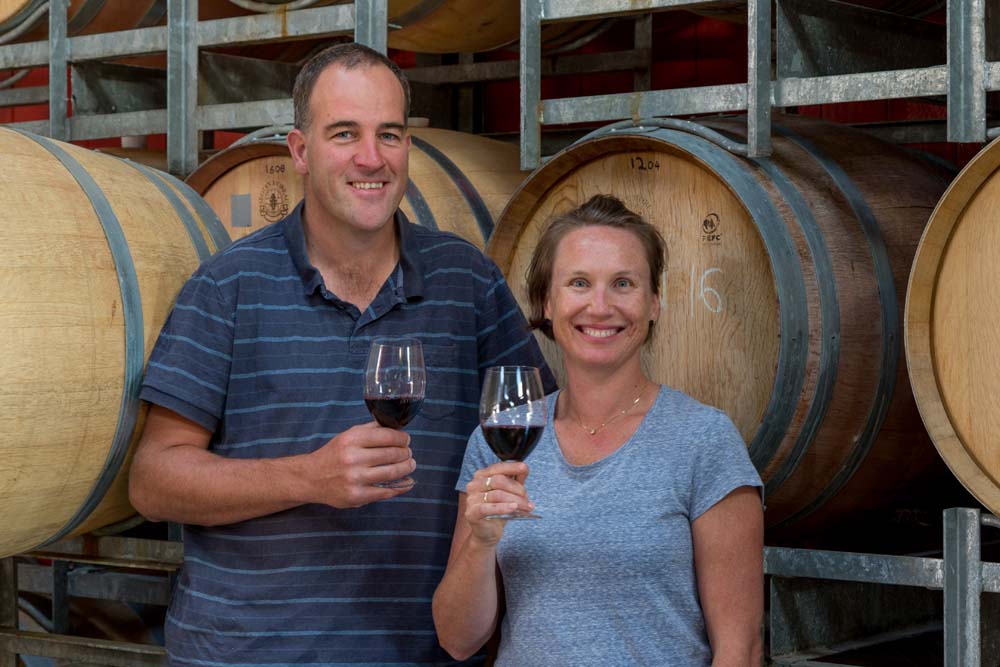 By Melissa Walsh   Photos Gary Sissons
With over 25 years of experience, Stumpy Gully Vineyard is a family-owned and operated winery just outside Mornington, and it specialises in making wines with tender love and care using 100 per cent estate-grown fruit. The Mornington Peninsula has long been admired as a cool-climate wine region capable of producing top-notch pinot noirs and chardonnays, but Stumpy Gully Vineyard has endeavoured to up the game. In addition to those grapes, it grows sangiovese, merlot, marsanne, and other varieties that are less commonly found in the area. While the winery was established in 1989 by Frank and Wendy Zantvoort, it is now run by their son Michael and his wife, Elizabeth, making it one of the longest running family wineries on the peninsula.
"I grew up among the vines and learnt winemaking from my parents," said Michael who has done everything on the vineyard from planting to bottling. "We originally planted 20 acres and ten different varieties here in 1989 to see which one grew best in the region. After ten years we grew more and have continued to expand ever since. Now we have 80 acres under vine."
Michael loved growing up working on the vineyard and would race home to help his parents after school.
"During school holidays I would do pruning, picking and all the garden jobs that needed doing. I then went on to study for two years and did an agricultural science diploma and a diploma in viticulture," said Michael, who always wanted to get involved. "It's just a fun lifestyle. I love getting my hands dirty and it's fun making wine."
The couple has now moved permanently onto the property in the last year after Frank and Wendy decided they needed to take a step back.
"Frank decided how much he loved the beach one day when he was down there and wanted to be closer to the water, so they moved out and we moved in," said Elizabeth, who loves the
seasons of a vineyard. "The seasons are great. I love the fact there are seasonal jobs and everything depends on nature and the weather. "
For Elizabeth, who was a full time high school teacher, living and working on a vineyard came as a lovely surprise after she met Michael in 1993, but you would think she had been in the industry forever.
"After I met Michael I would come here and do odd jobs like picking but I was an English teacher for ten years at Patterson River Secondary College so only helped out part time. Since we had our three girls, I have become a lot more involved in the office but I try to avoid outside as it's very hard work," she says with a laugh.
"We have really been concentrating on getting the public to come here to expand the cellar door, and so decided to put in a restaurant," said Michael, who had a coup when he convinced well known chef, Bernard Ricca, to start a restaurant on the property. "I was selling wine to Bernard and he needed a delivery and I told him he would have to pick it up himself. When he came here I showed him the space and before long we had started a restaurant here. One thing we pride ourselves on is providing good quality and good value wines and now we can combine that with the good quality and good value food as well at Regardz Restaurant.
With vintage season well and truly upon them, autumn is a busy time for picking.
"We start picking pinot gris and pinot noir first around mid-March and then two weeks later we pick shiraz and cabernet," said Michael, explaining that it is all weather and taste related. "During flowering in November we had windy weather which usually means the fruit won't set properly or evenly. However, because we have had even temperatures during most of the summer, it is a really good crop this season."
In what seems like common sense, Michael says a berry test will reveal the flavour.
"To get the flavour you do a berry test. With sauvignon blanc for example you go through and see if you can taste a pineapple flavour for instance. You know it's not ripe if it tastes acidic. Also if the seeds are brown, the fruit is ripe and ready to be picked," said Michael, who has worked this out using trial and error. "We know the flavours we are chasing after doing it for 20 years."
With his mum Wendy a prominent winemaker, Michael still calls on her at vintage time to get involved with the winemaking process.
"Mum has been a winemaker for years and has a very good palate. At times she helps by pulling me into line," he says with a laugh.
"Dad also keeps a very keen eye on the vineyard and comes over to help a lot during the busy times."
For Frank and Wendy, starting Stumpy Gully Vineyard was originally a hobby, as Frank worked as a physiotherapist on the peninsula.
"One day a week dad concentrated on the winery here and the rest of time he was a physio. As we got more involved and it grew, he retired to run this," said Michael, whose middle daughter loves hanging out in the vineyard with her dad as well.
"Our middle girl loves helping out as soon as she gets home from school. She changes straight away and runs out to see what I'm doing in the vineyard," says Michael, explaining the lifestyle that one has on a vineyard. "We have lived on the property for a year now which has been a bigger change for Elizabeth than me. It is good for our family as it's just like I'm outside in our big backyard when the kids get home from school."
For Michael, owning and running his own vineyard is an extremely rewarding experience and one he takes great pride in, carrying on the family legacy, and possibly one day passing it down to his three daughters.
In the meantime, he, Elizabeth, Frank and Wendy will keep picking grapes, tasting berries and creating the perfect blend of wines that Stumpy Gully Winery has become renowned for.
---
Stumpy Gully Winery and Regardz Restaurant is at
1247 Stumpy Gully Rd, Moorooduc
Phone: 1800 STUMPY (788 679)
www.stumpygully.com.au