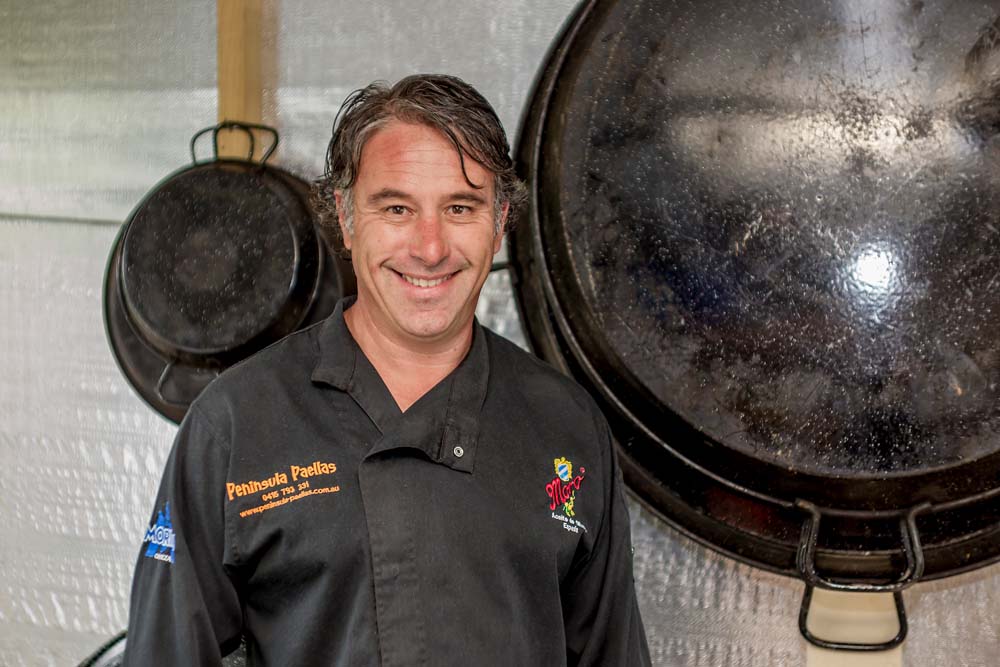 By Melissa Walsh
Juan Palomares remembers holidays on the peninsula as a child, when the whole family would spend relaxing weeks at the beach, fishing, cooking, eating and enjoying life together.
"As a kid of about 13, we came to the foreshore at Rye. Dad (Juan senior) would cook paella on the beach and I would chase up the wood. He would light it and he would cook paella outside under the tee tree. We would find stuff and cook it, and everyone would gather around. Dad would say to me 'I'm ready for the chicken, or the prawns', and it was my job to pass them to him. We would go out and catch pippies off the foreshore as well and put them in. Then we would all siesta under the tree," said Juan, who found himself living in Rye many years later. "It's like everything has come full circle. I now run my business, Peninsula Paellas, and live in the same place where we used to holiday as children."
Born in Madrid, 49 year old Juan was reintroduced to the peninsula 12 years ago when he used to visit the wineries and spend hours on the golf courses. The similarity between his hometown and the peninsula was too strong and eventually pulled the Spaniard back to the southern shores.
"Living on the peninsula, it reminds me of home, with the vines and the wineries and being on the water is always good. It's the feeling I get living here that I love," said Juan who had run cafes in town over the years. "I was always into the cooking growing up in a Spanish family where food was a major event and I watched my parents cooking a lot."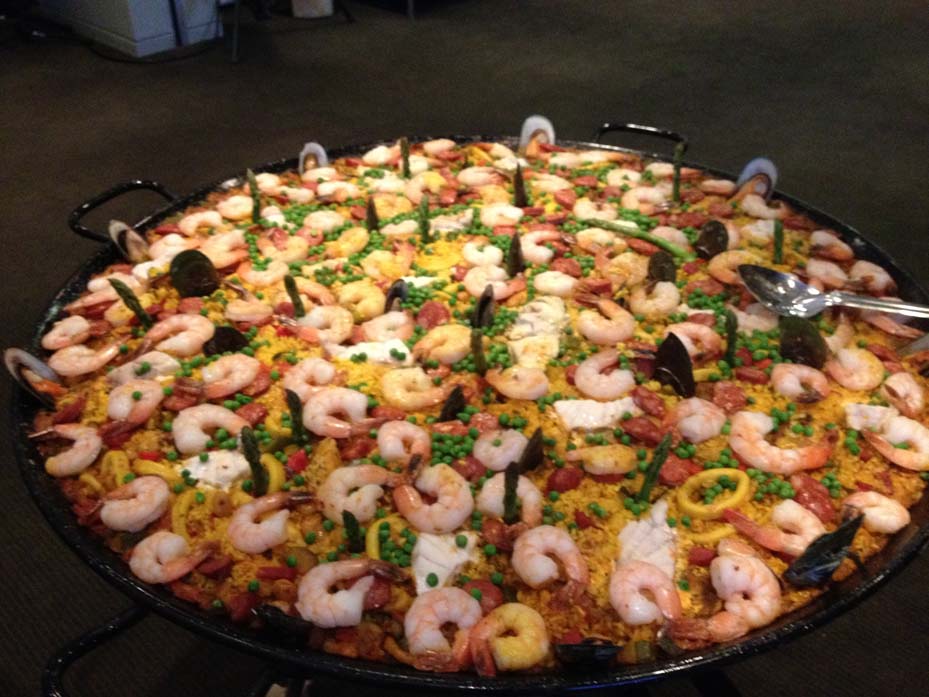 Moving to the peninsula meant Juan could pursue this love of cooking full time so he started Peninsula Pantry. As fate would have it, one day he came across a huge paella pan which sparked an idea.
"I had wanted to do something special for my staff so decided to cook paella to thank them for all their hard work. They loved it and said I should cook it down here so I started off doing the odd catering job and it has taken off from there."
Before long, Peninsula Paellas was in such demand, the paella chef decided to devote his full attention to the business. These days, Juan can't remember the last time he had a weekend off, and loves every moment of this new life.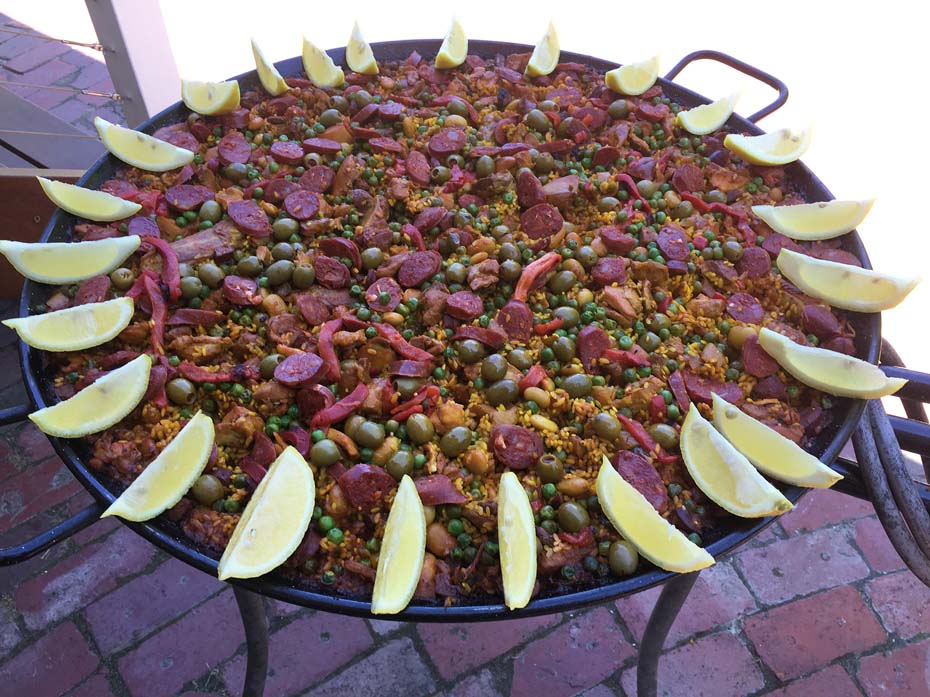 "The very first catering job I did was so nerve wracking. I had cooked paella many times but this was at Delgany Portsea, where chef Paul Lynch, who had Lynch's Restaurant in South Yarra, would be. It went incredibly well and he gave me a tick of approval, and the rest is history," said Juan.
These days, his paella is so well known that he has been asked to enter the International Paella Valenciana Competition on April 23.
"There are certain essentials that make up authentic paella," said Juan, who tends to make his stock on a Thursday before his hectic weekend starts. "I make my stock with ham hocks and bones and use everything from scratch. That takes about five or six hours. I source all my produce fresh from locals with seafood from David Prosser, free range chicken, and local vegetables."
The most essential difference with paella is the caramelised crust on the bottom of the pan, which gives it a drier consistency to risotto.
"Paella is different to risotto. We have different methods and flavours that must be adhered to when making good paella," said Juan who goes through 30 kgs of rice, 15 kgs of chicken and 10kgs of prawns each weekend. "It's all for love and not for money at all. As a European, to be invited to someone's home to cook is a big deal. There are some people I have done four or five functions for already and I feel honoured to cook for them."
Peninsula Paellas can cater for any function from 20 to 250 people with tasteful and fresh paellas cooked on site. The slow cooked, single pot dish is done the authentic way to bring out all the superb flavours of the ingredients.
PAELLA TRIVIA
Paella is pronounced pay-ay-a. The 'll' is actually pronounced 'y' and it is commonly mispronounced.
Paella is a Valencian rice dish that originated in its modern form in the mid-19th century near lake Albufera, a lagoon in Valencia, on the east coast of Spain.
Many non-Spaniards view paella as Spain's national dish, but most Spaniards consider it to be a regional Valencian dish. Valencians, in turn, regard paella as one of their identifying symbols.
There are three widely known types of paella: Valencian paella, seafood paella and mixed paella, but there are many others as well. Valencian paella consists of
white rice, green vegetables, meat (rabbit, chicken, duck), land snails, beans and
seasoning. Seafood paella replaces meat and snails with seafood and omits beans
and green vegetables. Mixed paella is a free-style combination of meat, seafood,
vegetables, and sometimes beans. Most paella chefs use calasparra or bomba rices for this dish. Other key ingredients include saffron and olive oil.
The Spanish rice dish 'Paella' takes its name from the pan it is cooked in, which in turn comes from the Latin word for 'pan' or 'dish.'
Valencian restaurateur Juan Galbis claims to have made the world's largest paella with help from a team of workers on 2 October 2001. This paella fed about 110,000 people according to Galbis' former website.
Many chefs around the world have taken the traditional dish and added ingredients that are considered not to belong in the dish by Valencians. Spaniards, especially people from Valencia, have complained about this many times and it is a recurrent topic online. Famous cases are Jamie Oliver's paella recipe as well as Gordon Ramsay. The author Josep Pla once noted: "The abuses committed in the name of Paella Valenciana, are excessive – an absolute scandal." – Josep Pla, Catalan Cuisine, Revised Edition: Vivid Flavors From Spain's Mediterranean Coast.
---
Phone Juan on 0415 79 3331 or check out
www.peninsula-paellas.com.au