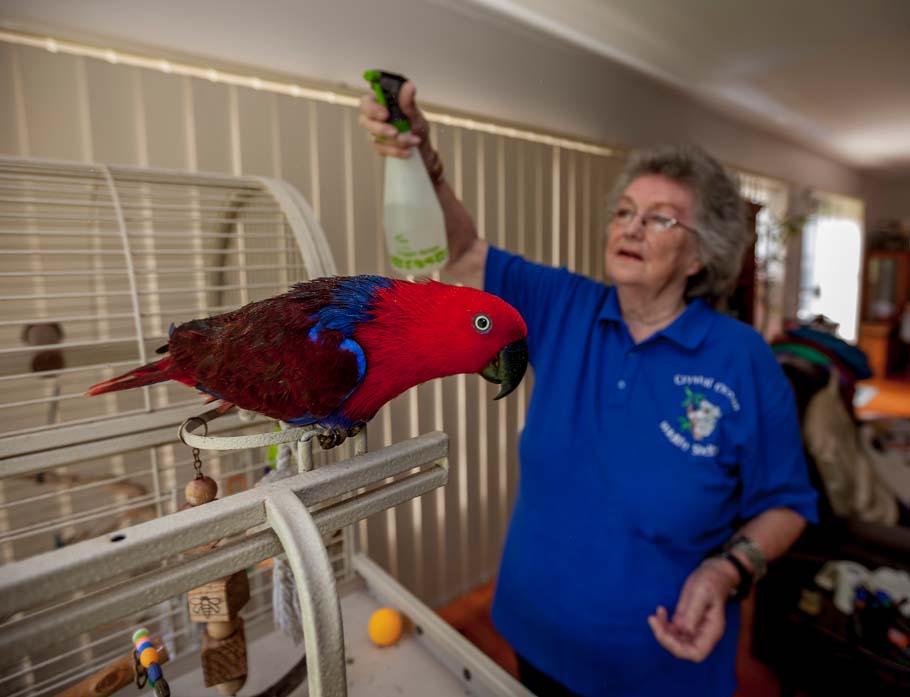 By Melissa Walsh   Photos Yanni
She has been a model, a secretary, mother, and traveller. She's stood with a gun in her face to rescue horses, argued with strong men putting animals in their car boots, and even gone undercover to rescue animals from harm. She's been bitten, scratched, and given up her home as a sanctuary to wildlife and continues to donate her time and money to rescue and rehabilitate her beloved animals. Brenda Marmion has devoted her life to saving animals and, at 74, has no intention of ever stopping.
The Rye woman has been the guardian angel of animals since she rescued her first mouse from the jaws of a cat as a young child, and it has remained her calling to this day.
"When I was a little girl I would rescue mice and birds from the cat and wrap them in dad's handkerchief to look after them. It is what I was born to do. Those were the days when we didn't know that cats were not allowed outside as they would harm the wildlife," said Brenda from her Rye home, where we sit surrounded by cages of birds, her beloved dog, and a baby possum she is nursing back to health.
Brenda came to Australia from England in 1960 and quickly her homesickness set in. The only way to alleviate it was with animals.
"I got my first horse at Christmas that year, and within a few months I decided to start rescuing horses. I was only 17 at this point but worked as a secretary in Dandenong. I would go to the Dandenong market in my 45-minute lunch break to check that the horses being put through were okay for sale. I found one that was so badly hurt I called the RSPCA. After that someone said to me "You should go to the Tuesday market, which is even worse. That's the market after the farmers buy all the sheep and cattle and lambs and you should see what goes on there."
And that is exactly what she did. Twice a week in her lunch break, Brenda would put a raincoat over her office clothes and head down to the market.
" I found that people were buying sheep, lambs, goats and pigs and putting them in the boots of their cars to take them home for slaughter. At first I could get no one to help me. I would tell them to take them out of the boot but these guys were tough. At one stage there were two men with scars all over their faces and they were putting two big sheep in the boot of their four-cylinder car. I went up to them and said "You can't do that, its illegal, take them out" but there was little I could do alone. So I phoned the animal liberation organisation and they didn't want to do anything. Then I phoned the Derryn Hinch show and they came around the next Tuesday with a camera crew. They witnessed this guy putting two lambs in his car, other guys dragging two sheep and after that the RSPCA and animal liberation, and the Department of Agriculture were there. After that I would have to go to the market with a wig on because it was dangerous. Sometimes they would recognise me and say "There's that woman", but I am not afraid when it comes to animals," said Brenda. " I have been on properties in the middle of the night examining horses that have been neglected and at one stage in Queensland I nearly got shot rescuing a horse. That was where I got my horse Lucky from."
Going undercover became part of a necessary routine for Brenda in order to see the true conditions of her beloved animals.
"I would go undercover at abattoirs with my big Drizabone on and take photos. After the Hinch show it was a lot better at the market but there were still people who would buy the animals and take them on a leash around the corner, I saw this guy who had these beautiful angora goats and he threw them in the boot of his Mercedes so it was still going on to a degree," she said.
It was 1990 when Brenda decided to make the move to Queensland where her passion for rescuing horses would be put to good use.
"I was 50 and already arthritic when I decided to go to Queensland," said Brenda who has never let her many health issues get in the way of animal dedication. "While I was there I found out about people who do wildlife caring and my interest grew from there. Before long I was getting up at 5am and feeding my rescued animals. Some of the jobs I had allowed me to take them to work and they were fabulous. Colleagues would come into work and see me at the desk with a bearded dragon or a bird next to me. Other places, I would have to keep them in the underground car park and came out to feed and water them every couple of hours."
With her determination to help and nurturing nature, Brenda has also faced some tough sights over her six decades of animal rescue and rehabilitation.
"I rescued a possum that was hanging from a steel jaw trap, a beautiful healthy juvenile male that had to be euthanized, and the court case is still continuing," said Brenda who has rescued everything from blue tongue lizards, kookaburras, ducklings, possums and flying foxes to horses, donkeys, birds of prey, kangaroos and wallabies, pelicans and penguins, and even an albatross.
While capturing the animals can be difficult. Brenda has had a scratch or two in her time. She says it is more painful letting them go at times.
"I have just released seven ducklings and two possums into the wild so have six more ring tail possums here at the moment. I recently released a grey headed flying fox which was very emotional. She was caught up in a clothesline and it took ages to cut her off. I got out of my sick bed to do it. I was dizzy and unwell and at one stage the property owner had to hold me up as I cut her down. Her wing was completely shredded and she was covered in maggots so we had to dip her in water to get rid of them. She allowed me to do this which was incredible and trusting of her as flying foxes hate water," said Brenda, who admits of all the animals, flying foxes are her favourite. "They are so intelligent and human like. I had this one for three weeks and she didn't have broken bones, so I decided to release her. It isn't safe to leave them for longer without flying as their wing muscles begin to atrophy. We took her up to a place in Doveton, which is beautiful. You wouldn't even know it was there but there is a huge colony of flying foxes so it was the perfect place for her. I was still a bit worried about whether she was well enough although she had been in the flight aviary. When we got near to the park she heard the others and got so excited. I put the carry cage next to the tree and she ran up the branch and hung upside down. Then she looked back at us and suddenly flew. We were crying like idiots but the truth is to have a good release is great."
Some wildlife return like the crimson rosellas Brenda released a few weeks ago.
"They still come back to visit me as they had originally come from Tootgarook which is very close."
While Brenda has not been well over the past few years, there is no stopping this strong willed woman when it comes to her treasured wildlife.
"I will never stop doing it. I was in hospital nearly all May last year and my volunteers were wonderful but I still signed myself out twice. It's going to take a lot more than sickness to stop me," said Brenda who is already talking about taking on more animals again.
"Usually my home is filled with cages in every room and the backyard has plenty of animals. I have had a small break since I've been unwell but I'm getting bored now and put myself back on the wildline a few days ago. Since then, in just two days, I have received two possums and two injured galahs, so I am happy to be busy again."
Brenda Marmion, of Crystal Ocean Wildlife Shelter, Rye, has rescued, cared for, rehabilitated and released thousands of animals on the Mornington Peninsula for about 24 years, receiving no official funding, and relying on donations to provide aviaries, cages, equipment, medicine and food for the wildlife patients and orphans.