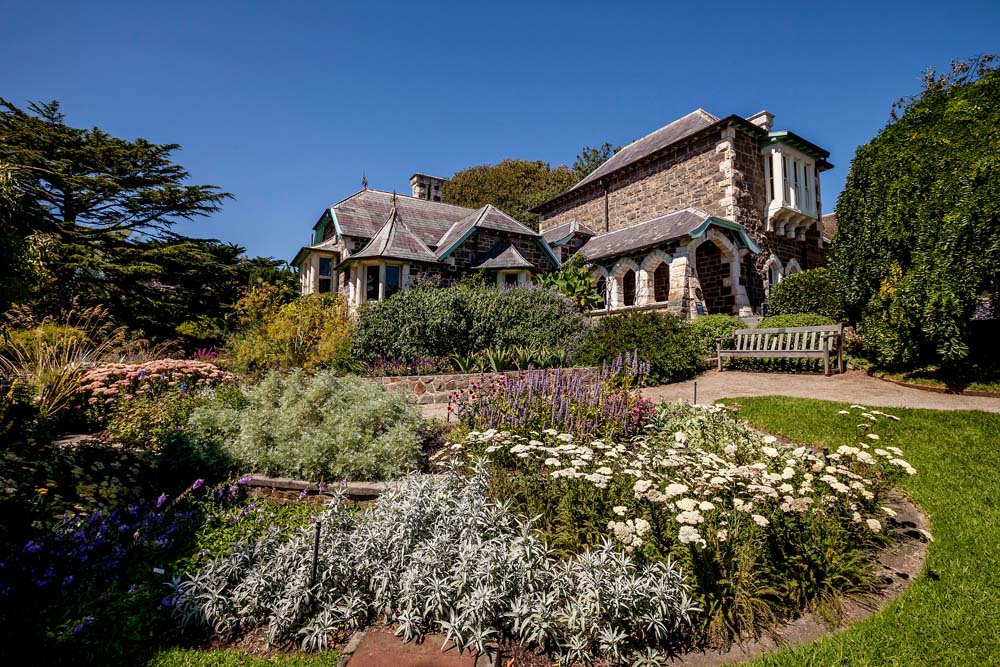 By Melissa Walsh   Photos Yanni
Claude Monet said "My garden is my most beautiful masterpiece" and one cannot help think Clive and Penny Blazey must feel exactly the same, after spending years creating their stunning property, Heronswood and then gifting it as a legacy and tribute to their love of gardening.
When you enter the historic gardens and homestead in Dromana, you are entering a privileged space. The gardens and nursery growing around the Register of National Estate-listed Gothic revival house in Dromana date back to the 1860s and are home to heirloom seed supplier, the Diggers Club.  The first law professor at Melbourne University, William Hearn, employed Edward Latrobe Bateman to design Heronswood house in 1866. It was designed as a five-bedroom family home placed to enjoy excellent outdoor views and its first gardens were planted in the 1870s, remnants of which can still be seen. In the valley, the old mulberry and orchard trees still bear fruit, the Moreton bay fig frames the house, and the Cook's pine by the duck pond is now registered by the National Trust as a significant tree. Set high on the hillside looking out over the bay, Clive and Penny purchased Heronswood in 1983, and it is the culmination of Clive's love of gardening, and a family property that the Blazey family would eventually gift to the community with instructions that the legacy continue.
Heronswood education manager, Talei Kenyon, is one of the people that take the responsibility for continuing the Blazey's good work seriously, and is delighted to be a part of the high morale of the Heronswood and Diggers Club team that focuses on conservation, preservation and education.
"Clive and Penny started the Diggers Club nearly 40 years ago and purchased Heronswood in 1983," explains Talei as we sit outside amongst the gardens that have been lovingly cared for.  "They wanted somewhere for the family to grow up and where they could lay out the gardens and build the Diggers Club business. From the beginning the Diggers Club mailed ordered unusual plants and seeds and in 1919 introduced heirloom seeds to Australian gardeners. These are seeds that are open-pollinated have perfect yield for home gardeners and have seed that can be saved to sow again every year. Penny's interest was also the historic home and the faithful preservation of the building and its colourful history."
Clive originally started the Diggers Club from where they lived in Melbourne in 1978, and would never have imagined that it would grow to the 76,000 nationwide members it is today, making it the largest gardening club in Australia.
"Clive did a commerce degree at Melbourne University but had always loved the botanic gardens and gardening. His father, Alan Blazey was the founder of Hortico which he started in the late 1950's. After spending some time in the United States, Clive returned and wanted to start a niche garden business to supply a seeds and plants to passionate gardeners. He came up with the concept of the club and mail ordering the seeds and plants. From that seed, with his vision and imagination, the club grew tenfold. He then needed a display garden and an area to do trials and he did that all within the confines of this garden.  The garden in its current form was created by Clive and the original head gardener, Dave Pomare. Succeeding gardeners have carried on the tradition with dedication and lots of hard work."
With the spirit firmly anchored in gardening, education and heritage buildings, Clive and Penny established the Diggers Garden and Environment Trust to ensure that the good work continues.
"We wanted to know that the work we've done over the past 39 years in preserving historic gardens and houses as well as the best garden traditions through education will continue forever. The public's support has ensured that Diggers has succeeded and grown into Australia's largest gardening club. It's now time to make the transformation from a private family-owned business into a not-for-profit garden charity somewhat like the National Trust, but firmly anchored in gardening, education and heritage buildings," said Clive of the selfless decision to entrust the family's beloved property.
For these trailblazers, the decision is not unusual as the family have always pushed the boundaries, with the pure intention of making the world a better place for future generations.
With a young family, Clive and Penny travelled the world, to places like North Africa, western USA, and the Mediterranean belt looking for plants that would do well in the Australian climate.
"They brought back poppies from the west coast of the USA, Romneyas, Mediterranean plants, horn poppies from Mexico, and popularised the notion of cottage garden in the 1980s. Within 10 years they had started to connect to the importance of heirloom seeds and introduced those to Australian gardeners. They did the first tomato taste test here and, when the drought hit us in the early 2000s, they introduced this idea of  intermingling plantings of fruit, flowers and vegetables in one garden space so that when water is tight you are getting as much as possible in return," said Talei.
"Down in the front garden for example there were beautiful camellias that they used for hedging. Clive wrote a book called 'The Fruit and Vegetable Garden for Australian Gardeners' in which he talked about where you can grow camellias you can grow avocado, so he took the camellias out and popped the avocados in there. His idea was that if you are going to use water, you must get the most out of it."
While the property has seen its share of setbacks, the team has always come together to prove how resilience and dedication pays off.
"We had the fire three years ago but our wonderful team bandied together and the estate is back better than ever. We have a new garden shop built on the same site of the old thatched-roof building that once housed the restaurant and offices, which were burnt down in the January 2014 bushfire," said Talei.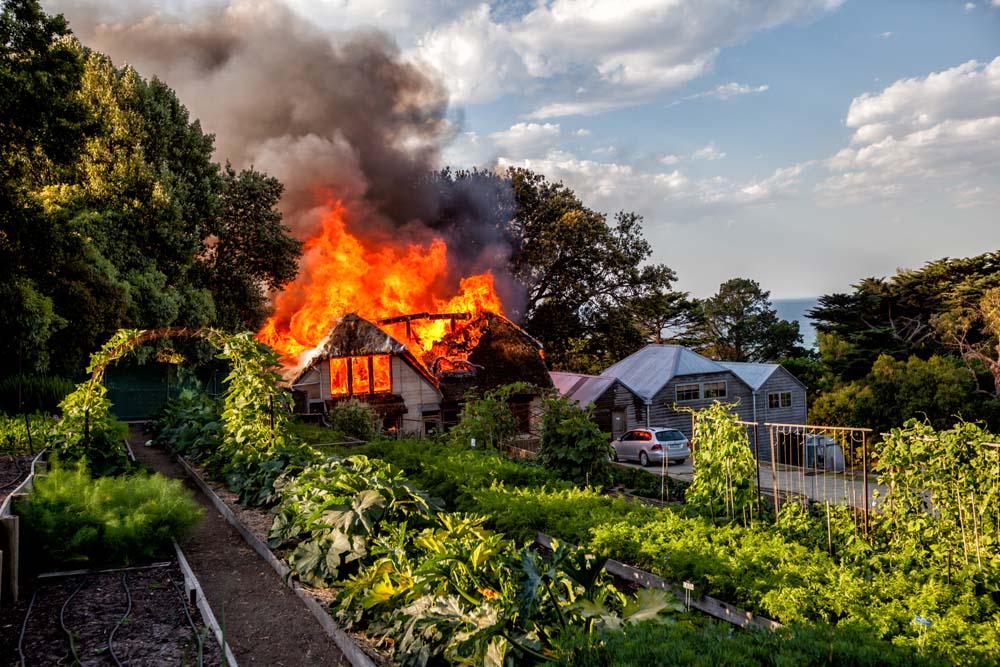 For Clive, while practicality is important, design was always very close to his heart.
"Being aesthetically pleasing was still very important for Clive and has continued to be a philosophy of the garden to this day. I think everyone wants to admire beauty and it's possible to have beauty and practicality. You just have to know how to use plants which is something that Clive talks about in a very simple fashion," said Talei. "He talks about things in terms of climate zones so we can work with people from Cairns to Hobart.  We also do workshops here and masterclasses to help people succeed as gardeners, as it's through this success that the legacy continues."
If Talei Kenyon is any indication, there is little doubt that Clive's work and philosophy is being carried on.
"If I've had a busy day I walk outside and pick something from my home garden to put on my table and I feel great. First thing in the morning on a hot day, I top up the water for the plants on my balcony and feel the exchange of the rhythm of life and nature. I know it's autumn because I can see the trees starting to turn. I can feel the cool air in the morning or late at night. I can see what's happening with my beans, they now want to be saved as pods, not picked to eat. I can see my tomato plants are coming to an end and I know I should have pruned my apricot because it's starting to change colour. It is a constant reminder that, while we are busy people, we have a deep connection and responsibility to nature," she said.
She tells me Clive is still around all the time but doesn't like talking about himself and the benevolence his family has shown in giving all of this away.
"It will always be here, and is a legacy for everyone in Australia to have this gardening icon to come and visit, enjoy, and learn from, and we are now back with our new garden shop as the local Mornington Peninsula nursery."
---
Heronswood is at 105 Latrobe Parade, Dromana.
Phone 5984 7321.