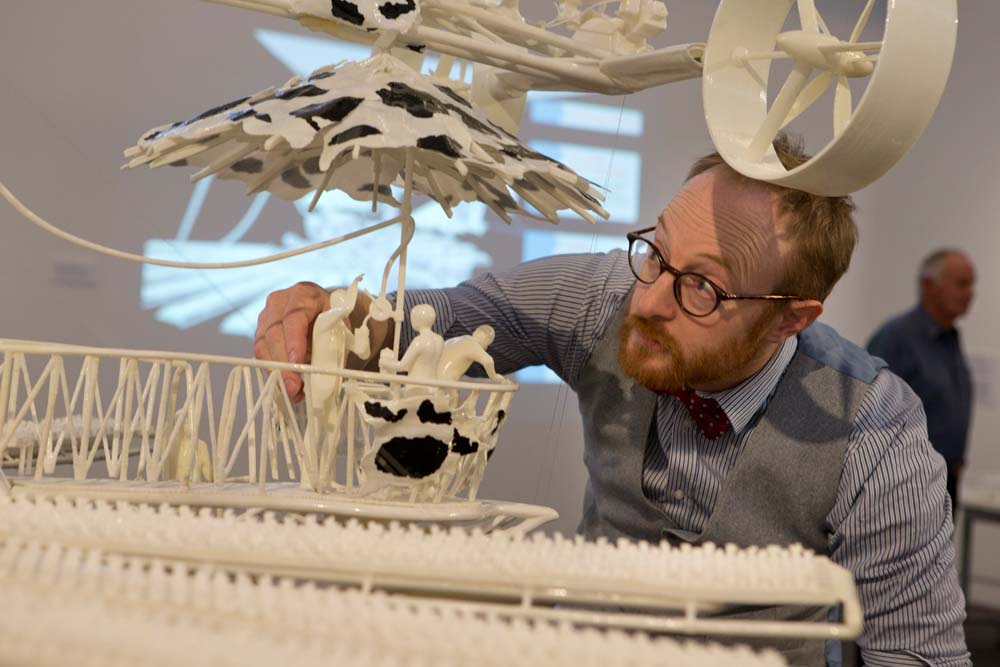 By Melissa Walsh 
Stephen Mushin has an unusual way of tackling the big issues with his latest Cowship Project Plan A/Plan B at the Mornington Peninsula Regional Gallery offering solutions to serious environmental problems.
The Cowship concept was invented by Mushin and originally exhibited as part of CUSP: Designing for the next Decade, a touring exhibition curated by The Australian Design Centre. It was further developed to a feasible engineering model as part of Farming Tokyo with Spiral Contemporary Art Gallery in Japan, and is now being developed to a working prototype in Melbourne by a collaboration of designers, scientists and engineers.
"We work in secrecy to avoid bothersome regulations relating to flying animals and highly explosive gases," said Mushin, an industrial designer and artist whose projects explore the interactions between human made machines and natural ecologies.
His Cows Must Fly project has been in collaboration with engineers and scientists to build the world's first Cowship.
Offering what has been called "a far-fetched conceptual response to the vexing questions of consumption", the Cowship Project tackles questions like "How do humans reconcile their love of beef with the issues of land degradation and methane production?" and "If we are happy to farm cattle and lambs, why not farm other fluffy favourites such as polar bears?"
However comical and far-fetched the cowships might seem, Stephen has a serious background in projects dealing with intensive urban food production, aquaponics, waste composting, renewable energy and master-planning for zero emissions communities, and uses designs with complex pulleys and wires to add a comedic aspect that commands attention.
As with all great art, Stephen Mushin's Cowship inspires people to start thinking about issues of consumption and environment, with the centrepiece of the MPRG show a giant 3D printed model of the Cowship, where Mushin shows cows floating from methane gas, people eating ethical polar bear burgers, and floating paddocks.
---
The Cowship Project, Plan A/Plan B is at Mornington Peninsula Regional Gallery until April 30.