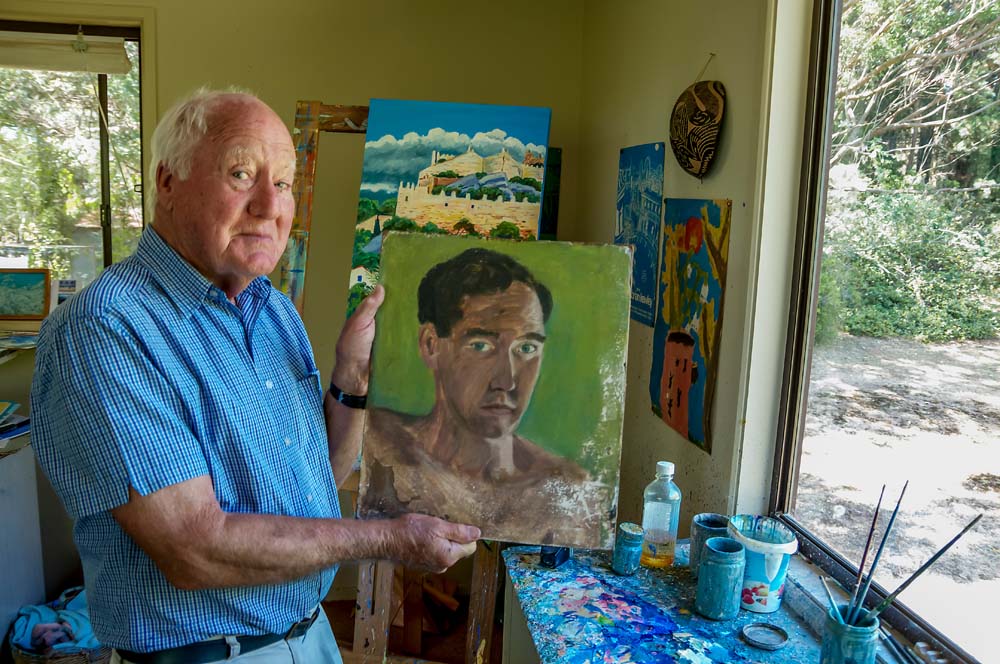 By Keith Platt
Sometimes, a glimpse of a bunch of plastic-topped pins as he climbs the stairs can spark memories and inspiration for Brian Kewley.
The stairs lead to his studio and the pins dot a map of the world hanging on the wall.
Kewley is an artist who's been documenting his travels on canvas for decades.
Living a seemingly ideal existence on five hectares at Flinders with his wife Gretchen, Kewley is prolific. A back room is filled with his works, framed and unframed.
The cool space is also a great resting – ageing – place for bottles of wine made from grapes grown on their property.
A lawyer for many years, Kewley, 84, has always managed to mix his art with his profession. The art provided an outlet from the intricacies of the laws that required such close attention to detail.
Both disciplines are renowned for involving colourful characters.While specialising in intellectual property and restrictive trade practices, Kewley was nevertheless able to fill hundreds of sketchpads while travelling for business.
Once back home those sketches – some quite colourful and intricate works of their own – became the raw material from which he could re-create sweeping vistas that, when now viewed in total, circumnavigate the world.
His works are often painted from an aerial, or elevated perspective, something he attributes to his belief in astral projection, or the ability to "leave" one's body while sleeping and travel on the astral plane. But more about that later.
Kewley, a lawyer, retired as a partner from fulltime work at 56.
The Flinders property had been bought in 1975 and was among the first to be planted with grapevines on the Mornington Peninsula.
Those early plantings of cabernet, chardonnay and silvana led to later graftings of pinot, shiraz and merlot.
"Ten years ago we pulled out three rows [of grape vines] because we had too much wine," Kewley says, adding that his annual production is now down to about 450 bottles "for friends and family".
"We got our first vintage in 1978 and are now coming up to our 40th."
The Kewleys moved permanently to Flinders three years ago after 55 years at Hampton.
Scenes from the Mornington Peninsula – rural and coastal – are also recorded on canvas and in his sketchpads. One, looking across paddocks yellowed by the sun towards the sea, is used on his wine label (he hand writes the vintage).
Kewley was about 17 when he realised his future would involve painting.
"I got the art bug. I took a sketch book and caught a train to Ferntree Gully [from his Brighton home] and then a bus to Kallista," he recalls. "I did four or five watercolours on the spot.
"That night and the next, when sleeping, I saw projections as if they were on a screen, of painting after painting. I knew that's what I'd have to do in life and haven't stopped since."
Kewley's talk of that dream harks back to an earlier comment he made about his belief in astral projection and out-of-body experiences.
"As a seven-year-old I'd go to sleep and float up through the ceiling and see all the streets lights and go over our roof. That might be why I sometimes like painting from an aerial perspective."
Kewley says scientists cannot explain the phenomena of astral projection or astral travelling.
"I also believe in ghosts," he adds. "People have near death experiences and they see from above and hear doctors or surgeons while they're being operated on."
He has also regularly meditated since he was 17, something that "takes you out of your shallow self".
Kewley's first solo exhibition (he's since had a further 28) was at the long time gone Stagecoach in Melbourne in 1965. That "raging success which practically sold out" was favourably reviewed by Bernard Smith in The Age.
Unable to give name to his style of painting, Kewley describes it as being "naturalistic, with vigour and strength".
He paints mainly landscapes and seascapes – using oils and gouache watercolours either on location or in his studio – without "slavishly following" what he sees.
Although realising art would always be part of his life, Kewley at first planned to be a journalist but after missing out on being a copy boy (there were no cadetships available) he turned toward the law after having a talk "by the river" with his stepfather, County Court judge Leo Dethridge.
"I asked him what am I going to do [when the copy boy job fell through] and he suggested becoming a lawyer. I asked what that meant, and he said 'helping people', which sounded good to me."
These days Kewley has left the orderliness of a law practice far behind.
Recently he noticed reeds were making it hard to walk to his small dam and spent a couple of hours, naked, cutting them back to provide easy access.
It's probably not the picture he left behind in the minds of those behind Melbourne's legal and business circles, but it's a tale he cheerfully tells during his artistic, and secluded, "retirement".