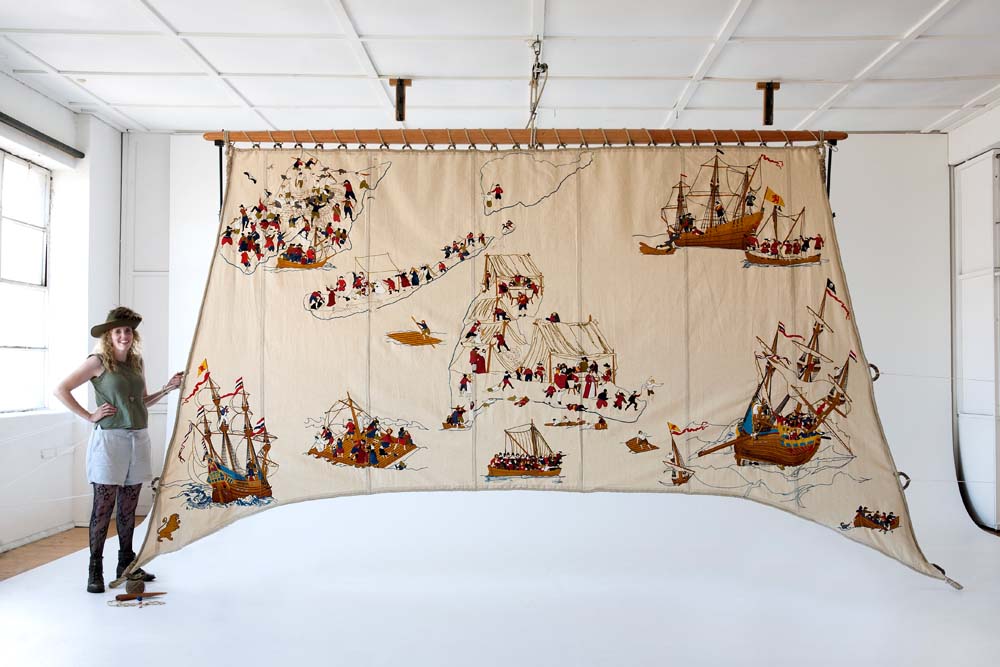 By Melissa Walsh
It is five metres wide and three metres tall made of wool and fine silk applique on linen, completely hand-embroidered and depicts the 1629 historical shipwreck of the flagship Batavia. If that's not enough, the magnificent tapestry has taken peninsula artist, Melinda Piesse, seven years to complete, culminating in a project that combines her love of tapestry with a penchant for history. For the first time, the masterpiece was unveiled at the Australian Wooden Boat Festival in Hobart this year to resounding praise for the artwork.
"It was an overwhelming success and such a wonderful festival and I am looking forward to taking the tapestry on further touring exhibitions over the next year," said Melinda, of the tapestry that began while furthering her tertiary education.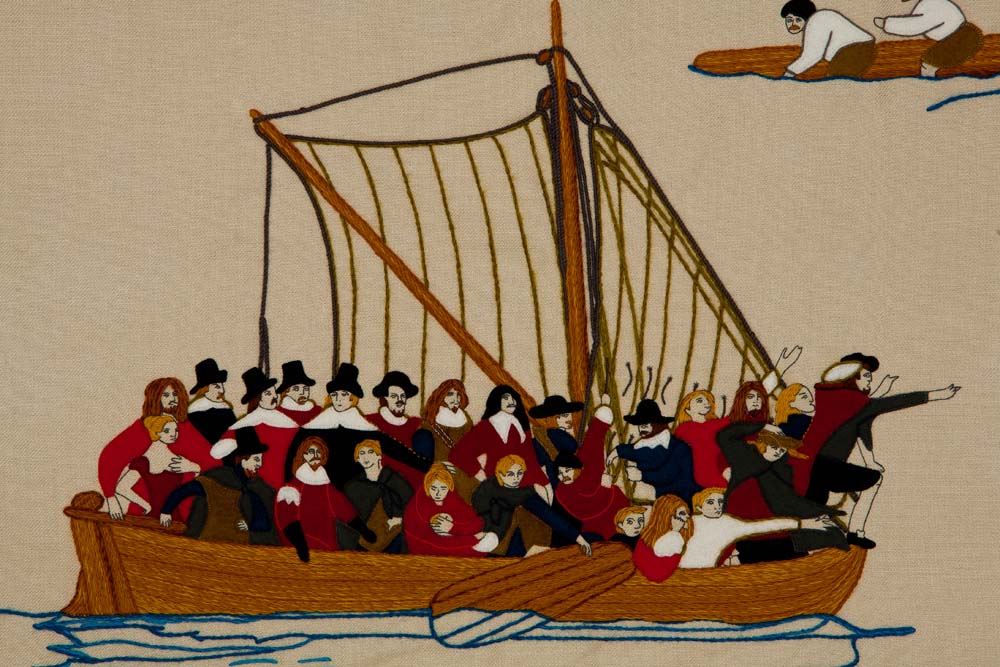 It was during her Master of Arts degree at Monash University that Melinda chose to tell the story of the Batavia shipwreck through tapestry, an art form that has been neglected over the years and regarded more as craft rather than art. But this thirty something artist is determined to reinvigorate the traditional art form, ensuring her creative skills keep this precious history alive.
To do this Melinda pushes new boundaries creatively, ensuring tapestry remains a constantly evolving process.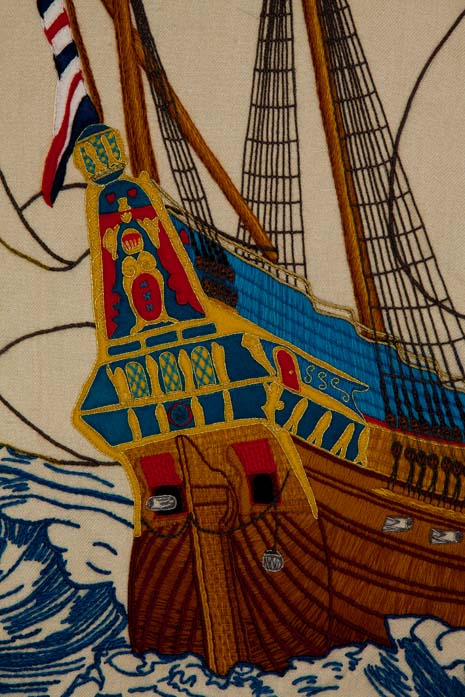 "I have always loved stories of shipwrecks and pirates, had a fascination for literature and the history of desperate men and women particularly in the seventeenth and eighteenth centuries, who risked their lives on the high seas," said Melinda, whose love of art and literature was passed down from her parents and encouraged by her grandmother and nana. "Mum is an artist and dad is a sports journalist and peninsula author. I didn't see that art could be a profession at first, but I loved sewing and textiles. From a young age I was making dolls clothes for my toys and I had strong mentors in my life with my grandma and my nana. Patricia my nana would always foster my embroidery and sewing. She would spread out a beautiful table when we ate and was always a big inspiration giving me the freedom to explore the art with gifts of looms and needlework kits and we spent a lot of time together growing up. My other grandmother Pat was possibly the biggest influence in my life. She always believed in me and said I would be alright. I would wag classes to spend time with her and we would read books like Russian history and she introduced me to the rich world of history and literature."
Taking the tapestry over to Tasmania was no small feat. Melinda's husband Wayne Parr is a boat builder and helped to have a custom crate made for the piece, made the three metre by one metre embroidery frame, and advised on sails and riggings.
"I got advice from the Australian tapestry workshop where to get the crate from," said Melinda. "The tapestry which is shaped like a seventh infantry sail is rolled up and put into the crate and transported to the venue. I did a lot of research to get that right and the style of the stitches is like the famous tapestry The Battle of Hastings, and it was incredible to have my seven years of stitching in the open plan lounge room come to fruition."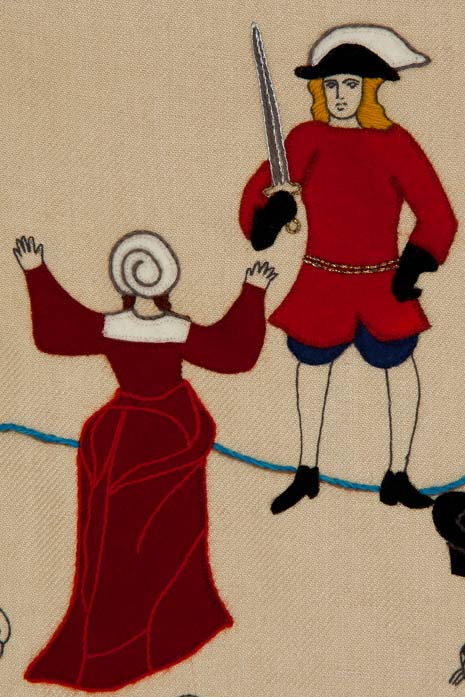 Melinda says tapestry work is a very slow process, unlike painting which is more immediate.
"There is a specific set of unique skills required by this kind of art form. You need to plan, conceptualise, research, embroider, and there is so much detail. You can look right into the tapestry and see it is actually miniature rope that I have twisted and put onto the fabric, and the little blocks inside the ship that hold up the rigging are connected by a tiny silk thread," said Melinda. "My husband was great too making sure the flags waved in the right direction. The land lubber wouldn't pick that but the sailor would though."
Choosing the story of the Batavia was the result of Melinda's fascination with piracy in Australia.
"It is inextricably linked with the golden age of piracy and exploration. I was looking for the right subject and reading about women pirates on the ship challenged my ideas of what women could do, and I found there was at least one woman pirate on the ship," said Melinda of the Batavia's rich history.
"There was a beautiful young woman called Lucretia aboard the ship who was on her way to join her husband in Indonesia. She was a noble woman but three high ranking officers were chasing her and she was eventually assaulted although it is not known if she was raped. Lucretia's maid was jealous of the woman and it is believed she revolted and became a pirate and part of the eventual mutiny on board the ship. On June 4, 1629, Batavia struck coral in the Morning Reef, off the North West coast of Western Australia, and sank. Forty were drowned when they abandoned ship but the rest were safely ferried ashore," said Melinda, who is proud to educate people with her tapestry and the rich history depicted in it.
Standing looking at the magnificent tapestry with all its intricate detail, it is easy to get swept up in the story of the Dutch East Indiaman Batavia. With stories of piracy and tragedy on board the ship that were quite barbaric, it is surprising that Melinda's tapestry has no bloody images at all.
"I decided that while it was obvious that terrible acts were being carried out, I didn't want it to be a bloody mess. This way my artwork is more accessible to everybody and will allow a greater audience to learn about the art of tapestry as well as this important part of Australian history."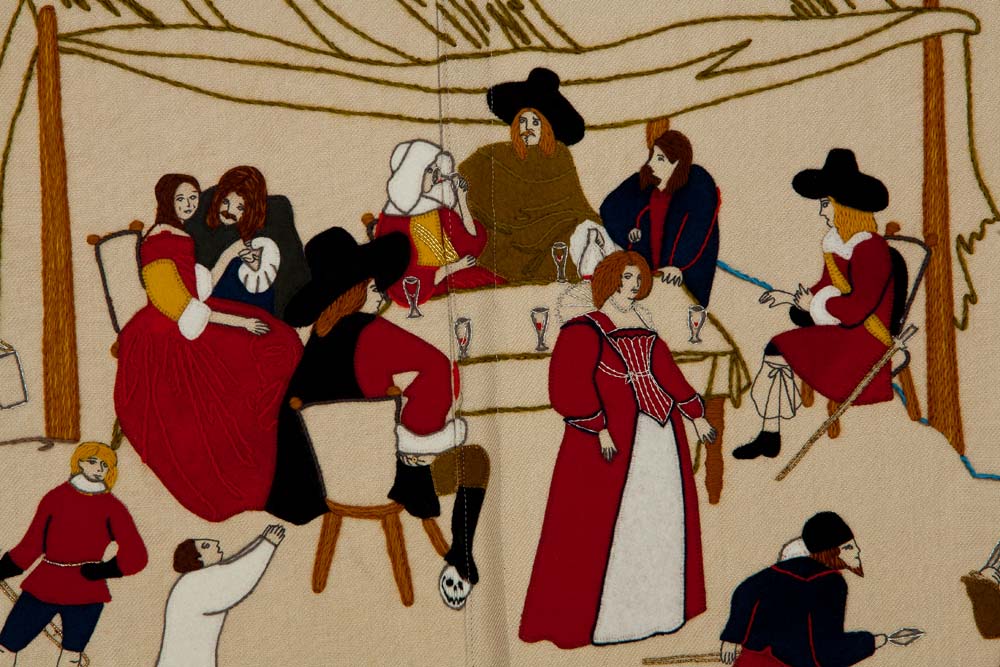 For more details about Melinda Piesse and her tapestry go to www.galateadesign.com.au