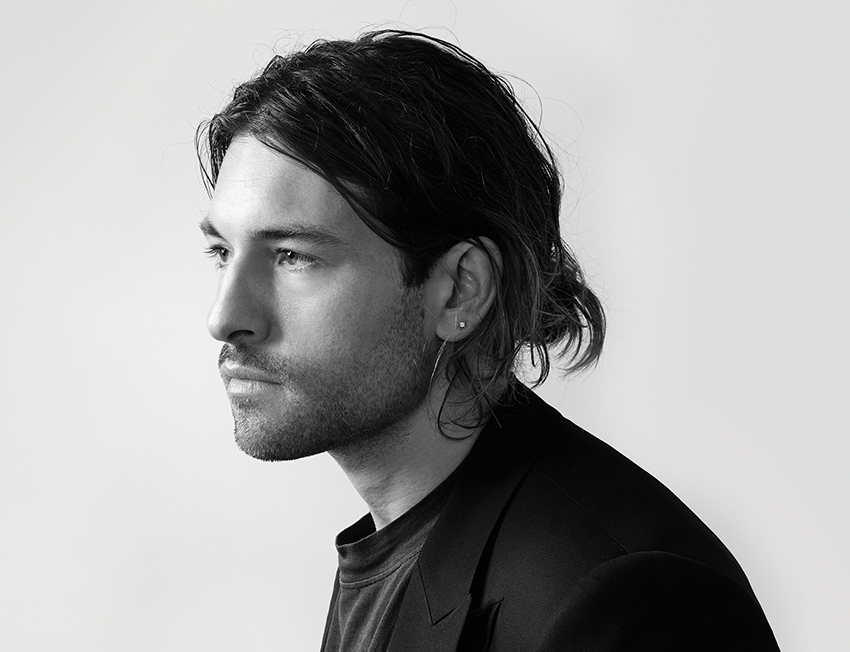 Born and bred on the Mornington Peninsula, fashion designer Lukas Vincent has recently won $50,000 in the Australia/New Zealand finals of the International Woolmark Prize.
The 32-year-old designer was recognised for his Exinfinitas label, which merges surf culture and high fashion design. As winner of the Australia/NZ menswear finals, Vincent is now eligible for the International Woolmark Prize, to be announced in January 2017.
Vincent joins some esteemed company as a regional finalist; previous Woolmark winners have included Dion Lee and Karl Lagerfeld. The judges, including designer Jason Wu, said Vincent's entry stood out as the clear winner.
"Lukas came with a sharp point of view, a plan, a unique use of wool – he really transformed the material," they said.
Melissa Walsh talks to Vincent about life, fashion, and his inspirational journey towards a label that is now stocked at select outlets in Toronto, Paris, South Korea and Los Angeles.
HOW DID YOU GET INTO FASHION DESIGN?
Growing up, I was never interested in fashion design. I remember specifically saying at my interview for RMIT fashion that I didn't want to be a designer. Somehow that left a good impression- I was accepted and made class captain before dropping out after 6 months. My very first step toward a fashion career was a job I landed with Bettina Liano, as her creative assistant. Since then, it took around 4 years to get to the point of truly investing my time in design. Previously, I spent years developing my skills as a visual merchandiser, accessories buyer, PR and Marketing Assistant and stylist. I was working with models like Gemma Ward and Miranda Kerr well before they became international stars, so it was an exciting time to be involved. Once I left Bettina Liano I committed to a full time role as a men's designer at Lee Jeans in 2005. It was from there I really begun exercising my creativity, exclusively within design, whilst still consulting for a few other well-known fashion brands.
WAS THERE ANY ONE IN PARTICULAR WHO WAS A BIG INFLUENCE IN YOUR LIFE AND ENCOURAGED YOU TOWARDS A FASHION CAREER?
Interestingly, there was no driving force in my life that influenced this career in fashion; it was almost the opposite. For me it was very instinctual. My family have zero interest in fashion and the demographic where I grew up certainly wasn't the ideal breeding ground for my creative desires.  Yet steadily over the last 12 years I've been carefully making inroads, doing what I feel is right for me. It has never been easy and an extremely bumpy road, as it commonly is for any true creative, but I feel the adversity has made me stronger and almost unstoppable at this point.
HOW LONG DID YOU LIVE ON THE PENINSULA FOR?
I was born and raised on the peninsula, though in more recent years I've spent more time living between Paris and New York. The peninsula is always the perfect place to retreat and disconnect from the madness. Being close to nature for me is incredibly vital- I have an affection for sun and the beach and cities like Paris and New York unfortunately just don't compare!
HAVE YOU ALWAYS FELT INTERESTED IN FASHION?
In my younger years I had an interest in science, art, the natural world, photography and ultimately creating or discovering new ideas. I kept a journal of new ideas, applied to any area that came to mind. It wasn't until I was exposed to imported fashion magazines that I developed a fascination with fashion. Pre-internet, it was my first glimpse into this dream-like world that was completely foreign to anything I had known. Initially it was the campaigns that would most appeal. To me it was all about the art within the image- the unique combinations of colours, fabrics, designs, photography style and emotion- that is what I loved most.
WHERE DOES YOUR INSPIRATION COME FROM?
I work in a very similar way to when I was a child- just slightly more experienced in execution! I'm inspired by the thought of an idea that hasn't been discovered before. It could be a very simple, innovative idea, or a top-line strategic vision that I'll implement through an entire body of work. To me, recreating objects that have come before is quite boring, so I like to push myself to experiment where possible. I also have to ensure what I'm creating is wearable day-to-day, so it's a delicate balance. Being a stylist, I'm also quite inspired by how clothes are put together on the body, so often that will also trigger a new way of doing things. It's my love of fine fabrics and design, combined with a fashion-forward, yet commercial sensibility that I believe is the ideal combination.
WHEN DID YOU DECIDE TO LAUNCH YOUR OWN BRAND? WHAT WAS THE PROCESS LIKE FOR YOU?
It wasn't until I moved back to Australia after living in New York for five years that I really started to assess where I had been and where I wanted to go. Obviously living in a liberating city such as New York is hard to top. Coming back, I was surprised how my perspective had changed- Australia felt incredibly laid back and almost a little too much so for me at that point. The available career choices also didn't appeal to me anymore. Coupled with this was an incredible dissatisfaction for what I was witnessing in men's fashion within Australia. My only problem was that I had all the experience and knowledge I needed after working in fashion for 10 years, yet zero money to make this dream happen. At the stage where most people my age buy a house, I decided to take a leap and build a house- a fashion house. It's frightening the amount of money that has poured into the business- it's an incredibly expensive industry, if you want to do it seriously well. Even now as success grows, the challenges seem to grow too- so there is certainly never a time when I can truly stop and feel content with the progress. However, the process for me has been a very swift path to relative success- for some; the unfortunate reality is that's just not the case.
HOW DO YOU FEEL ABOUT THE INCREDIBLE RESPONSE YOU HAVE HAD WITH YOUR BRAND AND CREATING A NEW SUB-GENRE OF FASHION WITH THE COMBINATION OF SURF STYLE AND STRONG TAILORING?
There are definitely moments I have pinched myself. It's not every day you have the editor of Vogue Paris knocking on your door for an interview, or accepting international awards for your work from a panel of esteemed figures you admire. I launched the brand  a year ago and the trajectory has been incredibly fast- it feels to me as though it's been perhaps two or three years, considering the overwhelming happenings that have occurred in such little time. I definitely wasn't expecting to harness the attention of the fashion world, from simply re-imagining my upbringing on the Peninsula and translating it through the lens of high-end fashion. It seems the right time where the industry is bored of seeing the typical offering of fashion and this pursuit of traditional beauty and perfection. Instead now it's more interesting to learn about a highly personal perspective on fashion and culture, grown from very authentic roots.
IS THE KIND OF CLOTHES YOU CREATE THE STYLE YOU LIKE PERSONALLY?
Absolutely. What I create is an intimate presentation of everything I love- from fabrics, to colours and silhouettes. I might not have the opportunity to wear everything I create, particularly on the Peninsula! But as I mentioned, to me it's about creating a look that provokes a response- good or bad, to me it's not important. What you see in the images is carefully curated to portray a certain look- sometimes that might be out of touch with reality, but if I can inspire certain people to be more individual, I think that's a positive thing.
HOW OLD WERE YOU WHEN YOU MOVED AWAY FROM THE PENINSULA?
I moved from Frankston when I was 19, straight after high school, which is also when I started at RMIT. Then shortly after at 20 I started with Bettina Liano. It wasn't until I finished with Lee Jeans, after travelling to New York for work on buying trips, that I fell in love with the idea with moving overseas. At that time I was around 25. I really did most of my growing up living in New York; naturally you grow to become very comfortable with your immediate surroundings and its not until you take that away that things change quite dramatically. It was a huge learning curve and certainly contributed to my capacity to drive this business today. I also had the opportunity to connect with many highly influential people in the industry- creative directors, stylists, editors, photographers – who have all contributed in some way to where I stand today. Having a solid network of connections that possess an incredibly refined taste level has helped evolve and push my work much further.
ARE YOU WORKING ON ANYTHING AT THE MOMENT THAT YOU WOULD LIKE TO SHARE?
Currently I'm working on the FW17 collection and International Woolmark Prize final collection. The IWP collection will mark my first ever collection shown on a runway, which happens to be part of the official Paris fashion week schedule. This will be yet another monumental time for the brand and myself. There are also a few, very high profile and exciting collaborations in the pipeline to be launched at the same time. Details are under embargo at present, but will be revealed during the next season launch to media… and mostly witnessed on the runway itself. All I can say is the direction is yet again very Australian – perhaps too much so – but will surely raise eyebrows of our northern hemisphere counterparts.
WHAT DOES EXINFINITAS STAND FOR?
Ex Infinitas is a Latin arrangement, meaning "Of Infinity". It provides me the conceptual framework to explore my love of past, present and future sensibilities. From inspiration and fabric, to styling and design- the end result is almost an alchemical fusion of many different elements to create something entirely new and appropriate for now.