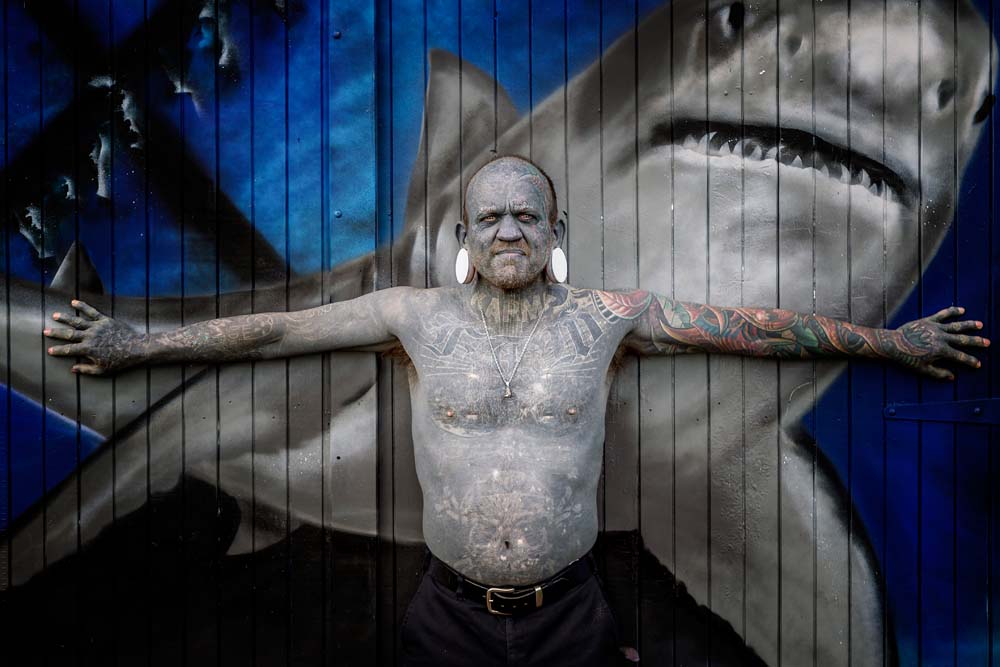 Photos: Yanni
He's the world's most tattooed person. He juggles chainsaws and fire torches, and has performed all over the world. But for this tattoo artist and performer, the Mornington Peninsula is fast becoming his spiritual home.  Melissa Walsh gets beneath the ink of this incredible tattooed man.
When Lucky Diamond Rich first saw a tattoo on his local butcher at just eight years of age, his fascination with these magical drawings began. Growing up in the working class area of Brisbane's west end, the old English butcher with missing fingers inspired an innate fascination for Lucky, who would eventually become the world's most tattooed man.
"I remember looking at him as a kid with these stamps all over his arms and a couple of missing fingers and was intrigued with it. I immediately went to the milk bar next door and bought heaps of bubble gum so that I could cover my arms with the tattoo transfers," said Lucky, who in that moment discovered the magical power of tattoos. "I thought it was amazing that someone could have something on their body for the rest of their life and that the tattoo artist was like a magician."
It was eight years later that Lucky got his first tattoo of Richie Rich juggling a club on his hip. "I was 16 when I got my first tattoo on my hip because I was worried what my mum would think.
By this stage I was travelling with Ashton Circus," said 45 year old Lucky, who had learnt circus performing with a community theatre group during his primary school years. "When I was eight, the community theatre would come to the school and teach basic circus skills. I was a natural at it and won an Australian arts encouragement award which landed me a job at the Fruit Fly Circus in Albury at 14. At a young age I learnt to juggle, and eventually learnt to sword swallow, ride a 10 foot unicycle, and had a natural talent for that stuff. At that time all my mates were doing crime and drugs and I was on the verge of going down that path but I was guided towards the arts. I was lucky enough to have people who saw in me what I couldn't see and encouraged me to follow the artistic path. They would pick me up from mums housing commission flat and take me to circus training."
This early circus training turned out to be a lifesaver for young Lucky, as well as a way to make money with the young artist soon turning to street performing, going on to win the Australian Street Performers Award in the 1987 and performing at London's Covent Garden, the Edinburgh Festival, and the Glastonbury Festival.
"It was during this time I started collecting more tattoos," said Lucky, who had then perfected his act, juggling seven balls, a chainsaw, cane knife and an apple which he ate. "I also juggled two knives and a fire torch on top of a ten foot unicycle and have never had an accident."
Over thirty years, with his entire body now covered in tattoos,  Lucky can remember intricate details of each tattoo, who did it, what it was and who was around the space.
"It's like I have a memory recall for it even after all this time," said Lucky, who already had a full body of tattoos when he decided to become the world's most tattooed man ten years ago. "I was pretty much covered entirely by the age of 28 and then I decided to start blacking areas in and won the world record for the most tattooed man in 2006, a title I have held ever since."
The previous record holder was Tom Leppard, who was 99.9 per cent tattooed.
"I am 100 per cent tattooed. The areas he didn't have tattooed I did. It was written in the book where he wasn't tattooed, and so I went about having every bit of skin inked.  I went to the Isle of Skye to pay my respects to him in 2006 just after I got the record, and he had been very helpful to me along the way," said Lucky, who even has tattoos on his gums, eyelids, ears, between his toes and foreskin.
Never one to succumb to societal expectations, Lucky said having a full body of tattoos is just another form of artistic expression.
"I like tattoos, and have never really had the constraints that other people have in society. I have always been artistically minded and a performer. Being tattooed seemed like a karmic thing to do, taking the money I earned from my art and giving it to another artist," said Lucky.
While the life of this tattooed performing artist has been blessed in many ways, Lucky has also seen the darker side of fame, having to face a drug addiction problem head on.
"I have had an up and down relationship with drug addiction, and have been in and out of recovery for 18 years now.  It's part of the trap of fame sometimes but I know that all of my experiences have pointed me into a different direction now, and my aim is to do community service and help educate youth," said Lucky, who has recently completed his Certificate 4 in community service at Victoria University.
"Being on the peninsula and here in Rye I am tapping into the spiritual side of life. When I look out there at the ocean I think what an amazing place this is that we live in.  Jimmy inviting me here to be a guest tattoo artist has turned out to be a majestic thing that heals the soul," said Lucky of his long standing friendship with James Brown of Splash of Colour Tattoo Rye.  "I now need to give back what the community workers did for me all those years ago, and am working towards community service at the moment."
For Lucky, it turns out his tattoos may be more magic than he realised, giving him the ability to relate to kids on their own level.
"I believe in education and being able to tell your story is enough. My tattoos and my experience actually give me a window of opportunity to connect with youth, and I am really buzzed up by the idea of helping out on the peninsula. It's such a small, close community and I think it's important to talk to kids from around 10 to 14 when we can educate them."
In the meantime, Lucky will be hanging out with his good mate James and tattooing over the summer at Splash of Colour Tattoo and Body Piercing, Rye.
The friends for life met in 1994 when James saw Lucky street performing in St Kilda and asked him to perform at a tattoo convention.
"We became friends straight away and it has lasted all these years," said James. "When he told me he was going for the world record I knew he would do it. He's a lovely charming person and the perfect example of not judging a book by its cover. If he never had the coat of ink he would be the same wonderful person, always out to do his best at whatever he turns his hand to."