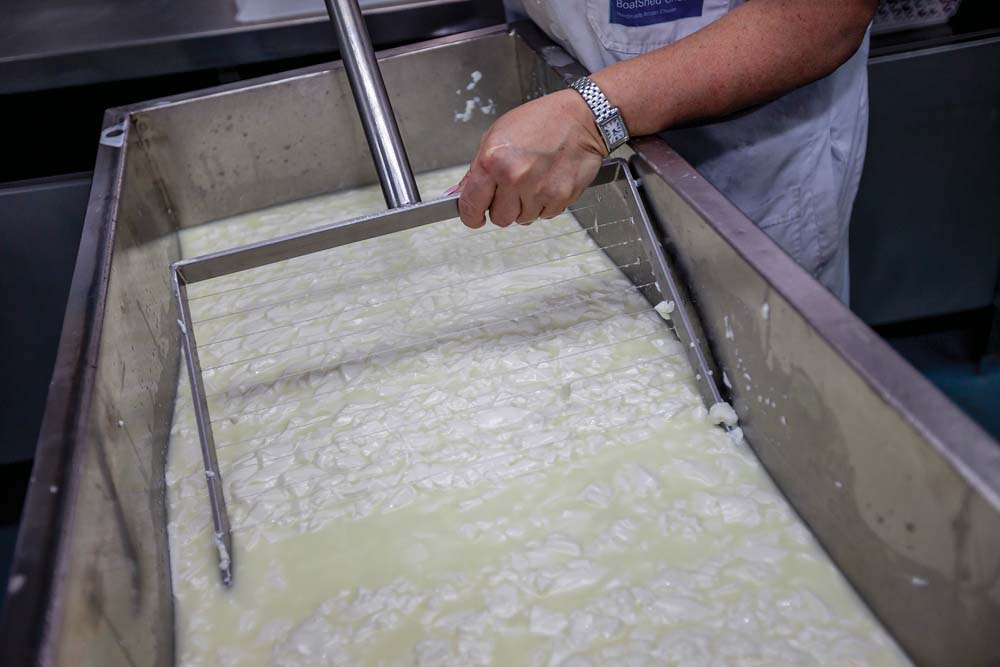 By: Melissa Walsh   Photos: Yanni
Tamara Newing stands in her commercial kitchen, lovingly nurturing each and every batch of cheese she creates. This Mt Martha woman is the owner of BoatShed Cheese, a business she began five and a half years ago after the tragic death of her son Reagan in a diving accident.
For this author, bread maker, and former owner of Tamara's Kitchen cooking school in Melbourne, learning to make cheese provided a way to get through grief for the inconsolable Tamara.
"I was in my home one day and just started making cheese. By mid 2011, I had more cheese than my family and friends could eat, and decided to take it to a more professional level after selling at a Red Hill stall where I discovered I needed a licence to sell cheese," said Tamara.
Forever the perfectionist and with an absolute passion for cheese now, Tamara decided to hone her skills overseas at the University of Vermont in the US with an artisan cheese course.
"I had already been learning with my mentors, Jan and Trevor Brandon of Red Hill Cheese, and one year later launched BoatShed Cheese,'" she said.
"We renovated a former boatshed on the property to make the cheese making facility which is how we got the name," said Tamara, adding the cheese making process has been done for years without high tech equipment. "It's about timing and nurturing to create the perfect cheese."
When BoatShed Cheese grew so much they had to find a larger facility, Dromana seemed the ideal place near where the Mt Martha family lives.
"We opened the factory just on two years ago and now process 500 litres a week," said Tamara, who now works alongside daughter Brittany, who is learning about the love of cheese making from her mum.
"We have grown to the size we want to now and I am determined to keep it a small and specialised business. We do everything by hand here and I do not want it to become more commercialised," said Tamara. "Cheese beats to its own drum. You cannot rush it and that is one of the things that I love."
BoatShed Cheese has firmly established its reputation amongst venues and foodies alike with multiple awards, increasing market sales, and a loyal list of restaurant clientele.
For Tamara, her favourite cheese is still the first cheese she made – Horizon, a pressed surface-ripened goats cheese with a line of ash in the middle.
The range includes Chelsea blue, driftwood, horizon, compass gold and moonstone to name a few.
With the local produce of the Mornington Peninsula foods including farm-fresh goat milk, Tamara has been able to create her favourite French style cheese, and travel an exciting and enlightening journey into the world of cheese making.
"Cheese was Reagan's favourite food. He used to stand at the fridge saying 'I'm a mouse, I'm a mouse'. I feel close to him when I make cheese."