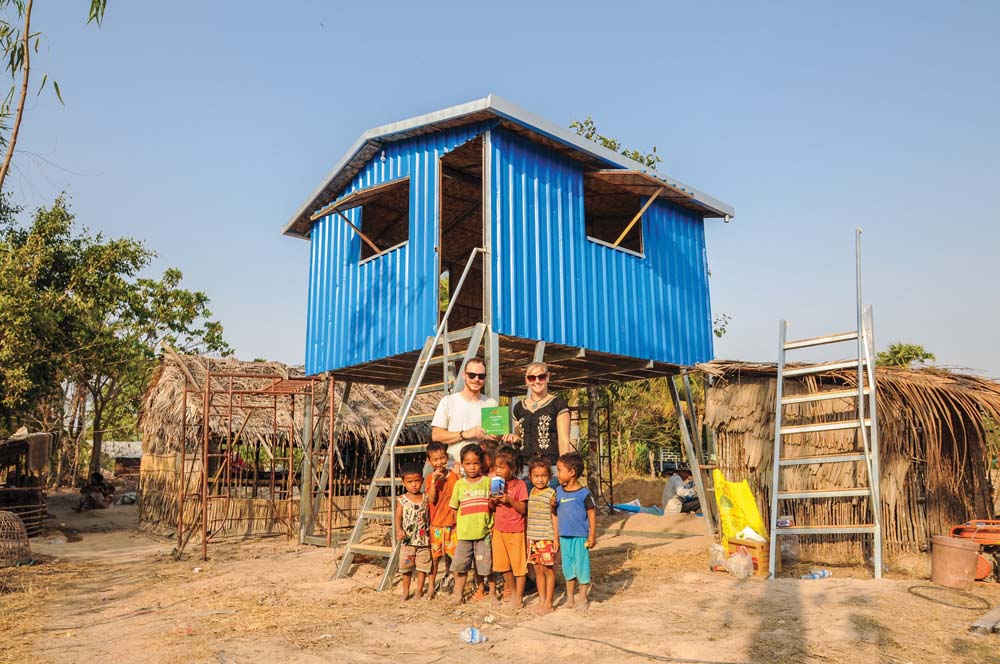 By Kristy Martin   Photos: Jarryd Bravo
"Only by giving are you able to receive more than you already have."
Well, we did it.
My boyfriend, Jarryd, and I took that nerve-wracking next step.
We bought our first house.
Only, unlike other couples we know, we won't be living in the house we bought.
And although it is brand new, it didn't cost hundreds of thousands of dollars.
This house only has one room, but it is more than enough.
It contains no bricks, no furniture and definitely no televisions.
In fact, the house we bought isn't even in Australia.
The house we bought lies in Kampot, Cambodia.
It was a gift from us to a family who needs it more.
This little blue house that we watched get built means more to us than any house we will buy for ourselves in our future. 
Because it has changed people's lives.
The family who will live in the house has never had a secure place to live.
Their circumstances meant they had to share with another family, in a tiny, rundown shack that wasn't even sturdy enough to protect everyone from the rains in the wet season.
Now they have a place to call their own.
A new, galvanised steel house on stilts that not only protects them from rain and sun, but also floods and vermin.
It only measures 3.6 x 3.6 metres, but to them it is a palace.
It's got fancy features like insulation to keep the heat out, a rainwater collection system, roll-up sunshades and solar lighting.
There is even a lockable front door.
Secure housing is something we tend to take for granted in Australia.
For someone like me who, thankfully, has never had to go without food, shelter, healthcare or education, it can be hard to imagine just how tough life in Cambodia can be.
In the country's remote villages, living conditions are some of the worst in the world.
The majority of people live on less than $2 a day (if they are lucky enough to find work) and have to build shelters from whatever they can find.
So, when Jarryd and I discovered we could provide a new house to an impoverished Cambodian family for as little as $2200 (US), we just knew we had to help.
We came across Jason Thatcher and Global Village Housing by chance, when we interviewed him for a local media publication last year.
Global Village Housing is a social enterprise that provides housing to poverty-stricken Cambodians.
It was started by Jason, formerly of Mornington, whose frequent travels through rural Cambodia with his motorcycle touring company exposed him to the widespread poverty.
Since its inception in 2009, Global Village Housing has built and gifted more than 100 homes across Cambodia.
According to Jason, the provision of homes is the first step toward breaking the cycle of poverty.
It helps restore people's dignity and regain standing in their local community.
Having a secure place to live also allows people to focus on other needs, like food, employment and providing education for their children.
Global Village Housing employs a local monk who interviews families and village chiefs across Cambodia in order to locate those most in need of a new home.
A team of local builders is employed to construct the houses, which creates jobs and puts money back into the local economy.
These homes, designed by Jason himself specifically for the Cambodian environment, are pre-built in a factory in Phnom Penh and then transported as a flat pack out to remote and rural areas.
They can be erected in less than four hours.
Sponsors from around the world pay for the houses, including the materials, transportation, wages and construction costs.
Unlike many charity organisations, Global Village Housing allows its sponsors to travel to Cambodia to meet the families they are helping, which is what we decided to do.
A few weeks before we left Melbourne, we were sent an email with a photo of the family we would be providing the house for.
It was a young couple named Ron and Nharnh and they were expecting their first child.
Nharnh gave birth to a beautiful baby girl three days before we arrived and we were lucky enough to visit mum and bub at the local hospital, taking gifts for them that we bought at a local market.
When it came time to hand over the keys to the house, there was a little ceremony that involved speeches and contract signing (all recipients must agree to a number of conditions, including that they will never sell or give away the house or damage it in any way).
Ron said he now had everything he wanted in life – a beautiful, healthy baby and a brand new home to keep his family safe and comfortable.
He looked Jarryd and me in the eyes and told us, through a translator, that we were angels sent from heaven.
His words made me cry.
I have never felt so wonderful as I did that day.
His sincerity and gratitude, so clearly displayed on his face, is something I'll never forget.
We managed to change that whole family's lives with one simple act.
I can't even begin to explain how rewarding that is.
Another highlight from our time in Cambodia (aside from exploring the incredible Temples of Angkor) was providing toys and sporting equipment to the local village children in Kampot.
Seeing the joy a few footballs, frisbees and skipping ropes gave those kids and watching them play for hours on end was an absolute delight.
We arrived home with full hearts, and Global Village Housing has been wonderful in keeping us updated on Ron and Nharnh and their baby, who was named Socheata, which means 'the good life'.
The family are happy and doing well and Ron has even managed to secure some local work.
We recently sent money over to them so they can buy two pigs for breeding and then sell off the piglets.
This will be a new business venture for Ron and Nharnh and will help them on their path to becoming financially independent.
We plan to stay in touch with the couple and would love to go back and visit them someday.
We would also like to, when we can afford it, sponsor another house through GVH in order to help another deserving family.
Although I understand not everyone is in a position to do this, if you are then I would encourage you to consider gifting a house.
Global Village Housing has some great ideas for fundraising, or you can grab a four of your mates and each chip in $500.
It is not a lot of money in the scheme of things and when you see the difference it can make in somebody's life, believe me, it is so worth it.
If you are interested in gifting a house for a Cambodian family, get in touch with Global Village Housing at www.globalvillagehousing.com or on Facebook.
A short video of Jarryd and Kristy's experience can be viewed at