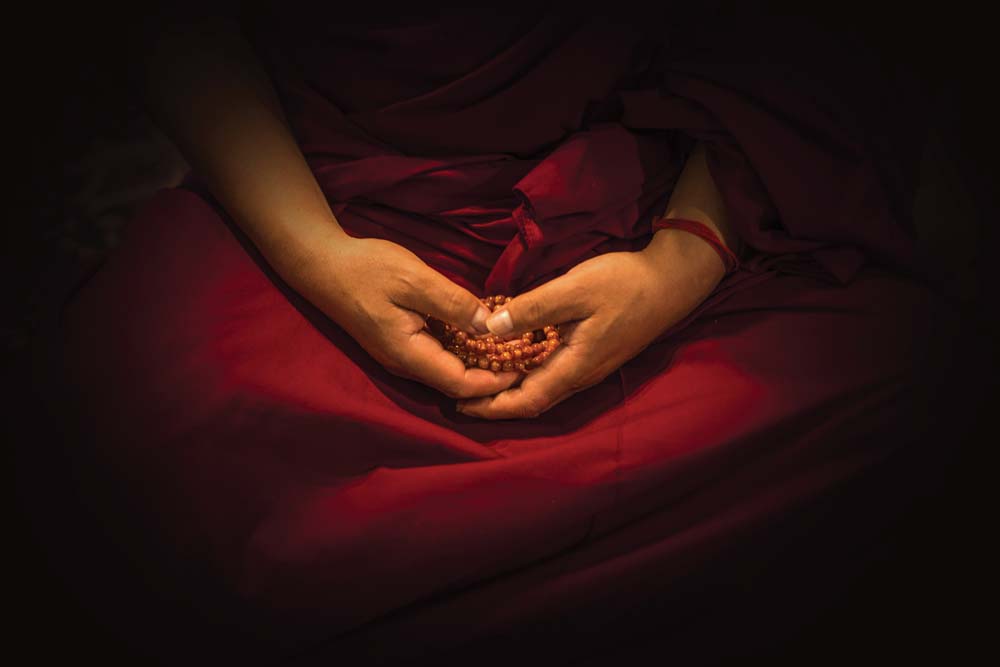 By Kristy Martin   Photos: Jarryd Bravo
A Buddhist monk living in Frankston is helping people find inner peace, while also funding a charity for underprivileged Tibetan children, as Kristy Martin reports.
Outside a large house on Kars Street, Frankston, a string of colourful Tibetan prayer flags whips wildly in the breeze.
From the exterior – prayer flags aside – this double storey brick house looks like any other you might find on this archetypal suburban street.
But this is not your average house.
Inside is a Buddhist meditation centre helping people find inner peace, spiritual wellbeing and wisdom, and the people who live here are two Tibetan monks and a Buddhist nun.
Welcome to the Medicine Buddha Tantrayana Meditation Centre, a place for learning and guidance, relaxation and mindfulness.
The centre is elaborately furnished, particularly the altar, with its artwork, cushions, flowers, crystals, sculptures and shiny golden statues.
Buddhist monk Lobsang Tendar welcomes us with kind eyes and broken English.
Tendar is his given name and Lobsang his surname, but he tells us he is more commonly known as Lama Tendar (lama means 'teacher').
Here, at the centre, Lama Tendar is a tantric healer and a teacher of Buddhism, sacred art and chant.
The centre is open to anyone, not only those of Buddhist faith, and the weekly meditation sessions attract a strong crowd every Friday night.
Lama Tendar is also the founder of the Tibetan Children's Fund, a non-profit organisation dedicated to supporting Tibetan children with education and healthcare services.
"We believe every child should have access to education and health so that they may reach their full potential," Lama Tendar explains.
"Once this basic infrastructure (education and healthcare) is set up, the Tibetan community will be more self-empowered."
The Tibetan Children's Fund was established in 2008 and has since facilitated the building of a school in Kham, eastern Tibet, where Lama Tendar grew up.
The Chongpo Kham School now teaches 140 students a year, and the charity has also sponsored two monks to study as Tibetan medicine doctors, who will work in the Kham region once their training is complete.
Lama Tendar himself has a fascinating history.
He became a monk at age 12 and went on to study in Lhasa, the capital of Tibet, where he learnt the ancient art of Tibetan tantric chanting, prayer and meditation.
In 1989, due to Tibet's political unrest, he fled to India by walking, with a group of others, for three months through the Himalayas.
Now an Australian citizen, Lama Tendar travels across the country to teach meditation at different centres and retreats, performing blessings, sacred rituals and Buddhist ceremonies and also participating in community cultural programs.
In 2015, Lama Tendar was chant master to His Holiness the Dalai Lama during the spiritual leader's Australian visit.
Lama Tendar says he first came to Australia following a tour of Europe as a chant master with the Gyuto monks.
"In 2001, I came to Australia for the first time, travelling extensively with the Gyuto monks, chanting, making sand mandalas and teaching deep meditation.
"I was part of the group of monks who did workshops in Mt Martha, where we taught children yak butter sculptures and how to make flowers and created a mandala and had readings and meditations."
(Making sculptures inspired by Buddha, animals or plants out of yak butter is a centuries-old Tibetan tradition that stems from the local people giving Buddha everything they got from their domestic animals.)
His time in Mt Martha is what ignited Lama Tendar's love of the Mornington Peninsula.
"I always wanted to live on the peninsula ever since my first visit here," he says.
"I love the energy of the water and now I live in a house where we can see the bay from our living room window."
Lama Tendar became an Australian citizen in 2005, after returning here as a refugee in 2003.
He lived in Beaumaris for eight years, residing at the Interfaith Household attached to the Stella Maris Church, where he taught Tibetan language, sacred art and chant.
"In the Interfaith household, there was Father John, a Catholic priest, an Indian yogi and myself.
"We three taught at St Bedes Catholic College.
"We taught the purpose of peace, understanding and respect.
"We shared our knowledge."
Almost 30 years after he left, Lama Tendar returned to Tibet in 2007 and reconnected with his family for the first time.
"It was a memorable experience, but it was also there that I saw the desperate need for education and healthcare for the children in my homeland.
"I committed myself in providing these needs to the children of Kham in my village."
Returning to Australia, he formed the Tibetan Children's Fund, which is now made up of individuals, networks and business partners within Australia and abroad, who all share a common concern for the future of the children of Tibet.
Today, Lama Tendar's work, including conducting healings, blessings and spiritual ceremonies, helps fund the charity.
He travels to spiritual festivals around the country to give workshops.
He runs classes on how to paint mandalas, a spiritual symbol used to represent the universe, and people travel from as far as Cairns, Brisbane and Sydney for these courses.
At the Frankston centre, Lama Tandar also teaches deep voice meditation, mantras, singing bowls and sound healing.
In Tibetan Buddhism, sound is an important element used in healing the body, emotions and mental states, as well as for cleansing energies in homes and buildings.
"Sound is a source of energy that can be harnessed to bring about inner stillness, balance of the body via the chakras and also for an experience of deep relaxation.
"Sound can also be a good introduction into meditation, allowing people who have never meditated to experience deep peace."
Lama Tendar also takes tour groups on an annual pilgrimage through southern India, visiting sacred Buddhist sites and taking part in daily meditation.
"Many people who come on pilgrimage find the trip to be life-changing and transformative," he says.
"They return to Australia with a different outlook on life and with a full appreciation of their human potential and of their life in Australia.
"In this way, they are able to benefit others better."
Lama Tendar hopes to spread the Buddhist philisophy to as many people as possible in Australia.
"Our goal is to cultivate love and compassion in our world.
"We have given people in need strength, confidence and direction, and we try to make them realise how lucky they are and that life is precious.
"At the end of the day, my wish is every day, to make one person happy and to benefit as many people as possible."