By Melissa Walsh   Photos: Yanni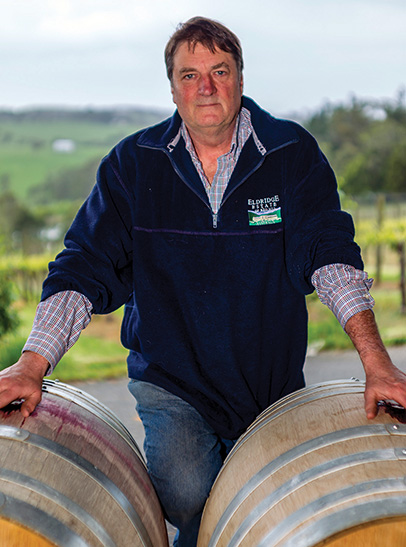 It's a crisp spring afternoon when I meet winemaker David Lloyd at his winery, Eldridge Estate, and he has just freshened up after working in the winery since the early hours of the morning.
Tall, dark and well-educated, this scientist-turned-winemaker is straight down the line, assuring me that running a vineyard is not as glamorous as one might think, but it does have its upside.
Born in South Australia, David says his interest in winemaking has long been a family joke around dinner tables.
"You see it was my family that set me on this road many years ago. When I was a baby to shut me up mum and dad would dip my pacifier in Hardys Black Bottle Brandy, a taste I got used to very quickly," he says with a laugh. "So I was always into wine. Even when I was at University there was a wine club and I just got more and more into it."
Reminiscing about the first wine he ever made, David admits he had a lot to learn.
"It was in the mid-70s, a Rutherglen cabernet sauvignon which I would describe as eminently forgettable," he says with a laugh. "My second was a Coonawarra cabernet which was very drinkable. I put it in a wine show with big producers like Wolf Blass and it got a bronze medal. I rang up the grape grower and told him an idiot science person had won a medal alongside the big boys and his response was 'Well I gave you gold medal fruit'. A couple of years later I rang him and said we got a gold medal Brian. When we got it we were in a taste-off between Main Ridge Estate of Red Hill and we won it."
It was during that time David was doing a Bachelor of Science degree with honours.
"The research year was in pharmacology which is how drugs work. I then did a Diploma of Education and a Post-graduate Diploma of Curriculum of Administration," said David, who spent the first part of his career teaching science and senior biology to high school students.
While a flourishing teaching career was well underway, David's love was always in winemaking. It was just a matter of time and money.
"I decided to make my living out of wine 40 years ago but the problem is you need a lot of money to do it, so I dabbled for many years," said David. "Being a scientist who was into wine and having to work on a small scale, I discovered a technical issue with making wine that when you are on a small batch there's a thing called malolactic fermentation. This is something you really want to happen in a red wine, and in small wineries it often doesn't happen naturally so I researched the science behind it, isolated bacteria and started bringing it up for my wine."
David soon found that other local winemakers would pay him to brew up lots of malolactic bacteria for peninsula wineries.
"That's when I discovered the peninsula as one of the best places in the world to live, and one of the best places for chardonnay and pinot noir. That was around 1979 but I couldn't afford to buy this until 1995," said David who had been consistently searching for properties at a rate of five or six a week for years.
"Initially we looked in New Zealand, Tasmania, Adelaide Hills, and Yarra Valley but thought the peninsula had the best combination of everything we wanted. It makes great pinot and chardonnay, is close to a big city to sell your wine, and a lovely place to live."
So David and his late wife, Wendy, bought their eight-hectare Red Hill property, with two and a half hectares of vines just waiting for their attention.
"The original vines have been here since 1984, planted by two brothers. The building was here but we changed it from a giant shed to half a giant shed and a home," said David, who continued to work until 2001 when he was able to devote all his time to the vineyard.
The one grape David insisted on growing was gamay, a grape variety   grown in Beaujolais. Like all the best grapes, it has a wonderful story behind it.
"It was around 1394 that the Duke of Burgundy, Philippe the Bold decided gamay was an unworthy grape for the area and banished it," explained David. "When we bought this place my late wife and I were standing looking at the hills and decided it would be great for gamay, so we grafted it when we got here. It is now probably my most famous and popular wine."
After 21 years of life on a vineyard, David is well and truly accustomed to the rhythm of nature that happens with winemaking.
"There are times you get to enjoy relaxing but it's not your choice because there's a rhythm of nature with winemaking that happens and you can't go against the flow. To go against the rhythm is a bit risqué. You have certain peak times; those when you are getting wine ready for bottling and harvest, and there's nothing you can do to hold back the tide of nature and the call of the vineyard at that stage," said David, who has stuck with his philosophy all along. "We started this place on the idea you build slowly, get a loyal bunch of people who like y our product and they will keep coming back. That's why we continue to sell 70 percent at cellar door."
Starting with one pinot, one chardonnay, a cabernet and sauvignon blanc, Eldridge Estate now make five pinots, three chardonnays, a sparkling, a sauvignon blanc, a blend of pinot and gamay, and gamay.
"I think this is a really vibrant wine area, and we have a great future ahead as a region and hopefully the younger generation can keep it going," said David.   
---
Eldridge Estate is at 120 Arthurs Seat Road, Red Hill.
Phone 0414 758 960
First published in Peninsula Essence – November 2016