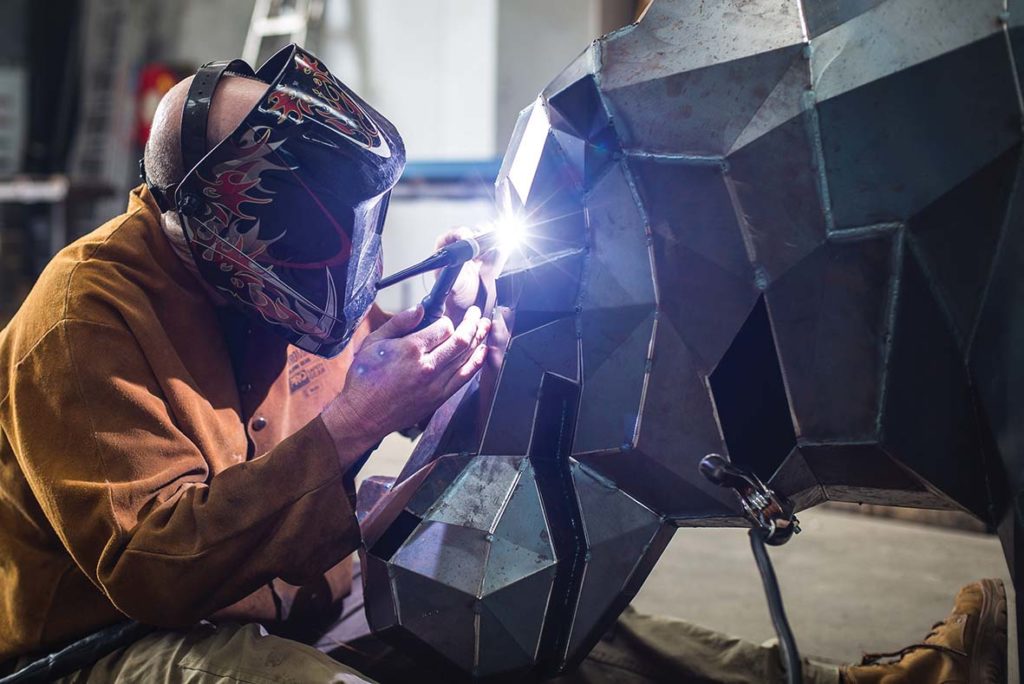 By Kristy Martin Photos: Jarryd Bravo
Local carpenter, surfer and sculptor Matt Hill is fast making a name for himself in the art scene with his quirky life-size metal animals. He chats with Kristy Martin about creating art that gets people talking.
If you type 'kangaroo sculpture' into Google's image search engine, you will come across pages and pages of results.
But have you ever seen a sculpture of a dead kangaroo?
How would it make you feel?
Rye-based artist Matt Hill wants to find out.
His piece titled 'What's that Skip? Did you get their rego?' sets out to challenge the perception of Australia's iconic national animal.
The 1.6 metre kangaroo sculpture, made from Corten steel, was among several of Matt's works displayed at Merricks General Wine Store earlier this year.
Slumped on the grass outside the gallery, the metal roo attracted many curious stares and comments.
People didn't quite know what to think.
But that's the way Matt likes it.
And, according to the artist himself, people "ain't seen nothing yet".
He is currently sculpting a dead emu to go alongside the kangaroo, in what will be his own original spin on Australia's 50 cent piece.
He hopes to one day showcase the work at Hobart's MONA (Museum of Old and New Art), famous for its controversial and confronting displays and described by Matt as the "pinnacle of art galleries".
Matt has set out to make a name for himself with his unique life-size animals that he hopes will spark conversation.
He spends hours welding huge elephants and hippos and is always looking for something larger or more provocative to build, like his Roadkill series.
"Art can be so repetitive, especially abstract paintings," Matt explains.
"I have put my reputation on the line to do something that hasn't been done before.
"Love or hate these pieces, you will talk about them."
Matt is not afraid to face detractors either, making a point of replying to any negative comments he gets on social media.
"I posted a photo of my kangaroo on Facebook and, to my surprise, 90 per cent liked it, five per cent weren't sure and five per cent were happy to tell me how much they hated it and how wrong it was.
"I'm surprised I didn't get more negative feedback, but wait till they see the emu.
"Did you know that emus can't walk backwards?
"This one should have!"
Matt, a carpenter by trade, loves a challenge, so there is a visible progression in his art.
He started out making statues of dogs from rusty pipes, but it was when he came across the architectural software AutoCAD that he began to experiment with geometric designs and taught himself to weld.
His first piece, titled Simple Sphere, ended up winning an award at an Albert Park art exhibition.
Shifting focus from symmetrical cubes and spheres to animals, Matt was originally inspired to create a pair of life-size African elephants after watching a David Attenborough documentary.
"I just love making things.
"If they sell, great.
"If they don't, great – I'll have a zoo at home," he laughs.
"Some people have garden gnomes;  I'll have life-size animals."
One of his latest sculptures, the 2.1 metre Harry the Hippo, took more than 100 hours to complete, while the larger of the two elephants, Ellie, took 150 hours.
The impressive elephants, displayed (and sold) as a pair, won the People's Choice Award at Art Red Hill earlier this year.
Works like Harry and Ellie are so huge and heavy they require a crane to be moved.
But Matt enjoys placing them on the back of his ute and driving around, simply to gauge people's reactions.
"I have driven them to the city  and had people in the fast lane taking photos.
"Some reactions are funny, I drove past a busker who stopped singing mid-song to point and tell me he loved the baby elephant."
Matt's work was most recently displayed at the Dromana Art Show, where he was this year's featured artist.
While the animals are certainly helping to get his name out there, Matt has also experienced success with his industrial landscape art.
His geometric steel sculptures, which create dazzling shadows when lit up at night, have been showcased in hotels, wineries and private homes.
He has even designed a series of these for hotels in Japan.
In fact, Japanese architecture has had a major influence on Matt, who spent seven years in Hokkaido, in northern Japan, where he owned a bar.
"Three years ago, I sent eight sculptures to Japan to be displayed in a hotel foyer and penthouse rooms.
"I was at a loose end and I asked the developer what his next project was.
"He told me he was just finishing the concept for a hotel in Hokkaido called Aya, which means 'to flow or to weave'.
"With this in mind, I designed an off-axis woven metal screen.
"I sent him the concept image and he told me that the architect and interior designers loved it.
"I sold my design to him for six figures."
Despite his success in the art world, Matt remains humble and is not afraid to have a laugh, even at his own expense.
When he's not working or surfing the back beaches, he is likely to be found drumming up some new art in his mate's factory.
He spends roughly 15 hours a week welding, a pastime he finds almost therapeutic.
"I love it, I just zone out until I burn myself," he jokes.
When asked where he sees himself in five years, Matt returns to the idea of exhibiting work at MONA.
After all, his sculptures will probably only get bigger, more complex and – if his aspirations are any indication – more controversial.
"I think MONA is the only place you could have Australian native animals that have been hit by an F100," he says.
"I guess I'll have to find a cheap F100 now!"
---