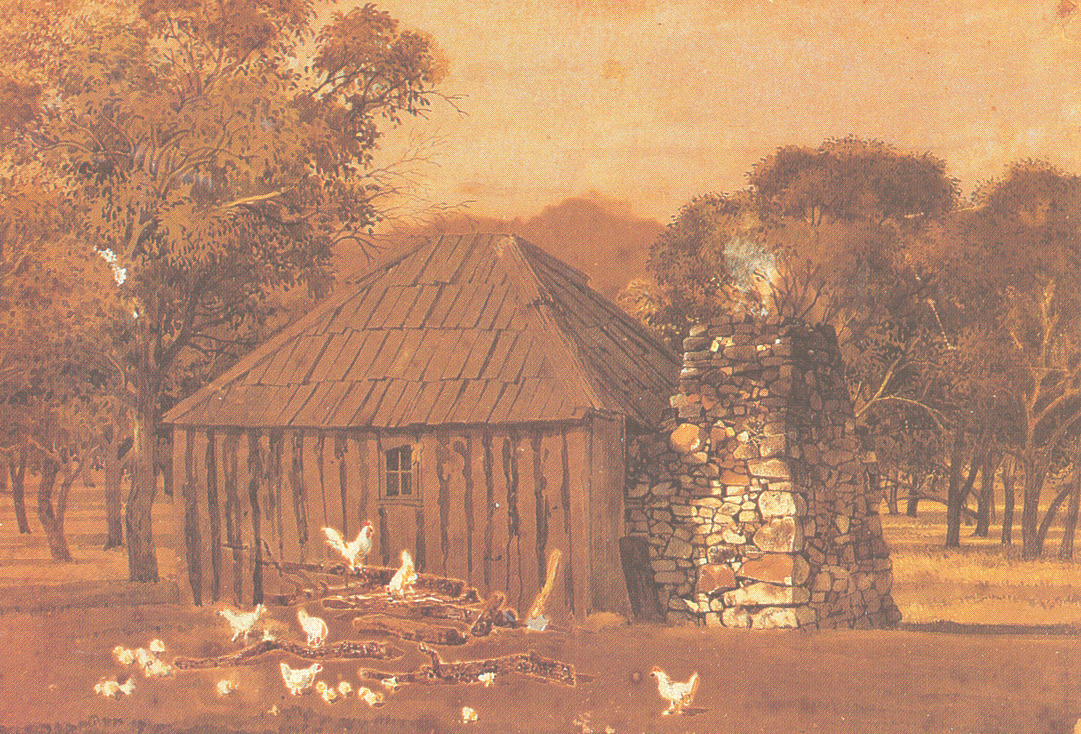 John McLure's hut (watercolour by Edward Latrobe Bateman)
By Ilma Hackett & Keith Murley
It was referred to, humorously, as the 'University of Arthur's Seat'. The small slab hut roofed with thatch stood a short distance from where the McCrae family's homestead was being built on the lower slopes of Arthur's Seat on the Mornington Peninsula. At one end was a massive chimney tapering upwards and at the other, the doorway. A small window let in light. This was the schoolroom for the McCrae boys and their tutor's hut. The year was 1844.
The Search for a Better Life
John McLure was twenty-nine when he was engaged by Andrew McCrae in 1842 to tutor his three young sons.
Born at Sleat, a village on the Isle of Skye, McLure had somehow achieved a good education and had studied classics and divinity at the University of Glasgow. Like many of his countrymen, McLure migrated to the colony of New South Wales to escape the rising poverty in Scotland.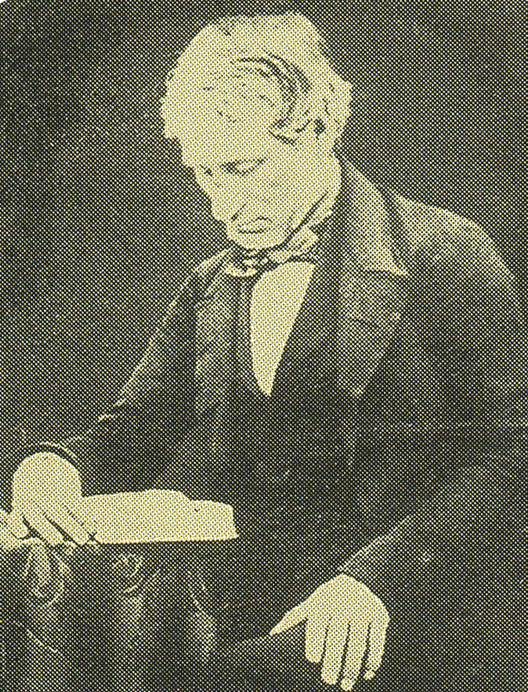 John McLure
Arriving in Melbourne in 1838, aboard the Brilliant, he found employment as a teacher. His first position was at a private school in Windsor then at Scots School, a government-subsidized school in Collins Street attended by both boys and girls.
His new position as tutor was a live-in one, with McLure joining the McCrae family at their new home 'Mayfield' in Abbotsford on the rural outskirts of Melbourne. His promised salary was £100 per annum.
His employer, Andrew McCrae, was a lawyer. McCrae arrived in the colony in 1839 leaving his wife, Georgiana, in London with their four small sons, one of whom was newborn. Other members of the McCrae family, an old Scottish family with good connections but little money after being disinherited, had migrated also.
Andrew had married Georgiana Huntly in 1830 at Gordon Castle, home of the 5th Duke of Gordon, Georgiana's father. Born illegitimately but acknowledged by the duke as his daughter, Georgiana was raised by her mother in Somers Town, a bohemian district in London, home to a large number of French emigrés.
Having attended schools where lessons were in French the little girl grew up bilingual. Georgiana's biographer, Brenda Niall, writes that her education, both formal and informal, was rich and diverse.
It was while living in Somers Town that her drawing ability was first recognised and she received skilled tuition from several well-known artists. In her late teens, after her mother was injured in an accident, Georgiana went to live at Gordon Castle with her grandfather, the 4th Duke of Gordon.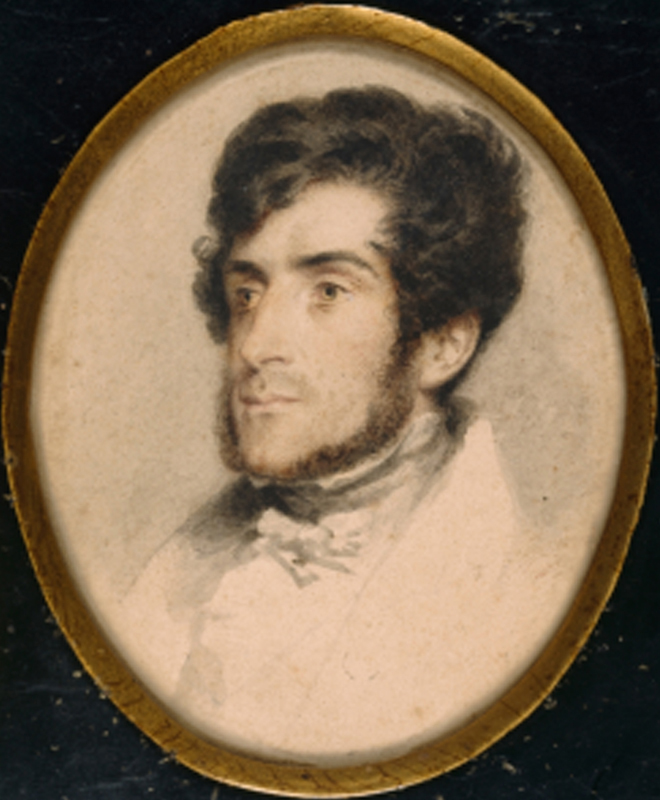 Left: Andrew McCrae (a minature by Georgiana), Right: Georgiana McCrae (self portrait)
She became his companion and secretary until his death. A planned marriage between Georgiana and her preferred suitor, a Roman Catholic, was blocked by the new Duchess, a devout Protestant. Georgiana left for Edinburgh where she supported herself painting portraits until Andrew McCrae, a distant relative, proposed. Georgiana wrote in her diary "Left my easel and changed my name."
She had been promised an inheritance but her father died leaving an unsigned will and the Duchess was under no legal obligation to carry out his wishes. Georgiana lived in constant expectation of receiving her inheritance.
A Home by the Yarra
In Melbourne Andrew McCrae set up in partnership with James Matheson and prepared for the arrival of his family. They came in 1841 aboard the Argyle and moved into 'Argyle Cottage', a small cramped, weatherboard house for which they paid an exorbitant rent.
McCrae had bought nine and a half acres of land at Abbotsford, then a rural area on the outskirts of Melbourne. Despite the fact that Melbourne was facing financial chaos in the early years of the 1840s, and he could ill afford it, he entered into a complicated mortgage arrangement with the property's owner, with a further loan for building.
McCrae was hopeful that there would be work for his law firm during this Depression and there was but, increasingly, clients were not able to pay their legal fees.
He pressed ahead with building 'Mayfield', and Georgiana happily drew up plans for a substantial house overlooking the Yarra River. As soon as it was habitable the family moved in along with their cook, a housemaid and the nanny. They would soon be joined by the tutor.
John McLure entered the household as 'one of the family'. The McCraes valued education and good, qualified tutors were hard to find in the new colony. The three oldest children, George, William (Willie) and Alexander (Sandy), were now eight, six and five, respectively.
Mayfield
McLure was well suited for his position. When he first met with them Georgiana had noted, "He appears to be fond of young children and has a pleasant manner." The boys took to him immediately and he became not just their tutor, but companion, mentor and big brother figure.
Evenings were spent playing charades and he composed nonsense rhymes and word games for the children. He and the children sang songs while Georgiana accompanied them on the piano. McLure loved the outdoors and he encouraged the boys to explore their surroundings, to learn the names of plants, birds and animals they encountered.
He accompanied them on long walks to visit children on neighbouring properties and often walked with them to the 'kirk' on a Sunday. He was genuinely fond of his young charges. The boys' father was often engrossed in business or the affairs of his brothers and McLure substituted as a father figure.
Changing fortunes
The McCraes were part of Melbourne's socially elite. They entertained lavishly at 'Mayfield' and were hospitable hosts to many house guests at various times, despite the Depression.
Money, or rather, the lack of money was an ever-present problem and many people, including McCrae's brother, faced financial ruin. The McCraes themselves had mounting debts. McLure was aware of his employers' problems and of their generosity. He recommended they cut back his own wages to £60 a year.
When McCrae and his partner quarrelled and there was talk of the partnership being dissolved, Georgiana was hopeful of returning 'home'; she had opposed the move to Australia in the first place. In anticipation, she offered McLure the chance of accompanying the family to England, passage paid, but he refused. His saw his future in Australia, not in Great Britain.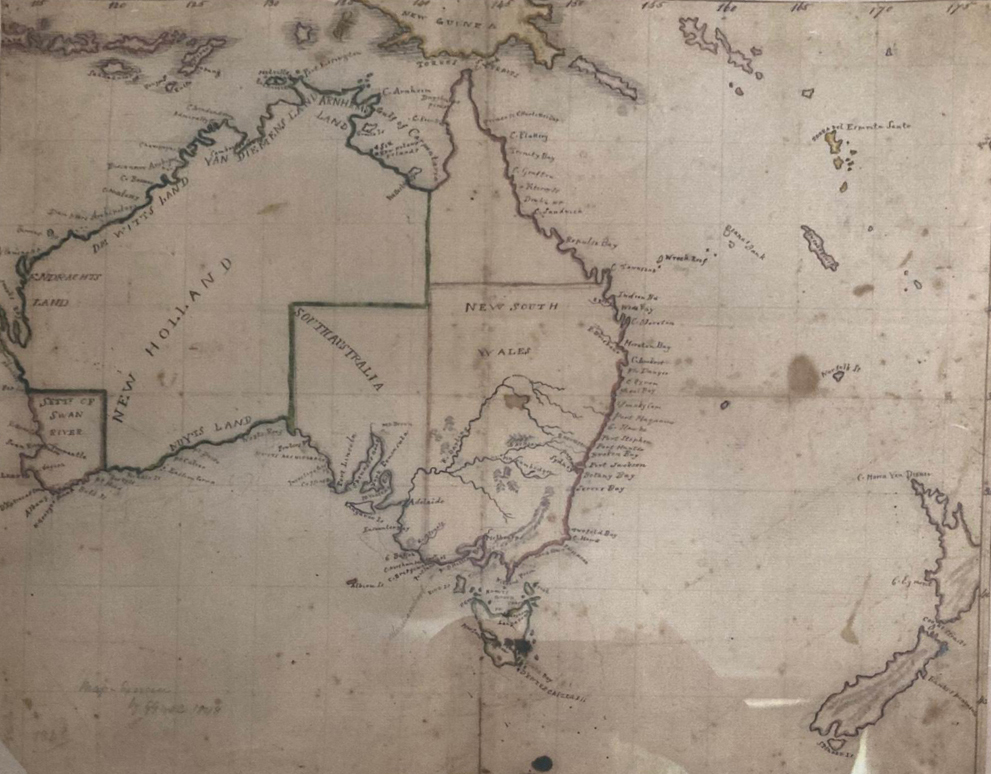 Mapping exercise by George McCrae, 1848 (note Victoria did not exist at that time but was part of New South Wales)
When it seemed likely they would have to give up 'Mayfield', Andrew McCrae toyed with the idea of taking up a run on the Mornington Peninsula. Influenced by Captain James Reid who held the lease to 'Tichingorourke' at Mt Martha, he took an unwilling Georgiana with him to inspect 'Wango', a run that covered just over 21,000 acres (8,500 hectares) and included the peak, Arthur's Seat.
Georgiana hated the idea of leaving 'Mayfield'. She wanted to earn money by painting portraits but the McCrae family frowned on this idea. In desperation she wrote to the Duchess, asking her to buy the property as an advance against Georgiana's inheritance. The Duchess refused but sent £100 "for immediate needs". 'Mayfield' had to go.
As soon as the lease to 'Wango' was secure the McCrae family made preparation to leave 'Mayfield'. McLure was offered an alternate situation, at £100 a year, as tutor to a family moving to the Goulburn.
He refused on the pretext that he suffered from lung trouble and the McCraes were moving near the sea. This would be better for his health. Andrew McCrae left for Arthur's Seat.
Henry Tuck, a builder, was employed and two men hired to help. The first shelters were tent-shaped and thatched with grass-tree fronds. Back in Melbourne Georgiana made the drawings for her new mountain home.
The name 'Wango', the local Aboriginal name for the Run, did not appeal to her and she urged for it to be changed to 'Arthur's Seat', a name given because of the peak's resemblance to the one in Edinburgh.
McLure visited Arthur's Seat. In October 1844 he wrote a letter to his pupil George describing the boy's new home. "You have no idea of what a fine place this is, with its lofty hills and deep glens, white sandy beach and rippling waves, but above all the mountain towering so high over the rest that you see an immense distance…"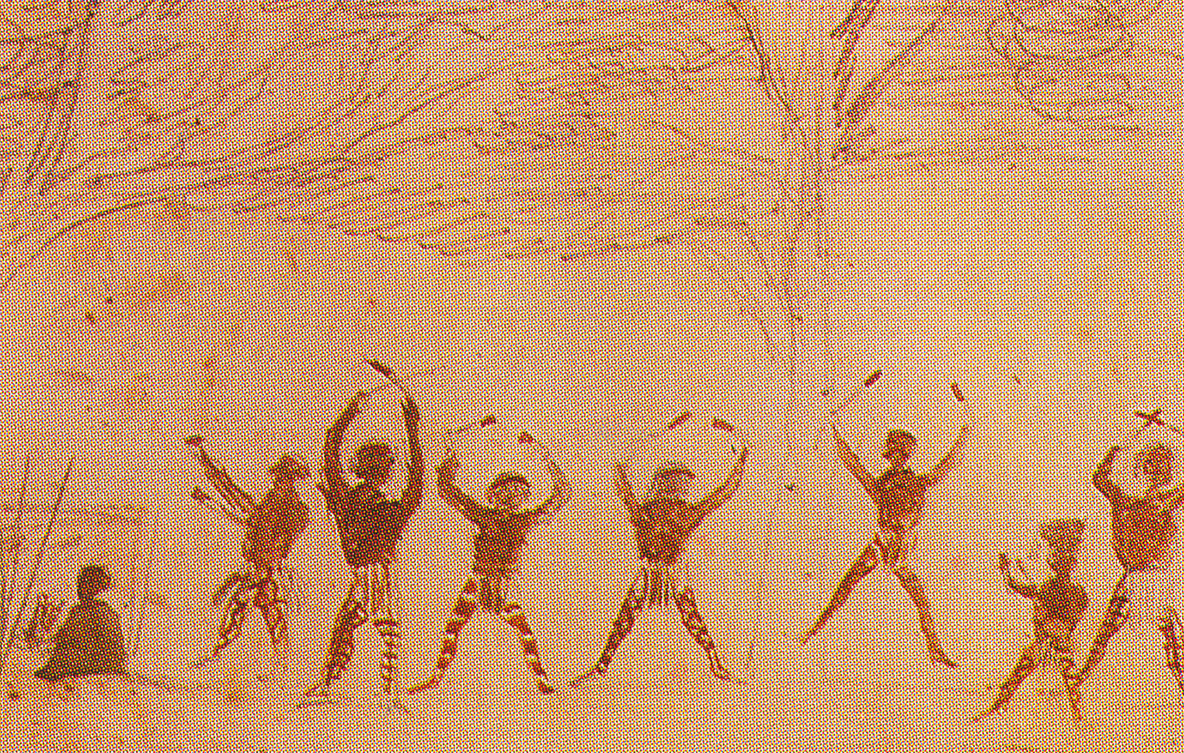 George's childhood sketch of a corroboree
He describes the ascent and how the "sides of the mountain are hollowed out into deep and abrupt chasms or gullies as if dragons had been through them", an image that undoubtedly enthralled the young lad.
Their 'Swiss Family Robinson' Existence
Early in December Mc Lure was back in Melbourne enthusiastic about the prospect of living on the mountain. It was agreed that he would take the older boys back with him to give them the unique experience of pioneering. The Jemima, a lime carrier skippered by a stout, freckled face, grey-haired highlander made the run frequently. On the morning of 15 January word came that it was ready to sail and they hurried to board, only for the boat to be becalmed.
When they finally got underway poor Sandy was seasick for most of the trip. They landed on 20 January and for two months lived a Swiss Family Robinson existence. The boys slept in the "huts made of tea-tree sides and grass".
For warmth they had a camp fire and meals consisted of boiled rice with milk and sugar, salt beef and damper and whatever they could catch by fishing and hunting. Lighting came from a primitive grease lamp with a wick. McLure, drawing on his Isle of Skye background, taught them the skills they needed.
Work was progressing on the main house and the separate building that was the kitchen.
The boys and their tutor worked on the school house. Willie describes the process in a letter to his mother, "The way to build a house is, first dig a trench and put some posts in, next daub it, then to shingle it or to thatch it. The chimney may be made of brick or split she-oak." They helped peg out the foundations and dig the trenches. McLure accompanied them into the bush to watch trees being felled then carted back to site and sawn into lengths for the walls.
The boys made the floor of lime and earth while McLure was responsible for the roof, again using his islander knowledge to thatch it. He used firstly straw then bundles of swamp rushes secured by pegs and cords. The thatch was finally anchored with two long peeled saplings, overlaid horizontally and strongly pegged down.
Youngest son, Perry, joined his brothers when the McCrae's cook, Ellen, arrived accompanying more of the family's belongings, kitchenware and poultry. Perry, then aged six or seven sent back a letter, "As I cannot write very well. I am telling Mr McLure all about our voyage coming down and he is going to write it and send it to you."
On the same boat were bricklayers and three thousand bricks and 'Count Rumford's design for building chimneys' sent by Georgiana to McLure, now in charge as McCrae was back in Melbourne finalizing business. He planned to continue practising law but in a new partnership. McCrae brought Georgiana and their two small daughters, four-year-old Lucia and baby Margaret, to Arthur's Seat in time to celebrate the baby's first birthday in June, 1845. With them were the girls' nanny and Sarah, a companion and helper for Georgiana.
The homestead was not completed. The floor was not in place and the windows were unglazed. Georgiana was not impressed with having to sleep on a mattress on the floor in the kitchen. With just two men employed full time, work had been slow.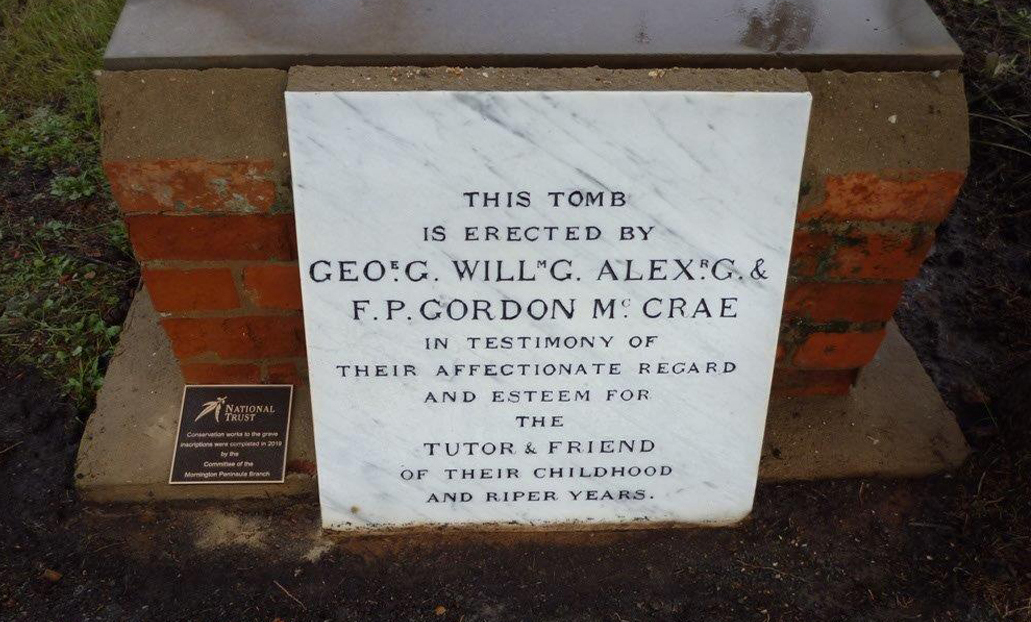 The restored memorial plaque
The McCrae's Mountain Home
However, two months later the homestead was finished.
It was a slab construction with horizontal boards dropped between upright posts to save on nails. The roof was shingled. There was a separate kitchen, dairy and wash house. Additional huts, stables, stockyards and the school house completed the station. Georgiana's furniture was installed, bookcases filled, paintings hung on the wall.
As well as a vegetable garden and orchard, Georgiana planned a terraced, ornamental garden. Socially, life was as busy as it had been in Melbourne albeit of a different nature. Neighbours, friends and travellers called. Their house was situated near where the road to Cape Schanck diverted from the one that ran further south to the tip of the peninsula and the McCraes kept an open house as they had at 'Mayfield'.
McLure continued with the boys' lessons inside their schoolhouse but also ensured they had time to learn practical skills and to understand their environment. They learned how to plough, how to fish and sail. He showed them how to make rope and how to make wicks.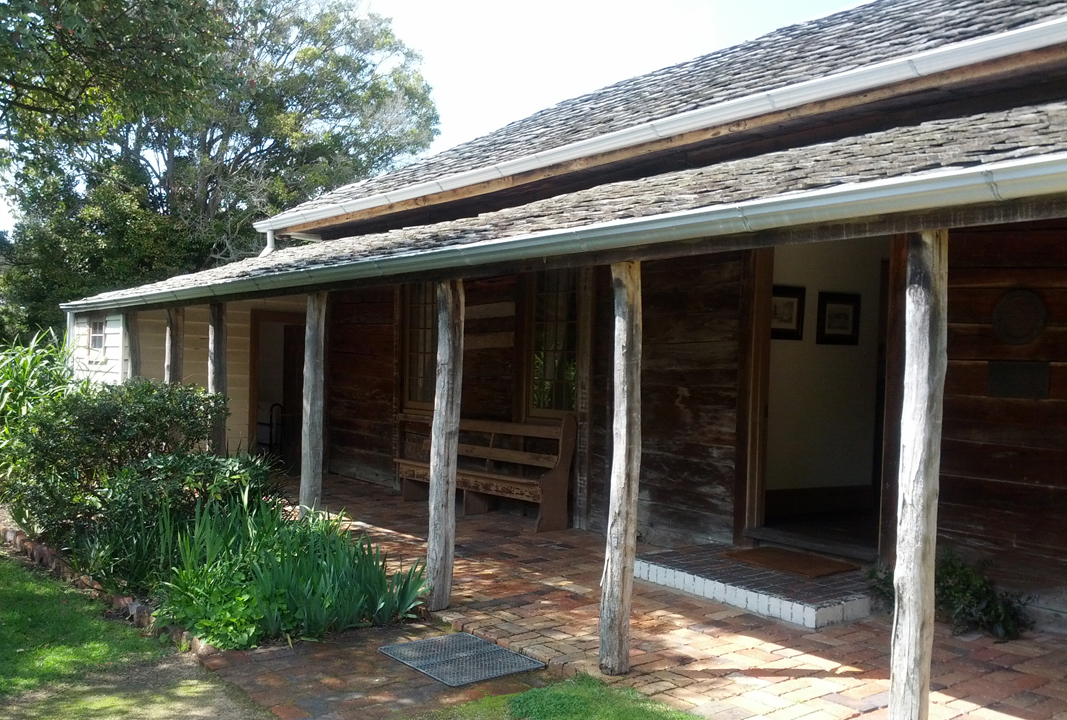 McCrae Homestead today
A typical school day might start with a swim or fishing expedition before breakfast, then a morning spent learning French history, a chapter from the Bible, part of the Aeneid. Willie and Sandy were reading Caesar's Commentaries while Perry was learning English history.
They wrote out lists of plants before taking a break for practical tasks. Back in the schoolhouse their tutor questioned them on the map of Scotland until the dinner bell rang.
The afternoon's lessons included the life of Hannibal, Latin verbs, essay writing. McLure turned maths into a practical exercise when he made them find the height of his hut by using the square root method. Willie was sent up onto the roof while George measured distances on the ground.
Later they went to plant potatoes. McLure instilled in them an interest in plants that grew on the mountain and the wildlife they encountered.
They were also learning from the Aboriginal people who often "quambied" (camped) close to the homestead. There was a mutual trust between the McCraes and their Bunurong neighbours. Benbenjie, in particular, became a companion who taught the boys how to fish and hunt, gave them boomerangs and waddies and taught them Bunurong words and expressions.
This continued an association with the Aborigines which had begun at 'Mayfield' when the boys had played with the children camping along the riverbank. For the boys it was an "Edenic existence".
McCrae was not a man born to the land. The run, although large, had just small pockets of good land but much that was too vertical and they lacked the money to stock it sufficiently to return a profit.
The way leases were handled was under question. The government was considering compulsory purchase of land at a minimum price of £1 per acre. A squatter unable or unwilling to buy could see his land and home sold at auction. The scheme was not brought into effect but its proposal caused anxiety among the small squatters.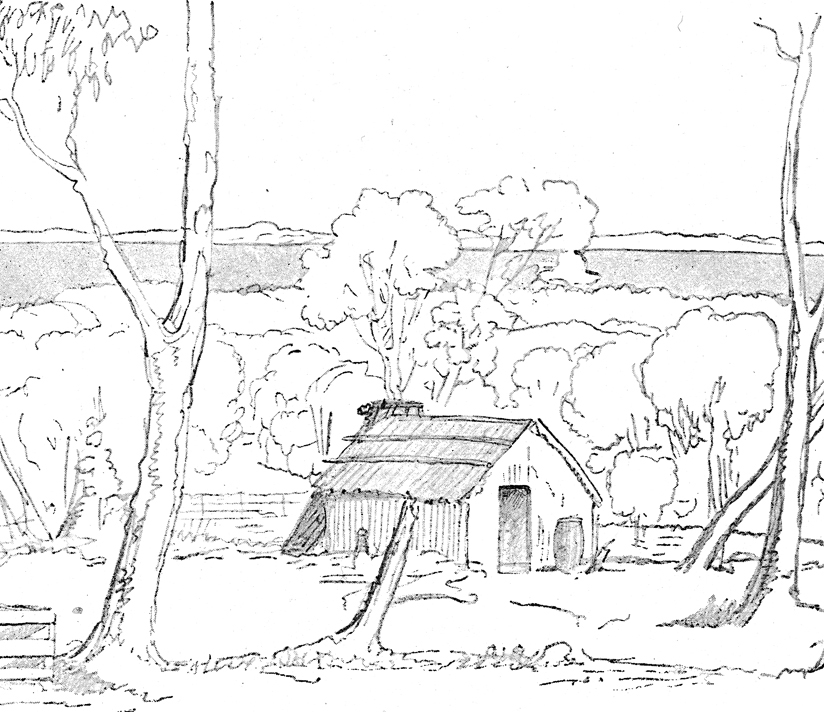 Sketches by Georgiana: "The University of Arthur's Seat" and George Gordon McCrae, eldest son of Andrew and Georgiana (1851), below.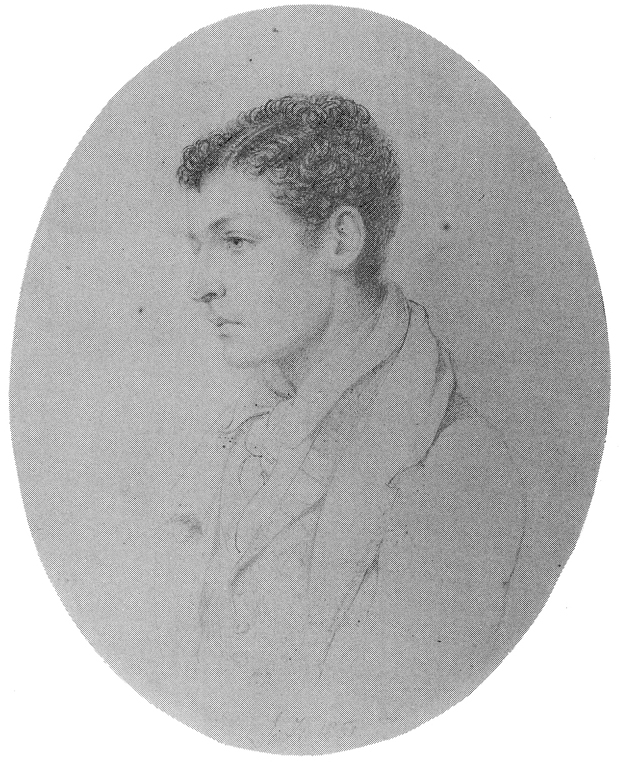 By 1851 McCrae realised that he was not able to make a decent living from the land. In their six years at Arthur's Seat they had become more or less self-sufficient but it was a frugal lifestyle.
His family had grown with the birth of two more daughters. After briefly contemplating finding a better run in Gippsland he accepted a government position as Police Magistrate at Alberton, a post for which he was well qualified.
A Parting of the Ways
The family was again uprooted. Georgiana did not accompany McCrae to Alberton, a rough, new settlement in Gippsland. She returned to Melbourne and moved with her children into a rented home in LaTrobe Street. It was also a parting of the ways for McLure and his pupils. The three older boys were old enough to find employment. Sandy, passionate about horses, stayed with his father in Alberton before working on a station in Omeo. At the age of seventeen he joined the police and had his own horse to ride. Perry, now thirteen, returned to school for a couple of years before finding a position in a bank as Willie had done. George became a clerk, studying business methods, in a business run by an acquaintance of his mother. Georgiana taught her own daughters until they were old enough for a governess. Georgiana saw all this as temporary until her inheritance came her way. (It never did. When the Duchess of Gordon died Georgiana received no mention in her will.)
For a time McLure became a partner of a school in Melbourne. He abandoned that for Mount Pleasant in Central Victoria. A small quantity of gold had been discovered there in 1853 but it would be a year before a rush occurred. Three years later a bigger find led to an influx of miners and the resultant growth of Stawell.
John McLure held the position of Clerk of Courts at Mount Pleasant until his death in 1859, at the age of forty-two. He was buried in the Deep Lead cemetery, a short distance from town but a long way from his University of Arthur's Seat.
His protégés remembered their tutor. The four McCrae brothers erected a memorial at his gravesite to express their esteem and affection. Over time the gravesite deteriorated and lichen covered the headstone and memorial tablet where John McLure lay buried.
In 2018, the Mornington Peninsula Branch of the National Trust, through its close connection with the McCrae Homestead, undertook a project to restore the grave and the marble inscription at its base. It commenced fundraising and the restoration work was undertaken by the local stonemason from Stawell. Work was completed in 2019.
---
References:
'John McLure B.A.: Tutor to the McCrae Boys at Arthur's Seat' by Keith Murley (unpublished mss.)
'Georgiana' by Brenda Niall
'Georgiana's Journal: Melbourne 1841 – 1863' by Hugh McCrae (ed.)
Fragment of a diary kept by George Gordon McCrae (aged 13 years)
'Our mountain Home': The McCraes of Arthur's Seat  National Trust publication.   
Illustrations and photographs: courtesy of the National Trust of Australia (Victoria) and the State Library of Victoria.
McCrae Homestead, a National Trust Property. 11 Beverly Road, McCrae, 3938. Open on Sundays, 11am – 4pm (closed July & August).