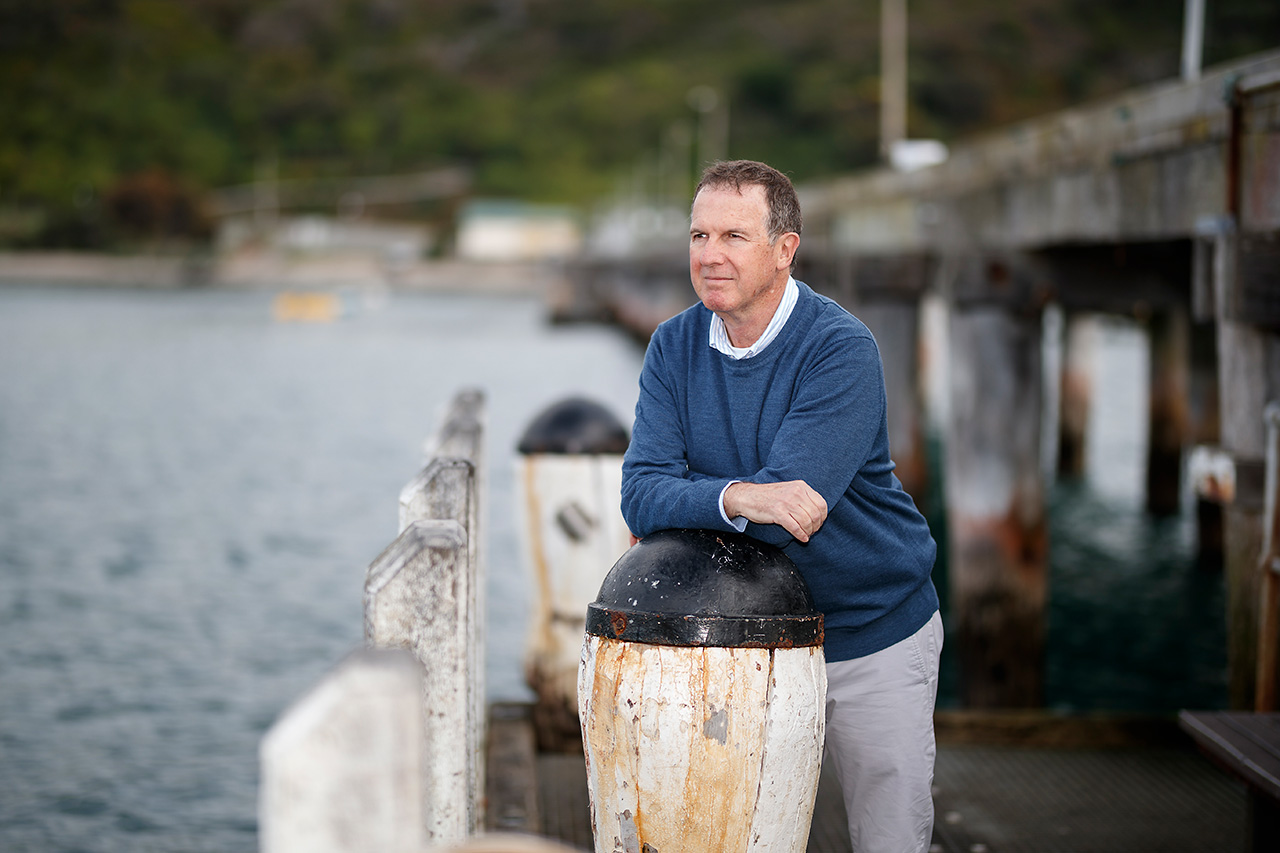 By Muriel Cooper Photos Yanni
When Charles Reis discovered that Parks Victoria was planning to demolish the first 180 metres of the Flinders Pier, he thought it didn't make sense because, as he says, "It wasn't being demolished to make way for something. It was being demolished because no one wanted to pay for its maintenance."
It catalysed him to act and call on members of the Flinders Community Association to form a new committee to save the pier, with Charles elected as Chair.
He says, "We held a public meeting, and we had about 300 people there, which was quite surprising. What I noticed was that this wasn't the usual crowd. These were people we hadn't seen before: young people who were clearly concerned, environmentalists, divers, people who holiday here who we've never seen before. Suddenly, I thought, "We're onto something here." This was resonating with many more people than I'd appreciated."
Concerns expressed by the crowd were about the pier's historical value and the future of the Weedy Seadragon. Suggestions included online fundraising, getting Sir David Attenborough, who had sent a film crew to the pier to film the Weedy Seadragon, involved and running a petition on change.org.
Charles was excited by the level of involvement. "This was the wisdom of crowds at its very best, providing information like rivers of gold. These tremendously creative ideas were about what we needed to do."
The online petition through change.org achieved 43,000 signatures.
"I just couldn't stop being surprised. I think that people right across the peninsula were becoming very concerned that we were losing too many of our piers. I think our pier was one pier too far."
At the very beginning of the campaign, after he wrote to Sir David, Charles was on holiday in the Gulf of Carpentaria when, in the middle of the Strzelecki Track, he had a sudden realisation.
"I needed a strategy of how I thought this campaign should be run. I didn't think that chaining ourselves to the pier or waving placards on the steps of parliament house was going to do it for us; I felt this needed to be a well-fought campaign that had longevity to it. So we needed to play the long game."
I think that people right across the peninsula were becoming very concerned that we were losing too many of our piers.
How did Charles feel when he realised the pier had been saved?
"Initially, I was surprised, I have to say, because I had expected that we would need to run the campaign up and through the state election that was due to occur. I was astonished. I felt elated. I discovered the outcome when reading the budget papers on budget night 2022 and I was at volume three of the budget papers, just trawling through, and I found it! My wife will still remember me shouting from the other room, You're not going to believe what I've found!"
"I found that little nugget of gold, and that evening I emailed our local member of parliament who wasn't aware of this being in the budget. He was able to confirm it with me the following day. It was a wonderful euphoric feeling about what we, as a committee, could achieve. There were twelve of us, and I reached out to them immediately to tell them what I'd found."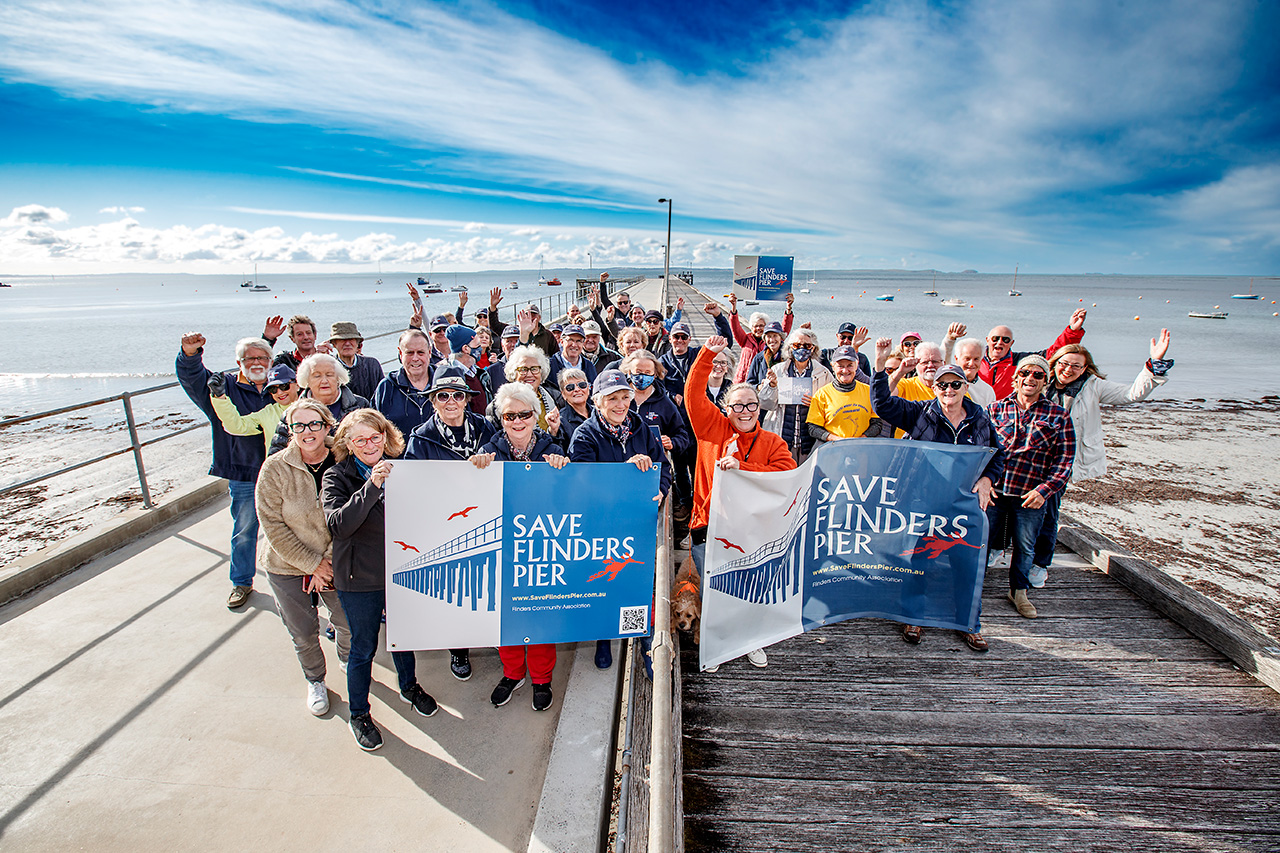 Charles has since given advice to other groups, including the community of Warneet, who want to save their pier.
The Department of Home Affairs is so impressed that they're making a film about the Save Flinders Pier Campaign as an ideal example of democracy in action.
Charles' contribution won him an Australia Day Mornington Peninsula Shire Council Award as the 2023 Local Champion.
"I was a bit taken aback,' he said, "because there are lots of people who do fabulous things in our community and I'm sure they are far more deserving, but I did feel a sense of accomplishment. It meant a great deal to me."
"I've never seen myself as an activist. I'm semi-retired. I used to work in the mining industry in an executive role, where I spent the majority of my career."
Asked how he reconciles his work in the mining industry with being an environmental activist, Charles says, "I have to say that I never saw a contradiction because my observations and experience in the mining industry is that miners now have become more environmentally responsible and understand more than at any time in their history the impact that they're having on the environment and what they need to do to mitigate that impact."
"The other thing is that you couldn't get anything more removed from mining than a pier which is a very passive asset that's enjoyed by absolutely everybody. It connects the land with the water, and if you don't have a boat, it's one of the few ways you can get up to four hundred metres out into the ocean and appreciate the wonder of the marine ecology that lives below the surface."
After the usual planning and reports, an announcement about beginning work on the pier is expected in mid-2023. Charles says part of his role is managing people's expectations of when the work will begin.
Charles thinks the final hurdle is that Parks Victoria needs to find wharf carpenters. "Wharf carpentry is highly specialised," he says. "Being able to ensure they have the right people to undertake that work is a crucial issue."
The grand opening will be sometime in 2024. 
flindersvillage.com.au/save-flinders-pier