By Joe Novella  Photos Yanni
Rosebud resident Eileen Cikamatana is one of Australia's best chances of winning a medal at the Paris Olympic Games in 2024 and there is a good chance the colour will be gold. However the weightlifter's path to representing her country has not been a typical one.
Eileen was born in Levuka on the island of Ovalau, in Fiji. "Growing up, I was a real tom-boy. I used to climb mango trees. Actually, I broke my arm one time because I fell out of the tree. We lived very close to the ocean and so I would run down there and play all the time. I was my dad's shadow, wanting to go everywhere that he went in the truck. I wanted to be with him when he would work outside. My mum always said I was the third son because I simply couldn't keep still and wanted to wear shorts and tee shirts like my brothers instead of pretty dresses."
Eileen is one of five, having two brothers and two sisters. Her schoolteacher in Fiji suggested she try out weightlifting back in 2014 when she was 15 years old. "I asked my mother, and she immediately said 'NO!' horrified that her daughter wanted to do weightlifting. So I went to my father, and he said 'Yes'. My dad is my biggest fan actually, followed by Mum, now that she accepts that weightlifting is also a sport for females, and she has seen what I have been able to achieve."
Growing up, I was a real tom-boy. I used to climb mango trees.
Those early days of training in Fiji were tough but Eileen liked how weightlifting made her feel strong and that inspired her to keep going. She trained at the 'Jungle Gym' on the island of Ovalau and had to climb 364 steps up a steep mountain to get to it. But the hard work paid off and under the guidance of her first coach, Joe Vueti, Eileen's natural talent blossomed. It was soon apparent to Joe that he had a star pupil on his hands, and he recommended to the Oceania Weightlifting Federation that Eileen be invited to attend a talent identification camp to be held in New Caledonia.
"During this camp I was convinced that weightlifting was my sport," Eileen said. "After the camp I decided that I would train every single day, before school and after school – except for Sunday. I went to church on Sundays."
Eileen's progression through the ranks was swift, competing in her first international weightlifting competition at the Oceania Championships in 2014, in what Eileen describes as a 'surreal' experience. She won her first gold medal in 2015 at the Commonwealth Youth Games and in the same year left her childhood home in Fiji to take up an offer to train at the Oceania Weightlifting Institute in Noumea, New Caledonia where she was surrounded by elite weightlifters, all Olympic representatives for their respective countries. Another added benefit to being at the Institute was the presence of highly credentialed coach and administrator, Paul Coffa MBE who kept a watchful eye on her progress. The experience of training with the best of the best, spurred her on to be the best she could be.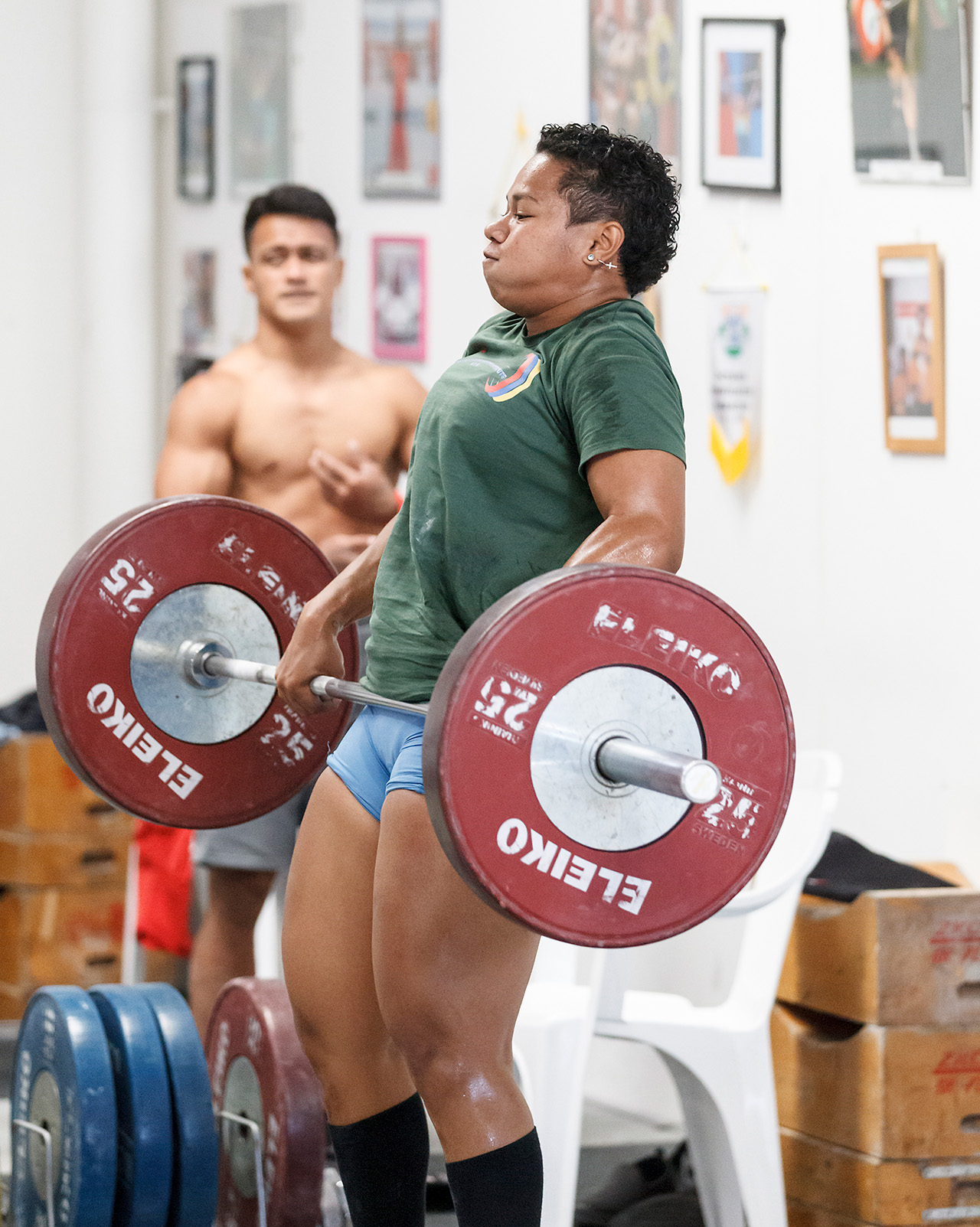 "I trained really hard and did distance education in order to keep up with my schooling," Eileen said. "This enabled me to train twice a day." The training paid off with Eileen winning gold medals in a string of regional championships. She was named Fiji's Sportswoman of the Year in 2017 and Eileen's potential was fully realised with her winning the gold medal at the 2018 Commonwealth Games at the Gold Coast in the 90kg class; she was the first Fijian female athlete to win Commonwealth gold.
Following her gold medal performance on the Gold Coast, Eileen was poised to become a Fijian national hero and with Tokyo Olympic gold in her sights, she had the world at her feet. But sadly, as often happens in sport, politics got in the way and Eileen was given choices to make that she felt were not in her best interests; ones that led her to seriously consider giving up the sport of weightlifting. "It is something I don't like speaking about, as it was a very stressful time. It is the past and that is where it belongs."
With support from her family, Eileen was encouraged to continue chasing her dreams of Olympic success, even if that meant it would not be as a Fijian athlete. She chose to emmigrate to Australia in 2021 and follow her coach, Paul Coffa, a person she felt she could trust and had her best interests at heart. He had relocated the Oceania Weightlifting Institute from Noumea to Dromana on the Mornington Peninsula.
"After all the politics, at 22, I was old enough to make my own decisions and so I chose to emmigrate to Australia," Eileen said. "Here you are respected if you are a high-performance athlete; your sacrifices to be the best are acknowledged. I could not have done it without Paul and his wife Lily.
I could write a book on how much they have helped me settle here on the Mornington Peninsula. Although that's not too hard because the peninsula has it all: good people, great environment, amazing food, the shops, the ocean, the sand, fresh air, open spaces. What's not to like about living here?"
 The transition to becoming an Aussie was complete in 2022 when Eileen competed for her adopted country at the Birmingham Commonwealth Games, winning gold in the 87kg division. "The gold medal was my way of showing my enormous gratitude for everything that Australia has done for me: for treating me with enormous respect, something I value greatly, for opening the doors and allowing me to flourish and excel, for continuing to support my quest to be the best. The only way that I can repay this is to win for Australia. I am very proud of wearing the Australian uniform. And I could not hold back my tears when the Australian national anthem was played as I stood on the victory dais. It was very emotional for me."
Eileen now has her sights set on a gold medal at the Paris Olympics in 2024. She is in a good place with all the support she needs. "I stay in regular contact with my family back in Fiji, which is important. But I have everything I want and need right here.
I live in Rosebud, train in Dromana, and my coach Paul and my mentor Lilly live in Rye. There is no country quite like Australia with its diversity and multicultural population. And yes, I am very proud to be an Australian."
We are proud of you too, Eileen.