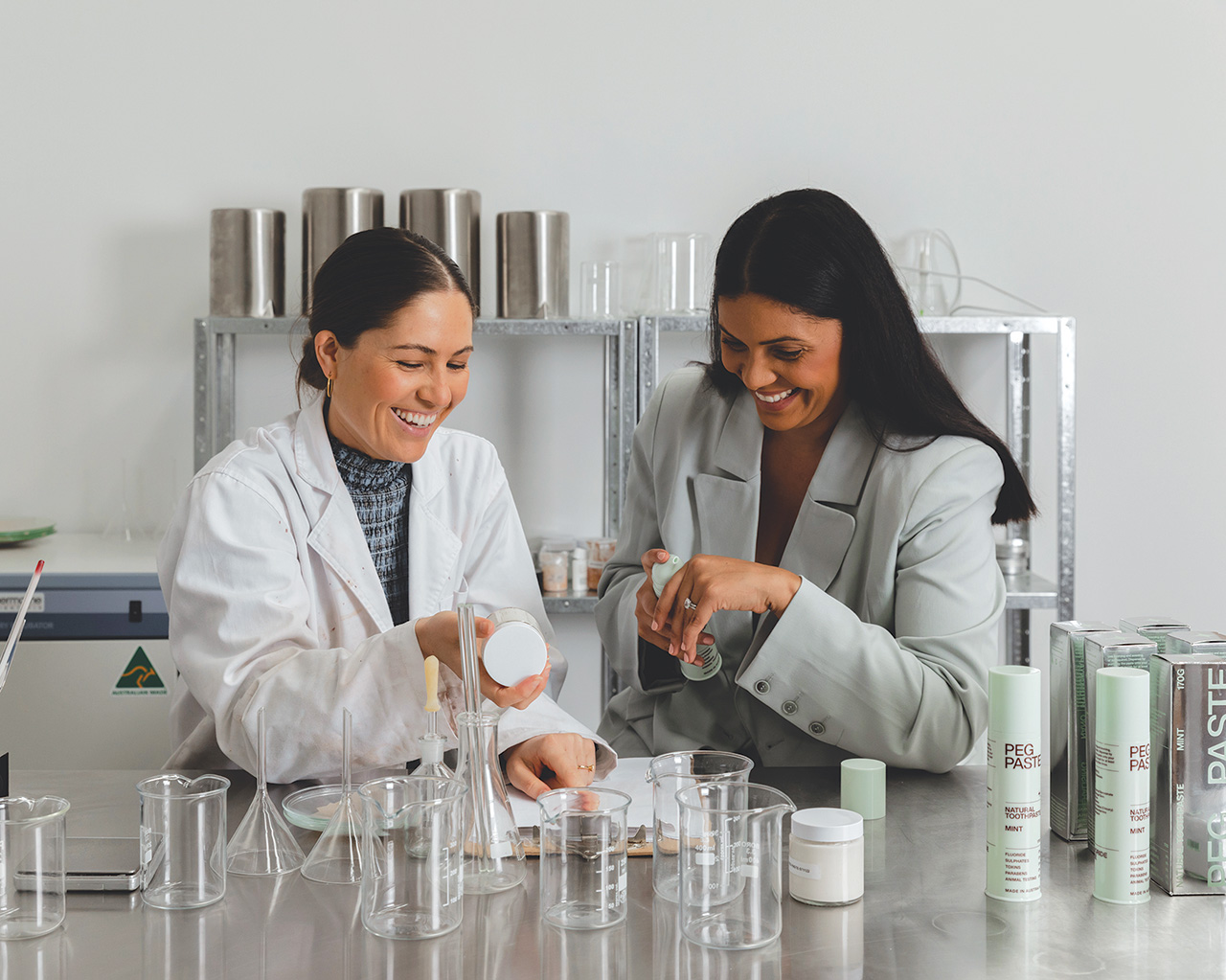 By Andrea Louise Thomas  Photos Gary Sissons & Supplied
Entrepreneur Kagan Williams and cosmetic scientist Ayla Shepherd collaborated to create a unique toothpaste – Peg Paste. Kagan wanted to make a product that was not only great at cleaning teeth, but also at restoring and strengthening them too. They have come up with just the right formula. 
Peg Paste contains hydroxyapatite as an alternative to fluoride. It's a mineral present in bones and teeth that re-mineralises tooth enamel helping prevent decay and gum disease as well as restoring microcracks that cause tooth sensitivity. "NASA used it to help their astronauts repair and restore enamel loss from being exposed to sub-zero gravity environments," Kagan says.
This toothpaste also contains prebiotics – microorganisms that feed other microorganisms called probiotics – the good bacteria living in the mouth and gut. The prebiotics within Peg Paste feed and promote the reproduction of probiotics already present in the mouth, as well as the gut and digestive system. It's the perfect marriage.
It took Kagan and Ayla three years to get the formula just right. The flavour, performance, fragrance and texture had to be perfect and the product needed to be safe for both children and adults. Kagan wanted a toothpaste that left that smooth clean feeling people get after having their teeth professionally cleaned. Using sustainably-sourced ingredients from Australian suppliers and manufacturers to support the economy was also a priority.
I wanted to create a natural toothpaste that was enjoyable to use, practical and performed well
Ethical sustainability is important to Kagan. It was part of her initial motivation to create Peg Paste. She could not go one more day fiddling around with a crusty toothpaste tube she couldn't get all the product out of; a tube destined for landfill where it would take hundreds of years to break down. Peg comes in a 100% recyclable airless pump that can go into household recycling. Because of its clever design, no product is lost.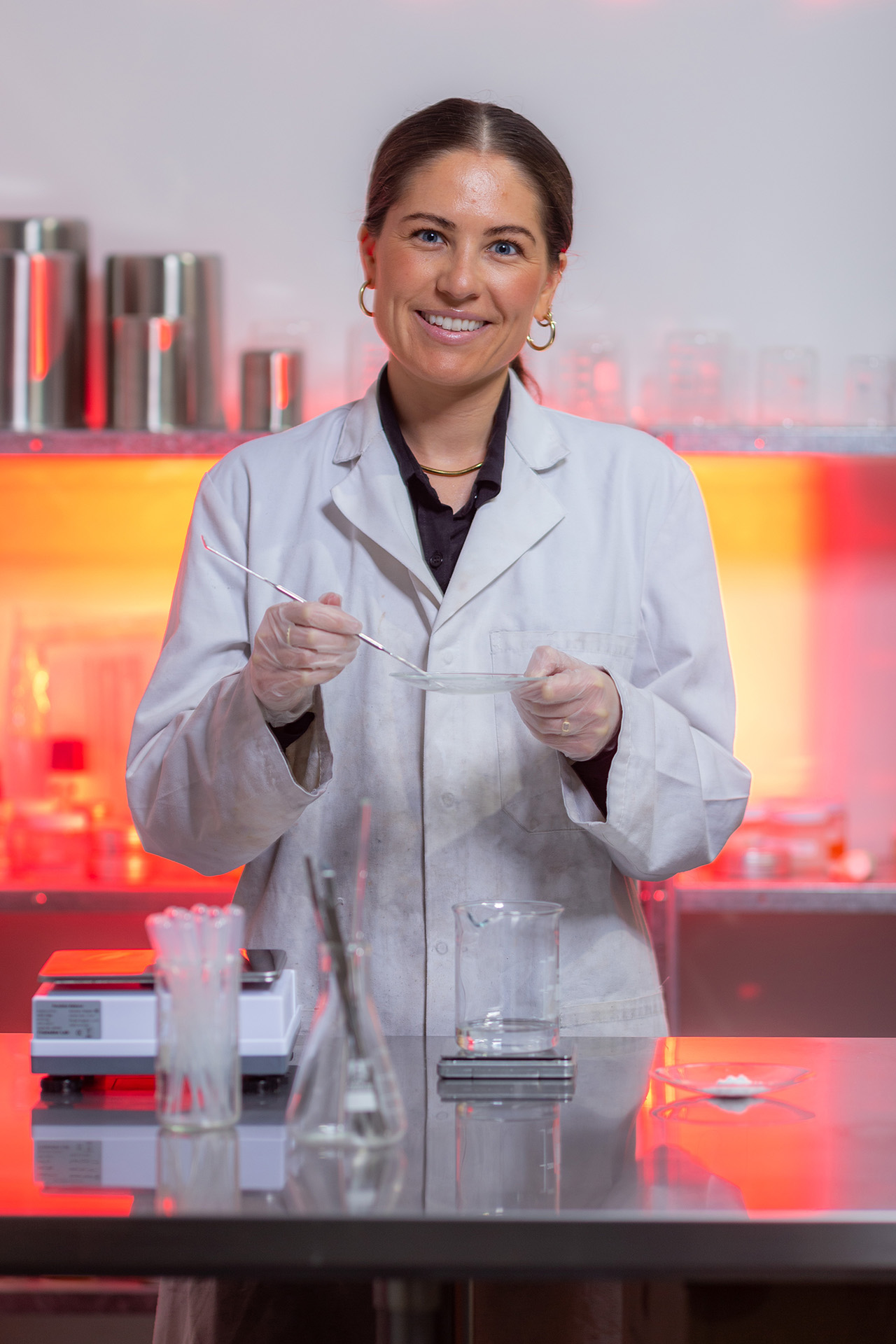 The Peg journey began in lockdown when Kagan was pregnant with her first child. Naturally, her focus was on health and using low toxicity natural products. Fluoridated toothpaste was a concern. Not finding any high-performance, natural alternatives on the market, Kagan decided to begin the development process of her own fluoride-free formulation. The name Peg was inspired by a family expression from childhood, "Wash your toothy pegs (teeth)."
Kagan and Ayla grew up on the southern end of the Mornington Peninsula. They met through mutual acquaintances years ago. Kagan knew Ayla was working in the cosmetic science space and that she was also very interested in ethical sustainability. Kagan went to Ayla's research and design lab, Flux Lab, taking a brief of everything she wanted in her toothpaste. The process of trial and error began.
Making toothpaste is not something Kagan ever thought she'd be doing, but even as a child, she knew she wanted to be an entrepreneur.
She thought like an innovator; always asking why and wondering how things could be improved. Kagan was inspired and motivated by her Dad's inventive mind and his ability to detect products and services that didn't yet exist in the marketplace; then try to make them.
Initially, Kagan wanted to be a journalist. She started a Professional Writing and Editing course, but left that to pursue a job opportunity working for a Melbourne-based event management and public relations agency where she worked writing press releases.
She transitioned to an events company that managed entertainment for large sporting events. Kagan then changed industries working in residential construction management. Then COVID hit, providing Kagan with the perfect opportunity to re-evaluate her priorities, tap into her innovative spirit and start her own business.
As a child, Ayla thought she'd like to be a TV presenter on the Great Outdoors, but problems with her facial skin steered her away from that. She was frustrated that doctors could only offer cortisone creams as a solution. She toyed with the idea of becoming a dermatologist, but that would take nearly ten years. She just wanted to get to work.
So, she headed off to Monash University to get a Bachelor of Pharmaceutical Science specialising in Formulation. "The person who makes the treatments and creams is the most important person in the healing pathway," Ayla says. She now turns clients' ideas into healthy, natural, shelf-ready products, including Kagan's.
"I wanted to create a natural toothpaste that was enjoyable to use, practical and performed well. I also wanted the flavour to be pleasing and the packaging to be modern and attractive," Kagan says. She and Ayla have certainly met the brief.