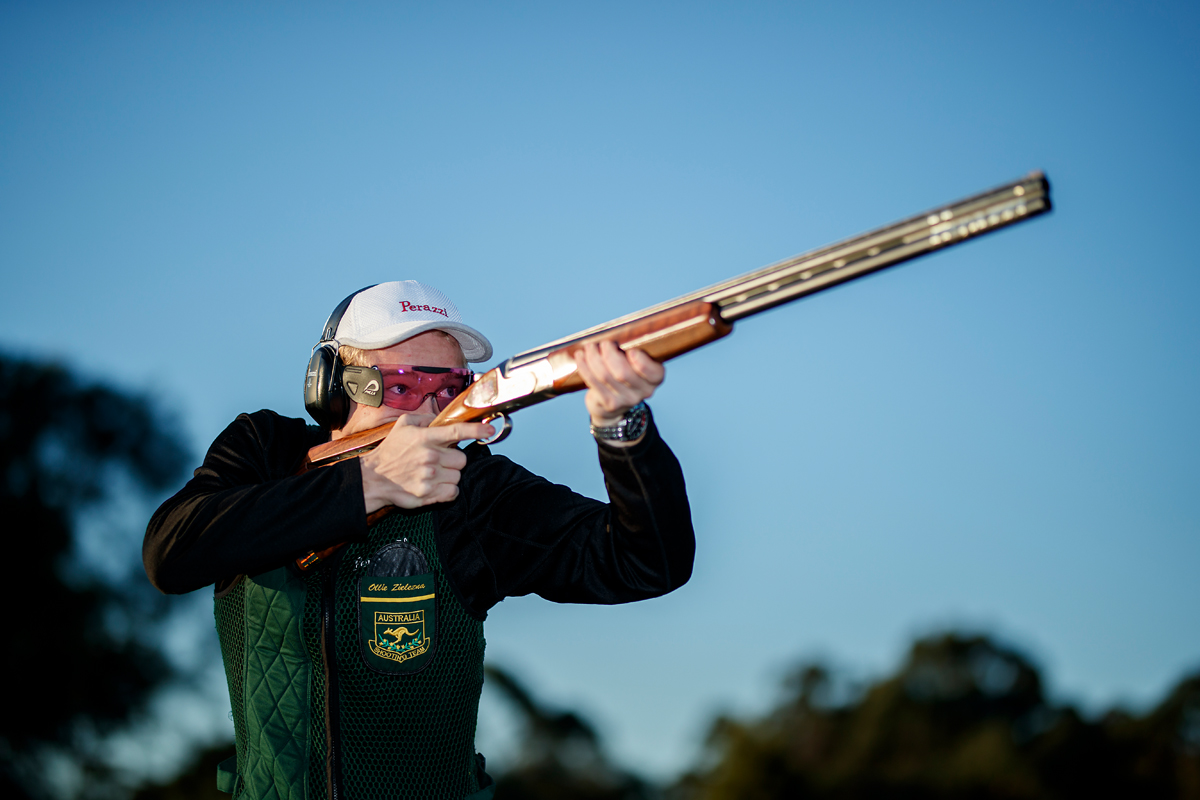 By Joe Novella Photos Yanni
The Peninsula has produced many sports stars over the years and is a well-known nursery for talented athletes in sports like Aussie rules, football, netball and cricket, and now it can add shooting to the list. Yes, there is a thriving shooting community here on the Peninsula helping to nurture and develop talent like 17-year-old Mount Martha resident, Ollie Zielezna, who is already hitting the target on the international stage.
Ollie began his love affair with the sport of clay target shooting from a very young age. "I got into shooting through my dad," said Ollie. "Dad used to shoot a bit back in his twenties, but stopped and settled down when a family came along to look after, which is a very common narrative in the shooting community.
"Even after the family came along, Dad would still go and have the odd shot at the Mornington Clay Target Club, so I tagged along once when I was old enough to have a go, which was at age 12. I instantly got hooked on pulling a trigger and watching targets break."
Ollie's progression through the shooting ranks has been nothing short of meteoric, having won or placed in numerous junior state and national titles over the years. His name now engraved on trophies alongside legends of the sport like Michael Diamond and Russell Mark.
2023 has been an especially busy and fruitful year for the young shooter, winning the DTL (Down the Line) Pointscore and Junior Macintosh titles at the Junior Nationals, and then winning selection to represent Australia as a junior at the International Clay Target Shooting Federation (ICTSF) World Championships in Cape Town, South Africa. He came fourth in the world, a result he considers the highlight of his career so far.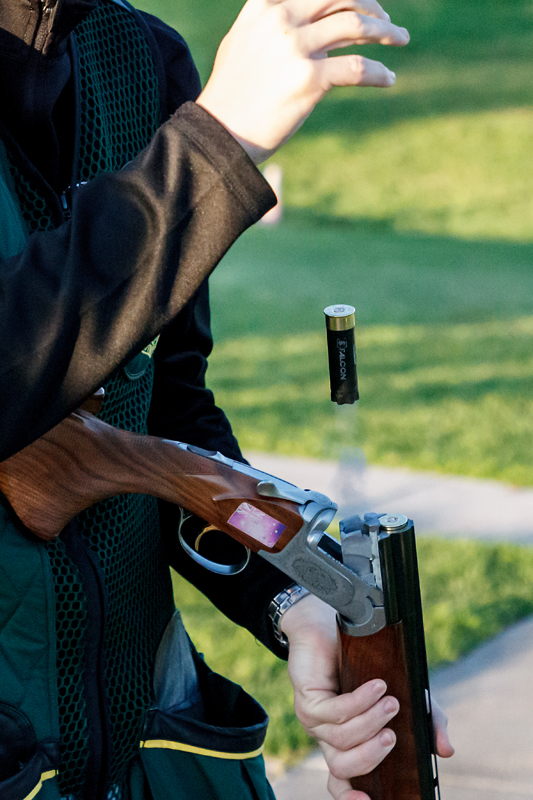 "Representing Australia is pretty special," said Ollie, "and something that I certainly don't take for granted. It's definitely pretty cool to be shooting internationally amongst the best in the world and flying the flag for the Aussies back home."
Ollie gained more international shooting experience in July 2023, with a visit to Changwon, South Korea, to be part of the U18 Men's Trap Team representing Australia at the International Shooting Sport Federation (ISSF) World Junior Championships.
"Changwon really showcased how good the best under 21s in the world are. It was definitely a good learning experience for me as I didn't shoot a score that I was overall happy with, but I figured out a few strengths and weaknesses that I wasn't aware of before the competition and now I can get back to the training grounds and turn those weaknesses into strengths."
Ollie will have plenty of opportunity to put into practice what he has learned at the upcoming ISSF National and Commonwealth titles in Brisbane in January 2024, followed by the Australian Clay Target Association's DTL Nationals, which will be in March in Wagga Wagga. He'll also aim to qualify for either the junior or senior team heading to England for the ICTSF World DTL titles later in 2024. And of course, he dreams of representing and winning gold for Australia at an Olympic Games one day.
Ollie cites the biggest influence on his career so far as his dad. He also credits Bill Iles as a mentor and positive influence. "Bill Iles is certainly one of my favourite shooters and widely regarded as the best shot Australia has ever seen."
Ollie also recognises the importance of his home club, the Mornington Clay Target Club, in his development. "MCTC has been supporting me since I was a little 12-year-old, when an overseas competition was never in the picture, and all the guys and girls there have encouraged me through the years. The club has helped me out with some funding for events and their generosity never goes unnoticed and it's really helped me to travel interstate and internationally to really mix it with the best and I'm really grateful for it."
So how did Ollie get so good? Sure, the mentoring and support helped, but what were the ingredients that set him apart and helped him accelerate his development? "Honesty, practice and work ethic," said Ollie. "Honesty is a big part of taking your shooting to another level because you have to stop making excuses for everything and be honest with yourself to improve.
Practice is also a big part of becoming an elite shooter and putting the work in on the practice ranges and tweaking with gun fit to make sure there is as little room for error as possible."
On the surface, the sport of shooting seems very much a solitary sport, but Ollie paints a different picture, claiming it's very much a community sport, especially at Christmas time at the MCTC, where the club holds competitions and the prizes are hams. "Everyone comes out of the woodwork to win a Christmas ham," said Ollie, chuckling, and continued. "I've made plenty of friends through shooting and whenever there is a competition interstate, it's great to catch up with them all and have a laugh."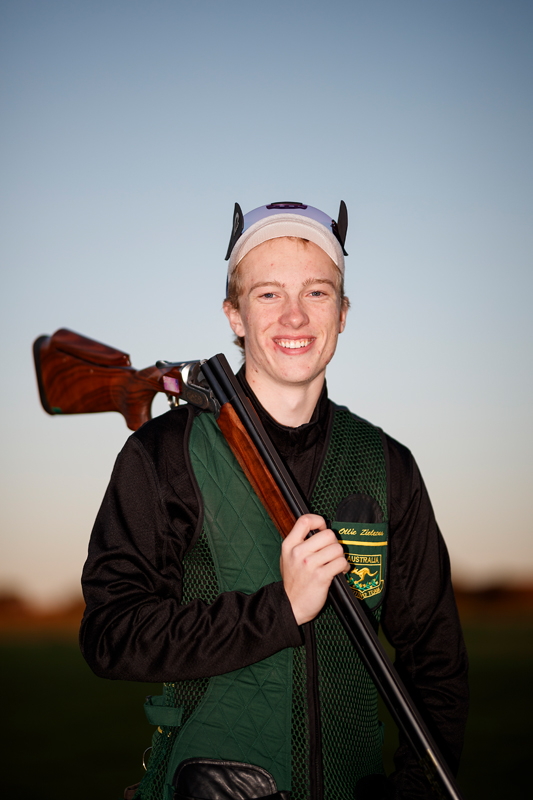 Another set of misconceptions about the sport are that it is risky and for grown men only, but Ollie quickly corrects those perceptions. "Clay target shooting is not dangerous whatsoever; the only thing shooting hurts is egos. If you're beginning, you're always accompanied and taught how to handle a firearm properly and taught the rules and the 'dos' and 'do nots'. All shooters respect the rules and always maintain a high level of safety because everyone understands that they aren't playing with toys.
"And anyone can get into shooting and the level of engagement is completely up to the individual. First step to get into shooting is to go to a club and just ask a committee member how to get started and quickly there will be a whole lot of helpful people to assist you. Mornington Clay Target Club offers beginner sessions including a round of 25 and a gun hire which is led by an instructor who will coach you into making sure you leave with at least a couple targets broken."
Ollie also dispelled any worries about the cost of the sport, which, on face value, seems to have a lot of equipment requirements. "The shotguns we use can be as cheap or expensive as the buyer pleases, but if you want the gun to go bang, every time you pull the trigger, an entry gun that's reliable is around the $1800-$2200 mark. People I shoot with and against use guns from $2000-$100,000, so there is quite a variety. If you do get hooked, then there are other requirements like firearms licences, but a shooting club can help with all that."
So, if you're looking for a new sport to try that anyone from any age group can participate in, maybe give the sport of clay target shooting a go. Shooting clubs like the Mornington Clay Target Club regularly run social events and come-and-try days, and if you're looking for something different to do for a birthday, corporate event, hens' or bucks' events, the Mornington Clay Target Club offers plenty of choices.
You can find more information at the Mornington Clay Target Club's website.