By Joe Novella Photos Gary Sissons & Supplied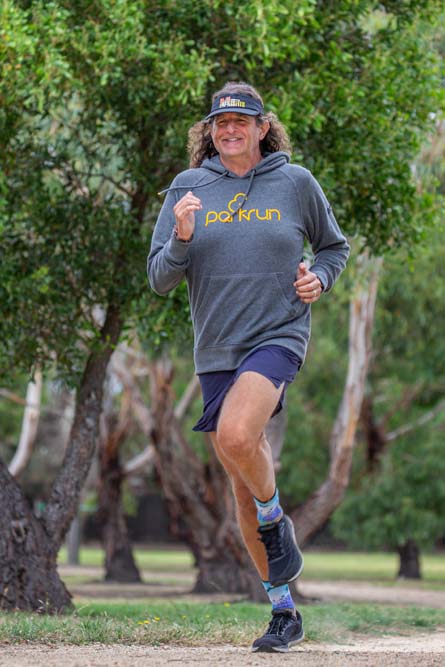 Mick Duyvestyn, or "Duyvo" as he's more commonly known around his hometown of Mornington, is peninsula born and bred. He's one of those locals that everyone seems to know, and he's a bloke that loves to run. Not just around the park, or around the block; in fact the longer the run, the more Mick enjoys it.
Mick's list of running achievements is impressive for someone who started endurance running so late. It includes competing in, and completing the likes of: Arthurs Seat Challenge, Two Bays Trail Run, Surf Coast Century 100k event, Great Ocean Road, Queenstown and Melbourne Marathons, The You Yangs, Wonderland, Devilbend and Mornington half marathons, just to name a few. So where did his love of endurance running start I wondered. Schoolmates perhaps, or an inspirational coach? The answer was much closer to home. "My Mum," Mick said, smiling. "All thanks to Mum."
Mick grew up with four sisters and a brother, so the Duyvestyn house was always busy. "I was an energetic kid, couldn't sit still and was an early riser," Mick explains. "Rather than have me hang around the house, walking round in circles, causing mischief and waking the others, Mum would get me to run around the block a few times. I reckon she did it so I could use up a bit of energy before school."
Mick didn't mind the early morning runs and towards the end of his time at St Macartan's Primary, he was pretty fit. "I used to go ok in the school cross-country," he said, "but I was more interested in team sports like footy, cricket and basketball. Running wasn't really the main sport for me; it was an individual thing, something I did for fun. I did quite a few fun runs in my teens until I did my knee at 19 and after that everything changed."
In his twenties, Mick hardly ran at all; his knee couldn't take the strain. Luckily he had lots going on his life to make him forget his dodgy knee like marrying his childhood sweetheart Renee and building a life together. But it wasn't a case of happily ever after; like most of us in this journey called life, Mick experienced a few bumps in the road. "I was working long hours back then," he said. "I was also doing night shift, so I wasn't eating right. I was also drinking too much and not exercising. I just wasn't looking after myself and I ended up becoming very overweight and I just wasn't happy. I didn't like the person I had become."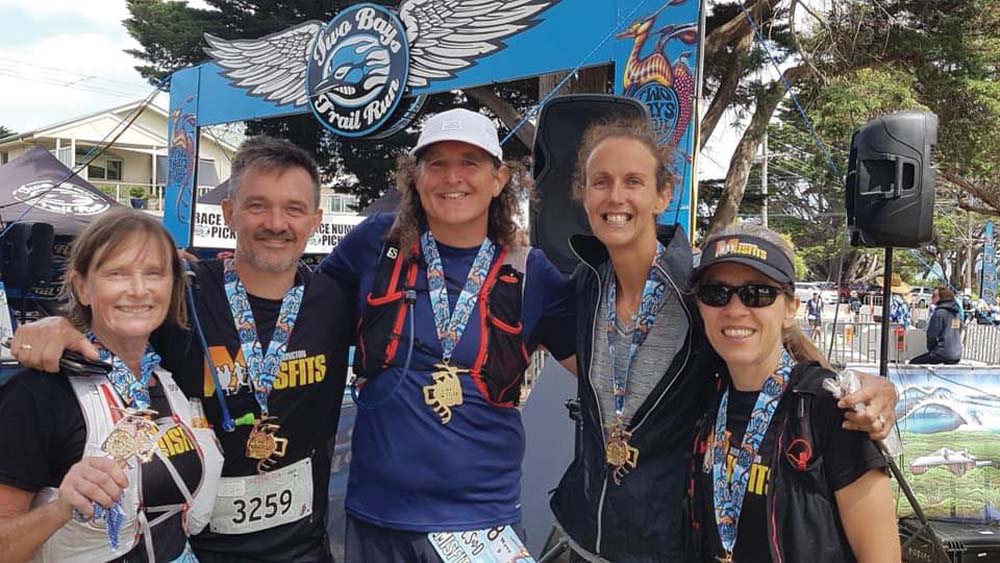 It was the birth of Mick's first child, Ruby, that was the catalyst for change. He knew he couldn't run, so he started walking. He got fit enough to complete not one but two Oxfam 100K walks, where entrants complete a 100 kilometre walk in less than 48 hours, raising money for Oxfam in the process. But his knee gave way again and a second knee reconstruction was required. His Physio advised Mick not to stress the knee again or there was a risk of not being able to walk at all.
"I never challenged the opinion," Mick said. "I just accepted it. That was my lot. I was 35 and had young kids. I didn't want any more injuries. So I stopped walking and exercising altogether and pretty soon I'd ballooned out to over 115 kilos, which is massively overweight for me. I sank pretty low; hated myself. I started drinking alcohol at times I shouldn't be, like when the kids were in bed, all by myself. Drinking by yourself is never a good sign, but I was depressed and I needed an escape."
In 2014, just by chance at Sydney airport, Mick bumped into a mate who had just completed the New York Marathon and they organised a catch-up for when they were both back home on the Peninsula. "I couldn't believe Marcus had completed the NY Marathon and I said as much to him when we caught up. He just looked at me and said, 'You can do it too if you put your mind to it. Just get out of bed tomorrow and start with a 5 kilometre run and build up slowly from there. Don't go mad, just once or twice a week.'"
And that's exactly what Mick did, despite all the advice from the medicos.
The very next morning he ran his first 5 kilometres in 48 minutes, which wasn't going to break any speed records, but it was a start. "It was hard," Mick said, "my body was screaming out to stop, my knee hurt and I was scared it might give way again.
I spewed up a few times, but I also felt a kind of satisfaction in the pain, that I could endure it. Getting through the pain and fear was like a release from all my other worries. In fact the pain and fear, and the adrenalin that came with them, made me feel alive and
I couldn't wait to do it again a few days later."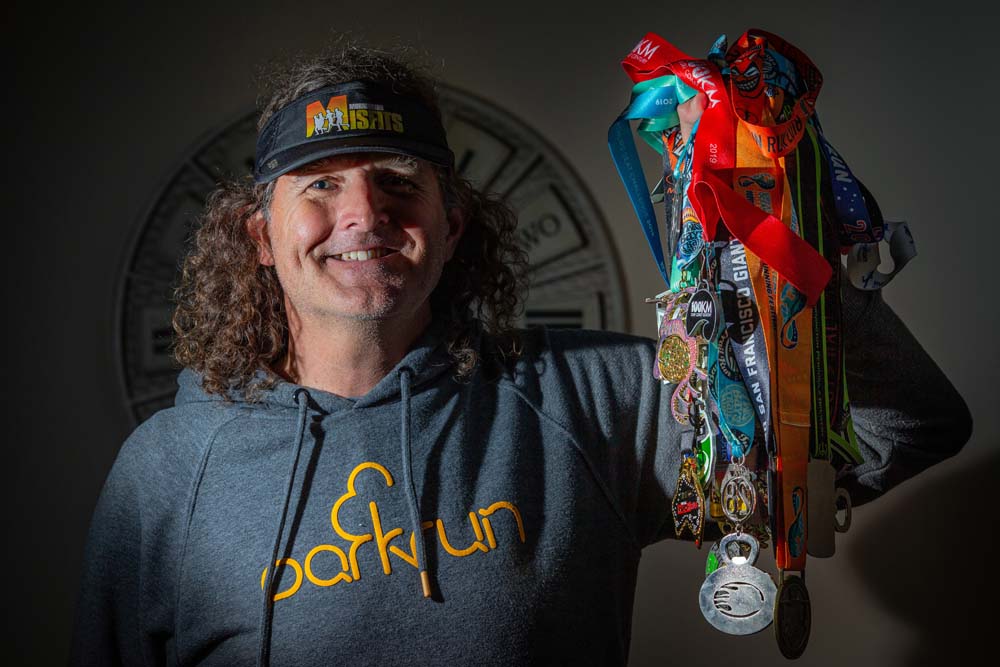 Mick started running 5 kilometres on alternate days and soon the weight began to drop off. Mick's mate, Marcus, worried that Mick might overdo it, bought Mick a book titled, 'Run Less, Run Faster', which helped Mick build a sustainable program that would ensure he could continue building his fitness levels without doing permanent damage. "That book was a game changer, I realised that before I just did my running helter-skelter and that probably contributed to my injuries but the book taught me how to be systematic."
As Mick's fitness returned, he found he wanted to run further and further. "For me, running is like an addiction," Mick said. "It's just you and the trail; you forget about all your troubles because you're focusing on the world around you. Even though everything should hurt, you feel alive and calm, almost euphoric, and you want that feeling over and over, so you keep doing it, you keep wanting to push your limits and experience the highs that come from being in a zone many refer to as 'runner's high'."
And so in 2015, approaching his 40th birthday, after two knee reconstructions, Mick started with the help of a new physio, a 14-week training program, to achieve his most ambitious goal to date: The Great Ocean Road Marathon. Forty four kilometres of pain. After the 14 weeks, he lost Ten kilos and was the lightest he'd been in decades. He limped through the race in a time of 4 hours and 52 minutes, but the time wasn't important; he had achieved his goal. And as an added bonus, he'd made a few friends who invited him to join a social running club called The Mornington Misfits.
"My running had always been an individual pursuit. Even at school, I always saw running as an individual thing. But becoming part of a group like The Mornington Misfits, I started to mix with like-minded people who understood me and shared their stories with me and I with them. It was like I found my tribe. After that I saw running in a totally different light and got involved in my local parkrun as a runner and volunteer. And now I find I love the friendships as much as I love the runner's high. And I love that I can bring along my wife and kids, even the dog to a parkrun and get them all involved in a healthy lifestyle."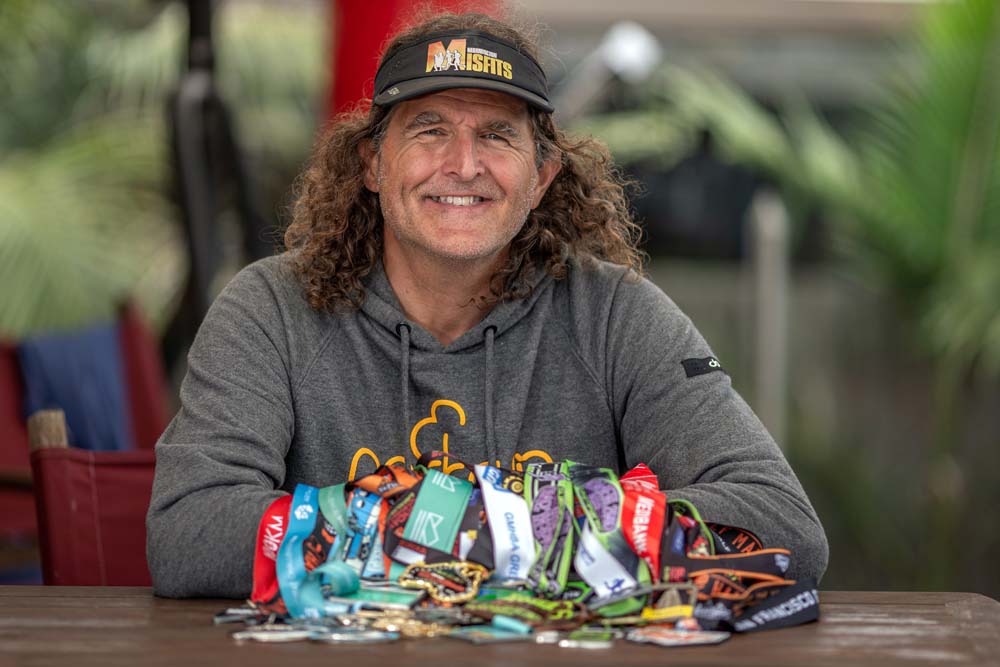 It's hard to imagine Mick being overweight and depressed; he seemed so lean, so Zen and chilled out during our interview. I asked him to name his favourite spot on the Peninsula to go for a run. "That's easy. Baldry's Crossing through to Greens Bush on the Two Bays Trail. It's so beautiful up there with the bird life and the bushland. I'll take you up there one day."
"I can't mate," I replied. "I'm too old, out of shape and I have bad knees."
He laughed. "No excuse, mate," he said, "You can walk and it's all about getting out and active. We live in the most beautiful spot on the planet, and most of us don't even know how beautiful our backyard really is."
You're right, Mick, on so many levels. Keep running, and keep inspiring us all to get out and about in our big beautiful backyard.