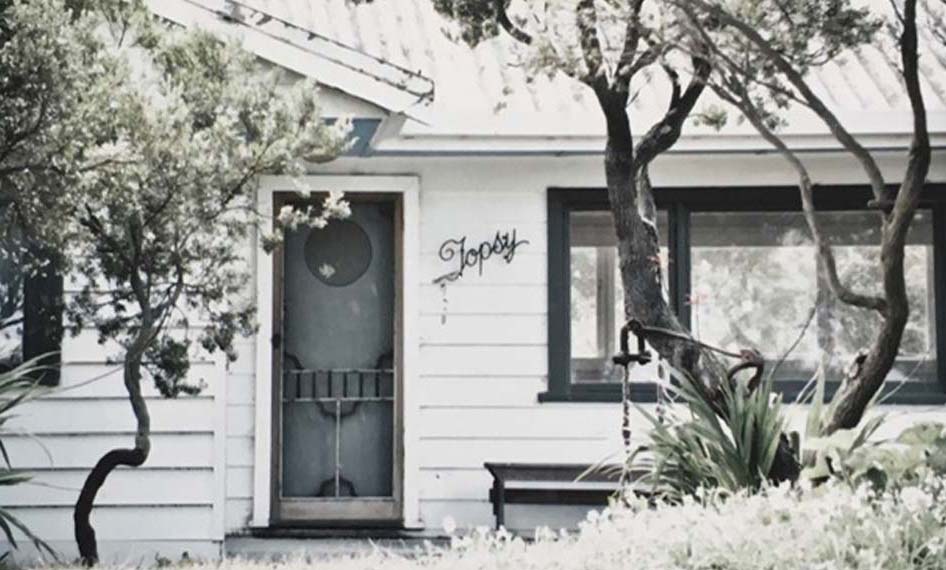 The original Topsy
By Arthur O'Bryan and Ilma Hackett
Jack Wrout bought his seafront block at Balnarring Beach in the late 1940's and, for a number of years he, his wife Nancy and their two young children, Nancy and John, came to camp on their land during the holidays. Jack had a small engineering firm where parts for Bren guns were manufactured during the war years and, as this was an essential service, he had not been called up. Then, in the 1950's, a small weatherboard house was built on the block and it became the family's holiday home. The Wrouts had many visitors, particularly during the summer's beach-weather days, and Jack persuaded friends to buy the lots adjoining his own. Land was relatively cheap then as Balnarring Beach was a long way from the city; not an easy destination. [Son] John recalls that it was quite an adventure to get here. "You could expect a number of flat tyres before you arrived. Fuel was limited – many cars had petrol converters. At Carrum you had to wait until the tide was right in order to cross the creek."
The friends named their houses Tipsy, Topsy and Turvy. Tipsy belonged to one who was fond of a drink; Topsy was the house that Jack built; Turvy, the third, belonged to a man whose natural building skills were limited. "He would pound in a six-inch nail for a coat hanger."
A community of friends
Jack, his immediate friends and others nearby formed a small community-within-the-community. Because the friends all lived close to each other there was a lot of interchange between households so Jack rigged up a party-line telephone system to enable them to communicate with each other quickly. He purchased six telephones – the old-fashioned, wind-up sort – and installed a system between neighbouring houses. Each house had its own identifying 'code', a variation of long and short rings, but anyone could listen in because it was a party line.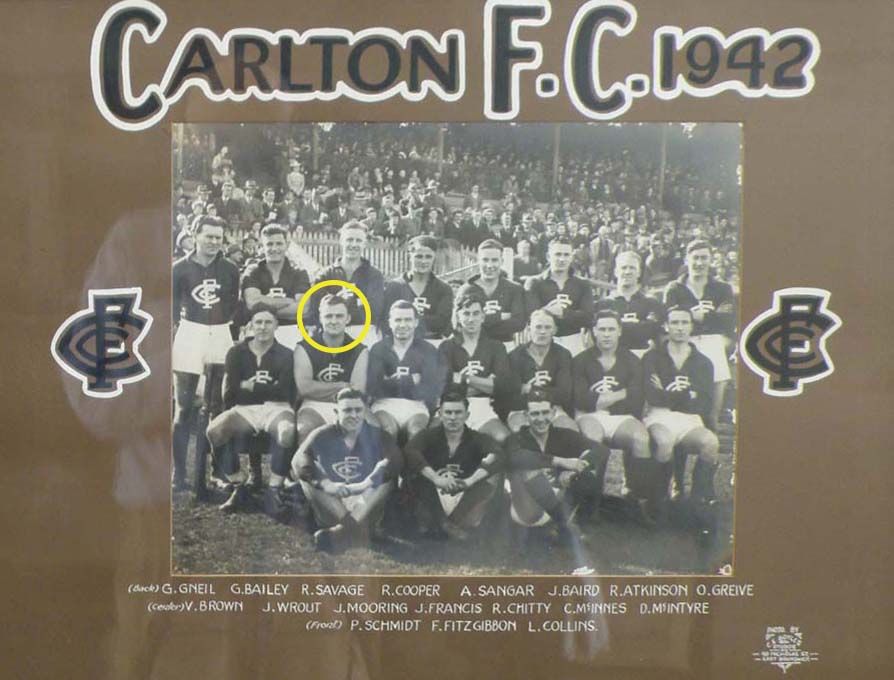 The families did things together on a social basis. They clubbed together and bought an army hut – a semi-circular Nissen hut – when the old huts from the former RAAF Initial Training School at Somers were being sold off by the military. The hut was erected in the back yard of the Wrout property as a centre for their kids. There wasn't much socially in the general neighbourhood for the young people so the hut became their social hub. It was used as a centre for showing movies. Jack set up a place for a projector and 16 mm films were hired from the city. These often were available before they were released officially. Folding chairs provided seating as they could be cleared away to leave space for other activities. The young people also went to the open-air pictures that were screened at the caravan park. Afterwards they went back to the hut at Wrouts' for a dance and the crowds that congregated there were often close to two hundred in number. They had their own small band (a piano and a couple of guitars) to provide the music. Ian Clyne, who later played keyboard in his own band, The Ram Jam Big Band, was the pianist. At New Year's Eve they met on the beach and as the clock hands pointed to midnight a fireworks display lit up the night sky. This became a tradition that John continues to this day. The Wrouts always kept a small speed boat for fishing excursions and water sports. It was invariably named Topsy, like the house, and still is. John now owns Topsy V.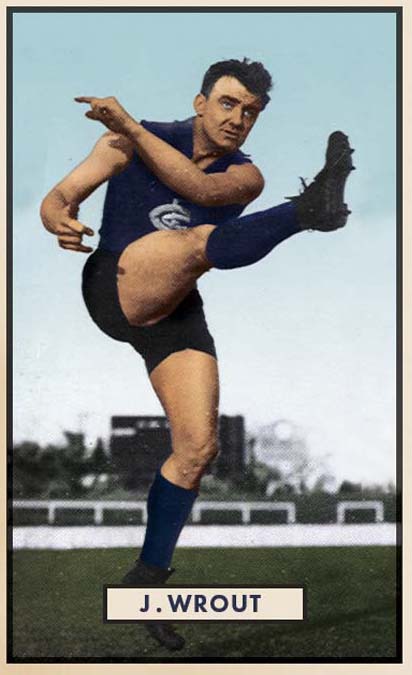 The Football Hero
Jack Wrout was very well known in sporting circles. A VFL star, he played full forward with the Carlton Football Club during the late 1930's and early 1940's. Wearer of guernsey No. 28, he starred in the 1938 premiership team that played against Collingwood in the grand final; it was Carlton's celebrated first premiership win since 1915.  The game drew a record crowd which far exceeded the number the Melbourne Cricket Ground could safely accommodate at that time. With four goals to his credit, Wrout was the leading goal kicker for Carlton for the match and one of the best afield.
Wrout had started playing football with West Melbourne CYMS and began his senior football career with North Melbourne in 1931 when he was nineteen. He was selected to play in two games in his first year and five games the following year. He had impressed from the start as a strong and intelligent player and he was popular with his team mates. In 1933 he was chosen as a member of the Carnival team to play in Sydney. Unhappily he broke his leg during a league game before the Carnival and was unable to go. His disappointment was keen but his club mates banded together to raise the fare to send him to Sydney – if he was able to travel.  The Sporting Globe (July 19, 1933) reported that Wrout was "an idol at North and genuinely popular with the players."  In 1934 he had regained form and in June was selected to play in the VFL representative team in Adelaide.  He played 53 games in all with North Melbourne and scored 52 goals.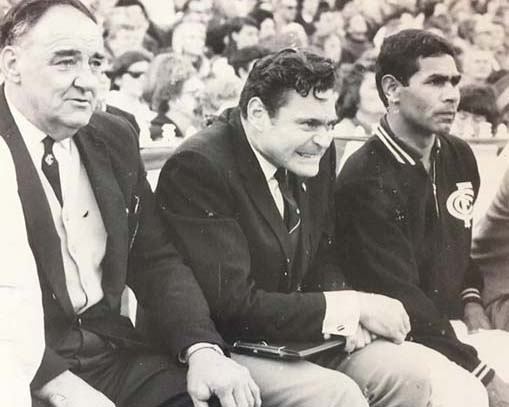 From Light Blue to Navy Blue
Wrout transferred to Carlton mid-season in 1936 where he played at centre half forward.
He became the Navy Blue's star forward, recognised for his sure marks and reliable long kicks. In the annual kicking contest between Carlton and Stanford University (U.S.A.) in 1939 he sent a drop kick 72 yards using an Australian ball and 67 ½ yards using an American ball. The 1938 premiership year was arguably the highlight year of his football career. In 1943 he topped Carlton's goal-kickers with a total of thirty-three goals. He had notched up 130 games and kicked 267 goals with Carlton before injury forced him to retire. In 1944, during a closely contested game against Footscray (which Carlton lost by one point after Wrout had been taken from the field), his leg was again broken and his ankle badly sprained. The bone couldn't be set immediately because of the swelling. The injury healed but Wrout announced his retirement in April 1945. He was left with a slight limp in later life. Several years later he bought his land at the seaside.
Jack Wrout didn't sever relations with the Carlton Football Club after his retirement. In 1958 he was elected to the committee and he spent twenty years as its Vice-President. He also became Carlton's legendary Chairman of Selectors, highly regarded for his no-nonsense approach. It was during these years that the Carlton players were introduced to his holiday home, Topsy, at Balnarring Beach.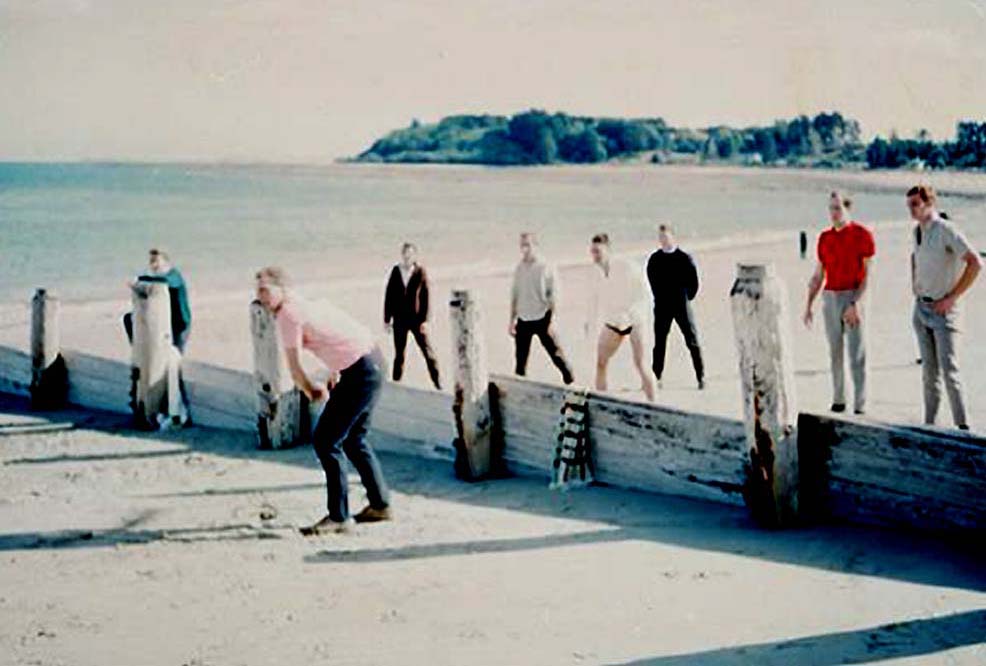 The Blues at Balnarring Beach
Today's AFL footballers are high performance athletes who train with a strict diet and an elite fitness program, but it was the little weatherboard house on Balnarring Beach where the Carlton Football Club went for pre-season summer camps.
Jack's son John, himself a former footballer and once captain of Brunswick in the VFA, recalls growing up the son of a Carlton legend. "Dad loved getting the boys down to train – Jezza (Alex Jesaulenko), Big Nick (John Nicholls), Serge (Sergio Silvagni), Wallsy (Robert Walls) – they were all up for it. They would arrive for the weekend and stay out back in the games room- the corrugated-iron Nissen army hut. The players would be up before dawn beach running, ocean swimming, surfing, lots of circuit work and plenty of push-ups."
John says, "They'd punch holes in the floorboards from banging down push-ups for hours on the soft huon pine. They'd train hard all day and then Jack would fire up the barbie. They'd be up pretty late."
"It was fantastic," he says.
John reflects on players enjoying the seaside. "Dad had me in charge of the ski boat, with the intention of teaching the boys how to ski. I remember the day Sergio Silvagni swallowed half of Western Port Bay. He was strapped into Dad's skis but could not pull himself out of the water. He was so bloody strong we dragged him underwater the entire length of Merricks Beach. He just hung on refusing to let go. Eventually the bindings snapped and the skis  popped up and there was Serge, heaving up and bobbing around like a cork."
John speaks reverently about coach, Ron Barassi, reading out players' names from the back deck of the house. "At camp's end all the players would come off the beach and gather at the side of the house where Barassi would call out their names. This was 1970, Carlton's greatest Premiership year. I was there when he called out the team list; it was a special time to be alive."
Balnarring Beach is a long way from the training facilities of Princes Park, but the commitment to get players to optimum fitness was as important then as it is today. "There wasn't a lot of sports science back then," says John. "Dad wanted the Blues to be winning flags, so he tried to make sure the boys were properly prepared for the season. They trained flat out, but when they were done, they'd stop for a BBQ and a couple of beers on the deck."
That was the way it was back then. It's hard to imagine players enjoying a beer like that today, but in those days, it was reward for effort.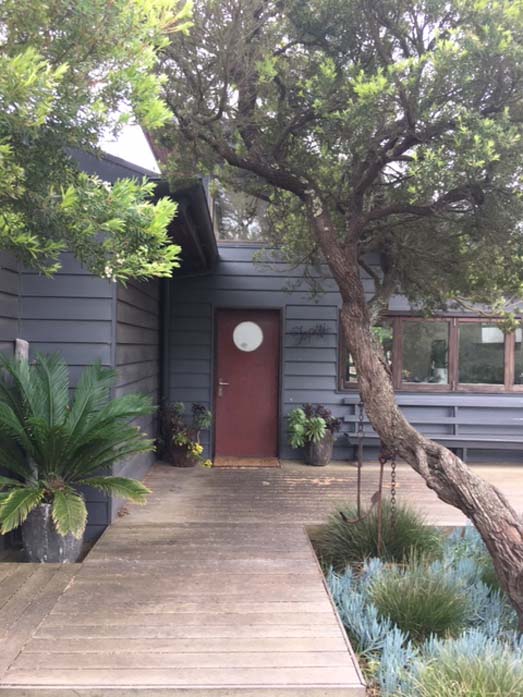 Topsy today
Jack Wrout died in 1981 and in 2014 white ants forced John to demolish the original weatherboard bungalow. He built a new Topsy, a stylish home that still has those sea views and a private back deck.
Visitors enter through a front door that features the unusual port-hole glass panel that was a feature of the original front door, and John has also retained the hand-crafted, wrought-iron house name that his father made.  It reads "Topsy" in an elegant script.
Like his father, John is a big-hearted Blue who loves to entertain. When he's not launching his boat into the rolling swells of Bass Strait he's entertaining guests with giant crayfish on the beach or a cocktail party in the front room of Topsy where open windows invite a cool afternoon sea breeze.  On one wall of his home is a tribute to his father, the colourful Life Membership Certificate signed by Sir Kenneth Luke who was, at that time, President of the Carlton Football Club. Luke went on to become President of the VFL.
In 2016 Jack Wrout's name was added to Carlton Football Club's Hall of Fame – the ultimate recognition of a Blues great.