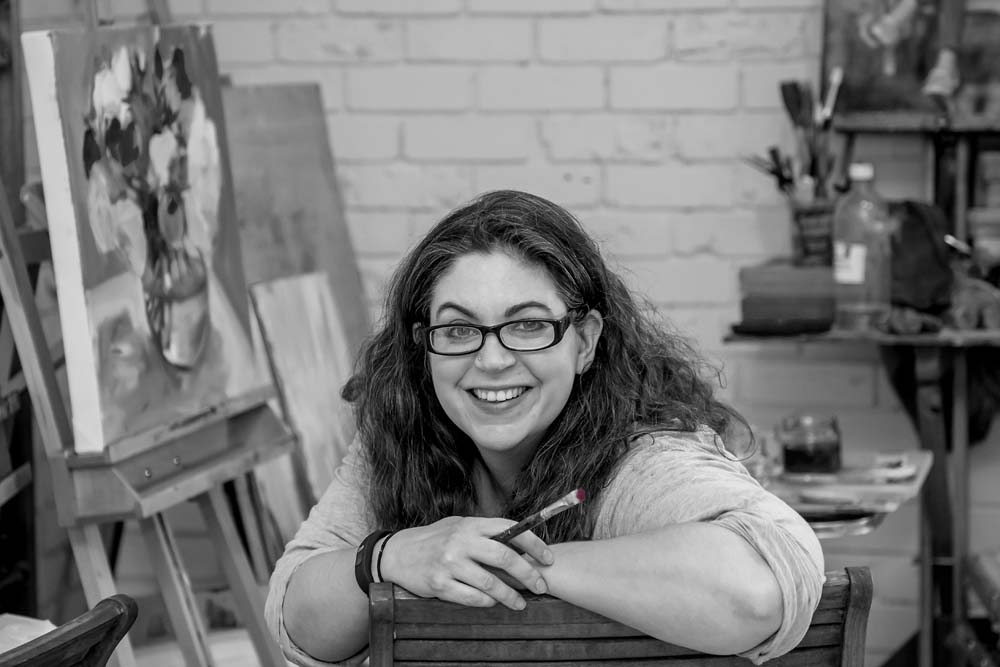 By Melissa Walsh  Photos Yanni
Nic Kirkman has shown that she can do anything she wants. With a PHD in Physics, a second degree in architecture, and numerous other academic achievements, the thing this talented lady really wanted to be was an artist. And true to form, that's exactly what she has done. You would be hard pressed to meet a more energetic and bubbly artist than Kirkman, who has now made her home on the Mornington Peninsula. As any of her workshop students would attest, when you do a course with Kirkman, it's certainly fun and entertaining. Peninsula Essence talks to the emerging artist and teacher about her passion for art and how it helps provide a reset button to deal with our hectic lives.
"I was one of those kids who always loved art and did it as a hobby from the time I was about four," said Kirkman, from her studio in Mount Martha.
"I also grew up in the era where it was believed that art was not something you made a career out of and so you had to do a proper job," she said with a laugh.
It wasn't until getting close to 40 that the physicist turned architect started believing this could really be her work.
"I moved out to Australia in 2012 as my partner was living over here," said the artist who is originally from Yorkshire. "In previous lives I have been a physicist, university tutor, taught study skills to dyslexic and dyspraxic students and, before realising that art is a real job, returned to university to study architecture. While that last bit didn't go so well, it did set me up for a career in art and helping others on their creative journeys, especially if it involves overcoming perfectionism."
These days, Kirkman teaches from her studio in Mount Martha, and is heavily involved at Peninsula Arts Society, where she teaches, learns, and has been promoted to committee member and newsletter editor.
"If art helps somebody it does its job, whether it helps the artist or the viewer," said Kirkman who has firsthand knowledge of how art can be calming. "If you take those times when you feel overwhelmed a landscape can help press a reset button, and help you see the beauty in the world."
For Kirkman, working in the world of academia, particularly the latent career in architecture became far too stressful, to the point where the zany brunette knew something had to change.
"As a perfectionist I ended up doing academic studies, my PhD as a physicist, then architecture which I had to stop as it highlighted how the perfectionism can become debilitating," she said candidly.
"In the end, I gave up the career and came to Australia after I met my partner who was living on the peninsula."
Kirkman says she doesn't believe in following a path but believes that no matter what you do, you must put your heart and soul into it.
"I think this idea that if you have a passion you must follow it is incorrect. You have values and you turn up no matter what your job and do your best. For me, I like helping people to cope, to become the best version of themselves. Art is the place where we can learn to deal safely with uncertainty. The best thing about art is there is no way I could do this where someone could die. It is safe."
Kirkman says art is not only her safe place; it can teach you about the world and yourself.
"Art helps us understand about ourselves and take time out to discover who we are. I have a lot of students who are in that stage of life where the children have grown up. They come to the classes or workshops and it is the first time for a long time they have truly done something just for them. It is so great to see them enjoy creating something and being able to express themselves."
Kirkman says art can help you see beauty in the mundane and can slow you down, but it also is a non-judgemental space.
"With art, there are no socially unacceptable thoughts. Anything can be expressed in art," she said.
"It is the perfect place to set your mind free. You need to be able to be mindful, be in the moment and play and silence the critic," she advises. "That is the basis of being creative. Then you step back and assess your work."
Kirkman says doing art and teaching art is like accidental therapy.
"The intention is to come and produce art. However in the process, I help the students be in the moment and learn the practical skills through their art," said Kirkman, who never tells them what to do but gently advises. "It is so important that everyone is in charge of their own art."
When she teaches, Kirkman has many catchphrases and silly voices, believing that's the best way to get serious work under pomposity's radar.
"My art-work and teaching is all about joy and making increasingly better mental health choices. I am so grateful to my partner Stu, my students and teachers especially my mentors, Catherine Hamilton and Marilyn Richards," said Kirkman, who has a distinctly impressionistic style that is joyous and serene.
"I love lots of colour now which was not something I started off doing. These days, my main subject areas are portrait, still life and landscapes, especially in oils and charcoal. I used to be mainly a watercolour artist but discovered oils are so forgiving and there are so many colour choices. I have recently started exploring some abstract work as well which I am enjoying delving into," she said.
"What I love the most about creativity is that there is music, art and books and thousands of years later they will still be here. They will have made a difference to the world."
---