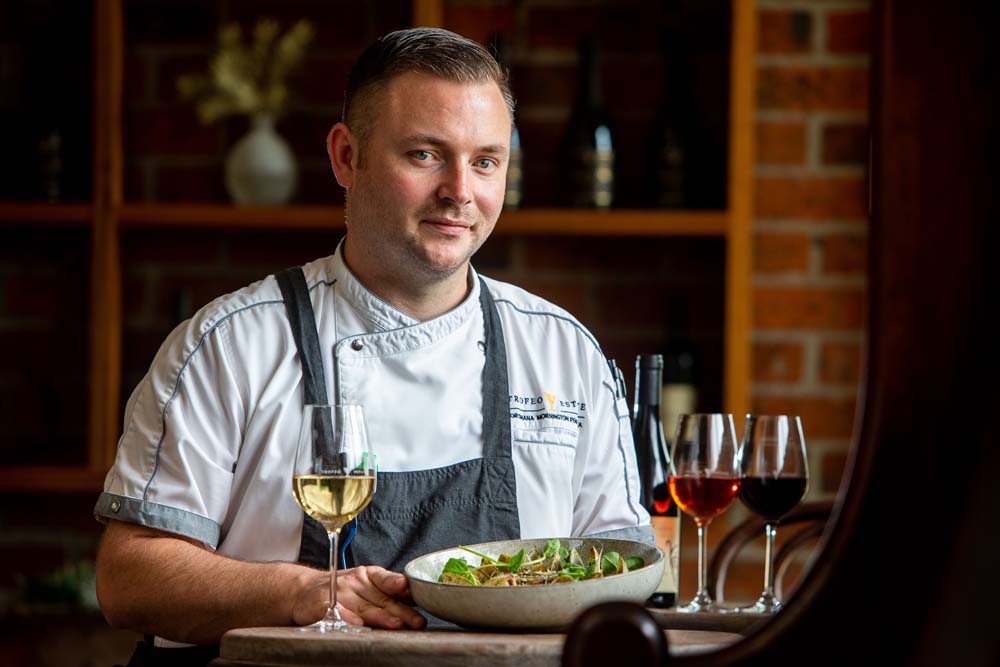 Born and bred on the peninsula, Marty Brennan had always wanted to be a chef, having started his culinary journey from Dromana High School where he did a pre apprenticeship course. These days, Marty has definitely fulfilled his dreams, working as the head chef at Trofeo Estate in Dromana.
"Ironically, the estate is right opposite the Dromana High School," said Marty, as we sit in the restaurant eating cookies he and his two year old son made the night before. "My son Noah loves doing things in the kitchen with me so maybe it's in the blood."
For Marty, working as a chef has always been his dream, having worked around the peninsula after completing his main apprenticeship years at the Sofitel as a pastry chef.
"I was always into the pastry side of cooking but now have evolved into more savoury dishes," said Marty, who became head chef at Trofeo over a year ago. "I was thrilled to be working here as my wife and I have always loved the rustic ambience of this restaurant. In fact, we got married here five years ago."
With the Trofeo restaurant in one of the most unique and historic 1930's buildings on the Mornington Peninsula, it is the perfect environment for delicious food and wine. Surrounded by vineyards, open gardens and lake, the dining area also includes an outdoor terrace and wine garden. "It offers a unique dining space paired with a paddock to plate experience that provides seasonal and regional flavours with a modern flare," said Marty, who loves creating delicious and beautifully presented cuisine. "Our fresh, organic and biodynamic produce provides mouth-watering dishes for breakfast, lunch and dinner. We pair all our meals with suitable recommendations from our extensive estate wine list."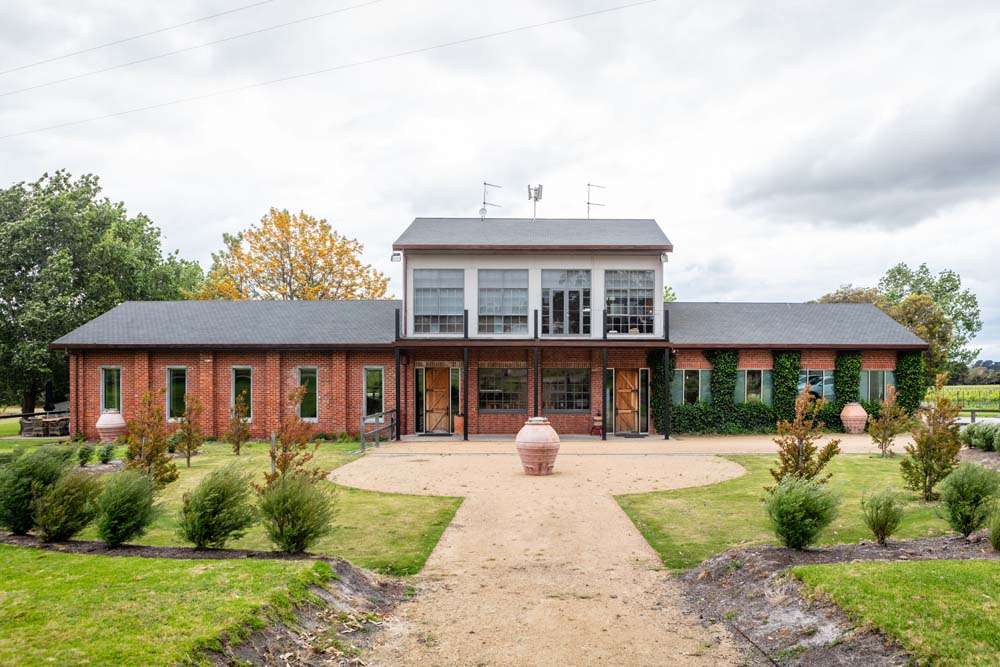 With a team that includes two chefs and an apprentice, Marty says the Trofeo philosophy is about simple, tasty food with little interference.
"I like to let the flavours speak for themselves. Our philosophy is local food and paddock to plate menu," said Marty of the food that brings more awareness to the ingredients. "We use lamb from our own paddocks, a bio dynamic garden in Main Ridge where we source our vegetables and are growing a vegetable garden on site and building greenhouses in the future."
Marty says simple, flavoursome food is created with a menu that matches the food that the animals eat as well.
"Our pork dishes have a carrot as that is the vegetable pigs like to eat. It helps us to create unique dishes with ingredients that complement each other," said Marty, who loves all the dishes on the menu. "I would never make something that I wouldn't eat and we work as a team to create some fantastic dishes with a menu that changes every three months."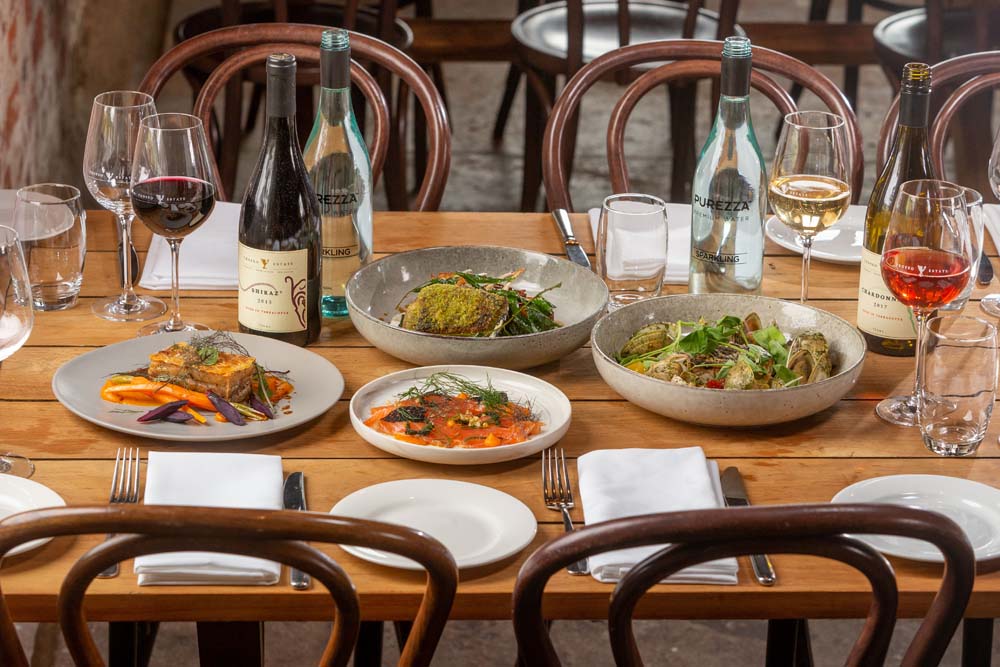 Summer at Trofeo sees lots of share plates and dishes that are fresh and flavoursome from the lamb croquettes with kasundi to freshly shucked oysters, chicken liver parfait, pork and veal terrine, house cured salmon, and smoked local bay mussels.
"We have an extensive menu that includes more substantial meals like the twice cooked pork belly with celeriac puree and local rhubarb, to the Ridge farm beetroot and ricotta gnocchi, with garden vegetables. We also do an incredible selection of homemade desserts and the best ice-cream," said Marty who has an undeniable passion for food and the wines of the estate.
"Of course the wines here are second to none. Great care is taken to create the perfect food to complement our rich selection of wine," he said. "All the dishes have matching wines that will go perfectly with them."
Trofeo Estate is open seven days a week with breakfast available from 9am Saturday and Sunday.
Recipe
Market fish, clams and aqua pazza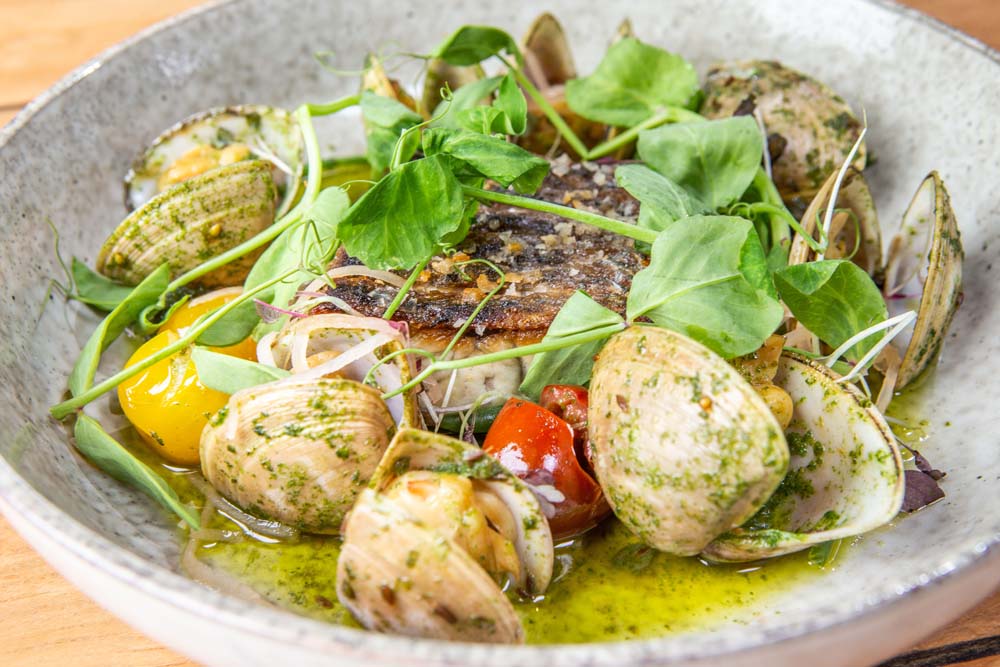 INGREDIENTS
800 grams white flesh fish (Snapper or Barra is a good choice)
150 grams clams
200 grams cherry tomatoes
Salt and pepper
½ bunch parsley
200 ml olive oil
20 ml vegetable oil
1 teaspoon cumin seeds
150 ml white wine
Lemon- juiced
METHOD
To make parsley oil:
Blitz parsley and olive oil together for 3 minutes. Set aside until required.
To prepare fish:
Place fish skin side up on board, score skin with sharp knife. Place generous amount of salt onto skin, let sit for 3-5 minutes to dry out.
Heat pan to hot- sized to fit the fish and allowing to go in oven as well.
Add vegetable oil and fish, cook skin side down for 2 minutes.
Place in hot oven 220c for 4-6 minutes depending on size and thickness of fish.
While fish is cooking:
Place medium sized pan on stove medium heat
Add clams and cumin seeds. Toast for few seconds then add white wine and cherry tomatoes.
Cover with lid, checking after 2 minutes to see that the clams are open. Adjust time if necessary.
Add lemon juice, salt and pepper and 100 ml of parsley oil. Adjust to taste.
SERVING SUGGESTION
Place clams and sauce into large serving bowl, add cooked fish. Adjust seasoning if required. Serves 4
---
Trofeo Estate is 85 Harrisons Road, Dromana

Phone 5981 8688