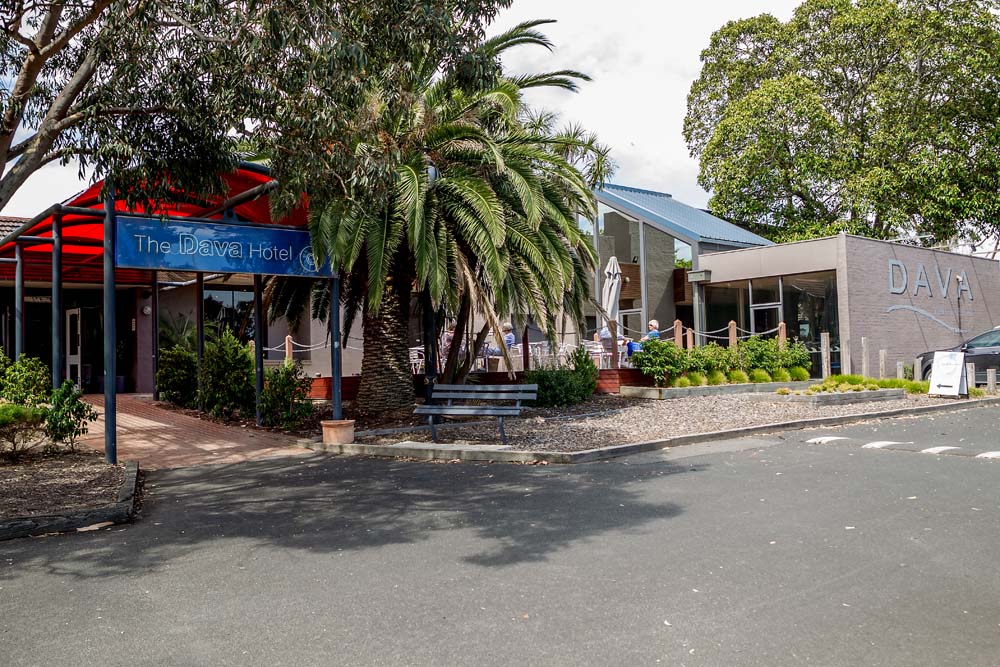 By Melissa Walsh Photos Yanni
Steeped in history since the 1920's, The Dava Hotel with its views across the bay still stands as an iconic and family friendly venue well into the 21st century.
A sweeping staircase in the bistro dining room is a reminder of a bygone era in a hotel that proudly incorporates its history and modern day expectations. Over the past two years the venue has undergone major renovations that have given the hotel a whole new life and seen it evolve to meet customer expectations. At the same time, a five star chef, Richard Keane, was brought in to work his magic, and offer locals and tourists alike more upmarket food at mid-range pricing.
With sweeping views across Port Phillip Bay, an expansive rooftop deck bar perfect for summer drinks and casual dining, four different function rooms, a spacious modern bistro with an indoor and outdoor kids play area and a bright and airy café with an al fresco area, The Dava Hotel really does have something for everyone.
The original building has a wonderful rich history as home to The Sisters of Charity, a boarding school and preparatory school for boys in the 1920's. A decade on in 1935, it was sold to John Ross who would redevelop the buildings as The Dava Lodge Hotel and Guest House which attracted celebrities to the shores of the bay.
These days, The Dava provides a quality standard of dining and entertainment, having become reputable for its cuisine and relaxed ambience, while still maintaining its status as a family friendly venue as demonstrated by the recently launched Teens menu, the first on The Peninsula, catering to the 12-16 years' old as well as a 'Kids Eat Free' deal five days a week that has been around for years.
Head Chef, Richard Keane, says he decided to create a menu that would seamlessly incorporate upmarket dishes such as pan fried scallops on a bed of squid ink risotto alongside traditional pub favourites.
"I think it's important for a Hotel to evolve and offer gourmet style dishes with modern flavours alongside traditional pub favourites such as the parmas and roasts, and it has paid off with a broad spectrum of locals and visitors coming back time and time again," said Richard who has been in the hospitality industry for 35 years, working in five star restaurants. "We do a fantastic twice cooked pork belly with celeriac puree and apple, pickled cabbage and honey glaze, and I personally love the salmon fillet which is crispy skinned, served with beetroot humus, roasted chickpea and pomegranate and herb salad."
It's inspiring to see that the same venue that used to offer accommodation, where people would arrive on a horse and cart, is still being nurtured to this day, after passing through so many owners over the years. "It is still going strong and evolving, and a great place to be working as a chef," said Richard, who has been in the industry long enough to understand the market and what people like to eat.
One of the first venues to offer a drive through bottle shop, The Dava still has everything for locals and visitors with a fully refurbished sports bar and beer garden, offering happy hour five days a week and free pool two nights a week as well as bistro style bar meals available 7 days a week. The rooftop Deck Bar has live music on Sundays during the summer months with a wide range of cocktails and the new Wine-In-A-Can phenomena popular with millennials, while taking in one of the best backdrops you will ever see on the peninsula and unparalled views of the bay. The Dava Bistro has a versatile seasonal menu and fortnightly chef's specials. While the café is great for catch ups with friends, it also offers a full bar, lighter café meals and fabulous coffee to enjoy with a fully cooked breakfast on a Saturday while reading the morning paper.
The Dava Hotel has been synonymous with the Mornington Peninsula for over six decades and it is by far the most multi-generational venue on the Peninsula. It's not unusual to see those that once frequented The Dava Hotel back in the 80s and 90s when The Dava was known for its discotheque, where young ones would flock to in the area, to still frequent it today with their young families, their parents and grandparents, and celebrating milestone events at the venue from kids parties and 21st's to 40th's, through to engagements, weddings and anniversaries. In 2019, The Dava Hotel is still the place to be so check it out for a family dinner, drink with friends or a coffee and cake and you won't be disappointed.
---
The Dava Hotel is at 614 The Esplanade, Mt Martha

Phone 5975 1555