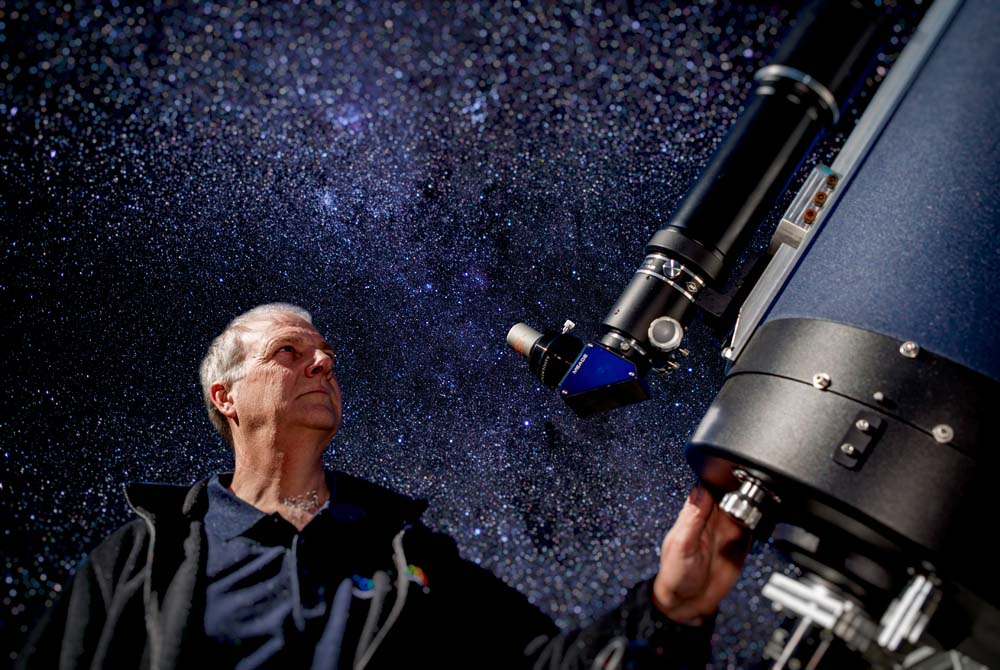 By Melissa Walsh Photo Yanni
Greg Walton has always been curious about how things work and the retired engineer still has a passion for learning. Most days Greg can be found at the Mornington Peninsula Astronomical Society, where he teaches astrophotography and has two of his own designed telescopes on display. While his father showed little interest in astronomy, it was under the wing of his great grandfather that a love of the stars and planets began.
"My great grandfather was a sailor and, spending a lot of time on ships, taught me how to navigate by the stars," said the astrophotgrapher, who became involved with the Mornington Peninsula Astronomical Society nearly two decades ago. "I live in Chelsea, but this is the closest society as there is only another one in the city. I had always wanted a telescope and a friend of mine found a mirror out of a telescope one day that was going to get thrown out. That was when I built my first telescope and I was hooked."
The self-taught astrophotographer read seventy books on building telescopes and astrophotography by the time he showed up to his first meeting at the Astronomical Society, held at the Briars.
"I took my telescope along and they couldn't believe how big it was and that I had built it myself," said Greg, who still constantly reads about planets and deep sky objects.
It was when digital imaging came in about eight years ago that Greg started taking the astrophotography seriously.
"I used to shoot images on a film camera which was great but digital cameras allow you to do so much more, "he said. "All you need when you do astrophotography is a digital camera, a tripod and warm clothes."
Greg and his partner love going to the outback and setting up their cameras to shoot time-lapse astrophotography.
"We go out camping or sleep in the car, set the cameras up and let them run all night. Once you blend the images together it is all condensed into about 20 seconds of film."
With astrophotography you can shoot images that have taken hundreds of thousands of light years to reach earth.
"We take photos of everything from auroras, to nebulae, deep sky objects and galaxies that are thousands of light years away. As an engineer it is wonderful to be able to confirm something you have read about for yourself," said Greg, explaining it is the science of it all that intrigues him. "The fact that this light has travelled such a long way and that you can actually see it is incredible, and that these objects were discovered hundreds of years ago and catalogued."
At the astrophotography workshop topics include Introduction to Wide Field Astrophotography, Time Lapse Photography Aurora Photography, and Deep Sky Imaging.
"We hold an astrophotography workshop each year in September. We will be canvassing and introducing concepts which will assist both the amateur and the professional photographer. The day will have a series of lectures given by experienced and acknowledged astrophotographers. Practical hands-on session will also be held during the evening at our observatory," said Greg.
"We have people of all ages and backgrounds attending the workshops. Most of the people who come along are total beginners, but they pass me in a couple of years' time," he said with a laugh.