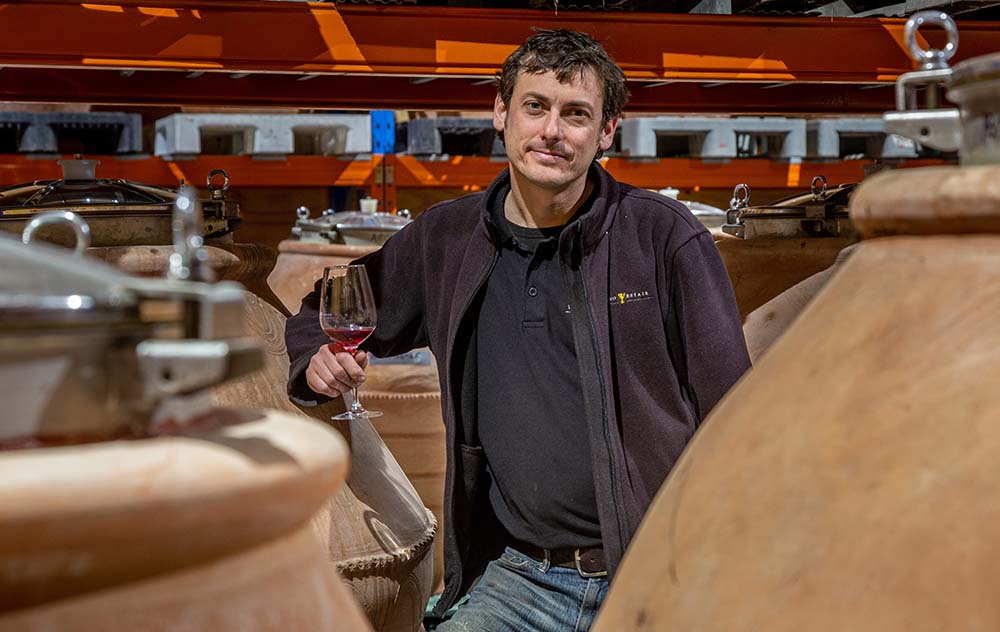 By Melissa Walsh   Photo: Gary Sissons
Since the days of Ancient Greece, man has used clay vessels for storing wine. Terracotta amphorae, arriving with the Greeks and widely distributed in Italy by the Etruscans, were the first true containers for fermented grape juice. The extraordinary thermal insulation capacity of terracotta is that which forms the natural pathway closely linking it to wine, and the clay from Impruneta, with its distinctive and now famous chemical and physical characteristics, allows for the perfect storage of wine. The amphorae have been endowed with special airtight caps enabling the complete isolation of the wine from oxygen.
Amphora is alive and well and being used exclusively in the Mornington Peninsula's own Trofeo Estate, which has revived the 6000 year old tradition and is using it solely to produce their full range of wines. Harking back to the past, the use of terracotta embodies the artisan desire to make wines in a natural idiom that is very much a part of the Trofeo philosophy. Using the terracotta vessel that dates back to the very start of wine, Trofeo Estate is the largest producer of terracotta wine in the southern hemisphere. Peninsula Essence talks to chief winemaker, Richard Darby about his foray into the age-old method of wine making.
"I got into winemaking in 2003 when I decided to change career direction from studying to be a chef. I was working front-of-house at different places and got a taste for wine that overtook my interest in beer," the young winemaker says with a laugh. "That was back in New Zealand where I was born and so my career in wine began in a similar climate to the peninsula."
It was three years later that Richard took himself off to Australia and spent the next few years travelling and seeing the world. "I spent years travelling Australia and worked in the west doing lots of harvests, but always found myself coming back to the peninsula in between," said the winemaker who chased vintages travelling through Chile, France and Portugal making wines. "There was a winery in the south of France I worked at where nobody spoke English. We ate a block of chocolate and two bottles of wine for lunch and got on amazingly after that."
For the gypsy winemaker, settling on the peninsula at Trofeo Estate was a no-brainer as this well-seasoned traveller has always loved the area.
"It was great to plant my roots here and love that the winery introduced the amphora to me. I had never used anything apart from tanks and barrels, so when the owner Jim said he wanted to start using terracotta it was great. About four containers of the amphora turned up over a period of time and we started using them. That was in 2013 and now we are solely amphora, and the largest terracotta user in the southern hemisphere."
Richard says amphora is brilliant as it doesn't impart any flavour allowing more natural flavours to occur.
"It puts no extra flavour into the wine but still has the same properties as a barrel and allows for oxidation to occur. Because we use the terracotta, the winemaking has changed to a certain degree. There are other things you can do, like ferment skins of red wine in amphora which is great. Because terracotta breathes, it assists in amplifying aromatics and flavours," says Richard, explaining that there are some challenges too. "Each amphora is different shapes and sizes and so will behave completely differently with each wine. This means that, while you might pick the same grapes from the same time, the fermenting and maturation may be slightly different."
With Trofeo specialising in pinot noir, chardonnay and a small amount of cabernet, as well as white pinot gris and a late harvest of rose and sparkling, the winemaker certainly has his hands full but loves every moment.
"It is the best place to work as a winemaker; it is sociable and fun and we have the best wines and food to go with it," says the easy-going winemaker. "I like that we have employed organic principles from the start and the amphora is part of the philosophy here to keep everything natural. We have sheep in the paddocks to keep the grass under control and use natural organic principles throughout the vineyard."
With more than 50 acres under vine, Trofeo Estate is motivated in the sustainable care of the vines. "We believe in nurturing our vines by employing the very best organic and biodynamic management strategies to improve our soil and vine health. We use cover crops of legumes, oats, vetch and compost from the vineyard's organic waste," said Richard. "It is our belief that you can only make great wine from great fruit, and great fruit comes from healthy vines. Our vines are completely hand tended from pruning through to picking, ensuring each vine is treated individually. It is the care, hard work and commitment throughout the year in the vineyard that forms the backbone of our wines."
---
85 Harrisons Road, Dromana, Victoria 3936
Phone: 03 5981 8688