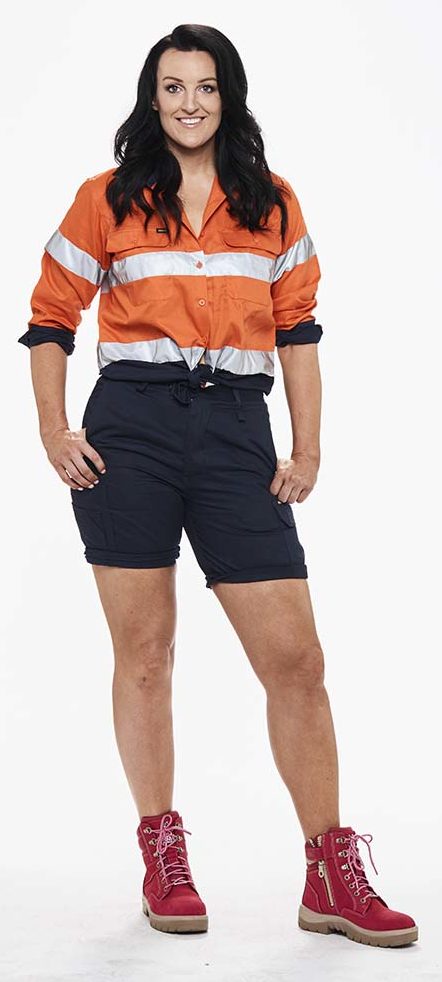 By Brodie Cowburn
Former Australian netball captain Bianca Chatfield has already forged an impressive career for herself as it is. Her list of achievements on the court is bigger than most would accomplish in a lifetime. She's a Commonwealth Games gold medallist for her country, a six time championship winner for her club, and a former captain and leader of both. Now retired and with her netball legacy cemented, Bianca has chosen a different path to further that long list of achievements.
Bianca and her former teammate and building partner Carla Dziwoki have swapped netballs for toolkits by signing up for Channel Nine's renovation show, The Block.
Bianca said she has had her eye on competing on the show for a couple of years now, and was partly inspired to give it a go by her dad, who works as a builder on the Mornington Peninsula.
"I have grown up having a builder for a dad, so I've always been around renovating. I'm also a huge fan of the show; I used to watch it and I wondered if I could ever do it. We applied last season and were shattered to miss out, so we had another crack at it and here we are. I was so shocked when we found out we were on, I felt so excited, scared, and nervous. It's just been one of the craziest things I've ever put myself up for," Bianca said.
Bianca had little experience when it came to building prior to joining the show, but said that a keen interest in real estate helped her come to the decision to take the leap and sign up.
"I had renovated two small apartments and mainly just given them a facelift and helped the tradies that were working on them. I did as much as I could, but I don't have a trade. However, I did take a lot of interest in real estate and some Saturdays I would just wander around different houses in the city that were open for inspection just to have a look. Carla and I would do it together and just spend our whole Saturday wandering around these properties almost dreaming of ones that we could buy. She renovated her first place a couple of years ago and I helped her a little bit with it, so I said to her that we should do something crazy and try The Block," she said.
This season the show has set the contestants an incredibly difficult task, to restore and work on the infamously derelict Gatwick Hotel in St Kilda. The run down building was first opened in the 1930s, and has previously been known for the high rate of vicious crime committed within its walls. The building shut its doors in July of last year after being purchased by Channel Nine.
"There were so many challenges that came with working on the Gatwick Hotel. The building is iconic in Melbourne, but not always for good reasons. The minute we walked in we were overwhelmed by the smell and the saturated carpet; it stank and was really gross inside. To think people used to live there too; it had a really sad feeling about it. We didn't know how they were sorting out who got what apartment and it was all a complete surprise," Bianca said.
Despite the confronting scenes and challenges laid out before her and Carla, Bianca said the duo never had any doubts about following through with the job.
"Funnily enough I never thought that I didn't want to do it. I think being an athlete, what you do is you look for all the information so you can know more about the problem and get cracking on it. That's what Carla and I were like when we walked in. We never had a thought of not wanting to do it, we just wanted to get started. The minute we went into the first room we just needed to throw everything out and start demolishing," she said.
Bianca's leap into the world of renovation is just the latest chapter in what has been an incredible life journey that started on the Mornington Peninsula. As a young girl she attended Flinders College in Tyabb, and it was on the peninsula that she first fell in love with the sport in which she would later become a star.
"I loved it down on the peninsula. My family is based in Somers, my parents and my two sisters all live there. It's really one of the most beautiful places in the world. Every time I get an opportunity to go down there, especially on the warm days, I'll be out on my paddleboard in the water," Bianca said.
"That's where I discovered my love for sport. Growing up down there you spend all of your weekends playing netball, basketball, and riding horses. You have so many opportunities to get active and I think that's where my passion for playing sport came from."
Bianca's foray into her sporting career started young, as she was signed to the Melbourne Phoenix in 1999 at only 16 years of age. During her time at the now 'defunct netball side', it won four premierships across just six years.
While at the Phoenix, Bianca was made the youngest ever member of the Australian Diamonds squad when she was called up to represent her country at just 18 years of age. She would go on to earn 59 caps for her country, and was part of the side that won the World Championships in 2007.
In 2008 her Phoenix side, which she was now captain of, merged with the Melbourne Kestrels to create the Melbourne Vixens. Bianca was appointed as co-captain for their inaugural season, and before long she was crowned champion again when her side won the 2009 Grand Final. She went on to captain the Vixens to another Grand Final triumph in 2014.
In that same year, she ended her international career on a high note after claiming a Commonwealth Games Gold Medal as part of a Diamonds side that defeated New Zealand in the final. She retired from all competitive netball in 2015.
While her latest step into renovation is a far cry from her previous life, Bianca said it has been an incredibly rewarding change of scenery.
"It's one of those things you just say 'Yes' to and worry about later. I think sometimes people get caught up in the fear of doing something they don't know how to do, but now I'd encourage anyone who is thinking about doing something like this to give it a go," she said.
"It's been hard, but it's been one of the best experiences of my life."
The Block airs on Sunday nights at 7pm on Channel Nine.