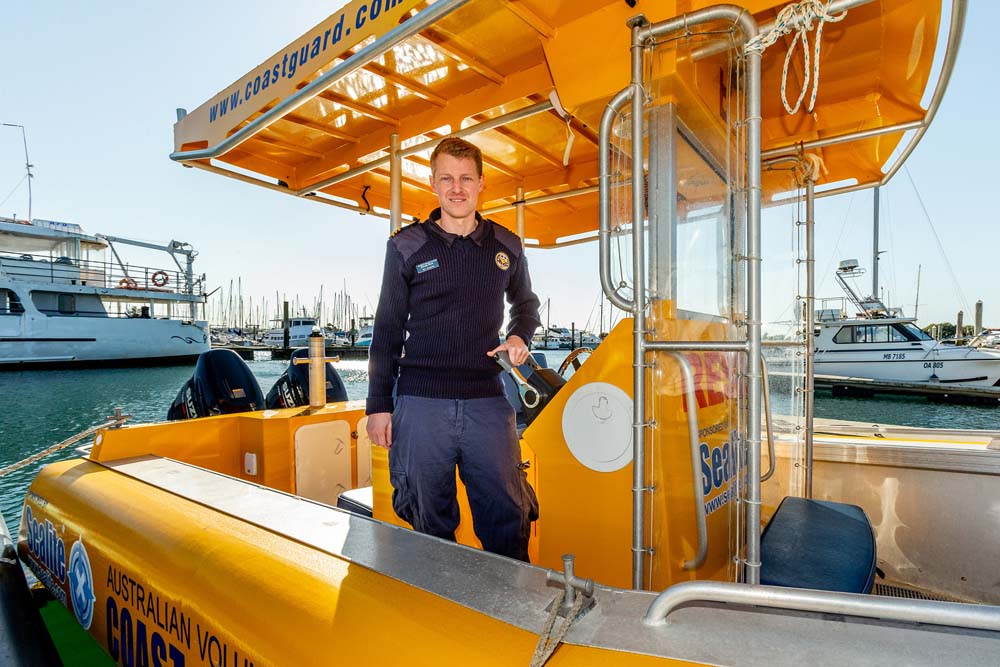 By Melissa Walsh Photos Gary Sissons
It's 3am and Jeremy West is asleep at home when the pager goes off to alert him that someone needs help in Western Port Bay. The Flotilla Commander, VF4, Jeremy is in charge of the Western Port Coast Guard, and has his hands full as this is the busiest Coast Guard flotilla in Victoria. For Jeremy and the sixty other volunteers at the Hastings flotilla, this is not even their full time job.
It takes a special kind of person to join the volunteer Coast Guard; with the chance they are putting their lives in danger every time they get a call out.
"We all do this on a voluntary basis and have people of all ages and backgrounds who are hands-on helping on an average of 160 incidents per year," said Jeremy, who has been Flotilla Commander for three and a half years.
During the day, Jeremy works in IT at Deakin University, and the rest of the time he oversees the running of the Western Port flotilla. He works alongside a group of volunteers from diverse backgrounds who have all joined to help those in the community.
"We have someone with a PhD, accountants, tradies, even an eighteen year old, one ex-navy and one current navy and a member who is just shy of eighty who has been in the coast guard for 50 years. We complete 160 activations each year, largely because we are the only Coast Guard flotilla in Western Port with an area from Cape Schanck to Western Port, down to Refuge Cove near Wilsons Prom, with a huge stretch running up to ten nautical miles off shore," said Jeremy.
"We cover a large piece of coastline with Bass Strait and a couple of treacherous parts leaving Western Port."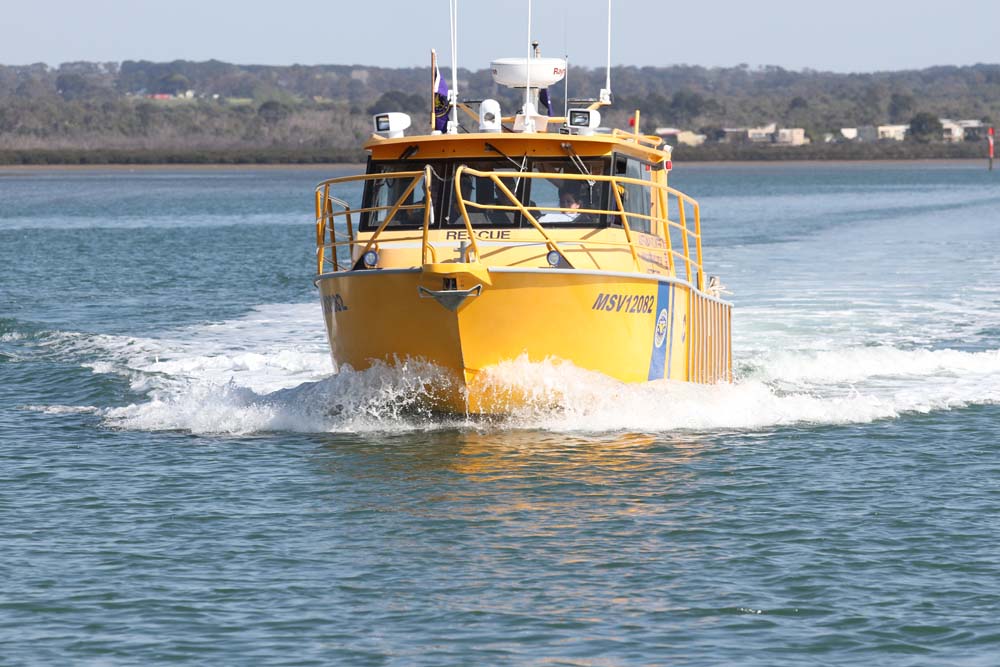 This particular night there is a rescue call that someone has drifted into Bass Strait. The swell is high and the boat hits bad water causing it to free fall two metres and hit the water. The skipper has been doing this for 35 years and assures the Coast Guard rescuers that all will be fine.
"Sometimes it can be pretty bad and you don't know what you're going to get. A couple of years back the Hastings Channel was so foggy that we couldn't see anything. When that happens the radar doesn't work and the compass struggles so you rely on your eyes," said Jeremy, who has been rescuing vessels and people for almost six years in the Western Port area. "On this occasion, one of the guys went out on deck and couldn't see the water. When it's minus three degrees, everything freezes on the boat so a frequently we ring the police and the disabled vessel to find out their situation. If they are okay we hang back to see if it clears. If not, we contact other services to get there before us."
Rescues tend to vary, depending on the time of the year.
"At the end of September, it is often people being stranded running out of fuel. Winter means a lot of flat batteries and mechanical failure particularly if the boat hasn't been serviced for a while. Then you get the more unusual things like the motor getting stuck in a shallow part of the bay, picking up swing moorings and those who fall off the boats," said Jeremy who says the flotilla experiences about one fatality a year. "We were lucky this year as we had a potential fatality. It was a bad storm and the person was kayaking. Fortunately we were able to rescue them."
Jeremy says the most common fatalities in winter occur with older gentlemen who have been out on the boat and become very cold. "They lose track of the time and have been seated for a while. When they stand up their legs are numb and they may fall over or even have a heart attack."
With six years of rescues under his belt, Jeremy says you learn to gauge quickly what might be a difficult operation.
"It all depends on location, and the information we get initially. Some people ring up and don't know where they are. We had one six months ago who said he was in one location but was actually 17 miles from there. We get them to describe their surrounds and landmarks and it turned out he was in Bass Strait. We can get approximate locations by the spotting of flares as well or people calling in to say they have seen something suspicious," he said.
As for dealing with fatalities, Jeremy explains there is good welfare plans in place for the members. "We are very lucky to have a chaplain here and we have excellent support networks for our members if there is a fatality. One time there were three in a short space of time and that was hard to handle but that is very rare," said Jeremy, explaining that it is all about preparation when you go out on the water. "It doesn't matter if it's a boat, a jet ski or a kayak, you must have life jackets. They make all the difference to survival. If you don't have one there is only about five to ten centimetres bobbing out of the water. With one we have your shoulders and head and the colour of the jacket which makes it easier to locate. "For the Western Port Coast Guard, education is a major part of avoiding marine incidents. "We educate all people on the importance of life jackets, current flares, and safety procedures. The water in Western Port is more high risk than Port Phillip Bay. It is known for its high tidal flow; it's shallow in places and can be choppy. The tide can run out of Western Port at 10 knots which is very fast. With an incoming or outgoing tide, the person falling in will start to move very quickly," he said.
For the members at the Western Port Coast Guard there have also been some unusual rescues. "We have picked up a fridge in the bay, people floating around on flamingos, and rescued a koala from Warneet that was hanging on to some moorings. We have towed hovercrafts built for a Tokyo airport, helicopters, a propeller that had fallen off a light aircraft that landed in the mangroves, and attended a fire on Sandstone Island."
For the dedicated members of the Coast Guard, it is all par for the course, yet funding is desperately needed.
"This is the first year we have any government funding but still have a shortfall of around $15,000. Each member does fundraising throughout the year and we hold things like trivia nights and raffles to raise some money. We also have a great sponsor with Sealite which we are very grateful for," said Jeremy of the organisation that plays an extremely important role in the safety of mariners around our coastline, and far out to sea.
Each year the Western Port Coast Guard volunteers perform hundreds of activations. Rescues range from assisting sinking vessels, vessels with flat batteries and other mechanical problems, vessels that have run aground and often towing these disabled vessels back to safe harbour. As well, when emergencies arise, Western Port Coast Guard is often called upon to perform Medivac responses from hard -to-reach islands and beaches and to provide crucial search and rescue functions for persons who may be lost or missing at sea or in other waterways.
"Our vessels must be maintained to commercial standards and be ready to respond 24 hours a day. It takes a great deal of dedication from our volunteers to fund-raise and be actively involved in operations. It is a wonderful social community to be a part of and we are always looking for more volunteers."
---