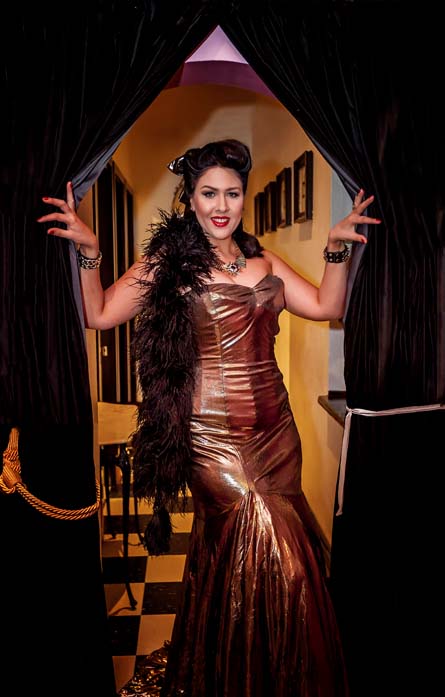 By Melissa Walsh   Photos Yanni
Is standing up on stage in your underwear as scary as it sounds? Corset's not. Just ask burlesque beauty, Gemma Sheree, a burlesque teacher, hair and make-up artist, and founder of Gloriana Burlesque.
"My passion is for burlesque, teaching for 'Dance Heels up Dance School' in Somerville, performing around Melbourne and putting on shows," said the UK born 37 year old who now lives in Rye with her husband. "I love art, everything from 17th century European portraiture to pop art. I was obsessed with Andy Warhol as a teenager, as well as 1970's punk rock, drag queens, the rebellious designs of Vivienne Westwood, Jean Paul Gaultier and Thierry Mugler. I used to borrow all the fashion and art books from the library and just update them every fortnight so I could keep them at my house. Hollywood legends also intrigued me. My favourite was Marlene Dietrich."
Gemma says her venture into burlesque was a natural progression, given her love of dressing up and all things glamorous. But it was her move to Bath in England that sealed the deal.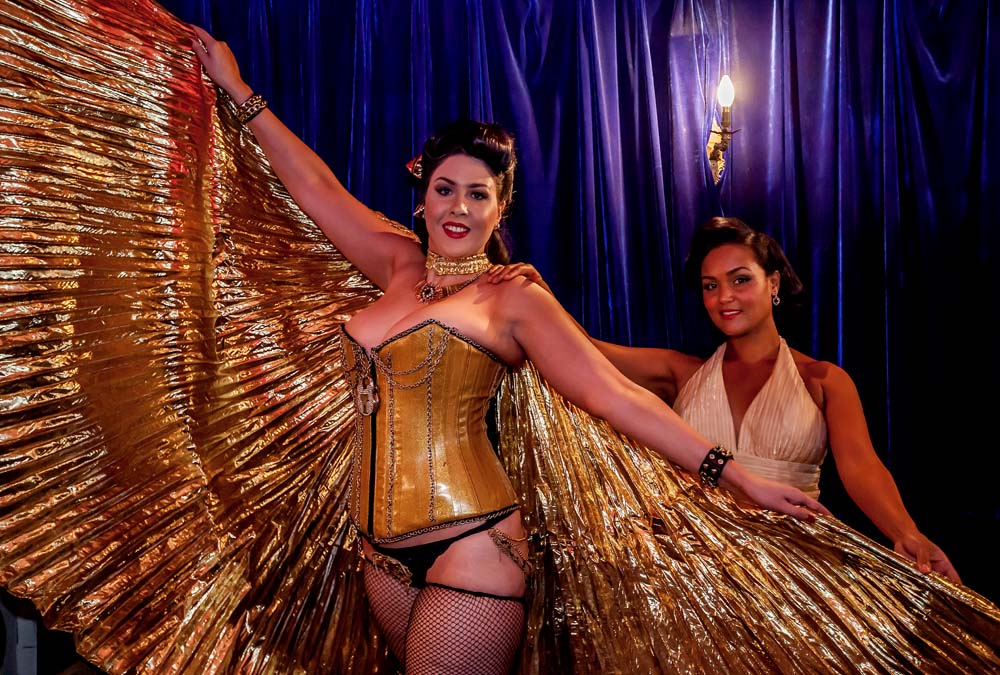 "I used to go to shows but it wasn't until I met my burlesque mentor Venus Noir that I began taking lessons and developing my act properly. My first act was a Marie Antoinette style fan dance. People say I'm a 'glamazon' so I began to lean more towards the classic burlesque, with the feathers and corsets, rather than the comedy or neo styles. When I design a new costume I draw pictures of my ideas and I make what I can. I assign the really complicated pieces such as corsets and gowns to costumiers. It's worth investing in amazing costumes. A well-made corset will last forever and hopefully will someday be found in a dusty box in an attic, ready to inspire burlesque performers of the future."
"Most girls only get to wear a fabulous princess gown on their wedding day. I get to dress up in glamorous costumes as a job," said the dancer who introduced the first ever burlesque show to the Western Port side of the peninsula in April to astounding success.
"Our first show at the Westernport Hotel was fabulous and we have another booked for Saturday July 15," said Gemma, who ran sell-out burlesque shows in the UK for four years before moving back to Australia. "At present, this is the only burlesque event offered on the Mornington Peninsula and was sold out in days. These shows are most popular among women and older people and those who like to dress in the vintage style."
Gloriana Burlesque features several award winners, including Bella De Jac as headliner for the second show.
"Bella De Jac is a superb performer, who won Miss Burlesque Australia 2015 and we are thrilled to have her in our next show," said Gemma.
Known as the art of tease, burlesque combines beautiful or outrageous costumes and themes with striptease to tantalise the eyes and the mind. Gemma explains that the different forms of striptease can be glamorous and classy, bawdy, or downright shocking depending on the performance.
"Each performer is different in terms of what they want to reveal and how many pieces of clothing they actually remove. I personally like starting with a lot of clothing and remove it one at a time to get down to usually a G-string and pasties. I have seen other performers who only take off two pieces of clothing over a period of ten minutes but you are totally mesmerised," said Gemma, explaining most performers will wear a classic gown, pair of gloves, corset, bra, G-string, panel belt and stockings.
As far as nerves on stage, Gemma says the first time she performed she was terrified.
"I wasn't concerned about taking my clothes off and people seeing my body but I was worried I was going to forget my choreography and stuff up the act," she said. "It's all about the performance and the art of striptease."
The adage 'less is more' certainly doesn't apply to burlesque costumes which are over the top in the best possible way with feathers, glitter, sequins, bows and ribbons helping create the spectacle on the stage.
"To make a burlesque costume takes more than one person. You certainly don't get the whole thing from one costumier and there is no burlesque shop you can go to," explains Gemma. "I draw a design of what I want and then send it to the costumier in Australia or New Zealand. You get the corset made by somebody else and a different person to embellish the shoes. Some of our costumes will be hand bead at home by the girls and I have been known to do that in front of the TV."
For Gemma and the other burlesque performers, part of the thrill is taking the audience on a journey back in time to the old Hollywood days.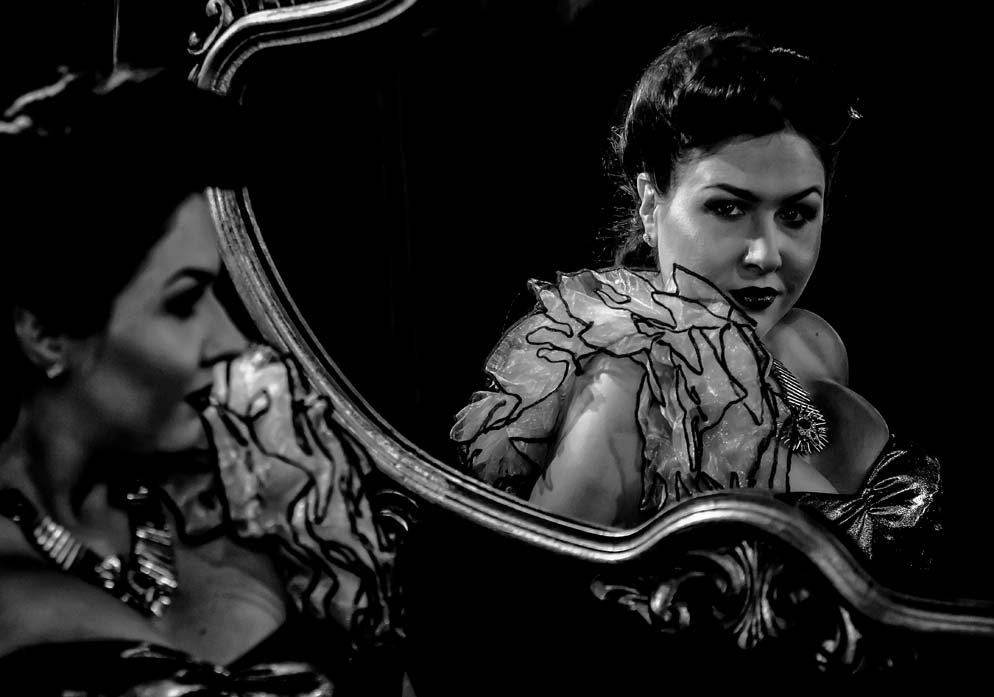 "When you walk into our burlesque show, you are stepping into another era with that wonderful vintage glamour of the Hollywood legends. In our industry it is important to hold our burlesque legends in high regard. It is a tribute to their incredible work and we are honoured to keep it alive."
---
Gloriana Burlesque will be performing at:
Westernport Hotel, 16 High Street, Hastings
Saturday July 15, 2017.
For tickets go to www.westernporthotel.com.au
For further details about Gloriana Burlesque, check out the facebook page.