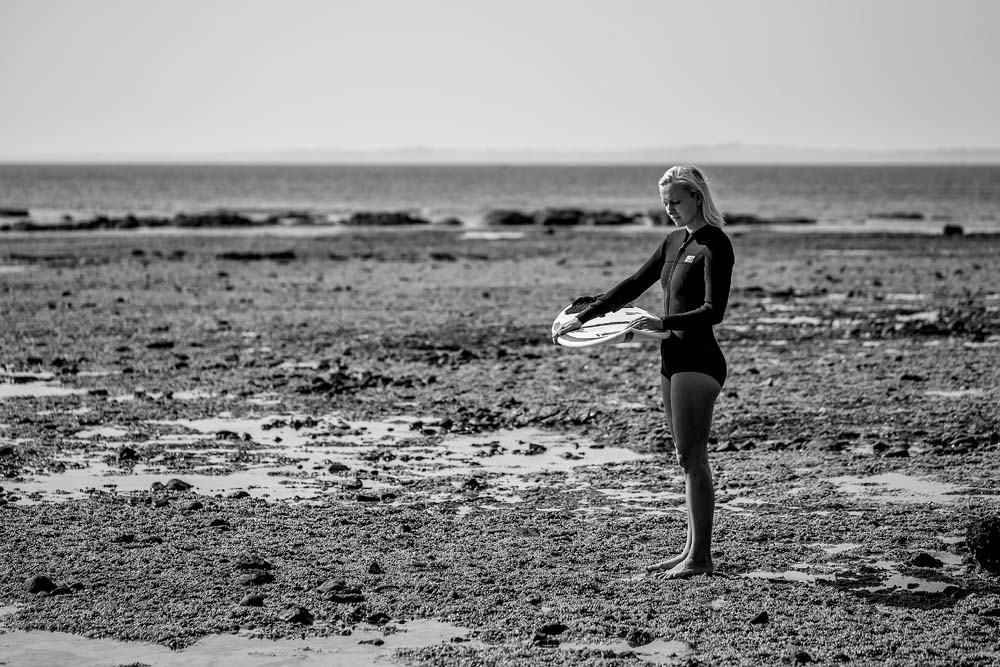 By Melissa Walsh  Photos Yanni
Georgia Fish wakes up in the morning, walks out her door and straight down to the beach to practice her surfing; it's an easy walk for the athlete down the clifftop face of her Flinders property. Often her two dogs might follow and frolic in the water or chase a seal or seagull. Somewhere there's a wave out there for her. The warm, salty water crushes over her as she waits patiently for the universe to send her the one wave with her name on it.
When it's time for breakfast she treks back up to the family home and blends up a healthy mixture of green vegetables and blueberries or perhaps some blackberries she has picked on the way back from her surf. She checks some emails and gets stuck into her weights or yoga depending on her mood. She might even meditate.
Sounds like a cruisy life but don't be fooled; this 23 year old is more driven and determined than most people twice her age which is how she became a pro surfer since her teen years, and has already made the quarter finals in the world championships four years running. At the moment she is training for the Rip Curl Pro so has pumped up the training schedule even more.
Georgia has never been one to sit on the beach watching. Ever since she was a little girl, she tried her hand at anything, and was determined to succeed at whatever she did, even making the state diving team at just 10 years of age. At 23, the peninsula girl is a professional surfer, traveller, writer, yogi and health mentor.
"It all started with nippers when I was a kid. We were living in Brighton and would come down to Flinders to do nippers on the weekends. I loved it and felt at home straight away in the water. One of the girls I became friends with asked me to go surfing with her and I was hooked. We would go to little shore breaks with her dad and it was awesome," said Georgia, whose own dad had also been a surfer back in the day. "Even my dad started to get back into it, and then my sister followed and now even mum surfs."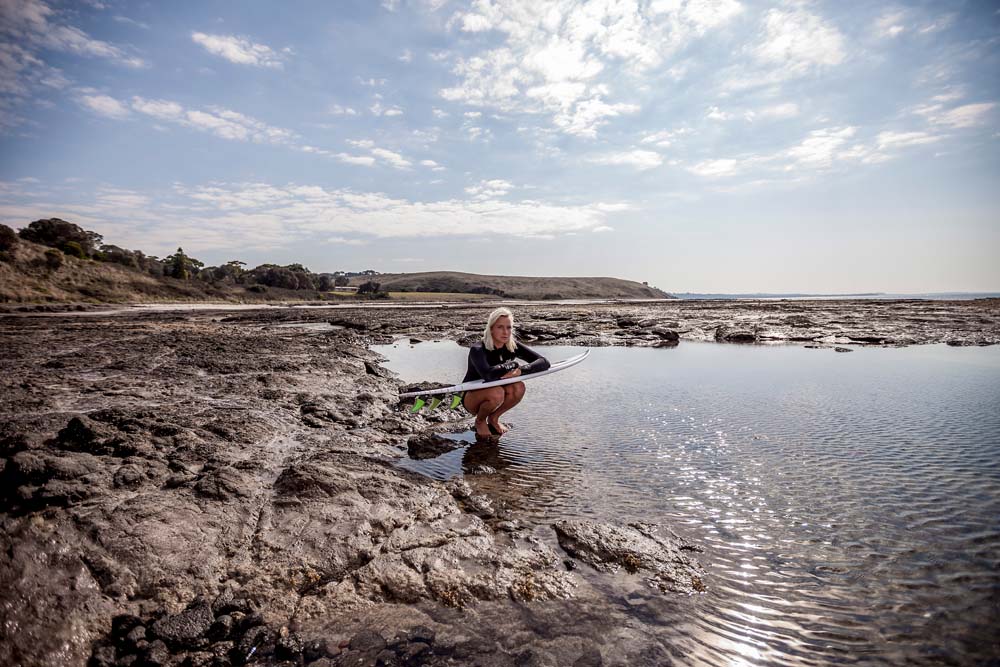 By the time Georgia was about to start high school, the family decided on a sea change and bought their first property in Flinders. Georgia and her older sister, Alex, went to Toorak College where the girls learnt to get into surfing even more. Even now, Georgia still holds an affiliation with the surf program the school runs and has been a judge on occasions.
"I started out doing grommet contests and quickly learnt that it is a very male dominated industry, which has made it challenging over the years. Getting sponsorship as a woman is really difficult as a lot of the surf companies put money towards the male athletes. At this level the prize money is substantially different as well. When men and women's contests are aligned, men get priority over the waves," said Georgia. "I understand why it used to be that way as men were substantially better than the women in the early days. In the past their abilities have been superior but it is now at the point where the ability of men and women is levelling out and the quality of women's surfing has improved dramatically. Unfortunately the WSL hasn't kept up with those changes."
Georgia says many of the female surfers feel the same and have tried to make changes in the industry but to no avail.
"We approached the World Surf League (WSL) in February last year to get more female surfers in the competition. At the moment there are 17 girls on the main tour and 32 men. It is hard to break through, and make positive changes though. Me and Paige Hareb started a movement to talk to the surfing body about making positive changes as all the competitors were having the same issue but they said there would not be any changes until three years," said Georgia, who has brief moments of disappointment but is determined to be relentless in her pursuits to do well personally and improve the sport for women.
"I have had moments in the past two years where I have felt defeated by it, but then I have a break think about why I started and it refuels me," she said of the sport that is more a passion. "The thing is I have an insane connection with the ocean and natural environment. I am my happiest when in the water or on the beach. Still to this day if I go out and surf it brings me so much joy. It has taught me a lifestyle that I absolutely love where I have to take into consideration my nutrition, my fitness and it helps me live a mindful life."
It wasn't always smooth seas for Georgia who, in her teenage years, fell ill with an immune related sickness, which left her tired and depressed at times. For this wise young soul, however, it was all part of her learning journey, with her mantra "through struggle comes the most growth".
"Mum was always health conscious with what she packed in our lunches but I got quite sick from 14 to 18 with chronic fatigue and other debilitating illness. I had to work out what was wrong and it ended up coming down to food and my mental state. I am grateful that it happened as otherwise I would never have learnt to incorporate yoga and meditation into my routine," said Georgia. "I had a lot of times when I felt anxious and defeated during those years but deep down I just had to keep going. It made me do a lot of soul searching very early on to work out who I was and what I needed so I am actually lucky it all happened. I found out very young just what I needed to be doing. I had to go away and work out who I was and what I wanted in my life, adapting my lifestyle to creating the best version of myself."
For Georgia, the proudest moments in her surfing career would have to be winning through to the quarter finals on the Australian Open four years running from 2013 to 2016.
"It was amazing. It all came together for me. I had an amazing energy about myself and was really controlled," said the athlete, who attributes her balanced attitude to a combination of meditation, yoga, Pilates, weights and surf training.
"Yoga and Pilates are perfect for strength, flexibility and injury prevention. I got into yoga through mum and would say I am almost as passionate about it as my surfing."
These days sponsorship is the biggest hurdle for this young surfer to get over, as her career and training is dependent on it.
"I am currently actively seeking sponsorship as it is my only source of income," said Georgia, who is happy to align with local business in any industry. "I am happy to help promote other business including the surf industry, with an online presence, social media support and am looking forward to being more hands on with helping the promotional aspect."
With a career that has taken her all over the world from South America to California, Europe and Indonesia, Georgia says her favourite surfing memory was on a family holiday in West Timor.
"We had gone on an exploratory trip to an untouched area in West Timor and I remember surfing with mum, dad and my sister on the most amazing waves. It is a time I will never forget," she said.
When it comes to advice for other young women wanting to get into surf contests, Georgia says it is important to remember certain things.
"Always be yourself. Find out who you are and be true to that. Know yourself and what is good for you with food, exercise and all aspects of your life. And try not to get caught up in the way you look. For women in surfing there has been a tendency to put too much emphasis on looks and less on talent," said Georgia who knows all too well the pressure put on women. "I fell for that once when I was a teenager. My friends and I wore certain things to get attention from the surf community. Now I know that if a sponsor wants to be aligned with me it will be as my authentic self, and not a fake version."
With her dad's advice "the harder you work, the luckier you get" it seems like Georgia Fish is destined for an even bigger future.
"My most tangible goal is to make the world tour and then I want to be world champion," she said.
---
If you are interested in sponsoring Georgia, or want to keep up to date with her journey, go to www.georgiafish.com.au