By Melissa Walsh   Photos Yanni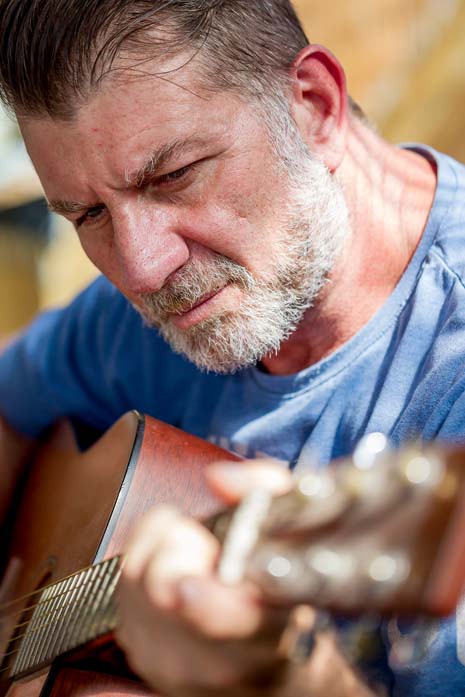 Music is a moral law. It gives a soul to the universe, wings to the mind, flight to the imagination, a charm to sadness, and life to everything. It is the essence of order, and leads to all that is good, just and beautiful, of which it is the invisible, but nevertheless dazzling, passionate, and eternal form (Plato).
When it comes to male singers, a husky voice with sultry looks is a great combination. The peninsula's own Nigel Brooker has an undeniable charisma and talent that has allowed him to work as an entertainer for three decades, and there is no sign this crooner will stop any time soon. But for this performer, there is so much more to the music than just good looks and being able to hold a tune.
With a slight English accent that is still noticeable, Camden- born Nigel was one of the last 10 pound poms to come out to Australia.
"I was born in Camden Town in North London and came to Australia when I was eight years old," says the 52 year old. "It was 1972 and we moved to Coburg as mum had family there. We were the last of the ten pound poms, coming out on the ship with my mother, brother and sister as dad was already here."
Nigel was a singer first and foremost, and would sing around the house constantly from the time he was a small child.
"I was obsessed with singing and learning a whole song from start to finish in my head. I would just practice in my room as if I was on stage so I could sing it from start to finish," he says with a laugh. "Mum was a brilliant singer and would make up songs all the time. She has a photo of herself with musicians that look like Buddy Holly and it was always a big part of her life. When I was young she would say 'Give me a word and I will find a song with that word in it', and she would start singing 'do the dishes' while we did the dishes. My brother, two cousins and I are all musicians which we get from mum's side."
With the sweet sounds of Roberta Flack, The Temptations, Marvin Gaye, Rod Stewart, and Motown filling the house, it was a natural progression for young Nigel to be consumed with a passion for music.
When the family moved to the peninsula in 1976, the 12 year old turned his hand to the guitar which he was given as a Christmas present the year before.
"By the time I was 15; I started picking up the guitar and would sing at concerts at school all the time. I would always be called on to be the singer in plays," said the natural born performer who went to Karingal High School for a couple of years and then to John Paul College. "Singing and being on stage has always been the place I feel the most myself. The stage is the one place I don't get nervous. I always have butterflies before a gig and for me that is an important part of the preparation. If I don't get nervous, it means I must be over it."
Nigel says that, to this day, once he starts playing a cloak comes over him and he slips straight into the zone.
"I was always like that and still am. I feel the most myself when I am playing; it's exactly who I am, and where I'm meant to be."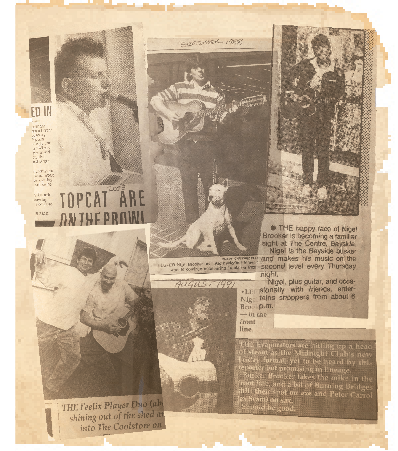 The call of the music has followed Nigel his entire life, from a young guy busking outside Flinders Street Station, and hitchhiking across the Nullarbor to Western Australia to busk in the Hay Street Mall, to making friends with local musicians and always being involved in the music scene on the peninsula.
"I started forming bands in my teens and eventually became mates with Barry Donohue, the guy I play with in Feelix Player now. We played footy together in Langwarrin and, unbeknown to me he was also a muso. We started our first band together, the Lounge Lizards, in 1984, and played lots of gigs together with a drummer and a bass player," said Nigel of a collaboration that has lasted 20 years.
It wasn't until 1994 that Nigel decided to get a 'real' job and started nursing.
"I had been busking across the country when I was 20 and thought I would get discovered like my idol, Rod Stewart who was discovered busking. Of course I didn't but I had a fantastic time, met and sang with some amazing people. I hitchhiked with my guitar across the county to WA. When I stood there in the centre of Perth I only knew six songs from start to finish so just kept playing them over and over again. I earnt $40 on the day which was a lot then so kept going back. I met up with other buskers and when we sang together we would gather a crowd of fifty people instantly, so I stayed there for six or seven months, then travelled up north of Perth and over to Adelaide where I busked in the Rundle Mall," said Nigel, who finally came back to the peninsula after feeling a little homesick. "It took a couple of years but I realised for me music would be a hobby and I needed to have a career so I started nursing, following in my mum's footsteps once again."
While he loved working as a nurse, performing was in his blood so Nigel continued to work in clubs and pubs across the peninsula.
"I played in most of the pubs in Frankston in my late 20s and early 30s. I remember the Pier Hotel public bar was called The Snake Pit and it was just how you would imagine," said Nigel, who was accepted as a local by this stage. "There were a lot of rough diamonds and I was one of them, and a lot of awesome musos who performed there, and there were never any problems."
In between bands, Nigel spent a lot of time doing solo gigs at The Pier, The Vines, and eventually in Mornington at the Backyard Bar and then Beaches, and was involved in one of the first original music bands to play at the Royal Hotel.
"I was in a band with my cousin, David Williams, and he wrote a lot of original songs. We learned guitar together from the time we were 14, practicing in our sheds where we grew up in Langwarrin. We came second in a competition in the early 90s and the paper put a massive pic and write up about us but nothing about the winner, which we thought was hilarious," said Nigel, who only ever took one hiatus from music. "For about three years from 1995 I stopped playing, worked as a nurse and had time with my family. One day, out of the blue, I just didn't want to play anymore.  I would try to play guitar and couldn't get through a song and I remember saying to myself l 'I think I might be finished as a musician'. I looked at my guitar and had no desire to pick it up which made me really sad as it was something I had done my whole life."
It wasn't long before the muse returned and Nigel was back under the spotlight where he most belongs, and is now the longest running performer on the peninsula with his band Feelix Player performing monthly at the Grand Hotel Sports Bar, Frankston, regular Sunday sessions and most long weekends at Beaches for the last 10 years, and a regular gig at The New Atrium in Dromana.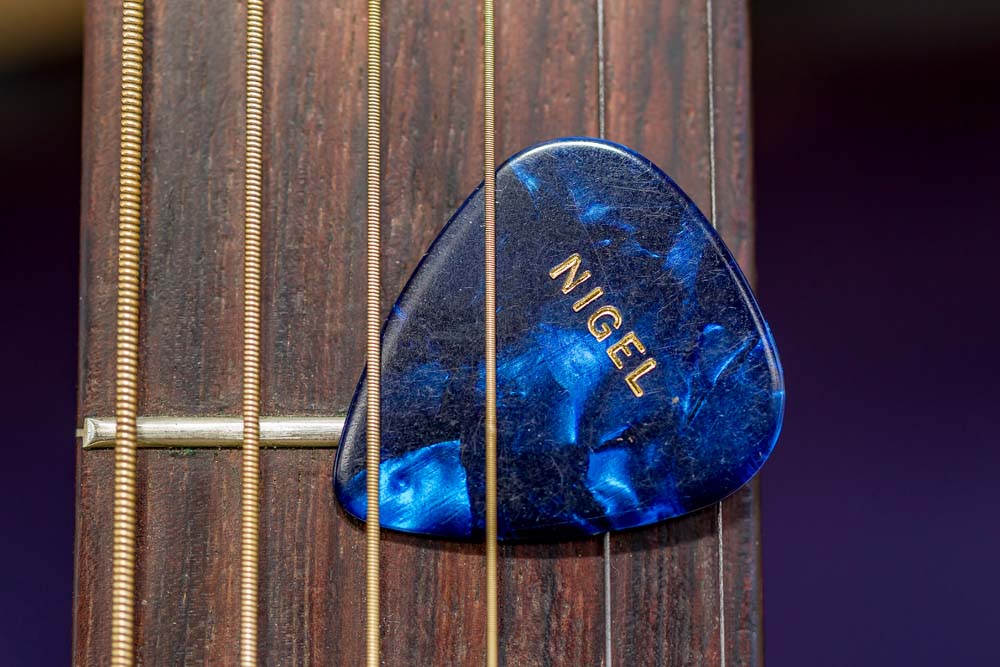 "I think I have lasted this long because of pure passion, nothing more. For me if I don't play I can feel it. It's not the same playing in my lounge room as it is getting up on stage. And I love it when people say 'That was fantastic'. Not I am fantastic but the experience was. That's the biggest thrill of all having people sit there and really enjoy a song."
---
For further information or to book Feelix Player, phone 0416 468 493.