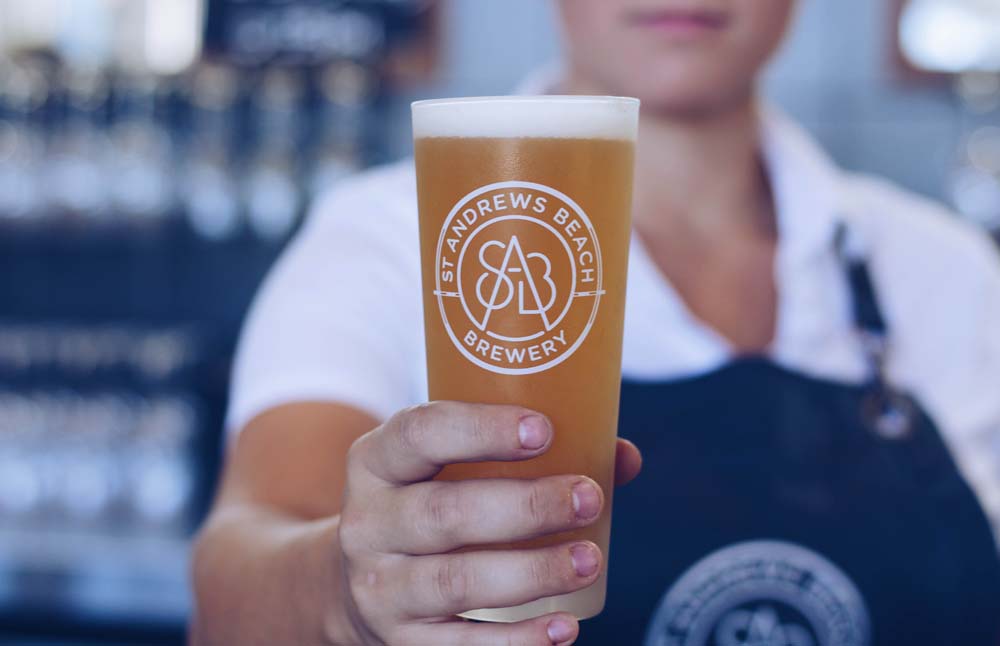 By Brodie Cowburn Pictures Ebony Elise
Situated on a sprawling 92 acre property, the newly opened St Andrews Beach Brewery is certainly as unique as breweries come on the peninsula.
A visit to the Fingal property 15 years ago would have seen you walking into a facility for horse training, which housed up to 80 thoroughbred horses and featured its own 1200 metre grass training track. After a significant facelift, the centre of the old horse training facility is now where you will find a truly one-of-a-kind brewery.
"The property used to be the Freedman brothers horse training facility from about 2001 to 2014, and in that time they were super successful, they had; over a hundred Group One winning horses in that time," said Business Development Manager Tim Purchase.
"My dad Andrew, who is part owner of the business, helped to build the track back in 2001, so he's been good mates with previous owners. When they stopped training here he saw the potential of what we had here, and went about his vision of turning it into a craft brewery."
The training facilities on the property had previously been the home of many champion racehorses, such as Makybe Diva, who won the Melbourne Cup on three consecutive occasions, becoming the first horse to ever win the Melbourne Cup three times.
After having previously set up a small microbrewery in the south of France with a friend, co-owner, Tim's father Andrew Purchase set about the ambitious task of turning the one time race horse home into a state of the art brewery.
"He saw a bit of a gap in the market, didn't think there were any breweries of this scale down here, and because he knew the infrastructure he thought, 'why not?' This was a perfect opportunity to build something really unique," said Tim.
Given the unique situation of being placed on a repurposed facility for horses, the brewery has a distinct look and atmosphere. The former boxes that were once home to some incredible racing pedigree have been converted into sitting areas. Visitors can now relax in a past Melbourne Cup winner's box while enjoying freshly brewed beers full of flavour and character. They can also grab something to eat while enjoying great conversations with friends and family.
"Once you walk in it gives you a feel as to what the stables used to look like. We've refurbished the boxes into tables you can book, which are a pretty private space for people to come down and enjoy our beers and something from our kitchen," said Tim.
"It's a super relaxed atmosphere as well; we've got a beer garden in the centre of it with tables and umbrellas. You can also walk through the beer garden into our indoor area where our bar is. When you order your drinks you can look straight into the brew house."
In addition to the transformation of the horse training facility, the former 1200 metre racetrack is now home to a variety of 8000 picturesque apple and pear trees, and the former stables is where you will find sheep, pigs and free range chickens.
"With these apple and pear trees, we hope to be producing our own cider on site within four years. We've also planted a two acre vegetable garden to use in our kitchen, and we've also planted an acre of hops which we hope to use in the brew house as well. We're hoping to be a fully integrated, self-sustaining brewery," Tim said.
St Andrews Beach Brewery brew on-site using some of the finest aroma hops and heirloom variety malt to ensure each beer tastes fresh and flavoursome. Inspired by the unique story of the property, the core range of beers include US Pale Ale, Australian Lager, Golden Ale and Pilsner.
"Our master brewer, Dermot O'Donnell, came up with all of the recipes for them, and then we've got a head day-to-day brewer, Matt Stitt. When you come to the brewery you can have more than one variety and not get tired of them, that's what we were aiming for," said Tim.
Master Brewer Dermot O'Donnell boasts over 50 years of experience in the industry, having previously worked as a brewer at Asahi International, CUB, and Tooheys.
Visitors can also enjoy something to eat from a delicious snack menu, with the team at the St Andrews Beach brewery having traded five star horses for five star courses. The menu consists of a variety of small plates, share plates, salads, pizzas, and burgers that go hand in hand with the core range of craft beers.
The property is also surrounded by a number of the peninsula landmarks and is nestled comfortably amongst some of the area's biggest attractions.
"We are dead centre in the middle of the local golf courses around here, and then also the hot springs are over the back fence, so we're surrounded by tourist attractions," Tim said.
To sit in the former box of Melbourne Cup winning horses, and enjoy a beer from the St Andrews Beach Brewery core range of beers on tap, come in and visit St Andrews Beach Brewery for yourself. There are tasting paddles, and the whole place is family friendly with a kids menu available.
---
St Andrews Beach Brewery is found at 160 Sandy Road, Fingal.
More information is available at www.standrewsbeachbrewery.com.au.
They can be contacted at 5988 6854