By Brodie Cowburn  Pictures: Gary Sissons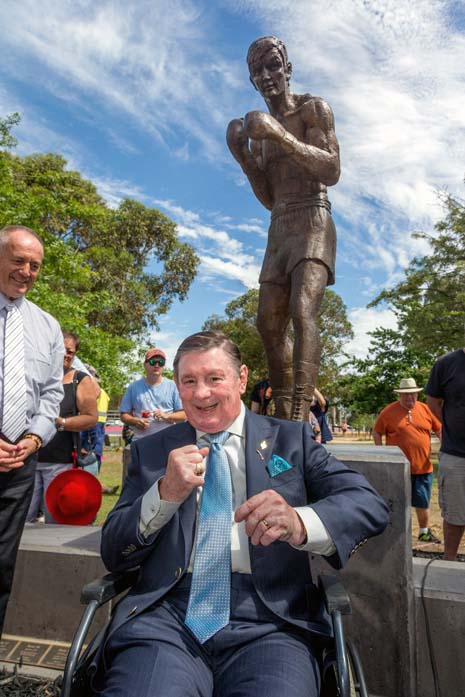 Boxing Legend. World Champion. Survivor. Johnny Famechon's life has been one full of accomplishment, and now the champion boxer has been recognised for an outstanding career and an outstanding life with the unveiling of his statue at Ballam Park in Frankston.
The journey to get the statue finished and installed has been full of complications, and at times it looked as if the project would be left unfinished. When the project was at its lowest point, Gary Luscombe was among those who put their hand up to help save it in honour of one of the finest boxers Australia has ever produced.
"I came in to help with fundraising from about 2013. They couldn't get funding and they couldn't get sponsors so they were going to cancel it, and I decided to try some fundraising efforts to keep it going. We ended up fundraising until it was finished," said Gary.
"This was too important to be left unfinished, it had to be done. Johnny is a great Australian, and I had to help keep it going."
The statue, which was officially unveiled on the 21st of January, has been in the works for a number of years, with sculptor Stephen Glassborow first being tapped on the shoulder to work on the statue in 2010.
"The sculptor had already done a statue of Lionel Rose and the statue of John Coleman in Hastings. At the opening of Lionel Rose's statue, Lionel Rose said to Stephen Glassborow that he wanted him to do a statue of his mate 'Fammo', and that's how it was commissioned," said Gary.
Famechon's storied career ranks among the best in Australian boxing history, with his lengthy list of achievements headlined by his WBC Featherweight Championship victory in 1969.
Famechon won his world title against the far more experienced Jose Legra in the main event at Royal Albert Hall in the UK. On arrival home, Famechon was greeted by a parade with hundreds of thousands in attendance.
He made his professional debut at a little over 16 years old, and just three years later, he was the Victorian State champion in his weight division. His rise was quick and meteoric, and he showed experience and class beyond his young years.
Famechon was younger than all of the boxers he defeated in World Title bouts.
Famechon was known for being a tenacious boxer who could defend well and grind out difficult results. While many of his wins came by decision, he also won plenty of matches by knockout, once decisively defending his world championship via KO.
After holding the championship for more than a year, Famechon lost the WBC World Featherweight Title by decision to top contender Vicente Salvidar, who entered the bout with an impressive record of 35 wins and 1 loss. This was Famechon's first professional loss in nearly half a decade. He retired afterwards, leaving the sport having never been knocked out with 56 wins to his name, a career so impressive that it is only fitting it be recognised with a statue.
"Johnny is so honoured to have the statue built. He's so happy the people of Frankston and the boxing people all worked together to pull it off. He's very excited," said Gary.
Johnny Famechon was born as Jean-Pierre and moved to Australia from France as a young child. He is a long term resident of Frankston, and is still living there today with his wife. In the early 90s, Famechon was hit by a car, and had to learn to walk and talk again.
"He wasn't just one of the greatest Australian boxers; he was one of the greatest Australian sportspeople. He was a fighter back then and when he had his accident he showed he was a fighter and inspired people again. He's been an inspiration to people his whole life," Gary said.
"This statue is a dream come true. It's a boxing statue of a boxing legend built by the boxing people. It needed to be done. I'm very proud."
Fifty-nine years to the day since his famed title win, he has had his likeness set in bronze, ensuring that future generations learn and remember the story of Johnny Famechon, champion of the world.