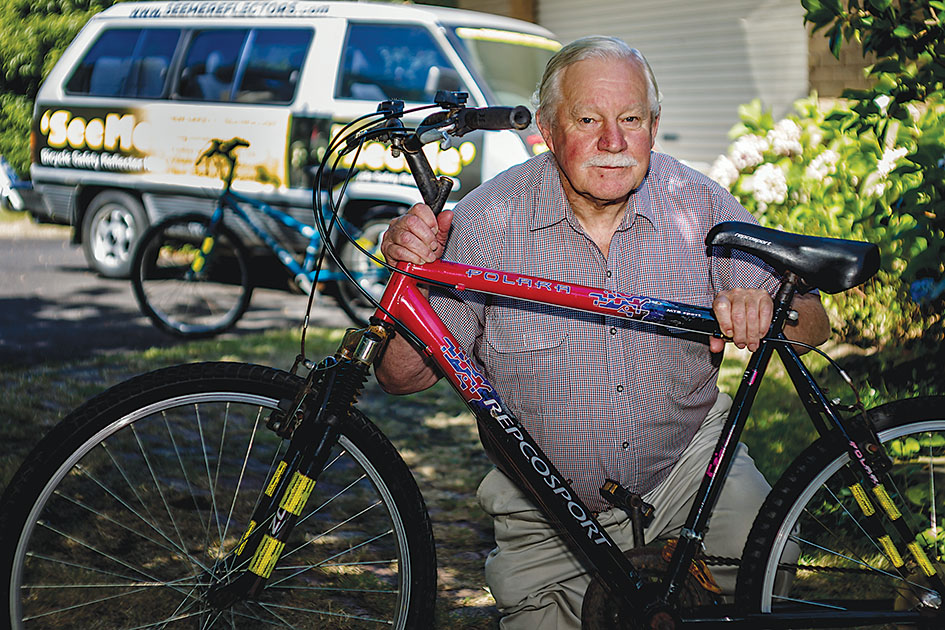 By Brodie Cowburn  Photo Yanni
After a handful of frightening, unavoidable, near misses while driving his car, Mt. Eliza resident Arthur Ranken decided to take the safety of cyclists sharing the road with him into his own hands.
The result has been the development of Arthur's 'SeeMe' reflectors, a brand of self-adhesive reflector segments designed to be placed on bicycle frames, helping to increase visibility and giving drivers more time to react and slow down for cyclists when driving at night.
"They're made with no batteries, no moving parts, and no plastic mounts to break, just a strong, reflective, adhesive material. They create visibility for bicycles at a distance of 160 metres in low beam lighting from any direction. A lot of thought, research, and planning has gone into the product," said Arthur.
"This campaign is very important, because it's designed to dramatically reduce accidents involving bicycles and cars."
Each pack of SeeMe Reflectors comes with installation instructions, a spacing guide, and eight self-adhesive reflective segments, designed to be placed around the forks on the front and back of the bicycle. They are designed to be arranged in blocks of four, so that riders can be identified easily and be visible from any angle at night.
"As you drive along you'll see a block of four reflectors on the back of the bicycle, which will tell you that it's a bicycle and not another vehicle. It's important to identify that it's a bicycle because they are the hardest to see on the road and the most vulnerable to accidents," Arthur said.
Arthur says the reflectors are made using some of the latest high powered flexible reflective material available, and that the product will be locally made in Victoria in Carrum Downs. Unlike other reflective materials on the market, SeeMe Reflectors are designed specifically for bikes.
"I hope that parents make the disciplined decision that their children must have these reflectors fitted permanently to their bicycles. What you might get at hardware stores is limited in size and could peel back," he said.
"These things are designed to stay for life. I only obtained prototype samples of it from overseas last February and that was the first material that met all the specifications that I needed to create the SeeMe reflector product. It conforms to transport illumination regulations, there's been heavy research involved, and we're catering for bicycles."
Arthur is hoping to take his SeeMe Reflectors around schools state wide to promote them to children. He hopes that if all children were to use reflectors on their bikes, the number of accidents involving kids on bikes will fall substantially.
"I'm starting a campaign in all the schools to try and plan a fundraising effort with them and get these reflectors onto bicycles for school and teenage kids. It's been developed as a community effort, and the product really works well. So far I have circulated SeeMe Reflector information to about 90 schools on the Peninsula with a fundraising element included. Flinders Christian Community College in Tyabb has been a leader in taking advantage of this offer," he said.
The project has been in the works for a number of years for Arthur, who hopes his self-adhesive reflectors will provide greater security and peace of mind for both cyclists and drivers sharing the roads.
"This has been brought about by the fact that it's taken me five years to find answers after struggling to see kids on their bikes at night with no reflectors or lights on. I saw a way this could be overcome. I got into production late last year, and this year is the year we'll be pushing the product as much as we can," he said.
"All vehicle operators, including cyclists, have a duty of care to make sure their vehicles are properly visible to all other drivers on our roads at night. Last year there was unfortunately an increase in bicycle road fatalities in Victoria, so I want these on all bikes, because it's so important from a safety point of view."
SeeMe Reflectors can be purchased online from www.seemereflectors.com
More information is also available on their website.