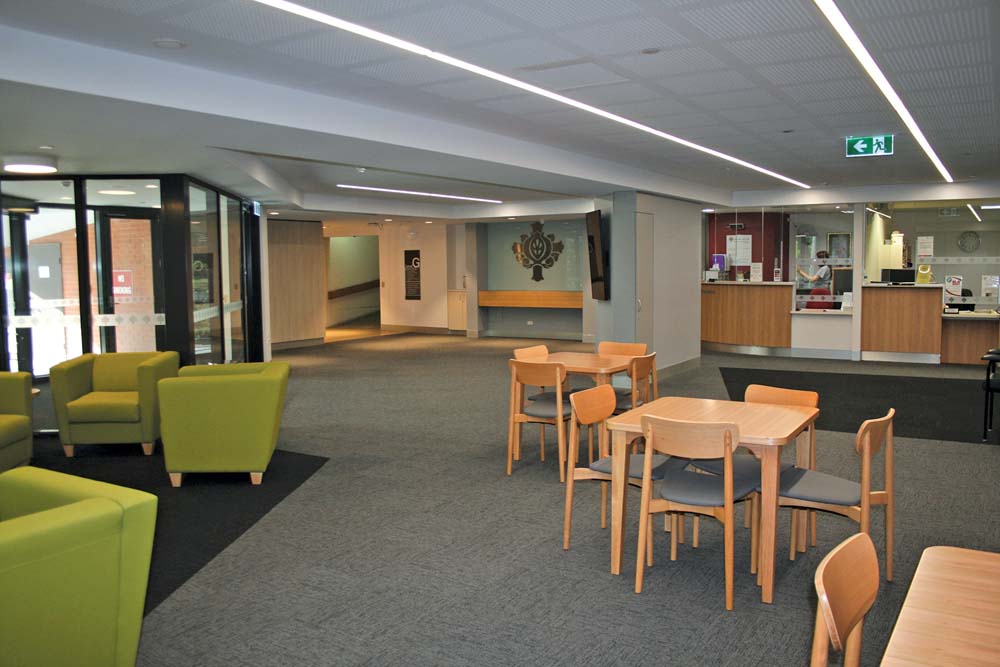 In November 2016, St John of God Frankston Rehabilitation Hospital commenced their $9.7 million refurbishment.
AFTER more than 12 months of renovations we are pleased to announce that our major renovations have been completed, with only some minor works remaining. New external signage will be also be completed in the next month.
Many milestones have been achieved:
Refurbishment of 46 rooms and ensuites, including building four entirely new patient rooms
Increased single room capacity
New spaces on ground floor include: extended foyer with airlock entry, new Chapel, three new consulting rooms, multipurpose room and Cafe
Improved spaces on first level including Occupational Therapy (OT) ADL Kitchen, OT gym, outpatient waiting room and upgraded pharmacy.
Ambulance entrance has relocated to a new undercover area at rear of hospital; this will improve traffic flow and ease of patient entry.
Many behind the scenes mechanical and services include: a new 17 tonne generator, upgraded air-conditioning and plumbing.
Chief Executive Officer/Director of Nursing, Sally Faulkner, said the most critical component of the refurbishment was to increase the number of single rooms at their hospital to better support patients through their recovery.
"We have converted our three and four bed rooms to two bed rooms and refurbished all bathrooms. Providing our patients with greater comfort and privacy was our ultimate goal," Sally said.
For a rehabilitation hospital, access is incredibly important and new front and rear entrances to the hospital will make it easier for patients as well as vehicles that transport patients after surgery or injury.
"Whilst this was a comprehensive and detailed refurbishment, it occurred in stages to minimise the impact on our inpatient and outpatient services. There was a buzz of excitement as each stage finished and we are so pleased with the result".
"Living through a refurbishment is never easy with disruption and changes. We are very thankful to our patients and families for their understanding as we have undertaken this essential work. Our caregivers and contractors efforts to 'keep calm and carry on' during the refurbishment works whilst supporting our patients and families during this time has been wonderful." Sally said.
---
REFERRALS:
Inpatient referrals:
Tel.: (03) 9788 3380  |  Fax: (03) 9788 3304
Outpatient referrals:
Tel.: (03) 9788 3350  |  Fax: (03) 9788 3280
General enquiries:
St John of God Frankston Rehabilitation Hospital
255-265 Cranbourne Road, Frankston 3199
Tel.: (03) 9788 3333
Email: info.frankstonrehab@sjog.org.au
Web: www.sjog.org.au/frankston