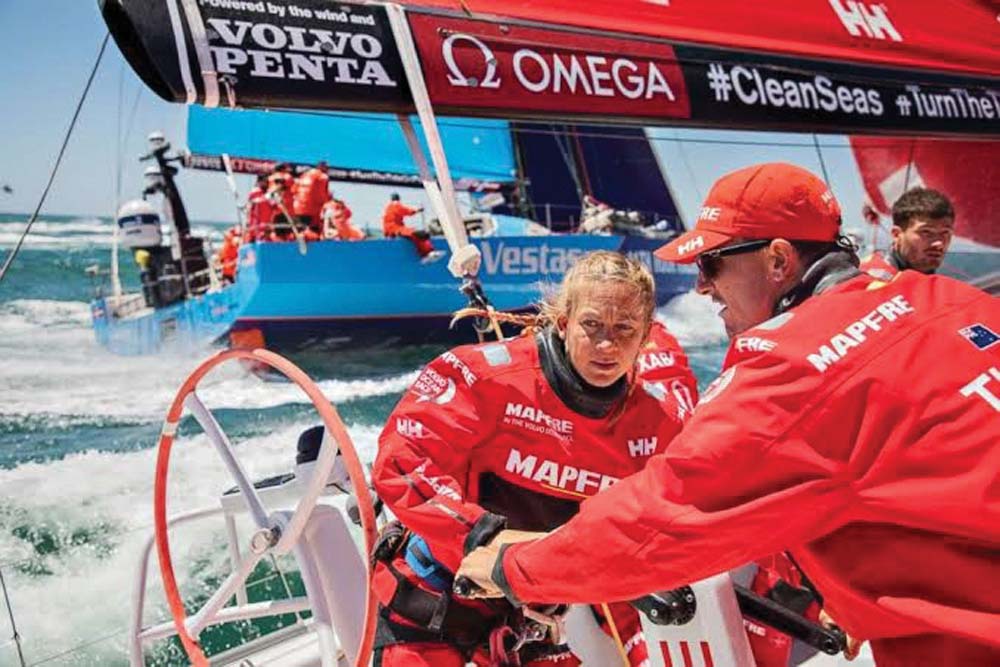 For most of us mere mortals, dreaming of sailing the seven seas is about as close as we come to doing it, but for Sophie Ciszek, a professional yachtsperson, the spirit of adventure has run in her veins from the first time she set foot on a boat at the age of two.
For Mornington-born Sophie, the sea has always been a big part of her life. "I was brought up on a boat until I was five years old," she told the New York Times in a recent interview. "It's bred into me." When she was two years old, Sophie's parents, avid yachties themselves, packed up their belongings, including Sophie and her brother, and set off aboard an Adams 40 yacht bound for Seattle via Japan. They sailed as far as the Solomon Islands where everyone except Sophie's mum contracted malaria, so they turned the boat around and returned to Australia.
The family did make to the States eventually, where Sophie attended school until her high-school years when, once again, the family returned to Australia. They settled in Mornington and Sophie attending Woodleigh School.
In her time on the ocean, Sophie has covered more than 300,000 nautical miles including being a key part of an all-female crew in the 2014-15 edition of the Volvo Ocean Race, a race around the world that runs every three years and can cover over 70,000 kilometres.  During the race she herniated a disc in her back during a sail change on the Indian Ocean resulting in two weeks of excruciating pain and sciatica as the Team SCA yacht made its way into dock at Abu Dhabi. "The pain got so bad at times that my eyes would start watering and I'm not one to sit in my bunk and cry – but it did happen."
But being on the bow of a boat requires a certain type of individual: tough and fearless. The bow is Sophie's office, a confined work space at the front of the yacht that takes the brunt of what the elements can throw up. It is typically the domain of well-muscled men. Working the bow means relaying messages about conditions ahead, changing sails, climbing rigging in all weather and at all times. It requires great balance and endurance to make it to the elite level. "She's very good, very strong and very tough as well," said Stacey Jackson, Skipper of Sydney to Hobart entrant, Ocean Respect. And Sophie proved just how tough she was to all and sundry returning after back surgery and months of rehab to rejoin her team in Auckland and finish the 2014-15 edition of the Volvo Ocean Race.
Since then, Sophie has pretty much done it all in the world of ocean racing, completing the 2017-18 edition of the Volvo Ocean Race aboard the boat MAPFRE which finished in second place. She has sailed in the Sydney to Hobart classic 7 times, coming a close second in the overall category aboard the all-female crewed Wild Oats X in 2018. She has sailed on iconic boats like Wild Thing, Brindabella and Shockwave and was named the Victorian Female Sailor of the Year in 2016.
So, what draws Sophie to a profession that means long hours at sea battling extremes of weather, one that is so far removed from the 8 foot Sabot dinghys she sailed at Mornington Yacht Club at the start of her sailing career? Even by her own admission, the job description doesn't sound too appealing. "Mentally it's tough," she said of her job as a professional offshore racer. "It's cold, freezing cold. It's really uncomfortable. The conditions are just relentless." But it's obvious she loves it. She loves the adrenaline and the continual test of mental strength, but most of all it's clear that she loves the ocean.
Sophie was awarded a "Sustainability Award" in 2019 by Australian Sailing – Tasmania, for her time spent racing on Wild Oats X – Ocean Respect Racing, a partnership that promotes ocean health. Her desire to protect our environment extends beyond the ocean to her rural property in Tasmania which is solar-powered, her vegie patch is watered with rain water and a wood-fired heater warms the house. In Tasmania she has recently volunteered to fight the fires that have ravaged her community, trying to protect the flora and fauna from destruction.
It is clear that Sophie has many stories to tell, much wisdom and insight to pass on about her adventurous life. She is the guest speaker at a business lunch to be held by the Mornington Yacht Club and MYC Foundation on Friday 3rd April.
Details can be obtained on the MYC website or by emailing the club at admin@morningtonyc.net.au.
Don't miss this opportunity to listen to a true legend.