By Erica Louise  Photos Yanni & Supplied
Following in the footsteps of similar community gatherings in Europe, the first Mornington Peninsula Repair Café opened its doors in Rye two years ago. Since then, a further two repair cafes have opened in Mornington and Hastings. All three initiatives invite drop-in visitors to bring their broken items from home, to be repaired on the day by a handful of multi-skilled volunteers.
Sarah Race, who set-up the first Southern Peninsula Repair Café at Rye Community House, explains how the concept started: "We were looking for ways to engage with the community and to get more men into the centre. I read an article in a magazine about different ways people were engaging with the community. One sustainable project was the Melbourne Repair Café run by a lady called Michelle."
Michelle Fisher was invited to share her Melbourne Repair Café experience with the Rye Community House team, and explain what would be involved in running a local volunteer fix-it group. A subsequent meeting with the Mornington Peninsula Shire followed and the first Southern Peninsula Repair Café open day was held in February 2018.
The Mornington Repair Café then opened in November 2018, managed by Bill Hallett, a retired systems analyst. Bill and the Mornington Repair Café team are a group of fixers from both Mornington Mens Shed and members of a charitable group called Solve Disability Solutions, which help design and build specialist equipment for people with disabilities. But the work is heavily dependent on subsidies, which means projects are not always viable.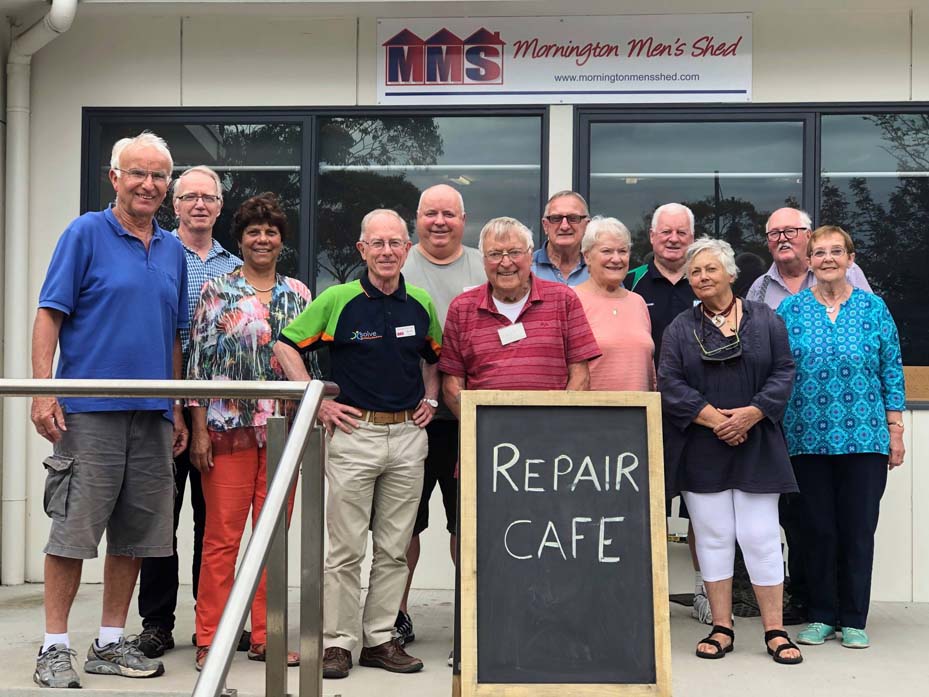 Bill saw an article about Repair Cafés in a newspaper and thought this would be a great way for members to work on regular short-term projects.
"It's a hoot! We really enjoy it," says Bill. "Our very first client, who brought in an old wooden piano stool to be fixed, had been living on her own for thirty years. She was so impressed with the Repair Café she ended up staying for the entire afternoon, which is really what it's all about. We enjoy fixing things but we also provide tea, coffee and a chat!"
During one of the first meet-ups at the Mornington Repair Café, a 93-year-old lady came in with a teddy on an electric tricycle that had seen better days. "The rusty battery holder was perished so we changed it for her and she was over the moon," says Bill.
Repair Cafés are the answer to a couple of modern day conundrums. The first is sustainability. By fixing broken items instead of having to replace them with new, fewer objects end up in landfill. Secondly, the gatherings provide opportunities for social engagement so that people of all ages can connect with others in the local community.
The Repair Cafés run on a donation basis. Volunteers, who are mostly retired, are skilled at sewing, handymen, carpenters, and there are even a couple of electricians at Hastings and Rye. No bookings are required. Members of the community are invited to bring in broken appliances, mechanical devices, garden tools, clothes, furniture, bicycles, crockery, toys or anything in need of a little love.
Visitors who attend each Repair Café may not have the know-how or ability to fix their broken goods at home. They are encouraged to stay for a coffee or tea and watch their broken and often cherished piece come back to life, all the while meeting friendly folk from their local community.
Kim Manning, who manages the Repair Café in Hastings, tells the story of a gentleman who brought in an old commercial-sized juicer he found on the side of the road. He works at a local high school, which is where the now-fixed juicer will be put to good use.
Kim opened the Repair Café in Hastings in September 2019. She was involved in a similar initiative in Ringwood and has since moved to the Peninsula.
"When I moved to the Peninsula, I approached a few community centres with the idea of opening a Repair Café. The Hastings Community Hub were very encouraging and open to the idea of utilising the otherwise unused space at the weekends," says Kim.
The Repair Café in Hastings runs the café side of their program a little differently. Kim has connected with a local high school to encourage students who are completing their Barista Certification to gain work experience by serving coffees on the day. Students are also encouraged to come down and see how broken goods are fixed and repaired.
"There is a VCAT class that's run at the community hub as an alternative study program for students in their senior school years. They're really keen to get involved with the Repair Café and similar community-run sustainable events at the centre," says Kim.
The Mornington Peninsula's Repair Cafés have increased in popularity since the first meet-up, which saw more volunteers than attendees. However, the biggest Repair Café group in Rye saw 50 fixes completed by the end of the day.
"In October, we ran a zero-waste festival. This saw a much younger demographic of people visit our Repair Café in Rye, which was really exciting for us. People seem to be quite into the concept," says Sarah. "People of all ages come along, from retirees to parents in their 30's who bring young kids along and get their toys fixed."
The Repair Cafés in Rye and Hastings both offer tinkering tables to encourage children to come along and take apart broken, unrepairable objects (under parental supervision) and see how things work. The resulting loose screws and reusable parts are then used by the volunteers on future repair projects.
Whether you would like to volunteer at one of the three Mornington Peninsula Repair Cafés or if you have a broken piece in need of a fix, the Mornington and Hasting operations run year-round on the third Sunday of each month. Rye also operates on the same Sunday, however closes during the summer months between November and February.
www.facebook.com/hastingsrepaircafe