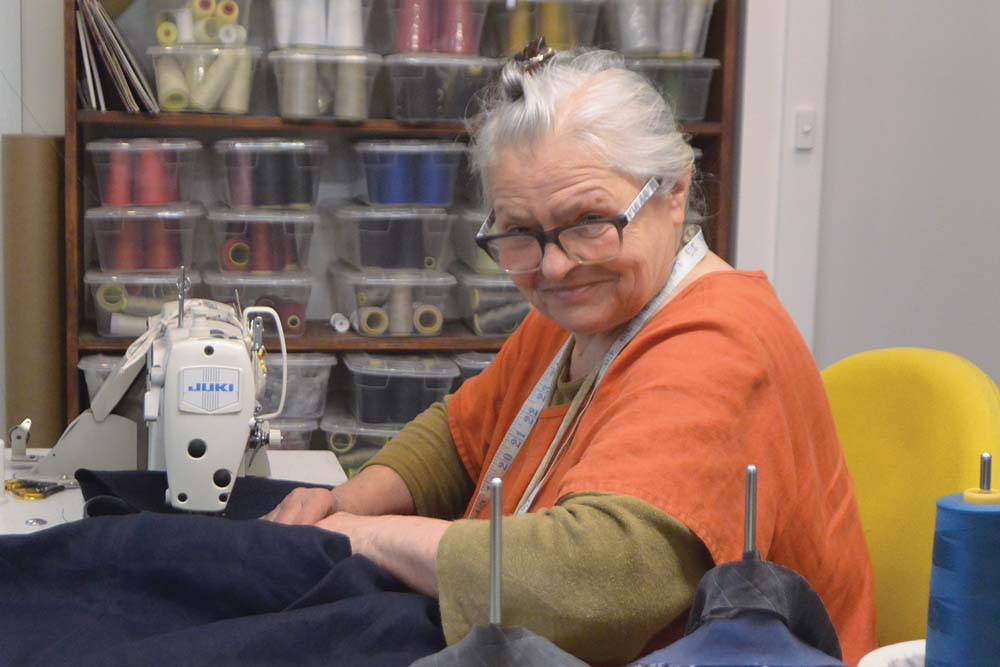 Fashion has always been forward in clothing designer Kathy Subic's mind. As a girl growing up in Yugoslavia, she followed all the latest fashion trends. She used to fill up her school exercise books with fashion sketches.
Kathy dreamt of one day working with Australian fashion icon, Norma Tullo, but it was Kathy's grandmother who first sparked her interest in fashion. Her maternal grandmother, Maria, was an excellent dressmaker so young Kathy got to see fine design and craftsmanship first-hand.
When her family moved to Melbourne in 1969, eighteen-year-old Kathy was determined to work in the fashion industry. She went straight to Flinders Lane, the heart of the garment district, and knocked on doors until someone gave her a job. It was fortunate that she met a marvellous mentor and master pattern-maker named Mr. Martin.
Mr. Martin said, "Kathy darling, to call yourself a designer you need to know how to make a pretty picture, to be a better designer you need to know how to make a pattern for that picture, to be a true designer, you must know how to make the garment properly!" Kathy was keen to learn just that.
Because she drew beautiful fashion sketches, Mr. Martin had Kathy working on the company's stylebooks. Because of her keen interest and dedication to her work, Mr. Martin taught Kathy to make patterns, a skill that has been the cornerstone of her success as a fashion designer.
After learning everything she could with him, Mr. Martin encouraged Kathy to move on. Then her dream came true. She started working for her idol, Norma Tullo – a true original and trendsetter in the Australian fashion industry.  Kathy was very proud to work as head pattern-maker at Tullo.
From there, she branched out as a freelance pattern-maker. She was in demand around the clock because of the accuracy of her pattern-making, because she could get the job done, and because she could do it on time. Unfortunately, over time, the vibrant Australian fashion industry started to die off as work moved offshore.
It was then that Kathy decided to leave the city and move to Sorrento and two years, later to Flinders to work with her friend Kim in interior design. Kathy's experience and meticulous skills translated beautifully to creating fully tailored soft furnishings. Kath and Kim (Yes, that's what they call themselves.) were very successful in this business, but Kath longed to get back to fashion design.
Kath and Kim decided to open their own fashion house in Flinders in 2009. They created a brand called Zeega focusing on timeless, classic, elegant clothing crafting one garment at a time. Kath calls this 'slow fashion'. Kim says, "You can feel the love in the clothing," because Kath genuinely loves her work.
Quality is the cornerstone of Zeega clothing. Every seam is bound, every button is sewn on by hand. Their clothes are made to last forever so their fashions need to be timeless too.
Kath wants her designs to fit every woman, flatter every shape and most importantly, be comfortable. She rarely sells a standard size. She can just look at a woman and know what will look good on her. Her most popular garment is the tulip dress. It suits any body shape.
It's not just the designs and craftsmanship that make Zeega unique, it's the ethos behind the brand. All of their clothing is made from 100% environmentally sustainable fabrics that are hypoallergenic and completely biodegradable.
Linen, hemp and organic cotton are grown using less water and harvested according to Mother Nature. Natural fabrics are cool in summer and warm in winter. They are good for the body and good for the environment. All Zeega fabrics are sourced from Australian importers, preshrunk and prewashed so they are comfortable and machine washable.
At Zeega, customer satisfaction is more important than anything else. Kath says it's the most satisfying part of her work. She's actually had customers cry with joy when they saw what they looked like in their custom-made garment.
Kath says she will never retire. She wants to die at her sewing machine, but she doesn't want her skills and ideas to die with her. She plans to set up online tutorials to teach younger generations of fashion designers the old-school skills needed to create high quality, long lasting, sustainable fashions.
---
For a warm welcome, a good chat and the opportunity to walk away with clothing that will sustain you – body, heart and soul-visit Zeega at 62 Cook Street, Flinders.